Young Galaxy : Ultramarine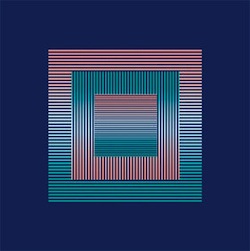 Buy at iTunes | Buy at Insound (vinyl)
Young Galaxy's 2011 effort, Shapeshifting, was charged with unfamiliarity and curiosity; the album was a joint venture between an indie band from Montreal (potentially going through a bit of third album identity crisis) and Swedish electronic producer, Dan Lissvik. Lissvik seemed to take the reins for some of the album's most memorable elements, such as the popping synths on "We Have Everything" and the New Romantic guitar riffs on "Peripheral Visionaries," each of which provided the perfect complement to Catherine McCandless' dream pop vocals. Young Galaxy and Lissvik pulled off a long-distance relationship for Shapeshifting, but Ultramarine, is a domestic affair — the band recorded the entire record alongside Lissvik in his Gothenburg studio. As a result, all parties involved seem to be overly formal in each other's company; McCandless' vocals no longer jut out against Lissvik's framing, and Lissvik's rhythms are cautiously polite in front of his Canadian guests.
That's not to say the spark is gone, however. "Privaleged Poor" features some of the most fully rounded synth melodies on the album, and Lissvik challenges McCandless' harmonized vocals with funky, computerized drums that deserve more attention throughout the LP. "What We Want" and "Out The Gate Backwards" are two more highlights, the latter of which couples a crisp '80s bassline with spunky piano chords and sour-faced synths. "Hard to Tell" finds McCandless doing her best Annie Clark impression to mixed results; stiff yet emotive vocals showcase some of her most interesting verses on the album, but the chorus ultimately falls flat.
In terms of lyrics, there's a lot to be cynical about on Ultramarine. Pop music tropes abound: "When we were lost/ we found each other", "When you need a guide, I'll light your way", "Feels like a dream tonight", etc. On "In Fire" McCandless pens the lyrics "take our best years to break the fucking rules, yeah." Too bad she half whispers the word "fucking" like a 12 year-old afraid that an adult's within earshot. Corny lyrics are far from a deal-breaker for electro-pop acts, but it's nonetheless a sore spot throughout.
"Pretty Boy" and "New Summer" are Young Galaxy's two most concerted efforts towards making springtime playlists. "Pretty Boy" starts off the album at a fast clip with a playful synths and "New Summer" takes an alternate route to catchiness, opting for stretched-out verses that condense for the predictable but effective chorus. There's no doubt that Young Galaxy can put together entertaining, fan-pleasing albums, but perhaps Lissvik and the band should put the Atlantic between them for the next go-round.
Similar Albums:


Niki & The Dove – Instinct


Austra – Feel It Break


Chairlift – Something