Remembering Charles M. Young
I had been in my apartment in Brooklyn for about three weeks when Brent, a friend who dates to my teenage years in Connecticut, called with an invitation.
"Hey, we're having Charles M. Young over for dinner," he said. "Would you like to come?"
"Yes, of course," I replied, and then looked for a sponge absorbent enough to clean bits of my blown mind from my apartment wall.
See, this is how it's done, right? After years of talking about it, move to your favorite place in the world — New York City — then shortly thereafter get invited to dinner with the guy who wrote about punk rock for Rolling Stone.
Sadly, Charles M. Young died of brain cancer on Tuesday here in New York City. He was 63. Brent and his then girlfriend Annie had met Chuck, as they called him, through a martial arts class they all took. And later they all became part of the Occupy Wall Street protest and movement. I met him, but didn't know him.
Well, in a sense, I knew him. I first encountered Young as a music and music writing crazed teenager growing up in Nowheresville, Conn. called Montville on your map. In 1989, when I was in the eighth grade my family got me a subscription to Rolling Stone. This was, in retrospect, the last few healthy years of print publications, before the Internet came and the cough got more pronounced.
I come from a family of history lovers with a hoarding habit. My father had in our basement stacks of back issues of Sports Illustrated and Time and I would spend hours in the musty basement leafing through slightly damp magazines. But my parents weren't rock 'n' roll people. I never got any hand-me-down Beatles and Who albums from them. I do have an uncle, however, that gave me all his 45 RPM records from the '60s.
No rock 'n' roll in the house meant no back issues of Rolling Stone. For those, I had to go to the public library. In those days the "good" library was a few towns away in Groton, Conn. Occasionally my dad would go there to read and let me loose in stacks.
A few years later, it was were my high school friends all went to do research for papers and projects. Well, they did homework. I, on the other hand, was digging out a motherlode of back issues of Rolling Stone in the periodicals section. I would take out a year of issues read the reviews and some of the articles, taking note of the bands and the writers. One of the pieces I read then was by Charles M. Young, his famous Oct. 20, 1977 cover story on the Sex Pistols, announcing "Rock is Sick and Living in London" over two photos of Johnny Rotten.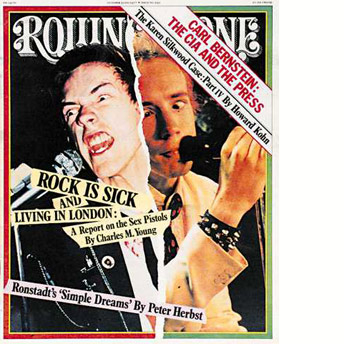 It's a 7,900-word, first person account of a few days in England in the company of punk's disloyal family — the Pistols, manager Malcolm McLaren and designer Vivienne Westwood, with cameo appearances from bizzaro filmmaker Russ Meyer and Roger Ebert, yes that Roger Ebert. Plus more music from the Slits. This was the before the "Bollocks" Sex Pistols who set Blighty alight with three singles and a few audible "fucks" on television.
But Young's piece doesn't fall at punk's feet. No, you get sense of the edge of madness anarchy of the Pistols, but also their boorishness, idiocy and even how shy they could be. And really it's because the reporting is superb, and the writing, perhaps like punk rock itself, relies on stripped down understand images and phrases, and humor.
In a great passage, Young is waiting to meet with Malcolm McLaren who is two hours late for an interview. So, we wait along with in McLaren and Westwood's bedroom:
The room is modestly furnished in black and white, a constantly recurring color theme that – along with the incessant rain, bad telephones, warm beer, incompetent hotel service, yellow journalism, cretinous newspapers, lack of time with the band, money that weighs more than it's worth, cricket on television, geographically separate streets having the same name within London's city limits, riots between Marxist and neo-Nazi splinter parties, and a hangover – is convincing me to change my name to Chuckie Suicide and go Sid Vicious one better.
In the course of our dinner talk, I was hesitant to mention the Sex Pistols story, even though I would have loved a DVD extras-style director's commentary on the piece. But I figured every writer who can spell Greil Marcus correctly on the first go asked him about it. Oh, the battle between fanboy instincts and self-consciousness.
In fact, as the appetizers tumbled into main courses, we talked mainly about Occupy Wall Street. I had recently been to the first anniversary marches, mainly to watch and listen. As the evening went on music came up. It had to. We chatted about Television and the downtown New York scene in the 1970s.
Then we moved onto musical common ground: bubblegum records from the 1960s such as "The Grooviest Girl In the World" by the Fun and Games and "Snoopy vs. The Red Baron" by the Royal Guardsmen. I proudly told Charles I have both on 45. He seemed amused by that.
The other music topic we covered that night was how much we both really liked Laura Nyro. Annie, being a great host, overhead us chatting and put a Nyro best of on her Spotify. It was a great night. I wish we had another one.
Later, in an email, Young sent me a link to piece he wrote on the first anniversary of Occupy Wall Street, a movement that invigorated him in what would sadly be his final years. Toward the end of the piece, Young writes about sign he saw a protester carrying:
My own favorite Occupy slogan emerged from the dark tents of the lumpenized bohemian elements: "Shit is fucked up and bullshit." The first time I heard it, probably last October, I laughed out loud. It was perfect in its lack of art, theory, grace, abstraction, education or pretense. It was at once inarticulate and eloquent, stupid and profound. It was Zen in its brevity and hints of vastly deeper insight.
Sounds like rock 'n' roll to me.