10 Essential Rhode Island Albums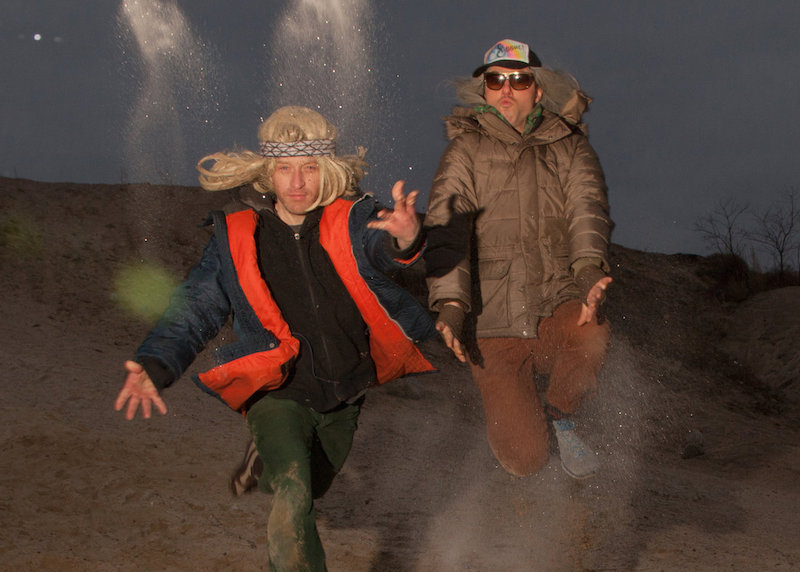 Welcome back to the Treble World Tour, a series of Top 10s covering albums that best represent certain locations—cities, states, territories, even entire nations. We consider representative releases on three levels: They were made by artists from a place, they contain music about or inspired by the place, and/or they were made in that place. Our pace has slowed considerably since we first started the series, so we'll ease our way back in by exploring the smallest of America's 50 states, Rhode Island. There may not be much space or opportunity to enter cultural canon in territory just 37 miles wide by 48 miles long, but the Ocean State picks its spots. It boasts great beer here and great schools there, and holds prominent places in the history of America's colonial revolution, comic television, and extreme sports. Rhode Island's most notable, regular contributions to music come from two hotspots. There's Normandy Sound (now Triad) in the town of Warren, which has recorded legendary acts from metal, punk, and jazz. And there's the city of Newport, of course: Its jazz festival has been a bellwether event for the genre's stars and allies for more than 60 years, and the folk festival that followed in its footsteps will forever be tied to rock thanks to the biggest creative decision Bob Dylan ever made. Performances around and about the rest of the state lean towards the introspective and insular; surrounded by the tranquil, even the mundane, artists seem to end up looking at their personal situations and transform them into work for the soul or experiments from previously unimagined POVs. So check out these 10 albums that personify the Rhode Island experience like some clams Casino and a 'Gansett.
---
Miles Davis/Thelonious Monk – Miles and Monk at Newport
(1964; Columbia)
The Newport Jazz Festival has been an annual institution for 68 years, having launched in 1954 as a showcase for some of the biggest names in jazz. And looking at the list of artists who have released live albums recorded there—Nina Simone, John Coltrane, Duke Ellington, Dave Brubeck—it's hard to argue with the talent it attracts. One of the best documents of performances at the festival is an unlikely one, featuring two heavyweights on flipsides of the same platter. Miles and Monk at Newport finds Miles Davis and Thelonious Monk sharing space on the same slice of wax while offering up recordings from five years apart. Davis' side was recorded in 1958, and features the only official recordings of his Kind of Blue sextet, who cook their way through some high-energy takes on Milestones-era tracks by Dizzy Gillespie, Charlie Parker and, how about that, Davis and Monk. Monk's side, recorded in 1963, features two longer originals, and the juxtaposition is stark, though the two giants of jazz nonetheless sound fantastic side by side, offering a glimpse at the greatness the festival can bring out while giving two legends their own space to shine. – JT
---
Talking Heads – Talking Heads: 77
(1977; Sire)
Talking Heads were a New York band that just happened to form somewhere else. In the mid-'70s, David Byrne, Chris Frantz and Tina Weymouth attended the Rhode Island School of Design in Providence, a school that's actually been the site of several other band formations, including Les Savy Fav. And though Talking Heads didn't begin playing until they relocated to New York City, they brought more than a little of the art-school with them on their first record. An auspicious debut that gave only the slightest indication of musical experiments to come, Talking Heads: 77 is the landmark punk album that sounds nothing like a punk album, employing a scratchy guitar jangle rather than the distorted chug of their peers in The Ramones. It's a strong start in what would become one of the wildest discographical rides in rock history, but even if it only gave us "Psycho Killer," it'd be an all-timer. – JT
---
Mission of Burma – Vs.
(1982; Ace of Hearts)
Longtime Treble readers will probably have noticed that Mission of Burma's debut album is featured on our list of essential Boston albums. But just up the road from Boston is the small town of Warren, Rhode Island, where Vs. was put to tape. Though its population is just 10,000, Warren hosts Normandy Sound, a long-running recording studio that's primarily been the site of punk and hardcore recordings, including this post-punk classic. A heavier-hitting set of mangled anthems, moody art-punk and rhythmically taut barnburners, Mission of Burma's debut album bridges the gap between hardcore and the burgeoning indie rock scene that would soon crop up in Boston. But make no mistake, Rhode Island is where this turbulent masterpiece was immortalized. – JT
---
Throwing Muses – Throwing Muses
(1986; 4AD)
While connected to the same Massachusetts scene that gave rise to bands such as The Pixies and The Breeders (which once included former Muse Tanya Donnelly), Throwing Muses' roots are in Newport, Rhode Island. And thus Rhode Island was responsible for producing the first American band to release a full-length on famed indie label 4AD. Deeper into the late '80s and early '90s, Throwing Muses would adopt a more (college) radio-friendly sound with a bit of a dream pop sheen, but their self-titled debut is a darker shade of post-punk, somewhere between early R.E.M. and fellow 4AD labelmates like Xmal Deutschland. It's an agitated sort of American gothic with a heavy layer of punk grit. – JT
---
Six Finger Satellite – Severe Exposure
(1995; Sub Pop)
The product of a mercury-poisoned bloodline that extends from Devo, Chrome and Big Black, Providence noise-rock weirdos Six Finger Satellite aimed for a much more visceral and abrasive sound than much of what the indie rock realm was doing in the mid-'00s. And for that matter, it was a decidedly less commercial direction, save for the fact that they actually released a 120 Minutes-aired video for "Parlour Games." Severe Exposure isn't really about crossover success, however. It's an album of nearly entirely absent midrange, its guitars like broken glass on the low-end's jagged concrete. All that being said, it's as much fun as mutant sci-fi noise rock gets, from "Simian Fever" to "(Baby's Got the) Rabies)".  – JT
---
Lightning Bolt – Wonderful Rainbow
(2003; Load)
When was the first time you remember damaging your hearing at a show? For me it was at at a Lightning Bolt show when I was 15. Formed in 1994 in by two guys named Brian, Providence-based noise rock outfit Lightning Bolt is a singularly powerful force in the New England musical sphere. Their third record, Wonderful Rainbow, has been dubbed their most accessible record, and while it probably won't win over your grandmother, the catchiness of the riffs that get pounded into your skull on this masterpiece is undeniable. Fifteen years later, it's hard not to be amazed how much this album crushes any other noise rock on the market. – LA
---
Non-Prophets – Hope
(2003; Lex)
While Providence hasn't gained much nationwide attention for its hip-hop scene, it's nonetheless been a fertile source of underground rap in the past couple decades. Few emcees have done more to draw ears toward Providence rap than Sage Francis, whose "Makeshift Patriot" went viral before anyone began using the term. Collaborating with Joe Beats as Non-Prophets, however, Francis delivered his greatest moment on the unstoppable Hope, a set of tracks alternately vulnerable and pissed-off, Sage Francis' list of grievances juxtaposed against lush samples and crackly beats that slap, sputter and bounce. So much of the album feels tied to the George W. Bush era, but ultimately Sage Francis' frustrations transcend era: "It's 2003, time to stop acting like assholes." – JT
---
The Body – All The Waters of the Earth Turn to Blood
(2010; At a Loss)
Sludge duo The Body have called a lot of cities home, beginning their career in Little Rock and, more recently, relocating to Portland. But Chip King and Lee Buford rose to prominence while situated in Providence, Rhode Island, which began a productive and highly inventive period that began with the transcendently crushing sound of All the Waters of the Earth Turn to Blood. Recorded with Assembly of Light Choir, All the Waters isn't just a metal album, but rather a complex web of noise, ambient, choral music and something else entirely. It's music that uses the muscular, visceral assault of sludge in an effort to reach a higher plane. There's a great deal of beauty on this album, but there's also a great deal of agony. No matter which point of view one takes when listening to it, this album is extremely fucking heavy. – JT
---
Daughters – Daughters
(2010; Hydra Head)
It only takes a cursory scan of the artists on this list to understand that Rhode Island has a way of bringing out a band's primal, abrasive side. There's a lot of intense, experimental and weird music in the Providence archives, none of it more brutal than Daughters. Though the band's reemerged in recent years and plans to release a new album later this year, their self-titled, then-final album from 2010 served as a fitting swan song for a group that stretched the noise-rock churn of bands such as The Jesus Lizard and Melvins into a twisted, bad-acid-trip bacchanalia. It pummels, it swings and it leaves a few flames unattended before it exits. – JT