12 Great Albums You Might Have Missed from Winter 2023

In the past, Treble kicked off our year-end coverage with a list of great albums that flew under the radar but were no less deserving of listeners' attention. But last year we began to do this exercise quarterly, as we're constantly reminded of just how much great music there is, all of it deserving a second look.
The first quarterly missed albums list of the year features an under-the-radar digital release from a chameleonic metal band we don't usually miss, a solo effort from the leader of an excellent indie favorite, some mysterious industrial techno, a defiantly heavy hardcore epic with some big-name guest appearances, and more. Check out our list of great albums you might have missed from winter 2023.
---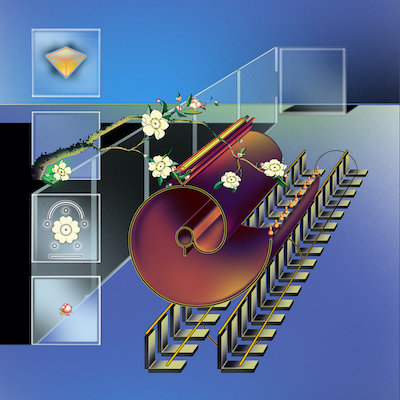 @ – Mind Palace Music
Mind Palace Music, the debut record from Philadelphia hyperfolk project @, has a little something for everyone. Victoria Rose and Stone Filipczak aimed to create a solid record; one that would hold up, one even Filipczak's grandma could enjoy. Reissued this year by Carpark Records, Mind Palace Music blends 60s and 70s folk pop with subtle elements of textured ambient. The Philadelphia-based project recorded their first album remotely, as the duo began with fruitful collaboration and quickly turned into an unstoppable creative force. Naturally, a digital haunt exists between @'s analog recordings as the pair obscure folk doctrine with a post pandemic detachment. Certain elements of Mind Palace Music border medieval as the cyber bards employ deft flute and guitar work on the upbeat "Letters" and the ornamental "Boxwood Lane." While all these songs are immediate and memorable, there's an unshakable modern eeriness on tracks like "Camera Phone" and a general proclivity for satisfyingly weird detours on notably melodic moments like "Friendship is Frequency" and "Major Blue Empty." – Patrick Pilch
Listen/Buy: Bandcamp | Merchbar (vinyl)
---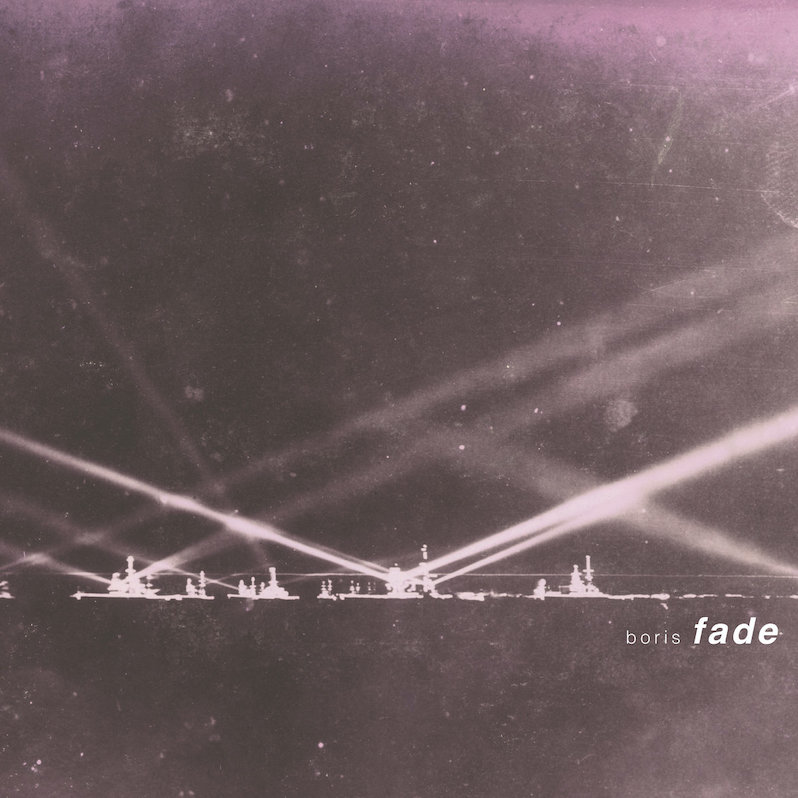 Boris – fade
Boris have dropped an album just before the turning over of a calendar year page before; their epic At Last -Feedbacker- arrived just before Christmas of 2003. And less than a month before the close of 2023, the prolific Japanese metal trio did likewise with fade, their year-ending spiritual ceremony and third album in a year's time. Where W explored dream pop weightlessness and Heavy Rocks returned to a riff-driven roar, fade is the group summoning at the altar of drone, crafting something strangely beautiful in its slow, dense mass. Clocking in over an hour, fade is a series of pieces in league with the transcendent recent material from Sunn O))), lending a bittersweet shoegaze gauze over the rumble and din, building graceful melody from billows of smoke. – Jeff Terich
Listen/Buy: Bandcamp
---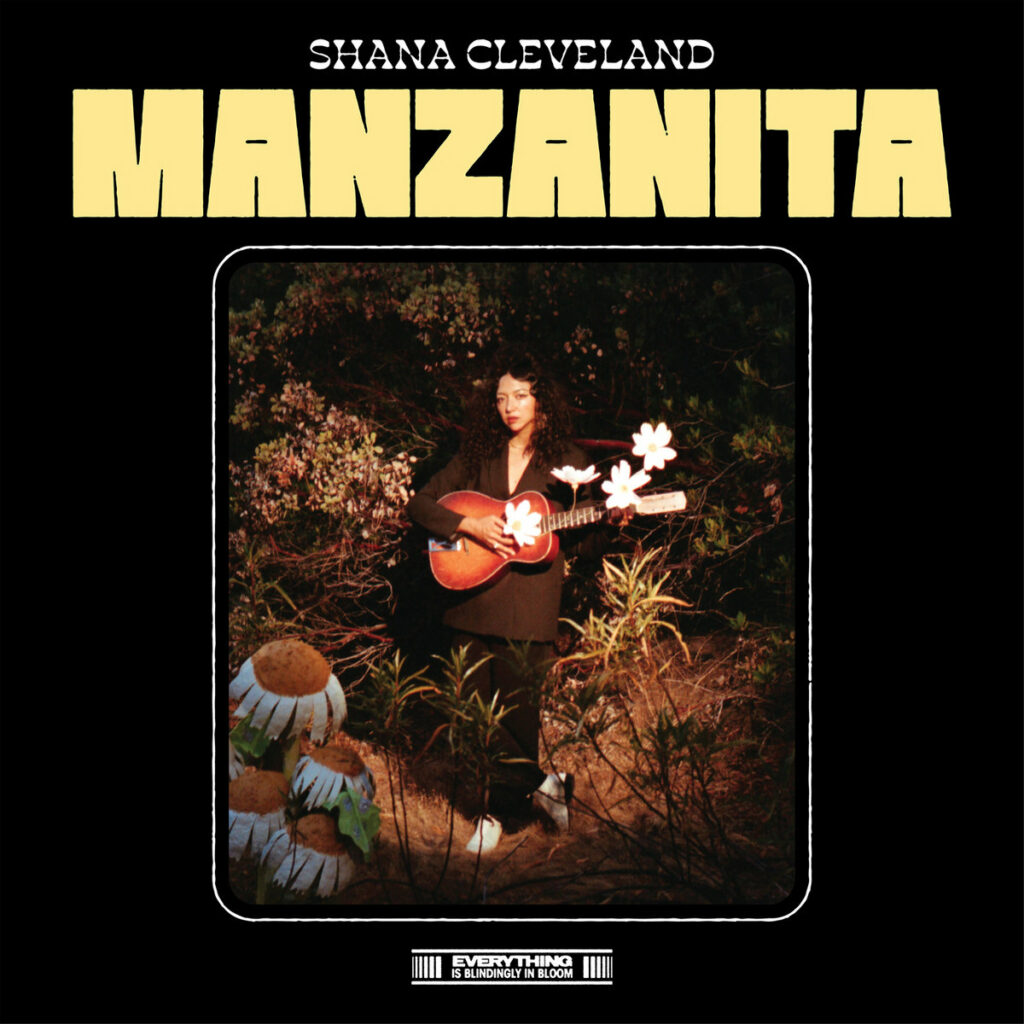 Shana Cleveland – Manzanita
Shana Cleveland's Manzanita is an echoing album that haunts right from its opening track, "Ghost"; the folk tradition is alive and well here. The third release from Cleveland, singer/guitarist in La Luz, shows maturity and a discovery of self. The singer/songwriter offers up shimmering melodies with a psychedelic atmosphere, layering in a west coast pop sound that blends incredibly well. Tracks like "Quick Winter Sun" are reminiscent of "Fisherman's Wife" by Steeleye Span, and there is a warmth that draws the listener in, too. Everything is sort of drifting about, yet the tracks are grounded. Manzanita celebrates the folk tradition and creates its own mark. – Konstantin Rega
Listen/Buy: Bandcamp | Merchbar (vinyl)
---
healthyliving – Songs of Abundance, Psalms of Grief
This multi-national trio kicks up an impressively melancholic brand of driving post-punk in their sonic intentions to win over metalheads, yet they are empowered by the stark invocations of their singer's dramatic alto. From a post-punk jangle to gloomier power ballads, the haunting moods their music explores works off the band's collective use of dynamics. Amaya López-Carromero's shifting vocal colors give each song its own character. This broadens the spectrum of genres dabbled in to find the band using shades of grunge and doomy folk as you wander deeper into the album. They excel at bringing moody songwriting to the forefront with their downtrodden melodies that yearn for hope. – Wil Lewellyn
Listen/Buy: Bandcamp
---
Hellish Form – Deathless
Hellish Form's follow up to last year's debut, Remains, wanders even further from the sludgy doom of Willow Ryan's primary project Body Void. Funeral doom and drone undeniably remain the foundation of this project, but built with a much brighter sonic palette. The warmly sparkling synths that set this project apart now rise to the foreground, buoyed up by soaring melodies and an orchestral grandeur. This sets the stage for Ryan's grimly determined lyrics:  "We have no choice / It's love or death." This record is achingly beautiful, full of grief and hope in equal measure. – Forrest James
Listen/Buy: Bandcamp
---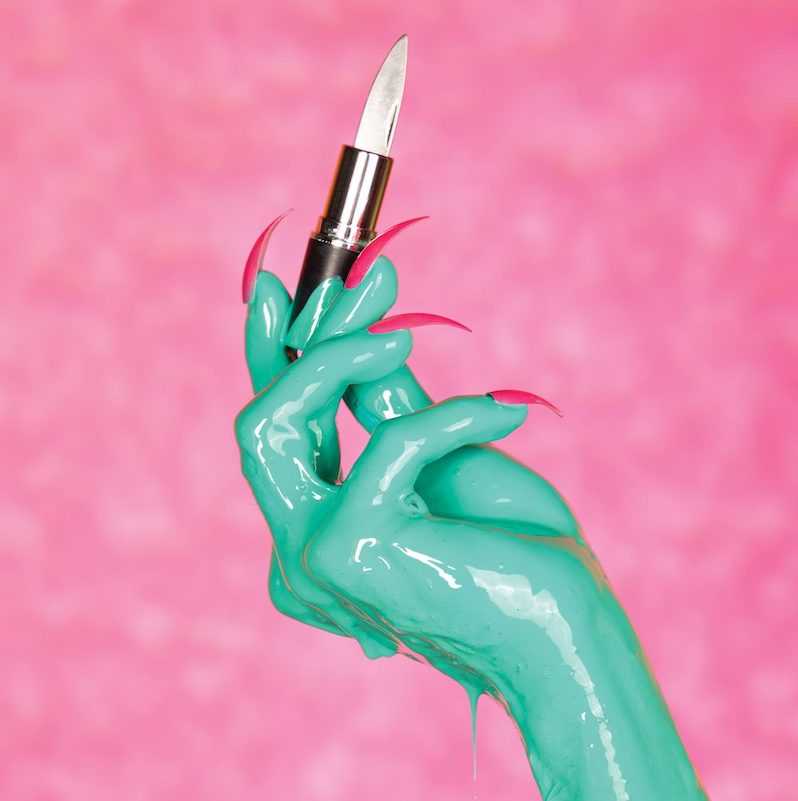 The HIRS Collective – We're Still Here
We're Still Here has everything you might want from a top tier underground hardcore record: bone rattling breakdowns and dizzying drum fills, plus a gotta-hear-it-to-believe-it who's who array of collaborators. Not content with searing lyricism and brutal riffs, the Collective captures the explicitly apocalyptic sound of Philadelphia, blending tracks with samples of emergency alert alarms, burning buildings, and crying babies. Through sheer volume, the HIRS Collective is not only expanding the notion of hardcore but also reinvigorating its core values of community and defiance. This is the new maximalist queer hardcore. – Forrest James
Listen/Buy: Bandcamp | Merchbar (vinyl)
---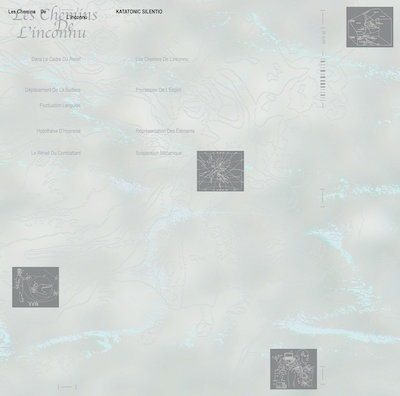 Katatonic Silentio – Les chemins de l'inconnu
Italian producer Mariachiara Troianiello released a pair of albums prior to her 2xLP debut for the forward-thinking Munich-based label Ilian Tape, each of which explored threads of IDM, breakcore and industrial textures. With Les chemins de l'inconnu, her approach is more focused on eerie post-industrial landscapes blowing with shards of apocalyptic shrapnel and glowing with still hot-to-the-touch embers. It's a volume of strange and hypnotic future sounds, alien and antagonistic, sometimes teeming with low-end dub groove ("Déplacement De La Surface") and occasionally stretching out into monstrous noise-techno epics ("Hypothése D'Hypnose"). Though it's not a debut, Les chemins de l'inconnu feels like Katatonic Silentio achieving final form, formidable and awe-inspiring. – Jeff Terich
Listen/Buy: Bandcamp
---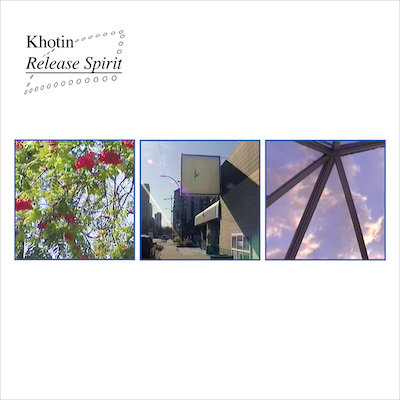 Khotin – Release Spirit
Khotin has always been gifted at evoking the feel of an indiscriminate time in the past. His fifth record Release Spirit continues his strain of nostalgia-tinged ambient and downtempo with slight variations to his craft, notably his production quality. Release Spirit is more present and tangible than his past releases, a change that crystallizes his journey-without-a-destination approach. As is to be expected, Khotin delivers better when it comes to presenting a mood rather than arriving at an organized location, so even standouts like "Unlimited <3" and the trip-hop-influenced "Fountain, Growth" are always transitioning away from rather than coming to an end goal. – Colin Dempsey
Listen/Buy: Bandcamp | Merchbar (vinyl)
---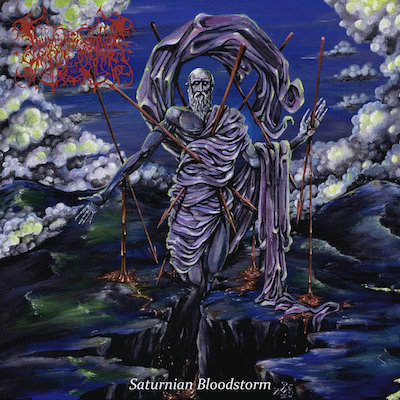 Lamp of Murmuur – Saturnian Bloodstorm
It's a marvel M., Lamp of Murmuur's sole member, even made Saturnian Bloodstorm considering his back pain was so severe that it prevented him from drumming on the record. Saturnian Bloodstorm, however, comes off as a byproduct of that pain. Much of M's prior work concerned frailty and injury, but here, he turns it into strength, which is to say that Saturnian Bloodstorm is the conventionally heaviest Lamp of Murmuur album, seeping with Immortal influence and bolstered with fat production. It plays like an outwardly aggressive attack that exemplifies black metal's identity among metal subgenres. – Colin Dempsey
Listen/Buy: Bandcamp
---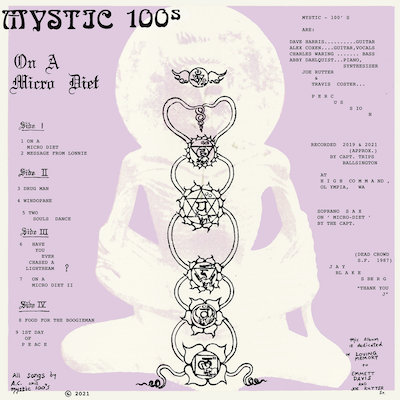 Mystic 100's – On a Micro Diet
Olympia noise rock group Milk Music's last album was titled Mystic 100's, a title that ended up usurping the group's name as they've made the transition from anthemic Mascis-isms into a cosmic blend of Neil Young, Can and Captain Beefheart. On a Micro Diet isn't so far afield from Milk Music's sonic signatures that they're unrecognizable; a song like the ragged "Windowpane" is one such bridge to the group's first couple of LPs, even if the oddball blues and bark of "Drug Man" is considerably weirder than anything they've done before. But it's in the epic sprawl of songs like "Have You Ever Chased a Lightbeam?" where the Mystic 100's achieve the height of their psychedelic potential, soaring into blissfully otherworldly territory well worth floating in for its 18-minute expanse. – Jeff Terich
Listen/Buy: Bandcamp
---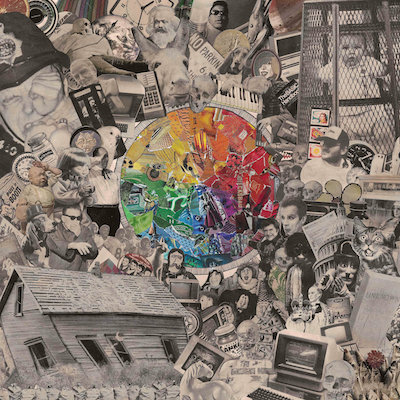 Dougie Poole – The Rainbow Wheel of Death
Dougie Poole's brand of Americana has one foot in the realm of the psychedelic. Rooted in an earthy country and folk sound with a certain '70s-era orange-and-sepia tint (think Neil Young's Harvest), Poole still often wraps his earnest ruminations and rustic sounds in the glow of synthesizers or scrappy indie rock arrangements. But it's often the moments in which Poole's surrealist imagery is given a more spacious and pretty melody to breathe that he's at his best, as on the standout "Nickels and Dimes," wherein a phrase like "I need a little change" becomes the setup for a particularly strange and weirdly affecting punchline. At their richest, weirdest or most stripped down, the songs on The Rainbow Wheel of Death all share in common some warmly satisfying melodies and memorable narratives, which is surely the sign of a true songwriting talent.
Listen/Buy: Bandcamp | Merchbar (vinyl)
---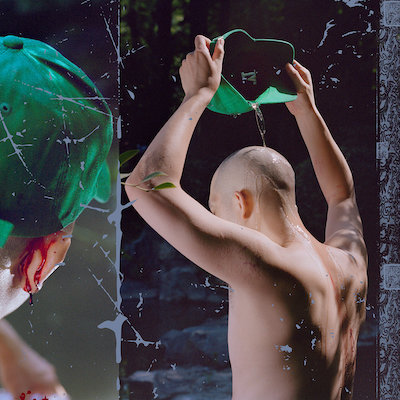 Tzusing – 绿帽 Green Hat
The stigma around green hats, which denote that its wearer's wife is sleeping with another man, is so prevalent in China that even school children who've yet to learn about sex recognize it. Any man in a green hat is considered inferior. Tzusing's second album amplifies this stigma to an uncomfortable degree, warping it into an inspection of masculinity and anxiety. 绿帽 Green Hat plays like a posturing contest between insecure men attempting to intimidate others to protect themselves, all while being too fearful to assess their own doubts. Tzusing orchestrates an accessible entry into this experience through his proficiency at commandeering dance floors, summoning industrial and techno in an accessible yet virile fashion. – Colin Dempsey
Listen/Buy: Bandcamp
---
Treble is supported by its patrons. Become a member of our Patreon, get access to subscriber benefits, and help an independent media outlet continue delivering articles like these.