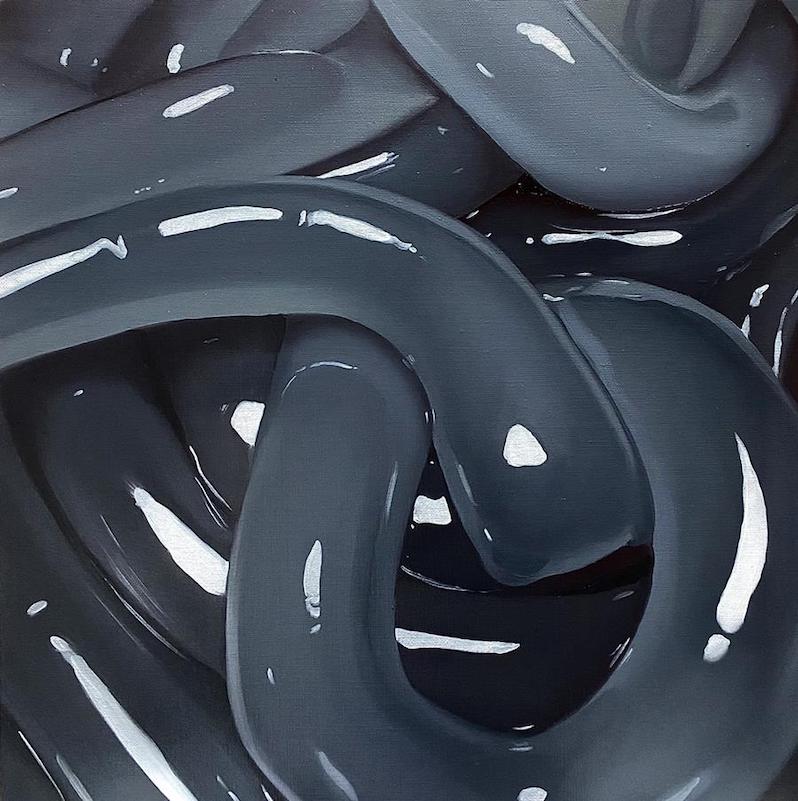 Boris isn't merely a band. They're an institution. Their albums are revisited, analyzed and explored with an almost scholarly devotion by fans and critics. A sound measure to any new album is not to admonish it instinctively, pining for the past, but instead to try and understand how the band attempts to pave a new path forward. W remains a prism, a reflection of one aspect of their sound, explored with the same pioneering spirit that produced albums like Pink and 2020's No.
The level of restraint here is an entirely different one compared to prior outings. Boris manage to burrow a sliver of warmth within the icy cold passages of the album, a kindling for increasingly larger soundscapes sparsely populated with sonic references to their past. "I I Want to Go to the Side Where You can Touch" begins with a pipe organ, some heavy breathing, and eventually cascades with layers and layers of Wata's contorted, whispery, thin, beautiful vocals, spread across a sporadic percussive storm that drapes along the periphery of the track itself. Every bass note feels like a column that's about to topple over, just warbling in reverb that's as obvious as it is plainly hidden.
Wata handles most vocals throughout, her diminished and breathy voice leaning heavily into tracks like "Icelina" where among fluttering synths and a limber bassline, Boris find themselves an art pop band. Intentional glitches, and electronic effects provide an undercurrent of jazz like fluidity. This aesthetic form is maintained for a good majority of the album, but there are notable excursions. "Beyond Good and Evil," for instance, is an at times bleary yet equally swooning, dreamy affair. This solace is to be expected, broken as the track quickly descends into a well of dark miasmatic rhythms. By its end, it veers straight into pure sludge and noise, a full throated invitation to specific Boris listeners while remaining dynamic enough to stand in stark contrast with the track's more placid pace.
This fleeting heavy spell functions more as an intermission, as the dreamier qualities and aspects established in "Beyond Good and Evil" go onto define in great contours and colors in "Old Projector" as well. It's not that these tracks are 1:1 replicas, but there's a congruency to their soundscapes and motifs that is intentional. Toward the end of which there is some more guitar wizardry, lacerating solo work barrels down on the listener, making ample room as an appetizer for the pyrotechnic jubilee of the epic "You Will Know."
Offered as refrain, or perhaps a permutation of "You Will Know" is the curiously quiet "Jozan," which is maybe the quietest closer on any Boris album. Composed of nothing more than a single soft guitar wailing in a single channel, hyper compressed and weighed down with a million different suppressing effects, it feels like it came from outside the album itself, a room over, barely audible as anything more than a delicate fuzz.
W at times feels like one long composition, though it's an album written with a thematic and sonic arc in mind, providing an affirming and at times seamless experience that expresses an often immutably cold and distant palette of sound. There's little contextualization to Boris' career as a whole, which refreshingly doesn't seem to be the point of the album. W, is instead more of a quiet affirmation, an audio experiment given just enough life, and complexity to burn brightly before being smothered by a great quiet. A quiet which has just as much character as any amp-burning album that precedes it.
---
Label: Sacred Bones
Year: 2022
Buy this album at Turntable Lab
---
Similar Albums: