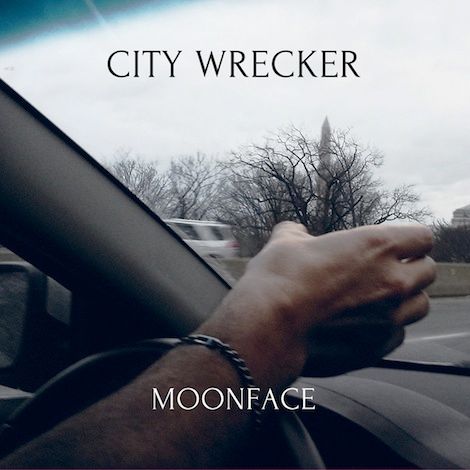 Spencer Krug is a man of many musical talents, and what he's capable of with just a piano and his voice — as he's showcased with Moonface — is downright impressive. It was 11 months ago that Krug released Julia With Blue Jeans On, which was a longlisted nominee for the 2014 Polaris Music Prize. Now, we get five more songs from Moonface on the City Wrecker EP. Krug's other bands — Wolf Parade, Sunset Rubdown, Frog Eyes, Swan Lake, and Fifths of Seven — have all been dormant for years, and when his flagship Wolf Parade went on "indefinite hiatus" in 2011, Krug fled to Finland to soak in his dissatisfaction. This made Krug's loved ones feel sad and helpless, angry and confused, and maybe responsible, he said in a letter attached to City Wrecker. Indeed, Krug's piano ballads are sentimental, but they are also uplifting.
Krug lays his soul over every key of his piano; it's not an easy listen, but harbors the potential to be rewarding if you share the same sort of longing as he does. Openness is an endearing quality, and Moonface seems to be the primary outlet for Krug's confessions. Just like Julia, City Wrecker is elegant, heavy, and emotional. Sometimes, Krug pounds his keys so hard that I can feel it resonating in my bones and in my chest. Krug has one of the most distinctive voices in indie rock; here he sounds equally helpless and hopeful as if dealing with his losses has only made him stronger. These are excruciating love songs turned beautiful by Krug's impeccably melodic piano playing. It's as if we're sitting right next to him.
If you allow it, City Wrecker has the power to give you goosebumps. On first track "The Fog," a fluttery synth comes out of nowhere, taking over the song as Krug tells a lover to not love him if she doesn't love him to death. And the loudness of the keys on 10-minute closing suite "Daughter of a Dove" becomes almost unbearable; the repetition is hypnotic around the seven-minute mark, going and going as a laser-like synth appears in the background. "Running in Place with Everyone" is an apt title; Krug's fingers are actually running all over the piano, and the song starts to tumble when he sings, "now it's time to tumble down again." Krug's fingers are busy, layering additional thunder-like keys over the top as he sings "running in place with everyone" over and over until the last single keystroke resonates to a buzz. Krug sees all of his old friends in the mirror during "Helsinki Winter 2013," imagining a black gun and singing, "Oh lover, fuck me in the afternoon, fuck me in the evening, either way at least it will be now." He's telling someone that they just "hang around," belting out "you belong where you are found" a few times before dropping his vocals out at the 5:55 mark to end the song with a piano solo reminiscent of snow flakes hitting the cold ground.
Classically trained on piano since age 12, Krug here truly shows off his instrumental range. City Wrecker reaches into the soul in personal ways that most music cannot; it may bring you to an uncomfortable yet strangely satisfying place. I know, uncomfortable and satisfying are two different feelings, but Krug seems both elated and melancholy on this EP. Having moved many times in his life, Krug says that he has a tendency to wreck places, hence City Wrecker. "I wreck places emotionally, as in, even though they stay the same objectively, they somehow worsen in my heart," he writes. "I wreck their meaning, and so ultimately their function. No more crackling inspiration. I waste my own time. I get bored. I turn gardens into dust bowls." It's too bad that Krug is so hard on himself because, musically, he has the power to repair lost souls.
Similar Albums:


Destroyer – Five Spanish Songs EP


Moonface – With Siinai: Heartbreaking Bravery


Chad Van Gaalen – Shrink Dust
Find it at: iTunes