Thom Yorke : Tomorrow's Modern Boxes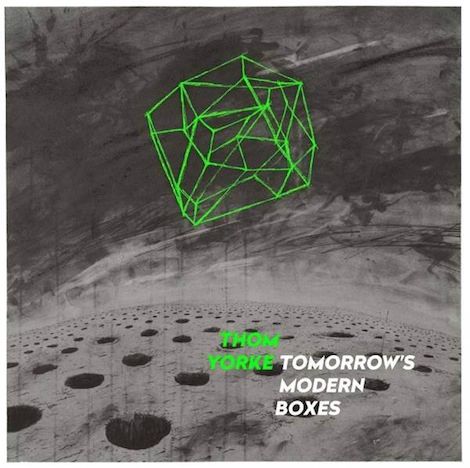 When Radiohead released The King of Limbs in 2011, the internet spawned the popular theory that there would be a quick follow-up — a complementary record that would serve as an explanation of Limbs' relatively short running time. Forgettable remix album aside, that follow-up never happened — but if it had, it probably would have sounded a lot like Thom Yorke's Tomorrow's Modern Boxes.
Are those tree stumps dotting the landscape of Boxes' album art? They might as well be; Thom Yorke's second solo album feels like a stark counterpoint to The King of Limbs. For all its moments of beauty, this is a bleak record: a remembrance of Limbs' lush compositions from a barren, airless environment. The result is Yorke's most experimental side project yet — and, arguably, his best.
There are plenty of congruities between Boxes and Limbs — eight songs, divided into two roughly discrete halves (an experimental half and a melody-driven half), running a little under forty minutes — but Boxes works well on its own terms. The album's best track, "The Mother Lode" stands out by the virtue of having one of the most buoyant vocal melodies he's ever done (not to mention the fact that it's the album's happiest song). It's a nice counterpoint to "Interference," which is a stellar, reverb-heavy piano ballad whose vocals are as charged with angry defeat as anything on Hail to the Thief. "Nose Grows Some" meanwhile, closes the album on a minimal, if pensively optimistic note (though it is hard not to pick up on some echoes of "Separator" here).
If the album falters, it does during the overlong "There Is No Ice (For My Drink)," a seven-minute electronic odyssey that fails to really develop beyond a shifting, abstracted vocal and the constant bobbing of its bassline. When it shifts into the distorted "Pink Section" — a meandering but engrossing piano/vocal duet that sounds like it was recorded on a cassette tape left in a hot car for too long — it's a welcome relief.
Tomorrow's Modern Boxes is a bit of a misnomer of a title; this is a record all about refining old ideas, not only conceptually but sonically. More so than just about any other work in Yorke's catalog, songs have clear antecedents. "Guess Again!" basically reworks the underwater pianos of "Pyramid Song" into a slinking dance beat, while "Interference" re-appropriates those high-pitched synth accents from the end of "Myxomatosis." And there's one vocal sample almost two minutes into "A Brain in a Bottle" that feels lifted straight from "Feral."
This isn't to say that this is a result of laziness or a lack of ideas — the quality of the music here makes it very clear that isn't the case — but it transforms Tomorrow's Modern Boxes into a sort of understated retrospective of Yorke's career, one final revisitation (and perhaps purging) of old ideas before he — and Radiohead — move forward.
Similar Albums:


Radiohead – The King of Limbs


James Blake – James Blake


Jenny Hval – Innocence Is Kinky