Foxygen : …And Star Power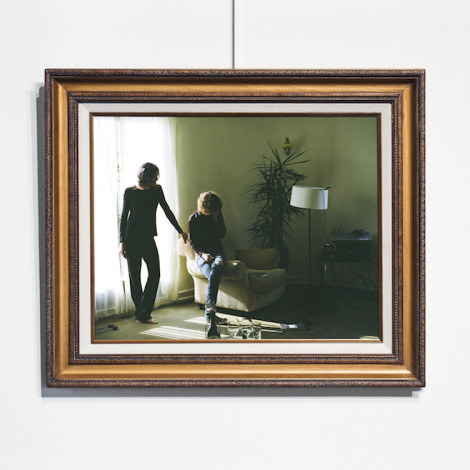 When I saw Gone With the Wind in a cinema (in a late-'90s re-release, smartass, I'm not that old) I found it much more enjoyable and recommendable if I considered it a comedy. Scarlett O'Hara: stock, over-emulating Southern belle. Rhett Butler: bemused, indifferent, stuck with a silly first name. The racial angle: stereotyped, exaggerated, dated poorly. Maybe its 1939 audiences were swept away, but I was shaking my head and snorting. Good one, Selznick. That was funny. Even funnier than Steamboat Willie.
The first half of …And Star Power, the theoretical 2-disc set from L.A. pop wags Foxygen, can be an incredibly frustrating experience. But then, just after I'd entered the part of the album subtitled "III. Scream: Journey Through Hell," I stopped, threw away my notebook, went to the kitchen for some seltzer water and crackers, came back to my desk, sat back in my IKEA swivel chair, and merrily pressed "play" again, now under full awareness that it was a masterfully executed joke. I'd rather have Foxygen telling me jokes than, say, Billy Corgan, who should just stick to physical humor.
Admitting that nothing kills a joke like having to explain it, I nevertheless will try. …And Star Power is not ambitious: it's a satire about ambition, specifically the kind that rock stars harbored in the 1970s when there was a movement to make rock music as important as classical or jazz. We're talking rock operas, concept albums, novelizations, the whole bit. But at the same time, crazy as those albums were, they were still – what's the word I'm looking for here? – ah, yes: competent.
Now, I refuse to believe Foxygen are incompetent, just because their last album, We Are the 21st Century Ambassador of Peace and Magic, was one of my favorites of 2013. And that too was a comedy, albeit beautifully written. But …And Star Power disposes of WAT2CAOPOM's careful structure and affectionate aping. Perhaps fearing the pigeonhole, perhaps to shed whatever pressure they might have had, Foxygen turns in a first-class, utter mess of an album here. There is simply no other way to perceive it than as a comedy.
Foxygen quite precisely frame …And Star Power as an echo of three consecutive early '70s Todd Rundgren albums: Something/Anything?, A Wizard/A True Star and Todd. They all sprawled and attempted a lot of different things. And in the case of Something/Anything? (full disclosure: Something/Anything? is my favorite album of all time), Rundgren in fact framed that album as a joke, giving pithy and slightly jaded descriptions in the liner notes  for each song. (Ex: "The There song of a generation, yea, of all Mankind. My publisher will be overjoyed.")
Jonathan Rado and Sam France gather up all their cock-eyed drive and melodic gifts and present it as a self-aware, rambling '70s monolith, the kind Hipgnosis would have done the artwork for. But they add one uniting, populist twist: They got stoned, hard, engulfed in stinkweed, to heights that would have made Cheech & Chong ask them to tone it down. Nearly all of …And Star Power's 24 tracks contain sloppy, in-song changes of direction and randomly inserted talk and screams. Guitars gurgle, clump and burst in off-set, high-treble shrieks. There's singing, but it's divested and almost mumbled. It is a gloriously insincere album, the kind your high-school rock band would have made in the garage on a battered Tascam 4-track on a Saturday afternoon when your parents were at the resort and you secretly hated music. Anyone and everyone is capable of making an album like …And Star Power if they have patient and willing friends.
And yet — and yet — somehow Foxygen probably makes the best of that kind of album as possible. Down beneath the cumulus disorientation and casualness you can hear traces of their serious talent, though it still comes across as pastiche and homage to someone else, and again, most of the time it's Todd Rundgren. "How Can You Really" duplicates his "I Saw The Light" in its piano rhythms and swing. "Coulda Been My Love" takes from his Laura Nyro/Carole King ballad side. "Everyone Needs Love" veers through his world unifier "Just One Victory," with vague callouts to Fleetwood Mac's "Sara," the flighty 5th Dimension's Jimmy Webb covers and, I swear, America's "Tin Man."
There's no point in establishing what the lyrics are about. They're in service to the concept and could be virtually anything. "If I did what you want, could I make it with you?" says "Coulda Been My Love." "I don't have anything left to give you right now" from "I Don't Have Anything/The Gate" almost gives away the album's forgery. That song also ends in fake gnostic philosophy that a lot of intoxicants encouraged in the '70s: "Wait by the gate/Look for the stone/Follow the road that leads/All the visions of children in the trees." Does that put a bustle in your hedgerow or what?
Foxygen's command of meta-pop vocabulary offers some nice moments of Name The Quote, and although it can be distracting, I also cracked up. "Can't Contextualize My Mind" wraps itself around a Link Wray riff and wordless screaming. "Hot Summer" ("This song is called 'Hot Summer'!!!") blasts through a Suicide-like synth riff with arbitrary '70s come-ons ("Morning baby! You got a man?"). They sound hacked together, bleeding out like a Middle Age apothecary cure. But that's the point.
Do I recommend …And Star Power? I don't know. It really depends on your patience for roughhousing, ambivalence and self-aware jests. It also depends on whether you live in Washington State or Colorado, where the best kind of Cliffs Notes for this album is now officially legal. ('Cause I'm sure you can't get it in other states whatsoever, right? That joke brought to you by Foxygen.) And whether Foxygen's program of divorcing reason and obscuring their talents through farce holds any value for you. A lot of music fans like a sense of commitment from their heroes. Even Weird Al has a sturdy platform. …And Star Power, on the other hand, is less committal than a 19-year-old spring breaker. Yet, at the same time, it's possible to envision the album gaining stature over time, the longer we get from its initial impressions (Tusk, Big Star, Jobriath, Frank Sinatra's Watertown). That fate rests on the values and mores of future generations, a chance I think Foxygen would be down with.
Similar Albums:


Ariel Pink's Haunted Graffiti – Mature Themes


Pavement – Wowee Zowee


White Fence – To the Recently Found Innocent
Find it at: iTunes
Paul Pearson
Paul Pearson is a writer, journalist, and interviewer who has written for Treble since 2013. His music writing has also appeared in The Seattle Times, The Stranger, The Olympian, and MSN Music.