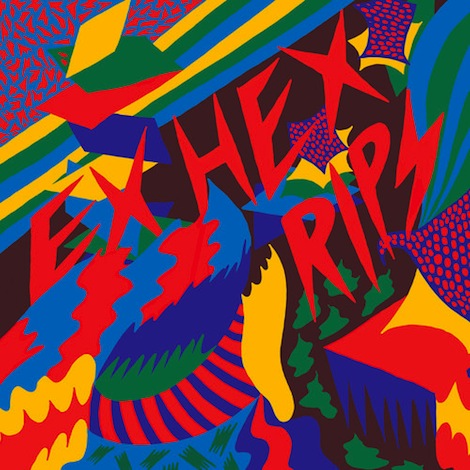 Two years ago, I was lucky enough to have the opportunity to see Wild Flag perform, and though the majority of fans were there for the music, a lot of them were also there to see Carrie Brownstein. Portlandia had become a surprise hit, just in time for Wild Flag to crush critics with their debut album. The show itself was spectacular, but I found myself even more mesmerized by Wild Flag's hidden star, guitarist and vocalist, Mary Timony. Her virtuoso musicianship was something to be marveled at, in addition to her list of accomplishments as an overlooked indie rock star with her previous bands, Autoclave and Helium. Last year, when drummer Janet Weiss revealed that Wild Flag was finished, it was a surprise bittersweet ending. A well-liked powerhouse group, composed of rock veterans, had reached its end after existing for just a short period of time. Thankfully, Timony never stopped rocking. Although Wild Flag may seem like a tough act to follow, her new group Ex Hex exceeds those expectations.
A few things should be noted about Ex Hex's debut album, Rips: 1. It does really rip and 2. Don't fuck with this band. Rips is a shining moment for Timony, who struts her talents as both guitarist and vocalist. She has stated that most of these songs were written for Wild Flag while the band was still active. But now under her terms, Timony is able to exercise her own unique skills, making one of the most enjoyable rock records this year. Rips is an album filled with an abundance of energy and catchy songs that solicit heavy air guitar and one-person karaoke.
Rips is one of those few records that stays engaging without being redundant. Consider album opener "I Don't Wanna Lose," a bombardment of sound with Timony's voice at the helm, or another gem, "War Paint," crafted with perfection and simplicity. There are plenty of "Ooohs," "Aaahs" and "Yeahs" littered throughout the songs and after many listens, it's only natural to repeat them. Lyrically, the songs are simple and straightforward, dealing mostly sketchy ex-lovers, but Timony spits back while adding in some major fucking shred. The chemistry between her two other band mates, Betsy Wright and Laura Harris, is essential as it creates a cohesive album. Even Wright's two contributions, "How You Got That Girl" and "Radio On" are complementary to Timony's own guidance.
In a profile essay for The Washington Post, punk legend and childhood friend (!) Ian Mackaye described Timony as "mesmerizing," even going as far as to calling her a genius in her own right. With a debut album that rocks this hard, and sounds like it was an absolute blast to make, that description of such an amazing artist couldn't be more accurate.
Similar Albums:


Wild Flag – Wild Flag


Buzzcocks – Singles Going Steady


Roxy Music – Roxy Music
Find it at: iTunes