NehruvianDOOM : NehruvianDOOM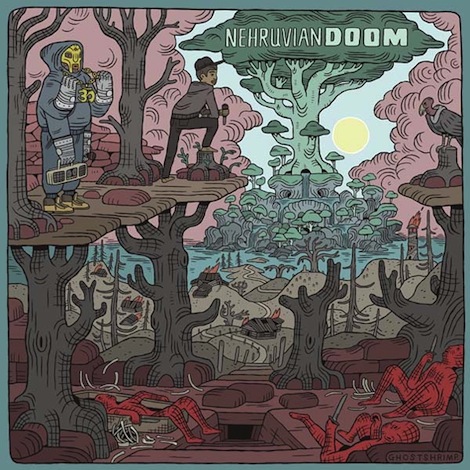 Let's get this out of the way: NehruvianDOOM is not an MF DOOM record, not in the same way that Madvillainy or Mm.. Food or Keys to the Kuffs are MF DOOM records. For this record, like 2004's largely forgotten Venomous Villain, Daniel Dumile takes the backseat, producing and contributing hooks and one-off verses here and there. This is an album (and pairing) designed to focus on and bolster the career of young rapper Bishop Nehru, who wrote and recorded his verses before he was even eighteen years old. This is his album, and unfortunately, that works against it. NehruvianDOOM ultimately leaves you with a question: why him?
The double-edged sword of being given the spotlight before you're even old enough to vote is the constant demand for proof you deserve it. But there's nothing really special about Bishop Nehru — not really. He doesn't have Earl Sweatshirt's dizzying internal rhymes or Joey Badass's endearing sense of nostalgia, and the fact that both of those rappers have held their own alongside DOOM on previous collaborations makes Nehru's good-enough look-at-me-now verses look even more mediocre.
There are some promising moments on the album — lead single "Om" features some fun turns-of-phrase from Nehru ("Am I being idolized? / Or am I a pair of idle eyes?") — but for the most part NehruvianDOOM just feels lyrically amateurish. There's the melancholic teen-diary tedium of "Darkness" (chorus: "Cruel world, all I'm seeing is darkness / Cruel, cruel world, all I'm seeing is darkness"), or the lovesick "Mean the Most," which doesn't even try to mask its lyrical cliches ("I think about you constantly / I hate when we apart / I love to sit and admire like a work of art"). There's a sad irony to the fact that the song is followed up with "So Alone," which sees Nehru anxiously hoping he doesn't screw up his big debut. But unlike, say, Earl Sweashirt's thematically analogous "Burgundy," Nehru doesn't venture much beyond what seems like an unearned sense of self-importance. "Still it hurts to know a verse / Can lead to me in a hearse," he raps, but this album is lyrically toothless — there isn't a verse across the entire half-hour runtime that could imaginably make someone pissed enough to kill him.
Even DOOM seems more sleepy than usual on this record, particularly with the listless "Caskets," and his production seems to be just as apathetic. The ominous backbeat of "Om," at least encourages some head bobbing, but for the most part the record sounds like it was compiled from discarded DangerDOOM rough drafts that Danger Mouse left on DOOM's laptop.
For someone who has proven himself to be extremely meticulous with his releases (he's said to have retooled his Madvillainy verses over and over) it's a shame that DOOM seems so complacent here, especially when Nehru's unrefined ability clearly required as much mentoring as possible. Instead, this seems like another tossed-off diversion in the interminable slog toward that long-awaited Madvillainy sequel. If allowing Nehru to repeat "I'ma do great things, great things / No you can't stop my dream and my vision" ad infinitum (on the track titled "Great Things," naturally) doesn't sound like a bored DOOM looking for an easy paycheck, I don't know what does. As for Nehru, letting him helm a project this ambitious (and hyped) is the equivalent of throwing a kid who just learned to swim into the deep end of the pool: It's unfair to his development as an artist, and it's unfair to listeners who were expecting, well, greater things.
Similar Albums:

Madvillain – Madvillainy


Earl Sweatshirt – Doris


Joey Bada$$ – 1999