Foo Fighters : Sonic Highways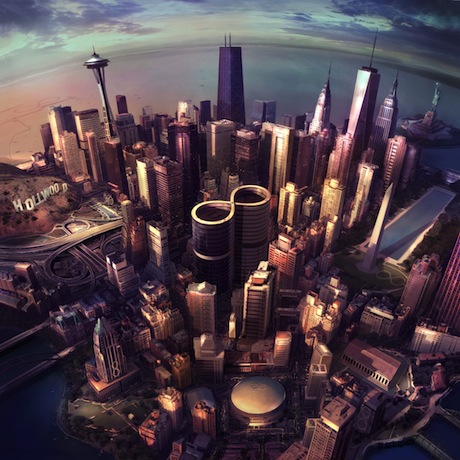 This has been a sneakily cathartic year for Dave Grohl. The world spent much of 2014 acknowledging his first great band, Nirvana, in one way or another. April marked 20 years since Kurt Cobain's death. June saw the band inducted into the Rock & Roll Hall of Fame and making some semblance of peace with Cobain's widow, Courtney Love. Even their MTV Unplugged album just turned 20 on November 1. But 1994 also saw Grohl's first recorded demos for his own eventually huge concern, Foo Fighters, after Nirvana disbanded in the wake of Cobain's suicide. The Foos climbed atop world album charts with 2011's Wasting Light, and Grohl has since taken a loping three-year victory lap focusing on music from many other sources—locations as well as players. He spent up through 2013 assembling backstory, performances, and actual equipment to tell the tale of Sound City Studios in Los Angeles through song and film. With Foo Fighters' 20th birthday looming, he and the band have followed up Sound City: Real to Reel with a similar project tying new music to some of rock's legendary places and spaces.
Sonic Highways is the eighth Foo Fighters record, and at eight songs it's by far the shortest, but it belies a rather massive undertaking. Every song was made at a famous studio in a different American city important to rock music's landscape, with the help of a legend from each local scene. And each visit—including studio sessions, history lessons, and copious interviews—was preserved for posterity in an HBO documentary miniseries. It's a pretty cool concept, made surprisingly less cool by the actual Foo Fighters music in it. We know that across the Foos' first seven albums, you could count on single material everywhere. Grohl's tortured yet melodic lead vocals carry DNA from Cobain as well as punk, metal, and even Laurel Canyon. Pat Smear and Chris Shiflett are more than capable of cranking out guitar walls of sound that pound and groove. The massive Nate Mendel/Taylor Hawkins rhythm section feels like its been around much longer than There is Nothing Left to Lose. These are reasons why this band sells out everywhere, and why they have a greatest-hits album Grohl thinks undersells the band.
All of these exist on Sonic Highways, yet as organized they result in just about nothing that jumps off the aural page. If we're being honest, that problem rests not just on the core quintet but on producer Butch Vig, who also helmed Wasting Light. If you somehow make guest stars like Joan Jett and Gary Clark, Jr. and motherfucking Bad Brains fade into the background then something is seriously wrong. Additionally, Grohl held his lyrics back until each city visit commenced; instead of the anthemic self-actualizing or self-doubt we know so well, the results are largely forgettable mash notes to the locales themselves peppered with site-specific references. "Something for Nothing," for instance, hints at a Buddy Guy interview from the TV series and the Great Chicago Fire.
The most pleasing stunt casting here might be The Eagles' Joe Walsh, who helps give a weird psychedelic/post-hardcore feel to the Los Angeles cut "Outside." Yet if you want anything resembling an anchor song or a hit, you might have to settle for the Zac Brown collab/Nashville track "Congregation." Its descending power-chord line and chorus are the closest thing this album has to clarion calls. Overall, Sonic Highways reminds me of a less successful version of music from another alt-rock veteran's second act: Sugar, the 1990s trio fronted by Husker Du's Bob Mould. But where releases like Copper Blue and songs like "If I Can't Change Your Mind" showed laser-focus and commitment to a new blend of fuzzy power-pop, Foo Fighters commit here to stuff that doesn't rise above the level of filler material on their other albums.
This is all especially disappointing in light of just how good Dave Grohl seems to come off as a filmmaker. I haven't been watching the Sonic Highways show religiously, but I've caught some fine moments: The Chicago episode progressed through some of the city's favorite acts and albums (my heart swelled when the footage stopped on Ministry's Psalm 69 cover), then highlighted Steve Albini's mad genius in the construction and physics of his Electrical Audio studios. In Austin, we were presented with the stoned legacies of Willie Nelson, Roky Erickson, and Steve Earle, before stumbling on the original piano used on Austin City Limits. In this series and in the Sound City film and album—structured dialogues of musical influence—Grohl made the wise choice to let place and participants speak for themselves while he curated from the background. Putting Foo Fighters front-and-center in the process with their Sonic Highways performances only undermines that process.
Similar Albums:


Foo Fighters – Wasting Light


Jack White – Lazaretto


Wilco – The Whole Love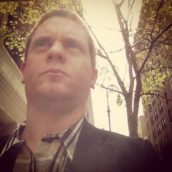 Adam Blyweiss
Adam Blyweiss is associate editor of Treble. A graphic designer and design teacher by trade, Adam has written about music since his 1990s college days and been published at MXDWN and e|i magazine. Based in Philadelphia, Adam has also DJ'd for terrestrial and streaming radio from WXPN and WKDU.