Wild Wild Wets : 14th Floor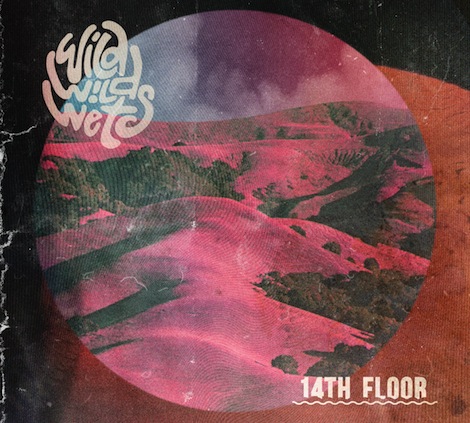 Wild Wild Wets, San Diego's self-proclaimed "party psychedelic-rock" band, seldom take their effects-laden sound too deep into the acid wilderness on their debut album, 14th Floor. While they display their share of psychedelic qualities — achieved with ambient synths, trippy guitar progressions, and a drowned out vocal – there's no bad LSD trips to speak of here. It's still a pop record at heart, and one that has more than a splash of surf-rock in its guitar licks, and plenty of reverb to spare.
"So High," and "Crawl" are undoubtedly the most heavily surf-inspired songs on the record, showcasing pleasantly reverb-heavy guitar riffs that induce Pipeline-riding dreams. And while the band pours heaping spoonfuls of reverb into mostly every song's core, it can sometimes grow a little overbearing on songs like "Floating," "Dirty Dreams," "FaithAged" and "UK Dreams." When it it hits a critical mass, it can occasionally result in "band inside a tunnel" syndrome, causing the instruments to clash with one another instead of showcasing or complementing each other.
Conversely, looking past the clash of effects, some of the instrumental sounds incorporated into the body of the tracks — particularly the more atmospheric or synth-based ones — yield more impressive and consistently satisfying results. At the end of "UK Dreams," the synchronicity of the instruments comes to a dead halt, revealing a slithering tambourine, mimicking the sound of a desert snake under a hot sun. Or in "Blacks Bridge," where the sounds of a night out camping — harmonizing crickets, and the scarce but present howls and cries of wild roaming animals — are embedded throughout the track and reach their climax once they're more audible toward the end. "FaithAged" is one of the strongest and most explicitly psychedelic moments, with the drowning, forever-spinning-record effect, that hits Timothy Leary's "tune in, turn on, drop out" slogan right on the head.
While Wild Wild Wets' heavy doses of reverb may at times obscure the sound rather than enhance it, their kind of tripped-out indie party music stands tall amid a west coast landscape growing ever more saturated with psych-laced sounds. There's plenty of reward for those who get lost and revel in this band's instrumental mystery.
Similar Albums:


Deerhunter – Halcyon Digest


A Place to Bury Strangers – Exploding Head


The Jesus and Mary Chain – Honey's Dead