Colleen Green : I Want to Grow Up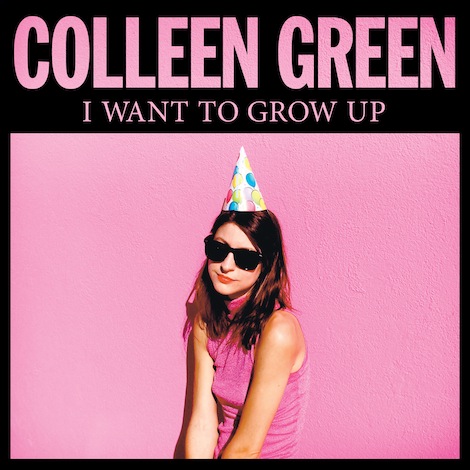 Putting "I" in an album title makes it personal. Colleen Green, 30, really wants to grow up, and she's going to tell anyone who is willing to listen. She left the confines of her bedroom for a proper studio, and threw away her medical marijuana card. Green is using I Want to Grow Up as a vehicle for change in her life. There's something brilliant in the way she has turned 10 diary entries into 10 earnest and endearing pop-punk tunes.
Green, who lives rent-free in her brother's West L.A. apartment, books her own shows and designs her own merchandise, and based on her outlook on I Want to Grow Up, wants to be more responsible. She's sick of being immature, insecure, self-absorbed, dumb, and numb. She's also sick of being bored, and needs a schedule. "What's going to become of my life," Green wails on the opening title track of I Want to Grow Up. She ponders this thought, and the next nine tracks seem to lead Green down a yellow brick road of answers to her problems. Instead of being a teenage adult, Green is willing to accept the accountability of adulthood. Suffering from fluctuating muscle weakness and fatigue caused by autoimmune disease myasthenia gravis, I Want to Grow Up is a way for Green to move on from the demoralizing things in her life.
Navigating a battlefield of sentiment, Green says goodbye to a guy that may be prohibiting her growth ("Wild One"), pays homage to her friendly television ("TV"), contemplates biology ("Deeper Than Love"), needs a two-part suite to convince herself to stop doing drugs ("Things That Are Bad for Me"), and contemplates what a guy needs from her ("Some People"). Green is tackling mundane topics, but they're unique to her, and her half-baked although somehow sprightly delivery would make Nathan Williams drool. Green's growing pains and anxiety are fully realized on "Things That Are Bad for Me (Part II)". "I wanna do drugs right now / I wanna get fucked up, I don't care how / I wanna feel high right now," Green reveals over a slow, feedback laden crawl; the tumbling drum roll and seething guitar solo is the stress reliever. I Want to Grow Up is also another nod to Descendents — Milo Goes to Compton was the first — but it also knocks against the SoCal punks. The album has two danceable groovers — "Deeper Than Love" and "Whatever I Want" — that add depth to Green's fairly straightforward arrangements with bits of synthesizer and piano. "Deeper Than Love" is only threatening because the rest of the album is so cute.
Whether Green is fully grown up or not, her music is definitely headed in that direction, further away from her past homemade recordings that screamed of a juvenile distaste of fashion. Green may be scared of becoming an asshole, but higher production value and help from friends — JEFF the Brotherhood's Jake Orrall and Diarrhea Planet's Casey Weissbuch — have only made her punky pop tunes more likable. "My eyes opened up and now I see no limit / The world I live in is a design of my own" is Green's most honest lyric on I Want to Grow Up, which is a record full of them. Green is cool for being anti-cool.
Similar Albums:


Dum Dum Girls – I Will Be


Vivian Girls – Share the Joy


La Luz – It's Alive