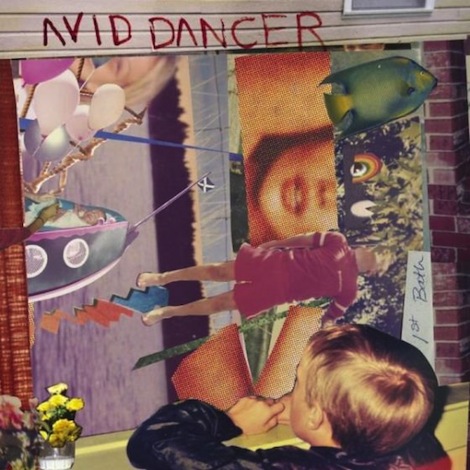 It seems like former marine and drum corps member Jacob Summers, who records under the name Avid Dancer, has been hailed as an "artist to watch" for almost over a year now. The Internet fell in love with his first single, the bouncy "Stop Playing With My Heart," and many of us anxiously awaited his debut album to see if the hype was all worth it, if bright vocals and cheery psych-pop grooves could sustain for a full cycle of songs. Arriving just before that "artist to watch" tag reaches expiration is 1st Bath, Summers' first proper full-length.
The album opens with the upbeat, drum-filled, Mirage-era Fleetwood Mac-like "All The Other Girls," which isn't exactly a tone setter, as it is followed by a run of songs that rely on Summers spreading his airy, almost trembling falsetto over some soft arrangements that are comfortable and familiar, if not complex. The standout among these is "All Your Words Are Gone," which is the first song that gives the listener something that they can feel comfortable singing along to. You can feel Summers drawing from the well of his '80s pop music influences in spots, though not nearly enough. His strongest songs are his most danceable, like the appropriately titled "I Want To See You Dance." Which, if you close your eyes, feels like it could be played in a 1980s Miami club, and no one would know the difference.
While there is definitely something to be said for having a comfort zone, Summers tends to fall back on the sparse-arrangement-plus-breathy-and-delicate-vocals formula a bit too much, making the album uneven in spots. Right when we come down from the high that "I Want To See You Dance" gives us, we're hit with "Whatever's On Your Mind" a song that, even for Summers, is a bit too gentle to be anything other than exhausting. He does the work in showing that he's not just a one-trick pony, but in doing so, the album takes the listener on a sometimes confusing (and potentially uncomfortable) sonic journey. Perhaps this is a testament to both his reliance on similar sounds, and how cleanly he does it, but by the final track (the beautifully churning "Up Against A Wall"), you may have a "Wait…did I hear this one already?" moment. Something that can be common with debut albums, but still worth mentioning.
If you are going into the album trying to figure out whether or not Avid Dancer is worth the hype, what you'll find with 1st Bath is that it is a solid collection, but it provides no definitive answer. There is daring here, and there are a lot of keepers; songs you might play as a cool night settles in after a hot summer's day. But it's tough to tell how great Summers is at crafting unique songs, or how long he'll be around. Sure, there are a handful of indie-rock guys who have made entire careers off of a minimalist approach and soft, gentle singing. And I don't imagine anyone is asking Summers to reinvent the wheel. But it would be nice to see the wheel re-imagined. Or at least not spinning in place.
Similar Albums:


Mikal Cronin – MCII


MS MR – Secondhand Rapture


Spoon – They Want My Soul