Coliseum : Anxiety's Kiss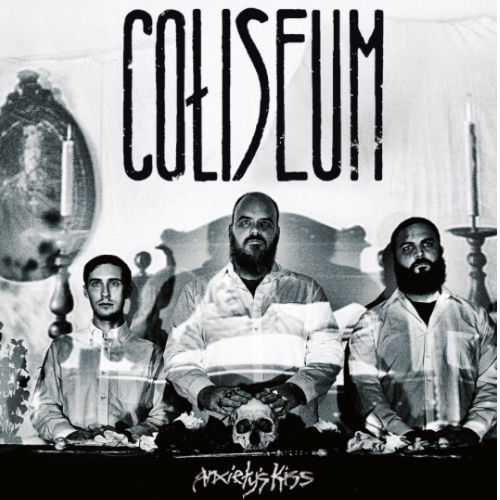 On Anxiety's Kiss, Coliseum's first full-length for Deathwish Inc, the Louisville, Kentucky band takes another step away from metal. Immediately, there's a sense they lean more toward Gang of Four than Motorhead, the songs on the album possessing an angular jerkiness, despite some streamlined riffs. The bass tone is tough, and grittier than most of the guitar. And halfway through your first listen, you might catch that the two biggest influences on this album are Killing Joke and New Model Army — two very fine bands to kneel at the altars of, but at some point comes the question of how important originality is on this album.
There are certainly moments of aggression, however, like "Course Correction," which is, still, very similar to Killing Joke's louder moments. They dig up a New Model Army sound on "Drums and Amplifiers." And these comparisons continue into "Dark Light of Seduction." The drumming really moves this song in way that saves it from dragging, and they flirt with a form of post-punk that leans heavier on rock 'n' roll, coming closer to something Bob Mould would do. The guitar of "Sharp Fangs, Pale Flesh" hits a sonic sweet spot, and the dark edge they skirt along has some nice emotional shading. There is a Cure-like guitar tone to "Sunlight In a Snowstorm," while the deliveries of the plaintive baritone vocals are one of the prim culprits that continue to earn the New Model Army comparisons. There are some darker moments as well, like the beginning of "Driver at Dusk," which finds Patterson's voice dropping down into an almost Nick Cave register; the song simmers but doesn't really go anywhere, and instead feels more like an interlude.
What could have been one of the more sonically driven songs, "Escape Yr Skull," closes out the album. The vocals are a more relaxed baritone, almost to the point of sounding like the earthy shoegaze of The War on Drugs, but the guitar keeps things even as the rest of the band feels like they are playing against the progression of the chords. Still, the band is headed in the right direction, and they certainly make some cool sounds here. This album feels like it is a transitional phase for the band, so it requires a mind open enough to accept their growing pains. But longtime fans should already be prepared for another new chapter of Coliseum's sonic evolution.
Similar Albums:

Torche – Restarter


Killing Joke – The Singles Collection


Helms Alee – Sleepwalking Sailors