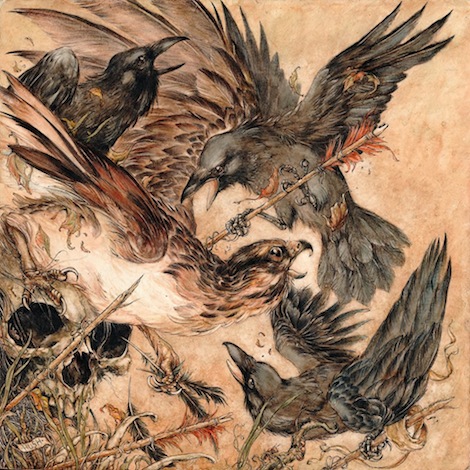 It has been too long—nearly seven years—since the last Valkyrie album, Man Of Two Visions. The Adams brothers have been busy in the meantime, most notably guitarist Pete Adams joining Baroness, an act that led to a kind of unspoken hiatus for Valkyrie. Yet the differences between Baroness and Valkyrie couldn't be more apparent in this album. The Adams brothers haven't lost their taste for straight forward southern metal, with heavy blues riffs and jagged vocals. A refreshing throwback to bands like Deep Purple, and even Skynyrd at their most acrobatic, Shadows kicks in the door with "Mountain Song," which serves as a proper reintroduction with its unapologetically southern-fried guitarriffs and dashes of prog, for the more technically inclined.
The greatest part about Shadows is that it doesn't let you up off the mat. With only seven songs on the album, the margin for error is pretty slim, and Valkyrie doesn't disappoint on that front. After the sluggish and somewhat tough to engage "Golden Age," they follow up with five songs that are absolutely brilliant, not only in execution, but in showcasing the full depth of skill that the Adams brothers possess. It isn't just a guitar album, mind you, but it is definitely difficult to ignore the absolute absurd level of talent that is showcased on nearly every track here. On "Wintry Plains," we're treated to a slow and curvy ride of 13th Floor Elevators-influenced psych-pop, and right when we're at the edge, we get a jolt of guitar acrobatics that are so good, it almost feels like showing off. Though many of the songs use the same elements (consistently building ride, closing out with ferocious guitar), no two songs are all that similar, which is a feat rarely seen in metal today. It would be almost too easy to compare them to Thin Lizzy, especially when one considers the perfectly harmonized vocals that permeate the album. While this isn't to say that Valkyrie is better or worse than Thin Lizzy, it truly feels like they're tapping into something different. An understanding of melody, most highlighted on a song like "Echoes (Of The Way We Lived)", that is genuinely groundbreaking, and pushing the art forward.
Valkyrie's biggest strength is that they can offer something for all listeners of metal. So often, we see metal bands now stick to their one or two guns, and hammer you to death with them. It would have been easy for Valkyrie to make an album of guitar antics and heavy riffs, and not offer anything else. Where Shadows succeeds is in not being easy. It is truly rare to see a band plug all of its influences into an album spanning less than an hour, but Valkyrie succeeds in doing that, and more, ultimately ending up as a metal album that brings something to the table for everyone, and doesn't sacrifice any of its heaviness in the process. It is a throwback, in that way. Something that is now rarely heard: A true triumph.
Similar Albums:


ASG – Blood Drive


Royal Thunder – Crooked Doors


Thin Lizzy – Jailbreak