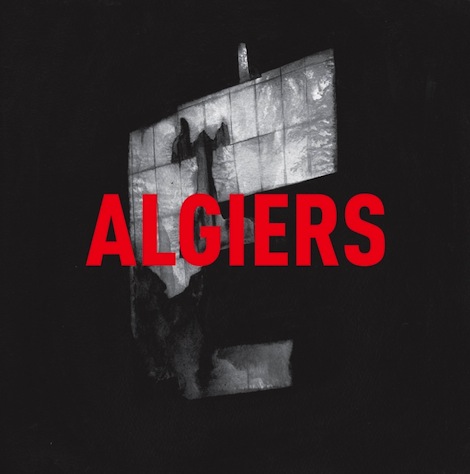 It's not a exactly song of praise that leads Algiers' impressive and potent self-titled debut. After a slow build of snapping drums, a gospel moan and synthesizer hum opening leadoff track "Remains," vocalist Franklin James Fisher offers the line, "There's a brand new show to watch today/ So Western eyes can look the other way… we are what remains." The final 45 seconds comprise a weighty keyboard progression that seems to pull the song to its conclusion, like rope attached to a digital slab of granite.
Indeed, Atlanta-born (and New York and London based) trio Algiers' self-titled Matador-released debut, is heavy, dark music about 21st century racial politics, bound in a thick sonic reference book of 400 years of American history. The band's aesthetic finds its fullest expression in the album's centerpiece, "Blood," a rebuke to a supposed post-racial America, juxtaposing a line like "You say that history's over" with the rejoinder, "All my blood's in vain" as death-rattle tambourine clangs deep in the mix and chain-gang chants exhale up front.
Algiers, which also features guitarist Lee Tesche and keyboardist/ bassist Ryan Mahan, have laced the songs with a spontaneity, so even after the initial listen is inevitably spent, it feels like you've heard something new. Only two of the 11 songs go longer than five minutes and indeed it's some of the shorter tracks that brim with ideas. And as aesthetics and influences go, '70s synth-punks Suicide figure as much here as '60s soul.
"Old Girl" begins with a muffled funeral bell, changes into a MC5 rave-up, and then a lonely chirping synth, before Tesche blasts through some Captain Beefheart inspired guitars. On "Black Eunuch," guitars twang and surf before settling into a jazzy coda. And despite the undergraduate lit-class title, "Irony Utility Pretext" is a danceable electro-throb bomb that is likely to be favorite in the band's live set. Yet Fisher's vocals are at their best on "Games," a soft gospel-soul song, that maybe would've found a home on a Nina Simone record. All in all, Algiers are saying, "America goddamn."
Similar Albums:


Nick Cave and the Bad Seeds – Tender Prey


Massive Attack – Mezzanine


The Afghan Whigs – Do to the Beast