Beginner's Guide: Devin Townsend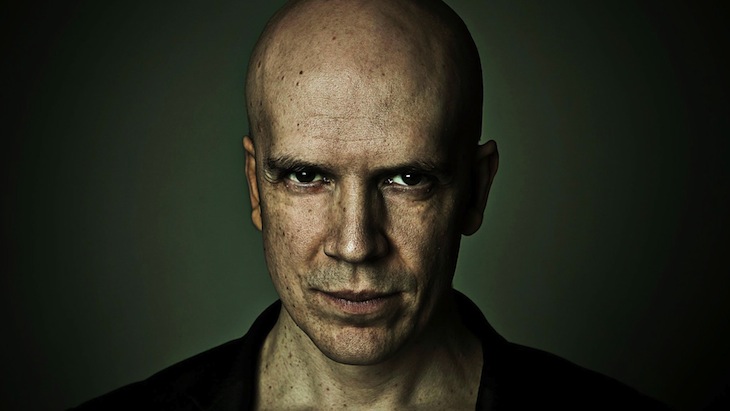 Taking on Devin Townsend's discography is no light task. In fact, it's probably a little bit like deciding one day that you'll read the entire Dune series. He has a massive and diverse discography, which ranges from ambient/new age and acoustic to extreme metal, and it's highly self referential, so it is very easy to be overwhelmed by it all. Devin Townsend is a really quirky, brilliant, fascinating guy, and his art is a brutally honest, mostly autobiographical representation of who he is.
Devin's rise to fame would have been any other artist's dream. As an 18-year-old, he was hand picked among hundreds of auditions to sing for Steve Vai's moderately successful album Sex and Religion. His strong, operatic vocals, paired with his ability to belt and scream, made him a great fit musically for Vai. The only problem was the fact that he grew to hate everything about his circumstances. The pompousness of fame, the pretension of musicians, and festering mental problems culminated in the beginning of his solo career in 1997 with Ocean Machine: Biomech, an emotional, atmospheric metal album that didn't fare as well as he would have hoped, but gained a cult following. Around the same time, Devin's side project Strapping Young gained some traction, with the release of the sardonic, aggressive, and bewildering City that same year, which despite the fact that it was slightly tongue and cheek, was critically acclaimed. Since then, he has more than 20 albums of original music, provided guest vocals and guitar work on a whole host of albums, produced numerous projects, and gained a reputation as a brilliant madman with a lot to say.
Some listeners are instantly hooked to Devin's style, and for others, it takes some serious investment. Townsend's music is dense in every way. His devastatingly honest lyrics have an unseen emotional depth, especially when one considers his struggle with manic depression (ex."I wait for the pain/It always comes again/And I don't know why/And I don't care why/Anymore"). He also has a distinct wall-of-sound production style that was heavily employed in his early releases like Terria and Accelerated Evolution that definitely takes some getting used to. So, you could probably buy any of his albums and have something to chew on for a while. While it's hard to definitively decide the perfect entry points for his enormous catalog, his Devin Townsend Beginner's Guide will hopefully be at least point in the right direction.
Disclaimer: I won't be including his work with Strapping Young Lad or other bands.
---
Ocean Machine: Biomech
(1997; Hevy Devy)
Meet Devin—an angry, disillusioned young musician who is drowning in a perfect storm of mental illness, grieving loss, and an experience that would leave anyone jaded. The product of this tortured head-space? Ocean Machine. Yes, it shows Devin in his relative musical infancy, and it has its fair share of odd moments. For many, the atmospheric, washy production is a barrier, but after one acclimates to that, the brilliance of the album can be understood. The album starts out with a spacey voice quoting Emerson, so there's that. Some of Devin's most timeless numbers can be found on the 2nd half of the album. "Greetings" leads into the chugging "Regulator," which is a killer track, and even better live. "Funeral" is an epic soundscape of a song; it sounds like a heavy incarnation of Pink Floyd. "Bastard" is a devastating bruiser of a song, one that paints the bleak picture of Devin's emotional despondency. While Devin's catalog is full of some strange tunes, none are as weird, and none succeed as well as the incredible "Death of Music," a 12-minute track that is mostly Townsend and a repeated drumbeat, with whispering and samples. The buildup in the song is incredibly tense, and the release is monumental. Closing with the more overt treatment of death, "Things Beyond Things," the Ocean Machine: Biomech album is a gorgeous, depressing piece of music that will be timeless as long as there is sadness in the world.
---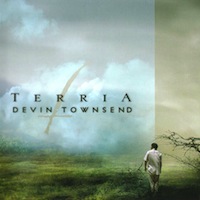 Terria
(2001; Inside Out)
Terria is pure, unadulterated Devin. From the bizarre ambient intro "Olives" and the intense opener 'Mountain' (which features shattering glass and a brutal scream, followed by loud dog howls from Townsend's deceased pet) to the uber-poppy "Stagnant," the album is a varied, dense, and emotional journey through Devin's consciousness. Some of Devin's best tracks are featured on Terria. The sardonic 'Earth Day' derides the endless streams of platitudes that we all constantly hear, all to a driving, metal chug that doesn't let you go until the very last note. "Deep Peace" deals with hostile relationships, and features a gorgeous midsection with some really beautiful guitar work. "Canada" is a tongue-in-cheek tribute to his homeland, featuring lush harmonies and playful jabs "Tiny Tears" is a slow rise, but the album culminates in the deeply layered statement, "Kyrie Elleison!" ("Christ has risen" in Latin). This album is chock full of samples (perhaps too many), and is so emotionally dense that it can't possibly be absorbed in one listening, but putting in the time to understand this album will pay off dividends, as it is a profoundly relatable album.
---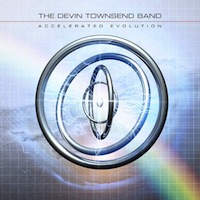 Accelerated Evolution
(2003; Roadrunner)
Devin Townsend's album Accelerated Evolution is not more than it claims to be—it's just a great metal album. While part of Townsend's appeal is his versatility, Accelerated Evolution is more of a straightforward rock album with progressive elements, featuring catchy hooks and epic melodies, and his trademark lyrical honesty. Some of Devin's most indisputably brilliant vocal moments can be found on this album. "Depth Charge," the album's opener, is a fun and aggressive song that matches heaviness with great melody. The follow up song, 'Storm, is more of a heavy ballad, although it features some near inhuman vocals near the end as Townsend howls a vocals passage in the rafters that would make anyone else burst all of their blood vessels. "Deadhead" is a slow, dark, and chunky lament that features Devin's incredible vocal versatility, as he switches effortlessly from clean vocals to passionate screams. There are other moments of delightful pop metal on this album, like the upbeat "Traveller" and the tender "Sunday Afternoon." Overall, Accelerated Evolution is a side of Townsend we later see in a more controlled setting on Epicloud and Sky Blue, but his vocals and intensity make this album worth checking out.
---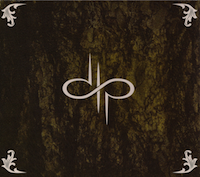 Ki
(2009; Inside Out)
Ki was released as the first in a four-album series that explored different elements of Devin's personality. The music of Ki is hard to describe. However, knowing Devin's struggle with bipolar disorder helps this album make sense. There are a number of highly subdued songs, like the hypnotic "Coast" and the touchingly candid "Lady Helen." "Terminal," found halfway through the album, is a beautiful and melancholy gem of a song. But then there are songs that, due to the dynamic contrast that occurs, approach a heaviness that is only found in Strapping Young Lad. "Heaven Send" is a song that expresses the anxiety that surrounds death. It starts out with a clean but sinister riff and a driving drumbeat, but it quickly evolves into a heavy midsection that is the musical equivalent of the face-melting scene from Raiders of the Lost Ark. The album isn't all pain and torture, as seen on the Elvis-style track "Trainfire", a strange, charming rockabilly piece that somehow works out as something beyond style parody. The dual nature of the album is encapsulated in the title track, which starts out with beautiful harmonies and acoustic guitar, and ends in a thunderous assault of layered sound, with Townsend's operatic vocals soaring above pure musical cacophony. This album is a powerful statement on dealing with mental illness and a great work of art, although there are moments that can be so emotionally brutal that they are uncomfortable.
---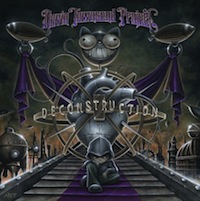 Deconstruction
(2011; Inside Out)
Deconstruction is an incredible, manic, bizarre circus of an album. It tells the story of a confused young man in the throes of an existential crisis, disturbed by all of the conflicting messages he is receiving from the bewildering world he lives in. After a bizarre journey through heaven and earth, he finally finds himself in the pits of hell, where the meaning of all existence is revealed to be a double cheeseburger. As bizarre as this all sounds, the album is just a retelling of Devin Towsend's musical journey, as well as a massive middle finger to cookie-cutter metal. Whether it is the conflict of sex and religion (a blatant Steve Vai reference) seen in the blistering "Juular," or the struggle of drug addiction seen in "Praise the Lowered," or the musical exorcism found in "Poltergeist," the album rewards familiarity with Townsend's biography and previous works through an absurdist lens. The album is a massive party for all involved, boasting an incredible lineup of guest musicians, from guest vocal spots by Oderus Urungus from GWAR and Tommy Giles Rogers from Between the Buried and Me, to Gojira's Joe Duplantier opera-metal queen Floor Jansen, and for that matter, Greg Puciato from Dillinger Escape Plan (and this is only half of them), the album is overflowing with talent and intenity. The album has moments where it begins to approach some philosophical point, but any attempt at seriousness is promptly disarmed by some ridiculous statement, such as the math-rock breakdown in "Planet of the Apes" that begins with the line "We all have lots of bands who influence us/Still we all rip off Meshuggah." Of all the stellar guest musicians, Dirk Verbeuren from Soilwork fame plays drums on this album, and steals the show with some of the most intense, frenetic drumming I've ever heard (See "Pandemic"). Deconstruction is over the top in every way possible, making its excess a parody of itself. A must-listen for metal fans with a sense of humor.
Also Recommended
For fans of the heavier Devin Townsend moments, I'd highly recommend checking out Strapping Young Lad. Although his solo music is more palatable, Strapping Young Lad was on its way to becoming a highly successful endeavor before it disbanded in the mid '00s. The most famous Strapping Young Lad album is City, which is completely brutal and intense. The least aggressive, and maybe most palatable SYL album would be the most recent release, The New Black, which balances some pretty aggressive songs with a lot of humor and some great guest appearances as well.
Advanced Listening
If you like Ki, then be sure to check out Casualties of Cool, his latest project with the brilliant female singer heard on Ki (Ché Aimee Dorval). Atmospheric, dark, and spacey acoustic folk electronica. If you enjoy Accelerated Evolution, then Epicloud, Sky Blue, and Addicted! are the more upbeat, straightforward metal albums in his catalog. For fans of the subdued chaos of Terria, Infinity is worth checking out. If you like the silliness of Deconstruction, one can't look past the space opera of Ziltoid the Omniscient, his tale about a coffee-fueled guitar playing alien seeking world domination, and its musical sequel, the completely overblown Z2.
You might also like: