High On Fire : Luminiferous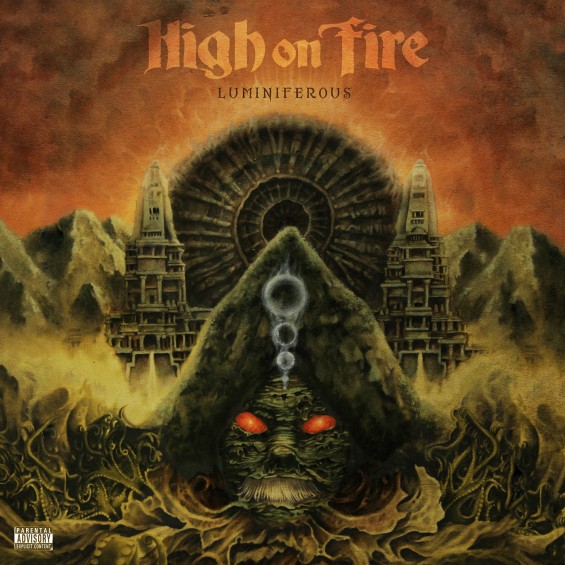 Matt Pike is one of the best guitarists in metal. The High On Fire leader plays with a unique heaviness, and his solos are a twisted thing of brilliance. Pike usually plays Gibson Les Pauls, but he has a custom designed First Act guitar with nine strings—the top treble strings are doubled up like a 12-string—to present a natural chorus effect and add depth to his ferocious sound. Pike also has a signature line of high-output chrome pickups called the Dirty Heshers that are rich in the bottom end and harmonically pungent; it's a highly detailed sound that can slay whoever is listening. And let's be honest, Pike has been killing it on guitar ever since he came up with Sleep in the early 1990s, becoming one of the most important influences for stoner and sludge metal,or just heavy music in general.
But it takes more than one man. High On Fire has two solid anchors—drummer Des Kensel and bassist Jeff Matz—that Pike is blessed to have on board with him. Together, they form one of metal's most powerful trios, and Luminiferous is the fourth installment of the band in this lineup. Overall, it's High On Fire's seventh album; Kensel has played on all seven. And while there are plenty of bands that never see a seventh album, and some that would play it too safe at this stage, HOF is still reaching for new ground. Take, for instance "The Cave," which focuses on whimsical songcraft. High On Fire may have never been this light or mysterious on record, but it's still High On Fire, so we're still in for a good head-banging. But since the band is so furious, a moment like "The Cave" really spotlights the strength of their songwriting. The trio is impeccable.
Luminiferous, recorded again with Converge's Kurt Ballou, carries tremendous weight, and Pike's impressive solos are everywhere. It sounds like Kensel might break through his drum set on "Slave The Hive," as Pike nicely squiggles his strings. This song threatens to break apart—it's ridiculously heavy, even for High On Fire. "Carcosa" gets a tad repetitive, but the ripple effect in the rhythm is entertaining. Everything that a High On Fire fan would love about the band—relentless tom rolls, grimy hooks and exceptional guitar solos—is here, but it's amplified to such a militant level of monstrosity. And the songwriting has improved a little bit as well. The band delivers a thrashing of a lifetime on Luminiferous. If every flaming wreck was this fun, we might not be so terrified of the thought of a world on fire.
Similar Albums:

Torche – Restarter


Electric Wizard – Black Masses


Red Fang – Whales and Leeches