The 2000s have been over for more than a decade, but the ripples of that decade's music only continue to be felt now, in this cursed pandemic age. The rise, fall and rise again of T-Pain; the long-delayed series of full-length albums from Jay Electronica; the return of The Microphones; debates over the best verses in "International Players Anthem" (of which there is really no debate to be had); the eventual and possible inevitable melding of Taylor Swift and The National. The '00s might be over, but they're never really far from our thoughts.
With a decade of distance between us and that decade, it dawned on us: Maybe we should put together a new list of the Best Songs of the 2000s—or, maybe more accurately, our favorite songs of the 2000s. Our listening habits have changed, the way we view music in hindsight has changed—some music hasn't aged well, some has slow burned its way to visibility in ways that it didn't back then. And despite our voracious appetites for music at the time—aided by a file-sharing culture that emphasized everything-at-once eclecticism—we feel like the first list we put together doesn't now accurately represent what we think stands among the best music of the decade. There's no way to precisely pinpoint everything that had an impact; this isn't a list of the biggest songs of the decade, and we didn't see the point of making a carbon copy of the Billboard charts. Rather, we've included everything from bohemian noise to doom metal, Swedish pop to Congotronics. It's an attempt to capture as much of the '00s as we can in 150 songs—mainstream, underground, experimental and pop-chart polished. An impossible task, but one worth trying anyhow. If nothing else, we had fun with it.
With our newly re-evaluated list of the Best Songs of the 2000s, we've included two "Further Listening" songs with each entry, essentially expanding this list to 450 songs, and giving readers several days' worth of songs to revisit or hear for the first time. It's a way to try to cover as much ground as possible without necessarily trying to spread ourselves too thin. Of course, there's always more great songs where those came from. So let's get started—we present the best songs of the 2000s.
Listen to Our Best Songs of the 2000s Playlist.
---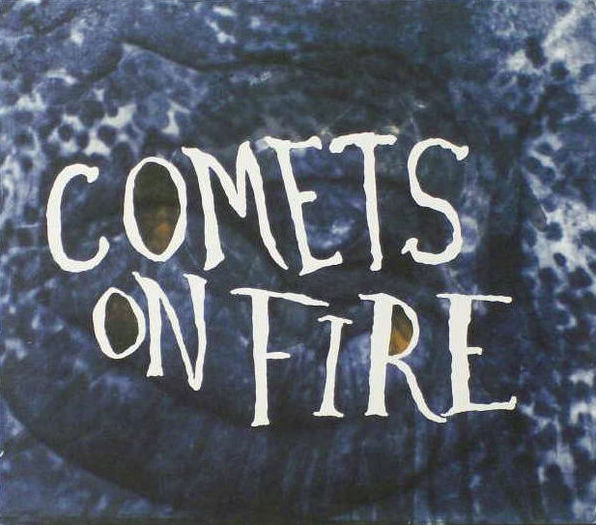 150. Comets on Fire – "Antlers of the Midnight Sun"
The unholy child of Hawkwind, peak-era Can and the thunder of proto-metal, Comets on Fire were quite simply the best rock band in the world for the few years of their existence. They managed to understand intuitively everything important there was to know about all forms of rock, from prog to punk, psychedelic to straight ahead, heavy metal to boogie, and deployed absolutely all of it at every single moment. There are longer tracks that represent perhaps a better understanding of how deep it could go, but "Antlers" becomes the obvious pick precisely for how dense it is, exploding like an atom bomb from the speaker before disintegrating in the same violence of its birth. That it comes from dead center on Blue Cathedral, the clear peak of this outfit, feels all the more fitting; their body of work is a dartboard and this is the bullseye, the center of the whirling universe of rock and roll. – Langdon Hickman
Further Listening: Acid Mothers Temple – "Starless and Bible Black Sabbath"; Oneida – "All Arounder"
---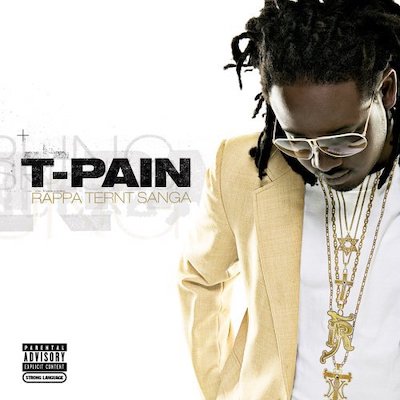 149. T-Pain – "I'm Sprung"
"I'm Sprung" marked the inception of "the T-Pain effect," an industry-wide popularization of heavily chided vocal plugin Auto-Tune. Beyond the vast amount of thinly veiled racism from critics and industry gatekeepers alike, Auto-Tune (in)famously roused both pop moguls and indie A-listers alike. Jay-Z wrote "D.O.A. (Death of Auto-Tune)," Christina Aguilera once wore a t-shirt that read "Autotune is for P*ssies" and Death Cab for Cutie made an appearance at the 51st Grammy Awards wearing blue ribbons to protest the use of Auto-Tune in the music industry. Really.
T-Pain is a good person. He didn't ruin music, or whatever Usher said to him. He just did it better and that's how you get haters. Rappa Ternt Sanga is easily one of the most important pop records of the 21st century. It was ripped by Kanye on 808s and its influence clearly remains to this day. Despite going platinum, "I'm Sprung" would soon be overshadowed by Epiphany's megahits and a streak of massive features like "Kiss Kiss" and "Good Life." Apart from T-Pain's obvious talent and enduring likability, "I'm Sprung" remains a classic for its deliriously catchy backing track and seamless synthesis of minimalist 2000s pop R&B and a revolutionary new sound. With leadoff lines like "She got me doin' the dishes/Anything she want for some kisses," it's T-Pain at his most T-Pain, the singer dripping in chivalry, swagger and Auto-Tune. – Patrick Pilch
Further Listening: T-Pain – "I'm N Luv (Wit a Stripper)"; The-Dream – "Shawty is a 10"
---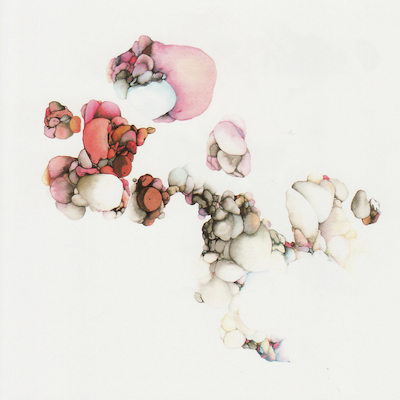 148. Yellow Swans – "Endlessly Making an End of Things"
If Wolf Eyes are the Grateful Dead of noise, then Yellow Swans are something like its Velvet Underground—together for only a few short years, but in that time delivering some of the most graceful exorcisms ever wrought from electronics and guitar. The closing track of their 2007 album At All Ends is a microcosm of the band's elegant chaos, slowly building waves of guitar cascading over a subtle feedback drone, a roiling leviathan growing underneath, ready to break through and consume everything with the fire from its throat. It's almost too conventionally beautiful to be noise, but it is noise—intense, destructive, all consuming noise. And it feels good. But more importantly, it sounds divine. -Jeff Terich
Further Listening: Wolf Eyes – "The Driller"; Ben Frost – "Killshot"
---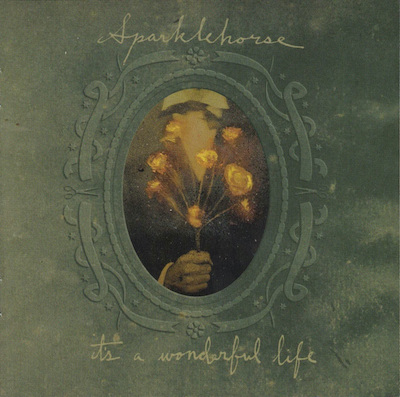 147. Sparklehorse – "It's a Wonderful Life"
Mark Linkous was transparent about why he named Sparklehorse's third album It's a Wonderful Life: he was sick of critics dwelling on the darkness in his lyrics. ("For a long time I felt the only reason journalists wanted to talk to me was because I was the guy who nearly died," he told one interviewer in 2001, alluding to the overdose that almost killed him five years earlier.) And while it's true that Sparklehorse's songbook is filled with sad and surreal imagery, Linkous found beauty, however unconventional, in places others felt were too ugly or broken or just plain weird to look. "I'm the dog that ate / Your birthday cake," he sings between choruses on It's a Wonderful Life's crackling, fluttering title track. It just might be the most grateful he ever sounded on record. – Jacob Nierenberg
Further Listening: PJ Harvey – "You Come Through"; Tom Waits – "Green Grass"
---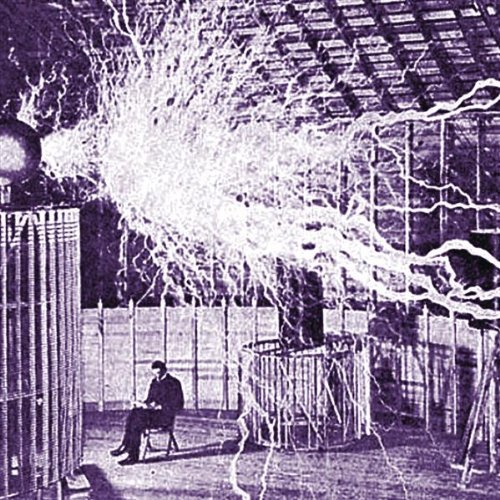 146. Jay Electronica – "Exhibit C"
Jay Electronica has released only two albums and an EP in his nearly 15-year career, and two of them came out last year. Which makes a bold autobiographical statement like "Exhibit C" feel premature, to say the least. But on this, to date Jay's greatest five and a half minutes, he's too hungry a fighter not to win—and that's in a literal sense, his first verse reminiscing about not having a single piece of pizza to his name. Over a cinematic soul beat provided by a suitably amped-up Just Blaze, Jay Electronica delivers his State of the Union: his childhood growing up poor in New Orleans, calling out New York rappers for stealing southern slang without offering due respect, and eventually casually name dropping Nas, Diddy and Q-Tip waiting for him to "drop that verse" (the prophecy has been fulfilled?). There's references to the Torah and the Qu'ran, Nikolai Tesla and Marcus Garvey, Public Enemy and MF DOOM. It's about the tightest history of both eastern and western culture ever documented. If Jay Electronica never picked up the mic again, he'd still have "Exhibit C." – Jeff Terich
Further Listening: Curren$y – "The Day" [feat. Mos Def, Jay Electronica]; The Roots – "Long Time"
---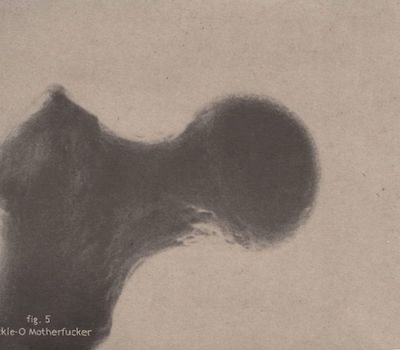 145. Jackie-O Motherfucker – "Amazing Grace"
It doesn't feel quite right to call Jackie-O Motherfucker's rendition of "Amazing Grace" a cover. It's more of a deconstruction, scattering the hymn's components over 10 minutes and filling in the negative space with fitful strings and woodwinds, like a symphony tuning their instruments. Only in its final three minutes does "Amazing Grace" start to resemble its source material, but all that build-up isn't mere noodling—no, you're listening to the song take shape in real time, beholding as JOMF transform this centuries-old composition into something wondrous and crackling with life. – Jacob Nierenberg
Further Listening: Animal Collective – "Visiting Friends"; Espers – "Dead Queen"
---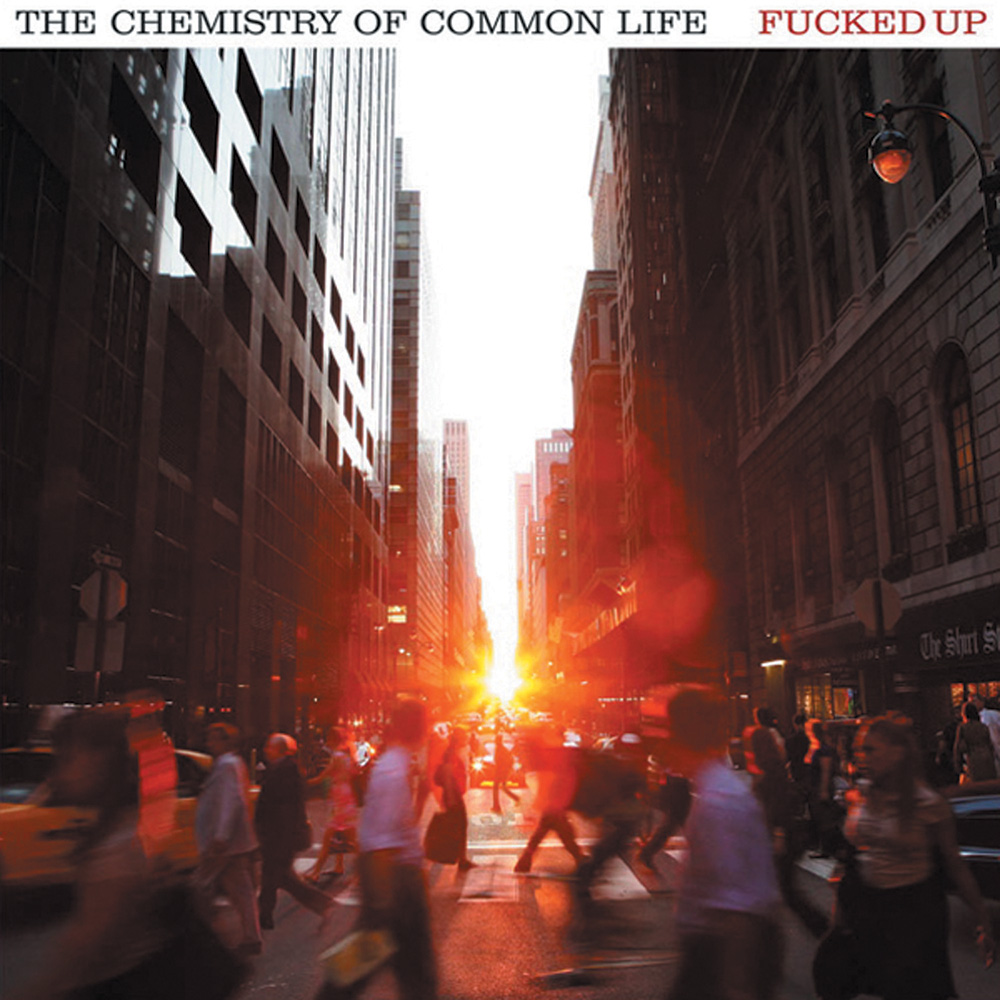 144. Fucked Up – "Son the Father"
Fucked Up have since made a name for themselves as simply one of the best rock bands of the past 20 years, dropping a three-headed hydra of music ranging from their ultra-proggy Zodiac series, their experimental and often extremely punky standalone singles and LPs all melded together into their kaleidoscopic central pillar of studio albums. "Son the Father" is the opening salvo off the record that put them on the map, the Polaris Music Prize-winning The Chemistry of Common Life, blurring in hi-fi psychedelia between flute, swirling/cascading feedback all set against a Hüsker Dü-sized alt rock anthem about the interior mysteries of alchemy and spiritual birth. It's as heady as it is visceral, felt fully in spirit, body, and mind, and the perfect introduction to one of the best bands of all time. – Langdon Hickman
Further Listening: Pissed Jeans – "False Jesii Part 2"; mclusky – "To Hell With Good Intentions"
---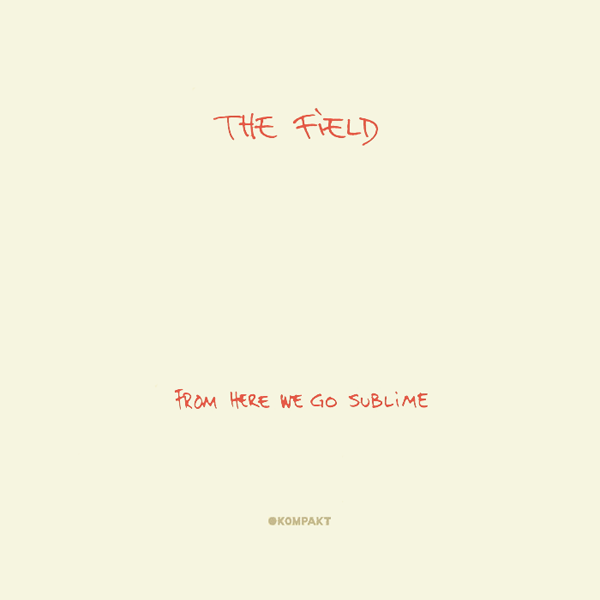 143. The Field – "A Paw in My Face"
There may have been concern in some circles that, following the gradual dissolution of the IDM wave of the '90s, techno as an art form might be in trouble. This, of course, was preemptive. The Field's Axel Willner is much more studious and austere in his approach to the form, repeating structures, glitching and hiccuping until you've memorized every timbral shift of them rather than the scattering of thoughts of that previous form. This is what makes "A Paw in My Face" so effective; Willner's approach to minimal techno lifts up the skeleton of the form and makes it whole, bridging the gap between rhythm/dance-oriented electronica and ambient music. This in turn prefigured the arthouse turn electronica would take in the 2000s, especially as it intersected the artsier worlds of alternative music. – Langdon Hickman
Further Listening: The Tuss – "Rushup Edge"; Gui Boratto – "Beautiful Life"
---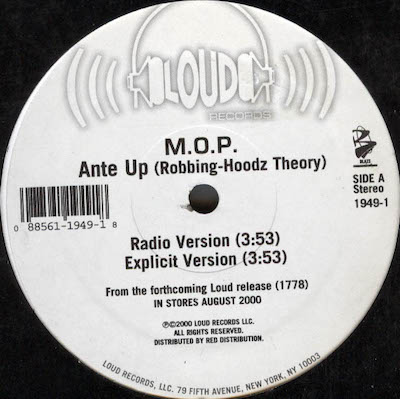 142. M.O.P. – "Ante Up (Robbin Hoodz Theory"
Few hip-hop songs of the past or present are as unrelenting as "Ante Up." The horn-driven, booming beat by frequent collaborator DR Period is a muscular enough foundation to support the raw, shouted-rather-than-rapped lyrics of Lil Fame and Billy Danze, and it never really takes a break, even for a second—just blasts ahead for four minutes before disappearing as abruptly as it arrived. The M.O.P. fellas have more than ill-gotten gains on their mind, though—they are waging war on blinged-out interlopers: "Them thugs you know, ain't friendly/Them jewels you rock, make 'em envy/You thinkin it's all good, you creep through a small hood/Goons comin' up outta the cut for your goods and they all should." If that's not an "eat the rich" sentiment, I don't know what the hell is. – Liam Green
Further Listening: Nas – "Made U Look"; DJ Quik & Kurupt – "9x's Outta 10"
---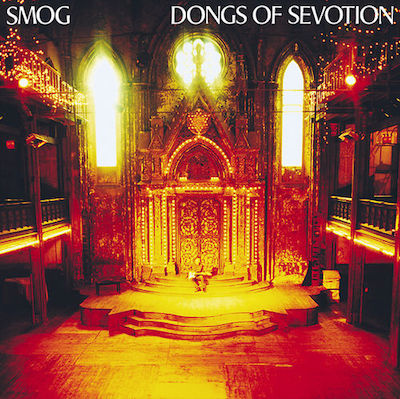 141. Smog – "Dress Sexy at My Funeral"
Bill Callahan had six Smog albums under his belt by the time he was 30. A year before he turned 35, he released an album obsessed with death and featuring a dick joke in its title. That's Bill—always finding a small slice of absurdity amid overbearing darkness, but even within that darkness he finds a humanity and intimacy that other songwriters would scarcely shine a light on. The narrator of "Dress Sexy at My Funeral" fantasizes about his smoking-hot widow blowing kisses to his grieving brothers and winking at the minister, wearing a "blouse undone to here" and "your skirt up to there." It's a masterclass in situationally inappropriate horniness, an oddly sweet and awkward (and a little petty) reconciliation between how we want to be remembered and the things we wouldn't want to let go: "Tell them about how I gave to charity and how I tried to love my fellow man…but most of all don't forget about that time on the beach." – Jeff Terich
Further Listening: Lambchop – "Up With People"; Silver Jews – "I Remember Me"
---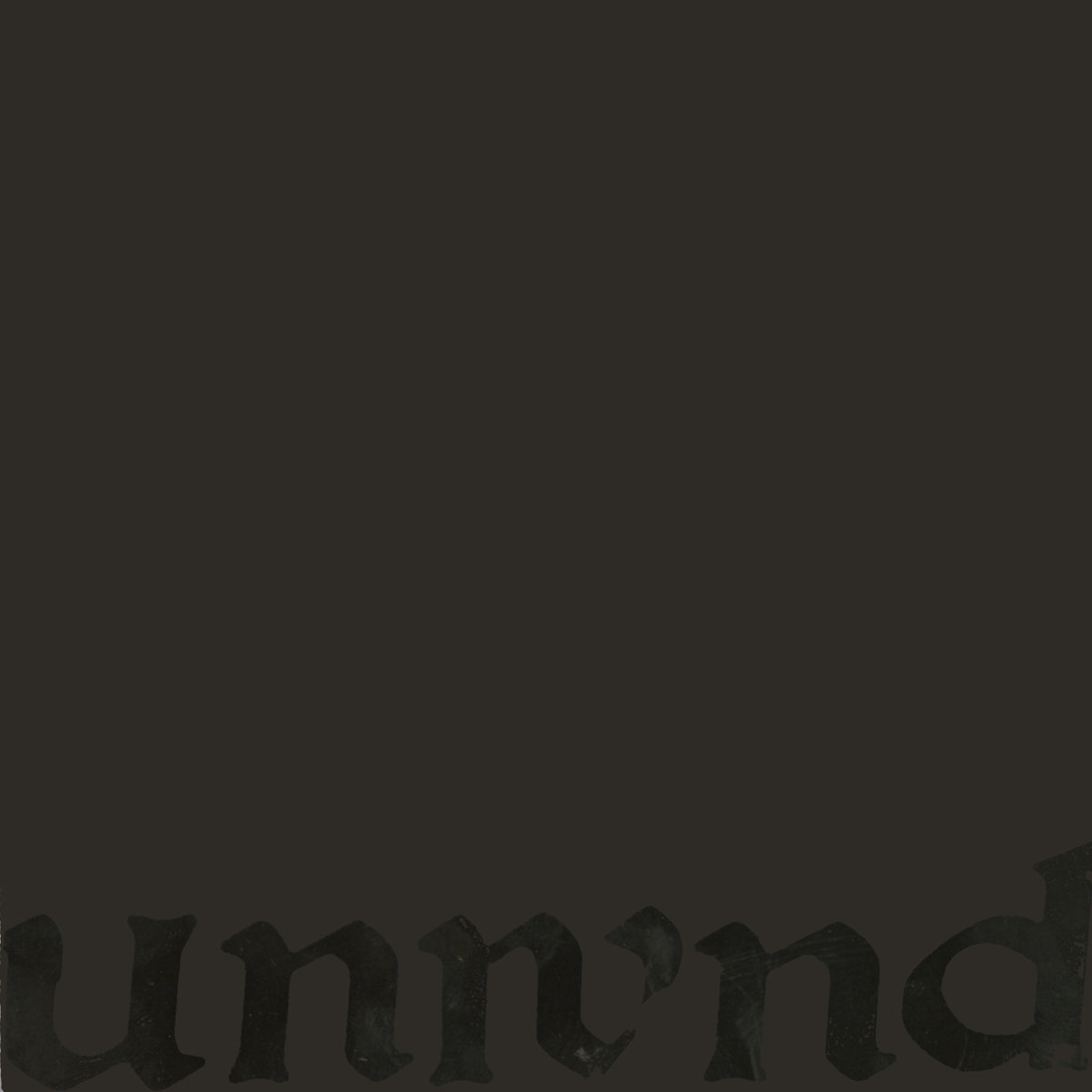 140. Unwound – "October All Over"
The title of Unwound's final album, Leaves Turn Inside You, was born of a free-writing session. But there's something serendipitous if perhaps subliminally clairvoyant about the way the autumnal theme permeates this document of unintended finality. The spacious gloom and almost dream pop haze of "October All Over" signals the end point of a brief and fertile period of transition, the group's noise-rock violence and post-hardcore muscle turned to icy mysticism. "Only in October, now it's nearly over," sings Justin Trosper, ostensibly meditating on mortality itself, but it's hard not to read this as a subtly signed note of farewell, a graceful exit from a band that created their masterpiece and simply walked away. -Jeff Terich
Further Listening: The Dismemberment Plan – "Following Through"; Q and Not U – "Soft Pyramids"
---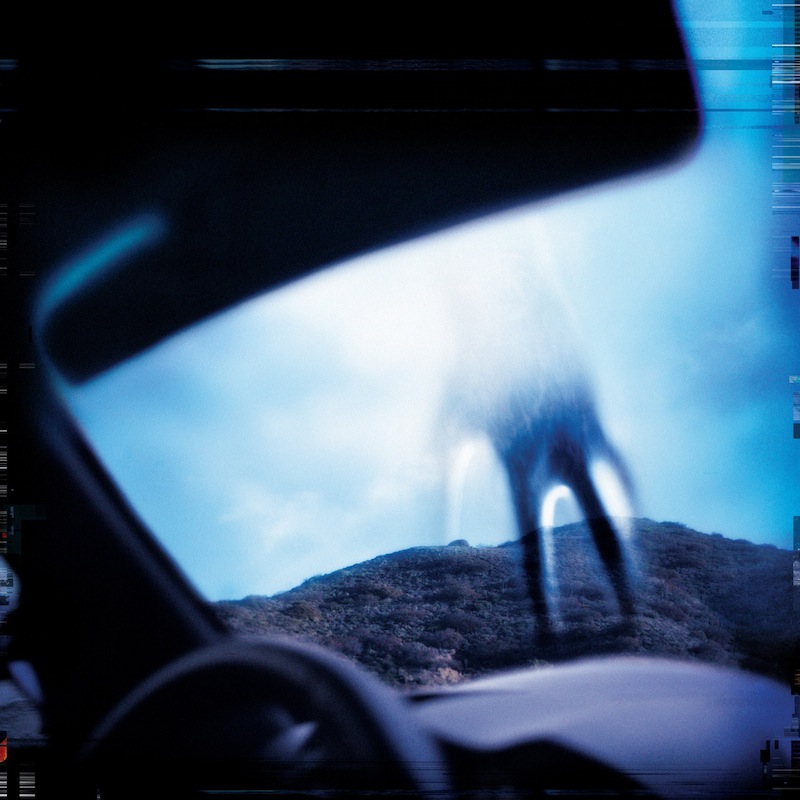 139. Nine Inch Nails – "Me, I'm Not"
The influence that hip-hop production has had on Nine Inch Nails has never been a secret — Trent Reznor publicly cited admiration for Public Enemy, Dr. Dre and Kanye West, to name just a few, on several occasions. But "Me, I'm Not" is his first true trunk-rattler: Bass to shudder the interior of your bones. Creeping, creaking synthesized sounds in the background that whiplash between the background and foreground. A brute-force drum pattern with cavernous reverb. Guitar melodies corroded in the meat grinder of laptop software. Above it all is one of Reznor's most simultaneously subtle and unhinged vocal performances, evoking the overarching dystopian narrative of Year Zero but not fully bound to it. Much of what NIN released in the 2000s had to be examined as larger wholes, yet "Me, I'm Not" is a perfect standalone. – Liam Green
Further Listening: Nine Inch Nails – "Survivalism"; Dälek – "Spiritual Healing"
---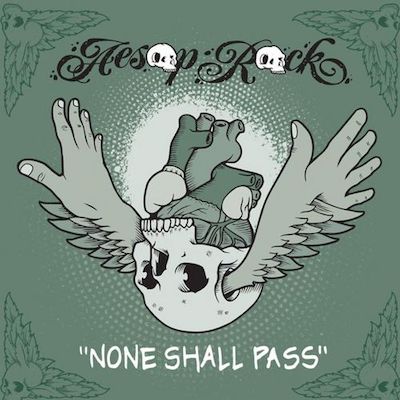 138. Aesop Rock – "None Shall Pass"
Aesop Rock took on a lot of different roles early on in his career: b-boy classicist in "No Jumper Cables," proletarian spokesperson in "9-5'ers Anthem." But "None Shall Pass" revealed his final form—vividly lyrical rapid-fire surrealist. To boil "None Shall Pass" down to a single topic, it's ultimately a revenge fantasy, but that doesn't really get into the how and whys and what-the-fucks that Aes lets fly at a pace faster than most human brains can accurately process: "That's quite a bit of gusto he muster up, to make a dark horse rush like 'enough's enough'/It must've struck a nerve so they huff and puff/Til all the king's men fluster and clusterfuck." The jazzy haze of Blockhead's beat feels almost like an anesthetic to the kind of burn that Aesop provides. A simple "fuck you" would have sufficed. -Jeff Terich
Further Listening: El-P – "Flyentology"; Mr. Lif – "Post Mortem"
---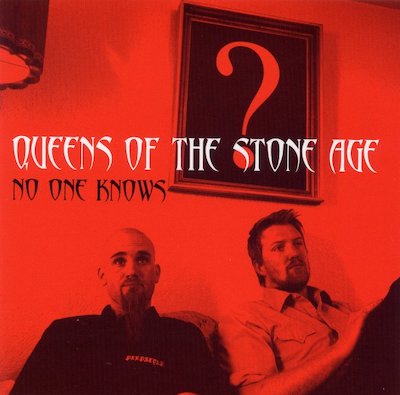 137. Queens of the Stone Age – "No One Knows"
How do you bring stoner rock to the masses while attracting solid radio play, critical acclaim and a gold record? Apparently, for Queens of the Stone Age, it meant speeding up the tempo to something sorta more like Fun House-era Stooges, jampacking a half-dozen musical and vocal hooks into a package that isn't somehow unwieldy and having a half-laconic, half-forlorn frontman sing vague things About Society in a versatile tenor. Oh, and riffs. Big fuckin' riffs. "No One Knows" is neither my favorite song from the album it highlights (Songs for the Deaf) or the best-known song by Josh Homme's loose collective (that's probably always gonna be "Feel Good Hit of the Summer"). But its considerable success did, at least briefly, suggest that mainstream rock had room for weirdos like the guys who started out in Kyuss, musical second cousins to Fu Manchu and Sleep. How romantic a notion that must've felt. – Liam Green
Further Listening: Queens of the Stone Age – "Feel Good Hit of the Summer"; Red Fang – "Prehistoric Dog"
---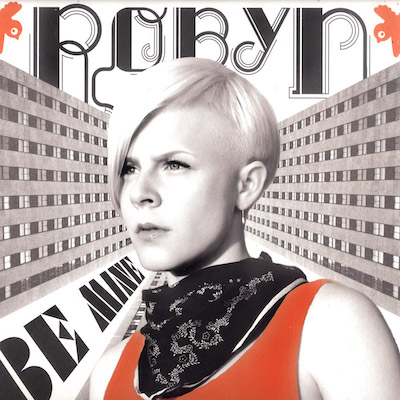 136. Robyn – "Be Mine"
Ten years after making her MTV primetime rotation debut with debut album Robyn Is Here, Robyn Miriam Carlsson reinvented herself after discovering The Knife and severing ties with the label that wanted to market her as the next Christina Aguilera. Songs like "Be Mine", a standout single from her 2005 self-titled album, already came naturally to the Swedish singer, who was already an old pro by the age of 26. But amid an album of impossibly still-extremely-cool disco funk, techno pulses and jokes borrowed from Chapelle's Show, "Be Mine!" still stands out as an unusually pure pop moment. A prototype of sorts for the even more massive "Dancing On My Own" five years later (heartbreak, jealousy, putting on a brave face, etc.), "Be Mine" is a rush from the beginning, carried by sharp stabs of strings and harmonies that soar even when her heart is sinking. It's the rare moment of vulnerability that reveals pulls back the curtain behind the disco balls and liquid basslines. Even fembots get the blues. – Jeff Terich
Further Listening: Rachel Stevens – "Some Girls"; Roisín Murphy – "Let Me Know"
---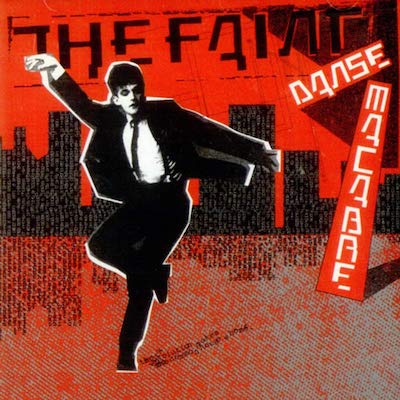 135. The Faint – "Agenda Suicide"
"Agenda Suicide," heralding The Faint's follow up to their underground breakout 1999 record Blank-Wave Arcade, saw the Omaha band solidify their sound, transcending from modern no-wave revivalists to create their own uniquely accessible fusion of danceability and subversion. The opening growl of bubbling bass immediately promises a new permutation of the band, delivered soon enough by blatting dancefloor synths. True to the prevailing mood of 2001, the song depicts the violence of waged work, with tongue-in-cheek nihilism and commercial accessibility: "As I lay to die the things I think / Did I waste my time, I think I did—I worked for life." – Forrest James
Further Listening: Does it Offend You, Yeah? – "With a Heavy Heart (I Regret to Inform You)"; The Presets – "This Boy's in Love"
---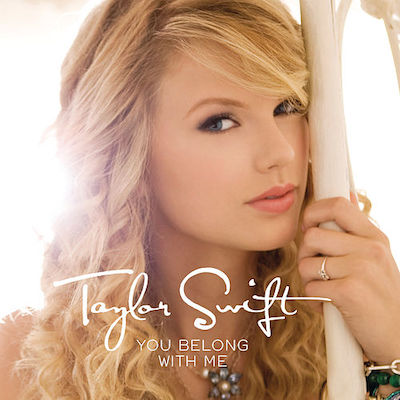 134. Taylor Swift – "You Belong With Me"
Paired with a memorable music video of Taylor Swift playing both the girl next door and a brunette cheer captain, "You Belong With Me" is a teenage anthem of unrequited love, a lifeline out to everyone who just can't break free from the friend zone. Yet instead of wallowing in the sadness, Swift puts that energy into an earworm, one bursting with Facebook profile-picture-caption-ready lyrics (Look we all did it—cringe at your own discretion). Whether you share the frustration or not, it's ultimately impossible to not want to shout along and feel empowered by the line, "I'm the one who makes you laugh / when you know you're 'bout to cry!" – Virginia Croft
Further Listening: Miley Cyrus – "7 Things"; Nelly Furtado – "I'm Like a Bird"
---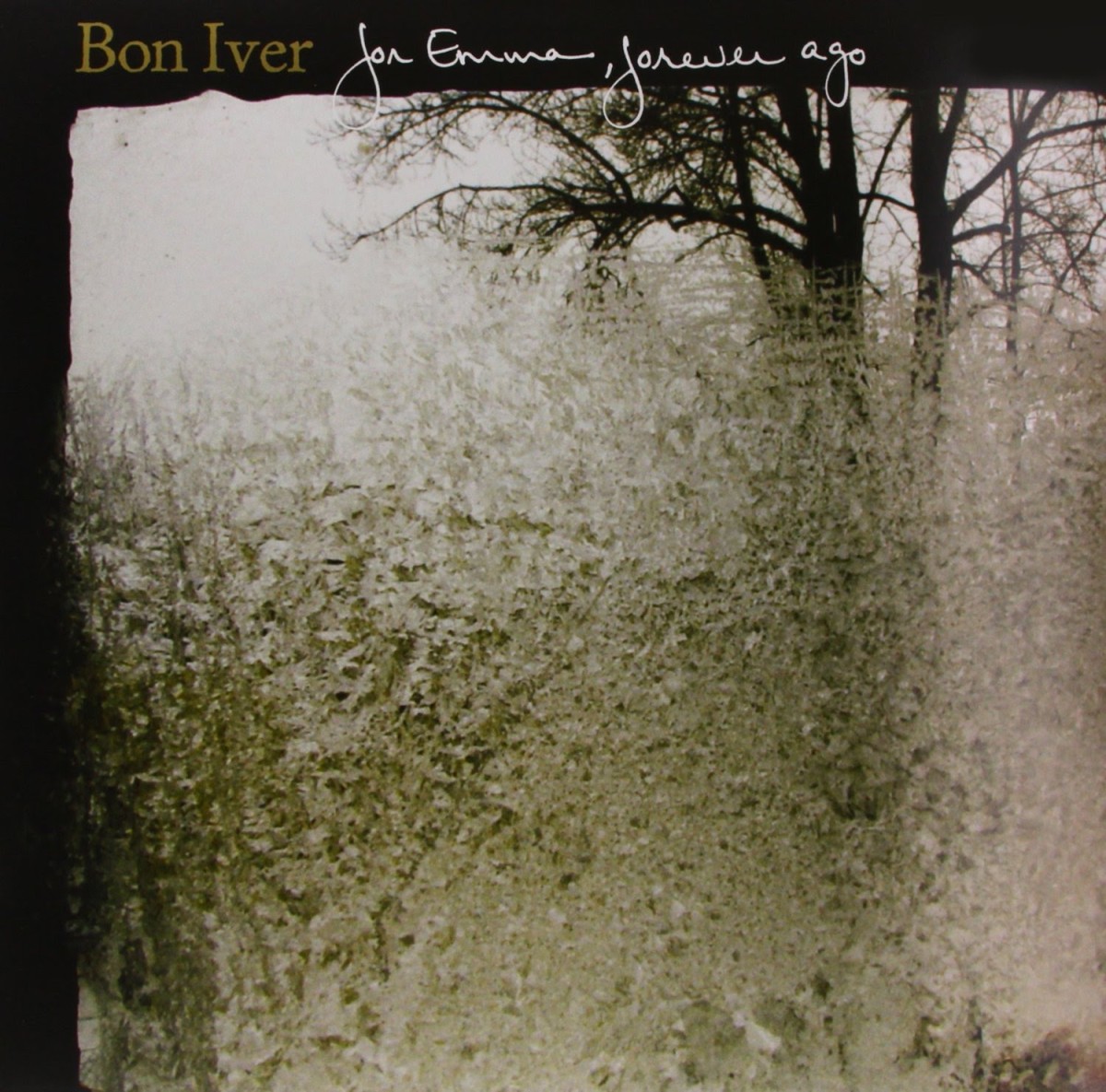 133. Bon Iver – "Re: Stacks"
Bon Iver's "re: Stacks" closes with one of the more memorable images from Justin Vernon's discography—a crow that is not isolated, solemn, or ominous (as crows in poems tend to be) but actively taunts the isolated, solemn, cabin-dwelling narrator: "He's dangling my keys, he even fakes a toss." There's something absurd, even humorous, about the image, touching as it is. It's emblematic of a self-awareness that makes For Emma, Forever Ago—which, while it is ostensibly "for" Emma, is not "about" Emma—a project of self-exploration rather than one of mere self-indulgence. "This is not the sound of a new man / Or crispy realization," Vernon sings, dispelling the notion of some sudden personal enlightenment come to offer resolution. – Tyler Dunston
Further Listening: Bon Iver, "The Wolves (Act I and II)"; Volcano Choir, "Husks and Shells"
---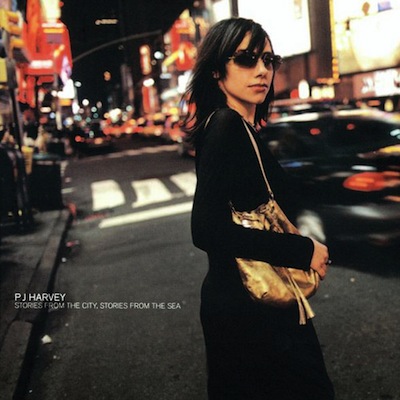 132. PJ Harvey – "This Mess We're In" [feat. Thom Yorke]
Stories from the City, Stories from the Sea is PJ Harvey's love letter to New York, and "This Mess We're In" sits softly nestled in the middle, something between reprieve from and distillation of Harvey's artistic inclinations. The song captures the unique loneliness of heartbreak in a massive city, close to everyone but separated entirely. It's a proper duet with Thom Yorke, even verging on Radiohead's sound altogether. It might feel odd to spotlight a song that so heavily features a guest artist, but to highlight the grungiest rock hit from this period would have been disingenuous—that was not the PJ Harvey of the '00s. After her abrasive rock of the prior decade, Harvey was looking to explore a simpler and more direct sound. And that's the point—this song is pop, if defined on PJ Harvey's terms. – Forrest James
Further Listening: PJ Harvey – "Shame"; Desert Sessions – "There Will Never Be a Better Time"
---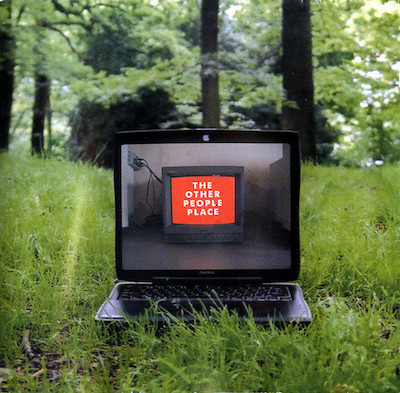 131. The Other People Place – "Sunrays"
Laid-back yet controlled and possessing a subtle sense of humor, Lifestyles of the Laptop Café feels like a cozy nook in the landscape of early 21st century electronic music. The Other People Place, a project which was retrospectively attributed to James Stinson of the Detroit techno duo Drexciya, who passed away shortly after the release of Lifestyles of the Laptop Café, feels remarkably low-key, particularly compared with the widescreen dance party of Daft Punk's Discovery, which came out the same year. The fact that both albums emerged in 2001 is funny—both exhibit a love of pop music and both play with electronic music's love of shrouding the artist's identity in mystery. Daft Punk had the helmets, and in the case of The Other People Place, the press, upon trying to contact them heard back from a console at the bottom of the sea near Malta. Yet for all its initial mystery, "Sunrays" stands out because it is so intimate and individual. The synths on this track are remarkably warm and the vocals only add to the human element: "Relax your mind / Slowly unwind / Catch some rays / Of the sunshine." – Tyler Dunston
Further Listening: Drexciya, "700 Million Light Years from Earth"; Actress – "Hazyville"
---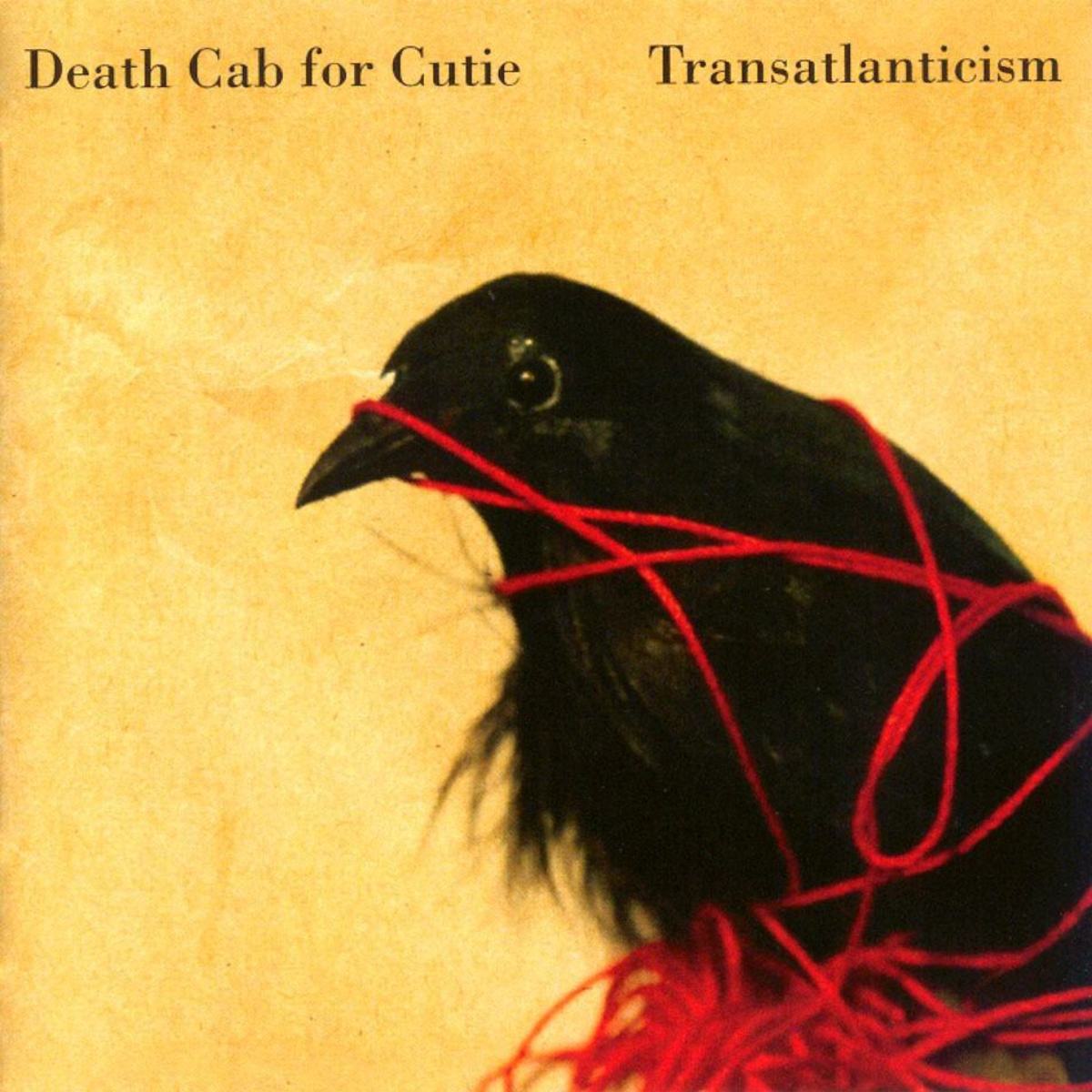 130. Death Cab for Cutie – "The New Year"
Coming off the success of Ben Gibbard's debut album with the Postal Service, "The New Year" serves as the perfect opening to his fourth album with Death Cab for Cutie, which took them from darlings of college radio to the Billboard charts. The sweet sound of selling out could not have been more graceful. The beginnings of song cycle about long distance romance, it sets the stage rather than sonically confers the hope of what could be, while showcasing the album's best sounding guitars, cramming the epic scope of post-rock into a proper pop song. – Wil Lewellyn
Further Listening: Death Cab for Cutie – "Marching Bands of Manhattan"; The Decemberists – "Here I Dreamt I Was An Architect"
---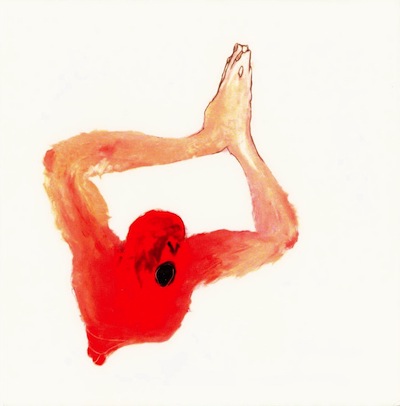 129. Coil – "Triple Sun"
It's impossible to separate Coil's The Ape of Naples from the tragic circumstances that surrounded it, released one year after the accidental death of founding member John Balance and casting an eerie pall with its meditations on death. Much of its material had been reworked and re-recorded many times throughout their career, a consistently evolving work in progress since their abandoned Backwards project recorded in Trent Reznor's studio in the '90s. "Triple Sun," however, was a more recent addition, a live staple that extended to upwards of 20 minutes at their hypnotic performances, but in its final form establishes a haunting, meditative atmosphere in only a fraction of the time. Less the industrial sound that birthed the group than a kind of spiritualist darkwave poetry, "Triple Sun" juxtaposes spectral pulses against Balance's repetition of "I swallowed the one yew bury" (or alternately "yew berry," the non-poisonous part of an otherwise toxic species), echoing the metaphysical mystery ("moon musick") of their later years. Death, loss, grief, rebirth and immortality, all in a single line. – Jeff Terich
Further Listening: Scott Walker – "A Lover Loves"; Einsturzende Neubauten – "Sabrina"
---
128. Yob – "Quantum Mystic"
The introduction to their final pre-hiatus album, "Quantum Mystic," represents a refined, glorious height for one of the best metal bands to rise and fall and rise again at the turn of the millennium. The song perfectly summarized Yob up to that point: heavy-hitting yet tight, in the pocket rhythm; the complex evolution of a riff, a study in guitar work; earnest exaltations of esoteric philosophy. It set a high bar for Yob's revival at the close of the decade, but also marked the end of an era for them—Yob would never fully return to this progressive of an approach to sludge. – Forrest James
Further Listening: Neurosis – "Stones From the Sky"; Thou – "Fucking Chained to the Bottom of the Ocean"
---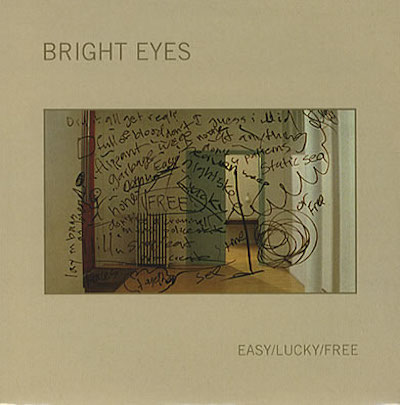 127. Bright Eyes – "Easy/Lucky/Free"
In 2005, the persistent gloom that now seems to inhabit every corner of our existence had not yet fully manifested. Before Conor Oberst and crew embraced the mysticism of the apocalypse as they would on "Four Winds" in 2007, they honed their focus on more material concerns. "Easy/Lucky/Free" off of Digital Ash in a Digital Urn is a skewering lance through the heart of political ignorance and contemporary capitalism. And yet, it's also about the dissolution of the self—heady stuff! Tonally, it's beautiful, with long electronic swept passages and chirping synths that pulse along a percussive suite that sounds ravaged by time. A melancholy looping guitar fluctuates in and out. A whooshing reverb crests as backing vocalists proclaim "don't you weep" over a looped scream. It feels like a dying dream, or a waking nightmare. It was the topically resonant soundtrack then, much as it is now, but hopefully not forever. – Brian Roesler
Further Listening: Bright Eyes – "Four Winds"; Rilo Kiley – "The Good That Won't Come Out"
---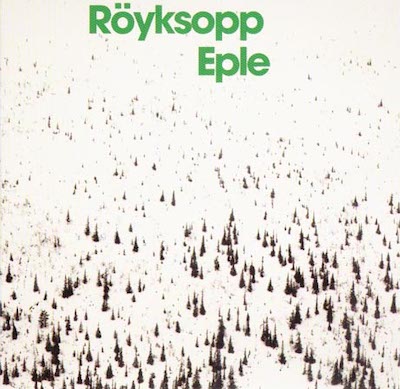 126. Röyksopp – "Eple"
Röyksopp is simultaneously a group that earns their presence on a list like this but confounds when attempting to pick precisely which song. "What Else Is There?" makes a strong case, given its role as a perfect pop song on the same level as all-timers like "Smalltown Boy" and "Enjoy the Silence," but "Eple" slightly edges it out with its downtempo approach to trip-hop which seemed to near-instantly rejuvenate a genre that seemed destined to moulder in the '90s. We live now in the era of Swedish superproducers largely built off of the back of their early 2000s arthouse electronica royalty like Röyksopp, a group that seemed endlessly capable churning out thoughtful and compact electronic pieces just as easily as crystallized pop. It is hard to imagine contemporary synth pop and dream pop having any of the same textures without this songs like "Eple." – Langdon Hickman
Further Listening: Björk – "The Dull Flame of Desire"; Thom Yorke – "The Eraser"
---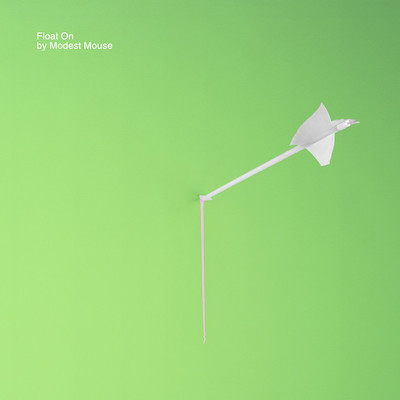 125. Modest Mouse – "Float On"
Times seemed dark on a cultural and political level in March of 2004, which made Modest Mouse's then-new single "Float On" stand out as a rare beacon of optimism. Issac Brock said in an interview with the AV Club that his intention with "Float On" was to create a sort of artificial feel-good anthem—something to combat the weariness of the present. And that is exactly what "Float On" is: an improbable series of incidents that normally would be awful, but are underscored with silver linings. The album that housed this gem of ironic positivity, aptly titled Good News for People Who Love Bad News, as a result ended up being the band's biggest to date. But "Float On" was even bigger than the album. From its lush production to its distinct earworm melody carried by a twangy and twinkly guitar, the song is Modest Mouse at their most immediate and direct. It reached a level of oversaturation, briefly, but 17 years on, it sounds as refreshing as it did when it debuted, an inadvertent pop masterpiece. – Brian Roesler
Further Listening: Jimmy Eat World – "The Middle"; Spoon – "I Turn My Camera On"
---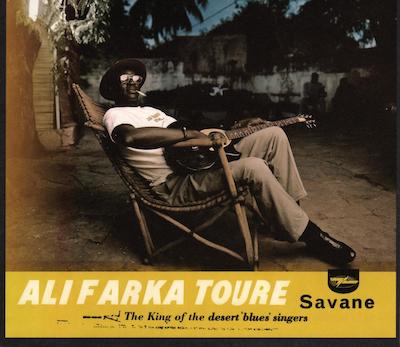 124. Ali Farka Touré – "Savane"
The way Ali Farka Touré sings "J'ai quitté mon pays et ma Lousiane… J'ai quitté un ami" he almost sounds like one of the drifters Bob Dylan likes to moonlight as. But Touré is coming at American music styles from his own angle, a fusion of the American blues tradition which has fascinated and enmeshed Dylan for decades and traditional Malian music. The conversation between ngoni and guitar drives the dogged but unhurried stride of "Savane," the title track from the desert blues legend's final album. In his playing you can hear the electric energy of one his greatest inspirations, the inimitable John Lee Hooker, as well as the intimacy between player and instrument that comes from having built his own njerkle (single string guitar) at twelve years old. Touré approved the final master of "Savane" only weeks before his death after a fight with bone cancer, saying, "I know this is my best album ever." We're lucky to have his final statement. – Tyler Dunston

Further listening: Ali Farka Touré & Toumani Diabaté – "Monsieur le Maire de Niafunké";
Samba Touré, "Ali Farka"
---
123. Peter, Bjorn and John – "Young Folks"
The opening whistling hook got everyone's attention when it came to this song, but it was expressing the joy of conversation with a new crush that turned this into an unlikely hit. The title people are to be dismissed, as well as their older counterparts, as well as their friends – the only focus is the shared intimacy of two people pleasantly surprised to be hitting it off so well even with their own awkwardnesses and failures discussed. Peter, Bjorn and John (to date) haven't lodged another Stateside hit since this one. Make pop this perfect and you don't need to. – Butch Rosser
Further Listening: Lykke Li – "Little Bit"; Camera Obscura – "Lloyd, I'm Ready to Be Heartbroken"
---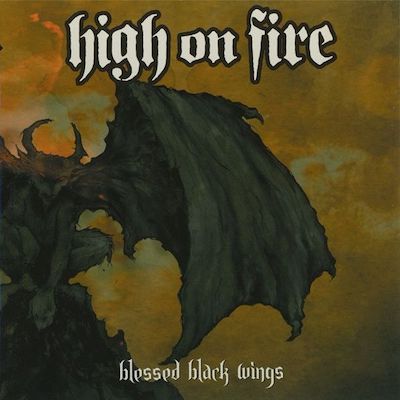 122. High on Fire – "Blessed Black Wings"
Matt Pike had already proven himself a guitar legend in Sleep, and High on Fire carried the stoner metal torch forward, but it was Blessed Black Wings that set them on track to be a household name. The title track, the centerpiece of High on Fire's third full length, is an undeniable ripper. This opening riff makes the rest of the album, or any comparably riff-centered metal of the year for that matter, feel like absolute child's play. Pike's masterful guitar commands both atmosphere and awe, immediately commanding attention with dramatic flair. Engineer Steve Albini brings the band just a few inches out of the muck of sludge metal, sharpening and brightening without regressing to conventional thrash territory. This is the sound that mapped out High on Fire's future. – Forrest James
Further Listening: Melvins – "A History of Bad Men"; Pelican – "March to the Sea"
---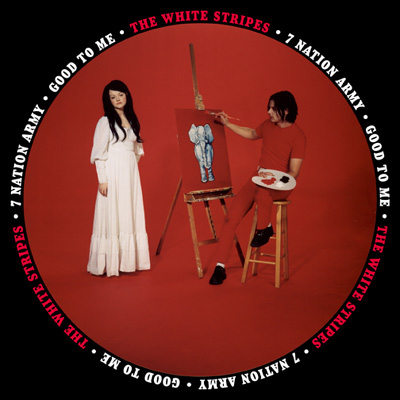 121. The White Stripes – "Seven Nation Army"
It is 2002. Inside a recording studio, Meg White bangs out a rudimentary kick-drum beat.
It is 2003. "Seven Nation Army" is released.
It is nine seconds into "Seven Nation Army." It is the last quiet moment of your life.
It is eighteen seconds into "Seven Nation Army." You are now a subsidiary of its riff.
It is 2006. Italians sing it in the streets after World Cup victories.
It is 2021. You want to blame this blurb for putting that riff back in your head. But you know the truth: it never left. It never will. And you don't entirely hate that. – Butch Rosser
Further Listening: The White Stripes – "I Just Don't Know What to Do With Myself"; The Dead Weather – "Hang You From the Heavens"
---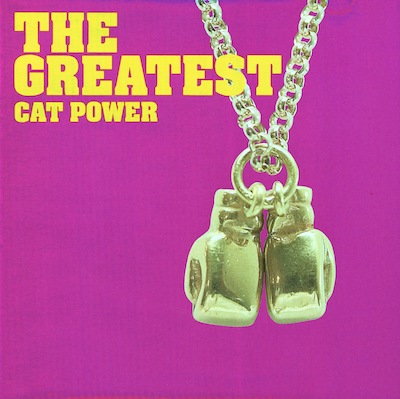 120. Cat Power – "The Greatest"
"The Greatest" is the most deeply affecting song of Chan Marshall's career, capturing the beauty of Cat Power's songwriting abilities in just under three minutes. The album opener to Cat Power's LP of the same name, "The Greatest" pairs a solemn, melancholic piano line with Marshall's heavy hitting but not overbearing vocals, her determination and resignation shining through as she sings, "Once I wanted to be the greatest… with brains that could explain any feeling." It's a track full of beauty, introspection and reflection, taking a moment to remind us that she's human too. – Virginia Croft
Further Listening: Feist – "Let It Die"; Sharon Van Etten – "I Wish I Knew"
---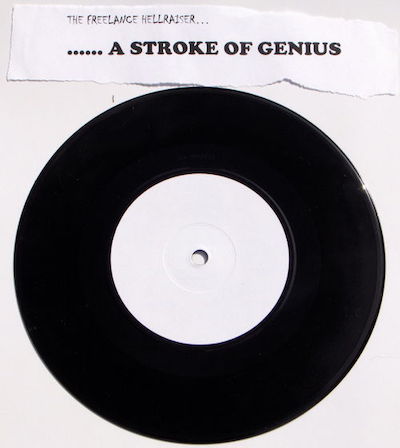 119. Freelance Hellraiser – "A Stroke of Genie-us"
Before Ryan Murphy killed the genre, mashups were a standout subgenre that flourished in the double zeroes; at one point San Diego alternative station 91X imported a San Francisco half-hour program featuring them for their Friday night lineup. The act of swirling songs that seemingly had no business together was a hilarious novelty at worst and occasionally mesmerizing at best, with Hellraiser dropping Xtina over the Strokes probably being the cream of the crop. It turned out to be so irresistible even Aguilera brought him on for some remixes, and nearly 20 years later still gets necks snapping and heads nodding. – Butch Rosser
Further Listening: Party Ben – "Pump Up the Doorbell"; Girl Talk – "Smash Your Head"
---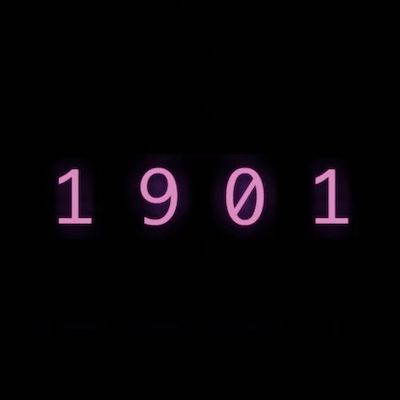 118. Phoenix – "1901"
While Phoenix had gradually built up a head of steam throughout the '00s, the release of their 2009 single "1901" found them finally stepping up to that much-envied platform of success: a Cadillac SRX commercial. It's easy to understand what Madison Avenue heard in the song; with an undeniably cool synth hook and some well sharpened pop instincts, Phoenix had grown into a formidable band. The track tiptoes between a suave, noir sound and a chipper, bouncy chorus, seamlessly fusing intangible cool and bright accessibility, setting Thomas Mars' bold vocals against an electrifying arrangement. "1901" is simply brimming with life. – Virginia Croft
Further Listening: Passion Pit – "Sleepyhead"; Miike Snow – "Animal"
---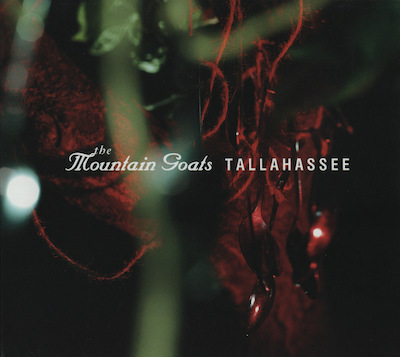 117. The Mountain Goats – "No Children"
I think I bowled over laughing the first time I heard this as a 17-year-old. I realized immediately that the song was great, and could grasp its deep pain, but the perverse jauntiness of the piano riff and John Darnielle's vocal melody as he shouts shit like "I hope it stays dark forever! I hope the worst isn't over!" produced immediate nervous and raucous laughter. Now, double that age, the sadness resonates more, and I've grown to believe that "No Children" is not one character's voice, but the drunken couple as a bantering whole, both responsible for the folie a deux in which they exist. It is easily the most memorable song on one of The Mountain Goats' best-known albums, which for a band with as much material as them is saying quite a bit. A true standout from a singular group. – Liam Green
Further Listening: The Mountain Goats – "This Year"; Okkervil River – "For Real"
---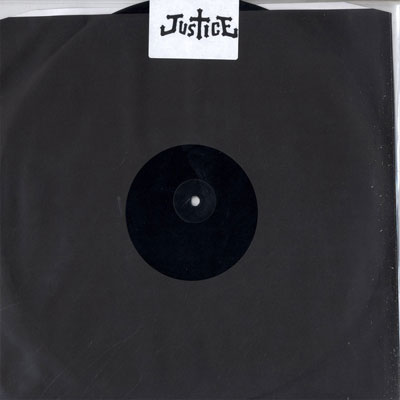 116. Justice – "Phantom"
Justice have always fairly/unfairly lived under the shadow of their more elaborate and notable French brethren Daft Punk, but nonetheless they deserve their own attention paid. Where their robotic forebears would take years before embracing the progressive rock influences that informed their approach to house music and soft rock, Justice embraced them from the jump, producing work that deftly fused the approachable post-disco of French house with the decidedly European and proggy variant of radio pop-rock. The result is a track that plays like a symphony, mid-period Tangerine Dream jamming with Manfred Mann's Earth Band, with nary an anime music video or robot suit in sight. It would be wrong to rate them above their esteemed brethren, but Justice's music indicates that this was truly a moment in time, not just a single band but a pervading mood. – Langdon Hickman
Further Listening: Empire of the Sun – "Walking on a Dream"; Soulwax – "NY Excuse"
---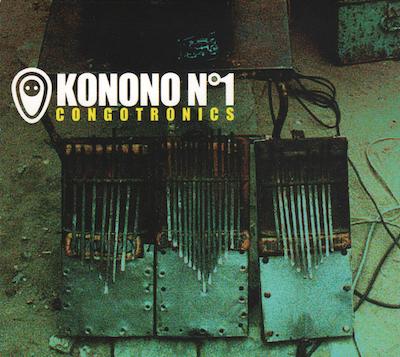 115. Konono No. 1 – "Paradiso"
The origin story of Congotronics never loses its sense of ingenious wonder: A group of musicians in the Democratic Republic of Congo doing street performances of likembe music (thumb piano) needed a means of amplifying their sound as a means to be heard better. So they built their own amps out of magnets, car parts and whatever other pieces of scrap they had at their disposal. What resulted was a thick fuzz that at times sounds almost like guitar distortion, and the traditional thus becomes post-modern. The group delves into one of their deepest grooves on "Paradiso," their chemistry both fiery and hypnotic, even approximating power chord riffs on some of its heavier breakdowns. At the time that the group's music was finally put to record, there was nothing quite like it. This kind of magic can't be carefully mapped out. – Jeff Terich
Further Listening: Kasai Allstars – "Mpombo Yetu"; Tinariwen – "Assouf"
---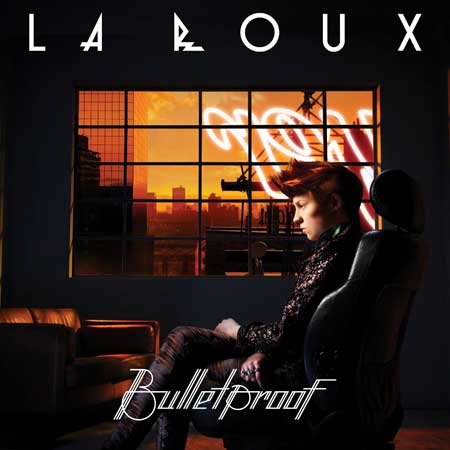 114. La Roux – "Bulletproof"
Built on a pounding, bouncy dance beat, "Bulletproof" stands as a shining example of how powerful pop music can be. Beyond its exterior of heavy hitting synths and explosive vocals, La Roux offers the broken-hearted respite—a place to turn before deciding they won't be treated like that anymore. "Bulletproof" acts as our armor in the outside world—a "Love Is a Battlefield" for the millennial crowd—encouraging its listeners to look out for one another. It's a ballad for solidarity, and staying true to oneself, yet feel-good enough to break out on any dancefloor. – Virginia Croft
Further Listening: Little Boots – "New In Town"; The Ting Tings – "Shut Up and Let Me Go"
---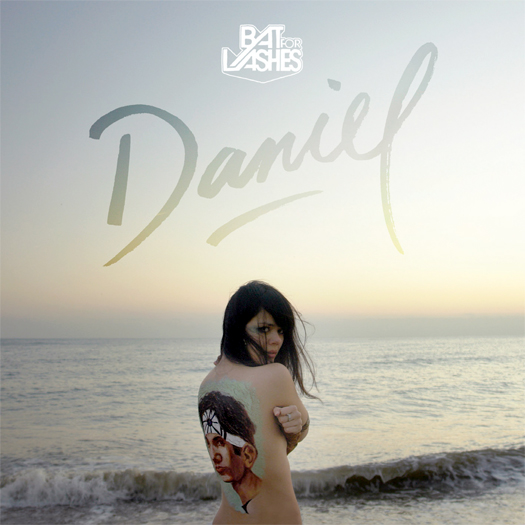 113. Bat for Lashes – "Daniel"
Comparisons to Kate Bush or Björk for female art-pop songwriters usually come across a bit lazy, and arguably even sexist. But in the case of Bat for Lashes, the comparison suddenly becomes shockingly apt; the conceptual arc of Two Suns, for instance, has the same heft and weight and constructionism as Bush's Hounds of Love but here explores the world of dream-as-death-as-self-as-dream much as the closing "Ninth Wave" suite on that former record does. The most important thing however: It is just as good. "Daniel" is the approachable single of this masterwork, many people's introduction to this great songwriter, but it is a peak to a mighty iceberg, submerged in the wash of dream. – Langdon Hickman
Further Listening: Yeasayer – "2080"; Fiona Apple – "O'Sailor"
---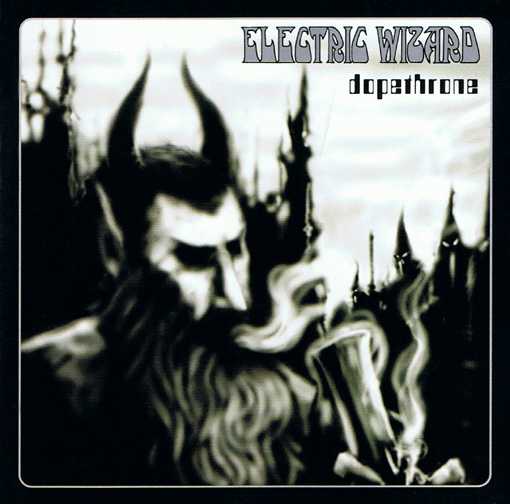 112. Electric Wizard – "Funeralopolis"
Electric Wizard is a group that invites controversy and disagreement, with ardent defenders of their various wings. But few can argue against the fact that "Funeralopolis," the second track of their epochal Dopethrone, represents the very center of the group aesthetically. Everything is here, from the post-Sabbath druggy grooves to their truly mind-boggling amount of Satan and murder and, again, drugs. "Funeralopolis" sounds like a fit of deep psychosis, the skeleton-rattling bass shaking loose the wires of your brain until all you crave is nihilistic violence. It starts as heavy blues before ratcheting into nearly unintelligible noise, propelled by a primal thrust like a rocketship trying desperately to burst from a decaying swamp. "Legalize drugs and murder" indeed. – Langdon Hickman
Further Listening: Sleep – "Dopesmoker"; High on Fire – "Death Is This Communion"
---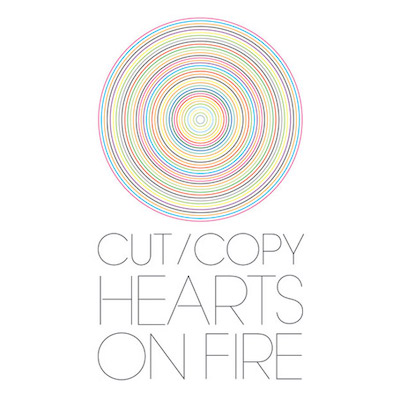 111. Cut Copy – "Hearts on Fire"
After the close of the '00s, singles charts became flooded with uncomfortably earnest pop songs about how Being In This Club With Someone I Want to Have Sex With Is the Most Important Thing in The World Right Now. Relatable sentiment, certainly, but shouldn't it sound a little more, I dunno, fun? Cut Copy figured this out several years earlier, the Australian synth-pop group perfecting the clubgoers-in-heat trope with assistance from DFA, putting some much-needed disco-funk and hi-NRG bounce beneath its two-drink-minimum romance. It's exactly as glamorous and intoxicated and flashy as a sentiment of its sort needs to be, skirting the edge of tasteful instead of obliterating it, and that sweaty, heart-pounding moment feels all the more glorious because of it. – Jeff Terich
Further Listening: Simian Mobile Disco – "I Believe"; Röyskopp – "You Don't Have a Clue"
---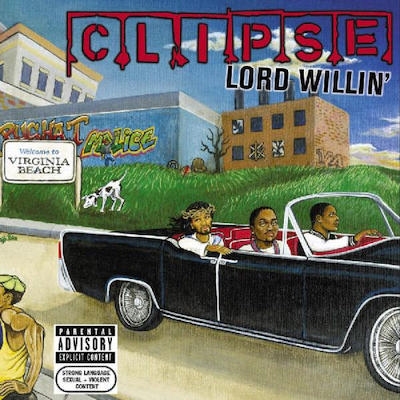 110. Clipse – "Grindin'"
Had the drums on any hip-hop beat ever been as hard as the drums on "Grindin'" before that track dropped? Had any drums outside of industrial or maybe drum 'n' bass been that fucking hard? Regardless of the answer it felt to me like nothing had ever been as brutal and staccato as what Pharrell and Chad Hugo concocted for Clipse's breakout single. It was the perfect spare canvas upon which Pusha T and Malice could spin their precisely detailed and aptly joyless tales of the drug trade. The group's masterpiece was still to come with 2006's Hell Hath No Fury, and Pusha T's diamond-perfect solo record DAYTONA was almost 20 years off, but in 2002, anyone could still recognize that Clipse was something special after just 30 seconds of "Grindin'." – Liam Green
Further Listening: Scarface – "Guess Who's Back" [feat. Jay-Z, Beanie Siegel]; Ghostface Killah – "Kilo"
---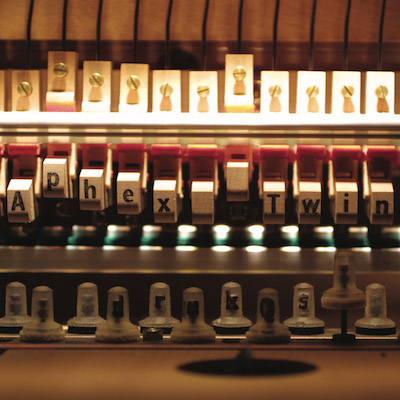 109. Aphex Twin – "Avril 14th"
Amid the drilling, complex IDM output of Aphex Twin's fifth LP, Drukqs, is an unlikely island of a standout track, "Avril 14th." At a modest two minutes and five seconds, it's one of the most beautifully understated compositions from throughout the 2000s. By using a Disklavier automatic MIDI powered piano, mastermind Richard D. James maintains an organic, naturalist tone filtered through a process that gives it a haunting quality, like a ghost playing the piano. That inherent otherworldliness, combined with its stripped down, minimalist composition is what makes it so magical. "Avril 14th" is a delicate progression of simple notes, with an enchanting harmony that feels like a product of the renaissance—a breathtaking departure for Aphex Twin, revealing that out of experimentation, simplicity and beauty can sometimes emerge. – Brian Roesler
Further Listening: Squarepusher – "Iambic 9 Poetry"; Venetian Snares – "Senki Dala"
---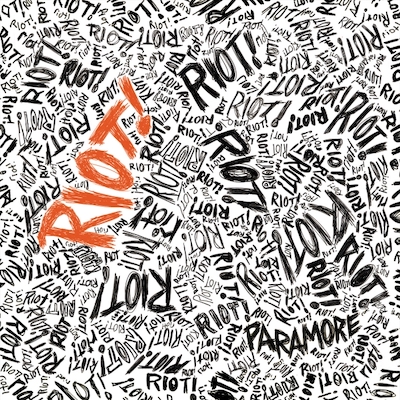 108. Paramore – "Let the Flames Begin"
Last year, when asked by a fan for her favorite Paramore songs on Twitter, vocalist Hayley Williams shared two top-fives of songs from their two newest albums, emphatically stating that those two albums are their best: "nooo contest." The Paramore of the mid-'00s and the Paramore of today are significantly different entities, a fact made clearer through the retirement of "Misery Business" from their live shows—a monster of a hit single with some lyrics that haven't held up so well. "Let The Flames Begin" from 2007's Riot! wasn't a hit—it wasn't even a single—but it's the crucial bridge between the driving emo/punk band they were in their youth with the thoughtful, soul-searching pop group they evolved into. "Flames" is Paramore at their most furious and explosive, all taut post-hardcore riffs and adrenaline rhythms beneath Williams' own internal struggle with faith—one that became more public amid an intra-band rift only a few years later. But there's a loneliness and vulnerability revealed as Williams repeats the phrase, "oh, glory," one that she'd revisit on 2013's sequel of sorts, "Part II." It's an impassioned, soaring yearning for strength, one that retains its power and relevance nearly 15 years later. – Jeff Terich
Further Listening: Paramore – "Crushcrushcrush"; Tegan and Sara – "Walking With a Ghost"
---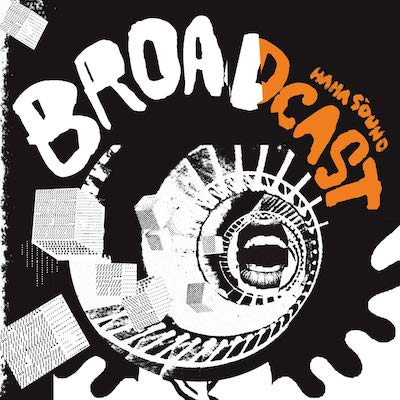 107. Broadcast – "Before We Begin"
"Before We Begin," the innocently otherworldly standout from Broadcast's wall-of-sound masterpiece haha Sound, is shaped from the same silvery space-age pop fabric of "The Book Lovers," the swinging lounge-pop number that inexplicably ended up on the Austin Powers Soundtrack. It's what orbits around that central four-chord melody that makes the song more than mere psych-pop but a disorienting cross-dimensional trip in itself. "Before We Begin" is a headphone experience—ideally a really good pair of headphones, and whatever choice of chemical enhancement you prefer—of aural wormholes and reverb nebulae, booming cascades of drums and unplaceable instruments. Everything's awash in analog warmth and digital decay, Trish Keenan's sweetly detached vocals narrating the cyclical nature of love and how ends eventually lead back to new beginnings. There's something universal and relatable at the center of this song, but the labyrinth of buzzing sonic treatments, bells, whistles and trapdoors only makes it more fun to feel your way toward the center. -Jeff Terich
Further Listening: Goldfrapp – "Lovely Head"; Beach House – "Gila"
---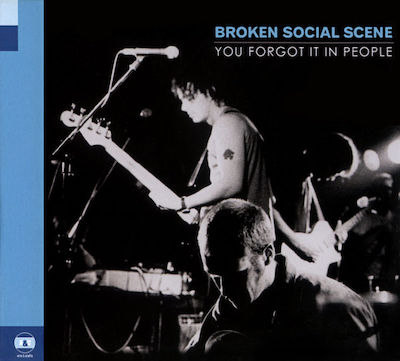 106. Broken Social Scene – "Cause=Time"
"They all want to love the cause, because they all need to be the cause, they all want to fuck the cause." In a song littered with abstract lyrics about religion, menstruation and tricycles in skirts, somehow the chorus of "Cause=Time" perfectly captured a generation's frustration at a society that felt increasingly dishonest, self-absorbed and, well, broken. With its hypnotic rhythm and hazy production, it helped push Broken Social Scene from a promising experimental debut into one of post-millennial indie rock's leading lights. You Forgot It in People careened through everything from garage to folk, while here was a genuine anthem that anchored the broad scope of their breakthrough record. Sonically it encapsulates the indie aesthetic of the early 2000s, but almost 20 years on that chorus feels nigh on prophetic. – William Lewis
Further Listening: Broken Social Scene – "7/4 (Shoreline)"; Stars – "Your Ex-Lover Is Dead"
---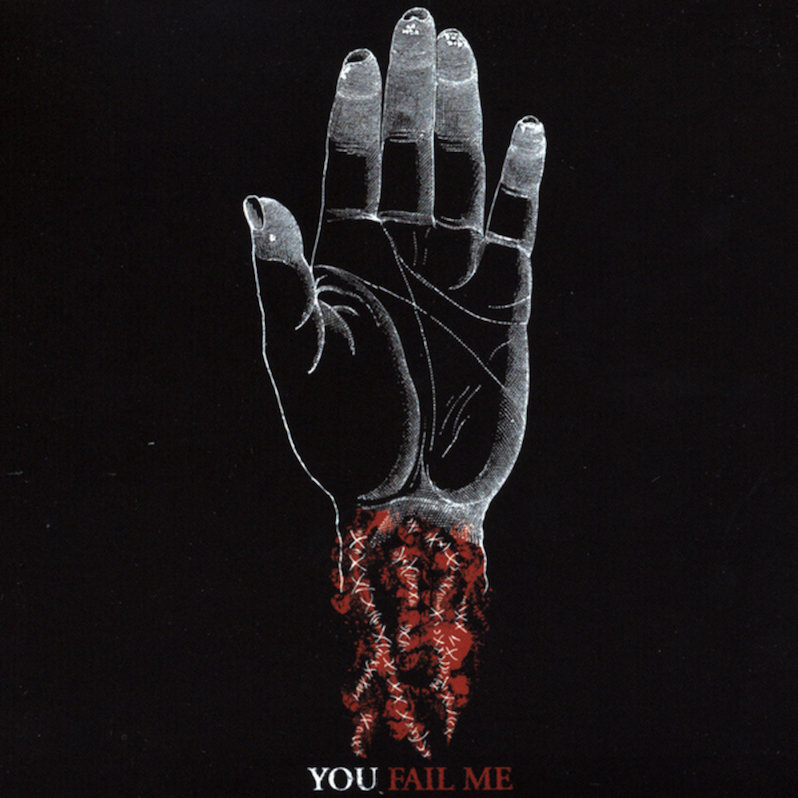 105. Converge – "Last Light"
Within the first second of Converge's You Fail Me opener "Last Light," vocalist Jacob Bannon throws out a pretty hefty ask: "I need you to be the strength of widows and sole survivors/I need you to be as fearless as new mothers and new fathers." Against Ben Koller's acrobatic drum assault and Kurt Ballou's two-note riffs that hang in the air until dissipating into a squeal of feedback, Bannon's words are the heaviest thing here, and that says a lot—particularly for a song that only in spare moments finds him unleashing his ferocious, signature bark. As one of the most unrelenting hardcore bands of the past 25 years, Converge have delivered musical violence with a speed and technicality unmatched by anyone but themselves. But this isn't quite that; it's a statement of will, a shout into the void before the plunge. Clear eyes, full hearts, let's tear this place apart. -Jeff Terich
Further Listening: Dillinger Escape Plan – "Milk Lizard"; Cave In – "Big Riff"
---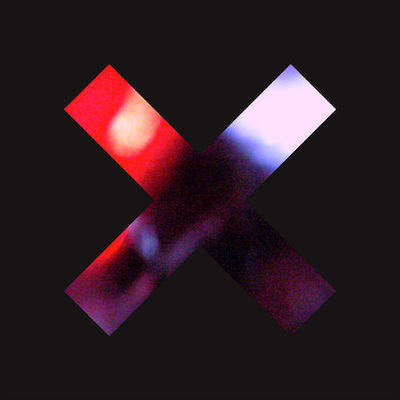 104. The xx – "Crystalised"
As pop embraced maximalism in the late 2000s, the xx went the other way, producing hushed, intricately crafted love songs that felt like musical microverses unto themselves. It's difficult to pick a best track off of their debut album, but "Crystalised" may be the most definitive, crystallizing (ahem) the band's unique melting pot of influences: '90s R&B, UK garage, post-punk. It does refreshingly little with a lot, keeping the focus on Romy Madley Croft's crisp guitarwork, the gentle thump of Oliver Sim's bass, and their call-and-response vocals, whose interplay gives them an emotional tug that goes beyond their limited range. If you really wanted to, you could say that "Crystalised" sounds like Elliott Smith and Young Marble Giants singing Aaliyah. Or you could just say it remains a singular, evocative object, made by a singular, evocative band. – Jacob Nierenberg
Further listening: Portishead – "The Rip"; Wild Beasts – "Two Dancers (ii)"
---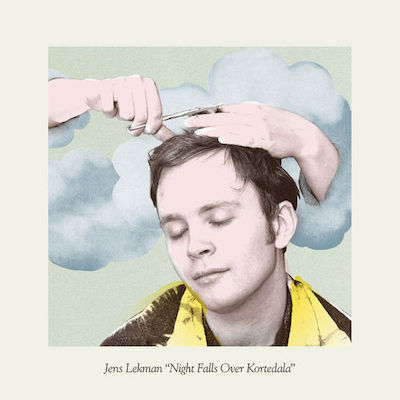 103. Jens Lekman – "A Postcard to Nina"
The literalness of Jens Lekman's writing—and its trademark Swenglish—works so discreetly that you don't realize how much it's moving until the song's almost over. "A Postcard to Nina" from Night Falls Over Kortedala is a case in point. Jens' lesbian friend invites him to meet her family but asks him just before dinner to pose as her boyfriend to obscure her plans to move in with her lover. Nina's dad plays Jens' album, cracks a Meet the Parents reference, and forces Jens into an error that almost derails the whole charade. It's a comic cringe in which everything goes wrong, but it's all a set-up for Jens' real message on the titular postcard: "Don't let anyone stand in your way!" I'm not crying, you're crying. – Paul Pearson
Further Listening: Jens Lekman – "Maple Leaves"; El Perro del Mar – "Change of Heart"
---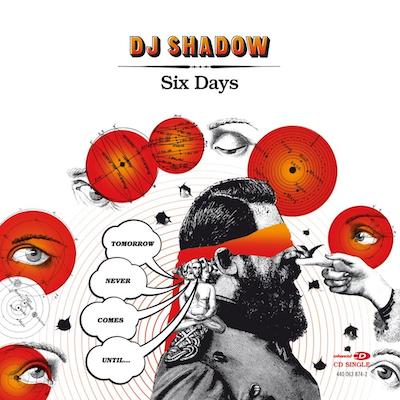 102. DJ Shadow – "Six Days"
DJ Shadow frontloaded his career with the sample symphony masterpiece Endtroducing…, setting a nearly impossible bar to clear with every release thereafter, but much like playing the hit song as a set opener, freed up the space around him to take as unpredictable tack as he wanted to. While 2002's underrated The Private Press showed indications that he had other designs, its most glorious headphone moment is one that once again showcases his uncanny ability to craft richly detailed worlds out of other people's songs. Incorporating the lead vocal from Colonel Bagshot's "The Six Days War," Shadow drops the paranoid war narrative into a blissfully disorienting psychedelic ocean, military tattoo drums juxtaposed against watery effects and echoing pieces of sonic flotsam. It's candy for the ears until the horror of the lyrics finally sink in. It's midnight in a perfect world, but not here. – Jeff Terich
Further Listening: Studio – "West Side"; J Dilla – "Workinonit"
---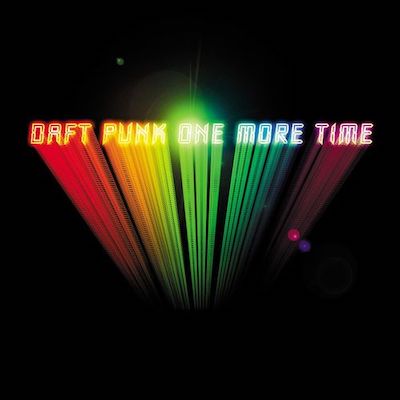 101. Daft Punk – "One More Time"
Once a song enters the sports arena playlist rotation, it is further absorbed by the collective unconscious. Like its contemporaries and predecessors (see: "Seven Nation Army" and "Rock and Roll Part 2") "One More Time" feels ubiquitous. While admittedly more of a b-side sports arena cut, it's songs like "One More Time" that become so universal that they feel ingrained with the backdrop of our temporal reality. But "One More Time" is more than mere wallpaper—it encapsulates decades worth of pop music, and it was a premonition of pop innovation in plunderphonics, sampling and Auto-Tune. Discovery is a blast but "One More Time" is first to bat for a reason. Daft Punk's mega-hit is an undeniably timeless cut, a disco-collagist experiment that has since paid off (and will soon hopefully pay out.) – Patrick Pilch
Further Listening: Daft Punk – "Digital Love"; Modjo – "Lady (Hear Me Tonight)"
---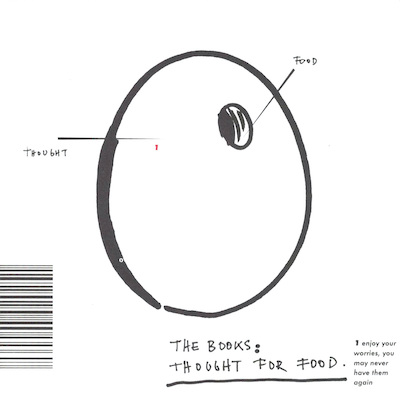 100. The Books – "Enjoy Your Worries, You May Never Have Them Again"
When I listen to "Enjoy Your Worries, You May Never Have Them Again," I hear the Golden Record. Sent into space by NASA in 1977 on Voyager, the Golden Record contained essential sounds from earth, like wind, rain, and a kiss between a mother and child. Similarly, The Books' "Enjoy Your Worries" is filled with sounds, except far from the universality of the Golden Record, the duo's highly specific samples create a series of tiny vignettes. As a guitar line plugs away, recalling American Primitivist pioneer John Fahey, cheering and screams and thunderous voices appear and disappear. This marriage of cutting edge electronics with a deliberately wayward musical style was The Books' MO, and it wasn't ever more affecting, gorgeous and transient as it was here. -Ben Cohn
Further Listening: The Notwist – "Neon Golden"; Matmos – "Steam and Sequins for Larry Levan"
---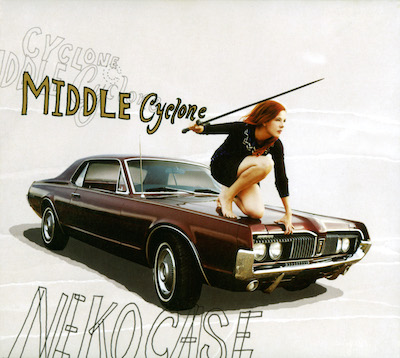 99. Neko Case – "This Tornado Loves You"
Neko Case's fifth album, Middle Cyclone, dives right into a wry, disturbing, kind of sweet portrait of a tornado in love, which can only express itself as a destructive force that can never be satisfied. According to Case, the titular tornado came to her in a dream, and she wrote it down without trying to explain it or give it allegorical meaning, instead leaving it open to the listener. The tornado is a terrifying force—it has left in its wake people with "their souls dangling inside-out from their mouths," it has "smashed every transformer with every trailer / 'til nothing was standing." Still, there is the plaintive, Sinatra-like yearning of a lover: "Still you are nowhere / Nowhere in sight / Come out to meet me, run out to meet me…" The two sides of this character sketch are brought together in lines like "I'd rake the springtime across your sheets" and "This tornado loves you / What will make you believe me?" Fleshed out as it is by Case's writing, love in this song is menacing, terrifying, but certainly believable. – Tyler Dunston
Further Listening: Neko Case, "People Got a Lotta Nerve"; Jenny Lewis and the Watson Twins – "Rise Up (With Fists!!)"
---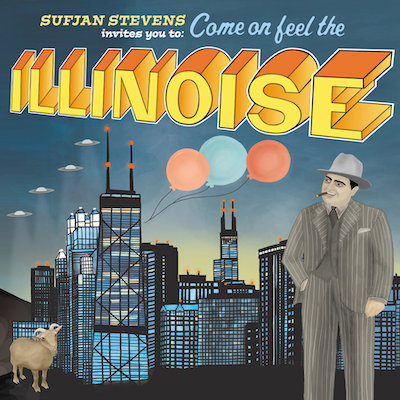 98. Sufjan Stevens – "Chicago"
It seems almost impossible to imagine Sufjan Stevens as anything other than the indie powerhouse he is today. But prior to the release of 2005's Illinois he was really just another talent in the peaking emergence of millennial indie rock. The moment he released Illinois, however, the uniqueness of the record was clear. Beautiful, clever, accomplished and bursting with creativity, the album stood unattached from time, "Chicago" its golden centerpiece. A song rich and overblown but always self-aware, it's a microcosm of the album at large. Telling the semi-autobiographical story of an idealistic young man as he road trips to Chicago, it neatly weaves together wider themes of love and friendship, faith and futility. All the while the infectious melody bubbles and swells and jubilant trumpets carry across the lush orchestration. Songwriting that simply resonates in any time period. – William Lewis
Further Listening: Death Cab for Cutie – "Transatlanticism"; Elliott Smith – "King's Crossing"
---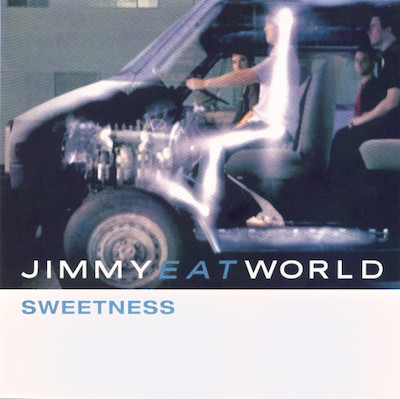 97. Jimmy Eat World – "Sweetness"
The identities Jimmy Eat World has slid between over the years have been pleasing and rich. Going from second-wave emo and eventually landing on adult-oriented pop rock, they have retained the poeticism of the former while mellowing into ever more sophisticated but never unapproachable arrangements. After the near-pop-punk headscratcher of "The Middle," "Sweetness" was the second single off the album that saw them finally nail this balance. It packs in its three minutes a soaring arena-sized but still grit-caked rock verse before bursting into pure power pop for the chorus. And that closing line: "The sweetness will not be concerned with me." Are there any other mainstream rock bands from their era that poetic? I think not. – Langdon Hickman
Further Listening: AFI – "The Lost Souls"; The Gaslight Anthem – "The '59 Sound"
---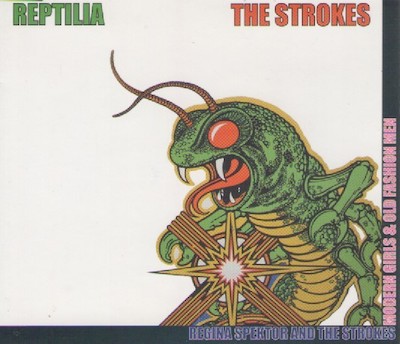 96. The Strokes – "Reptilia"
The Strokes were arguably one of the first bands to find themselves first exalted and then burned by the exponential force of listening to music in a more Internet heavy world, but while even while they were in cultural descendance "Reptilia" came as a natural evolution to the sound originally debuted on Is This It?. Perhaps if this had been the lead single Room On Fire wouldn't have been viewed as a slump, but at least it's a rollicking example of what made the Strokes necessary listening at the time whether you were a Guitar Hero player or a guitar hero in training. – Butch Rosser
Further Listening: The Strokes – "Last Nite"; The Hives – "Hate to Say I Told You So"
---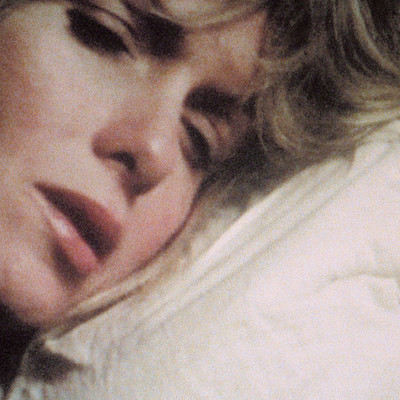 95. ANOHNI & The Johnsons – "Hope There's Someone"
No one wants to die alone. Even if this were all there was to "Hope There's Someone," it would still be heartbreaking, owing to ANOHNI's voice, which begins the song as a delicate, quaking vibrato and ends with wordless wails that evoke a soul leaving a body. But "Hope There's Someone" takes on an even greater resonance for queer listeners, such as ANOHNI herself. For gay and transgender communities, the fear that no one will be there when death comes for you, be it in the form of ravaging disease or an act of brutality, weighs even heavier. "Hope There's Someone" feels like a prayer, radiating outward against the darkness, promising to be there for you when your time comes. – Jacob Nierenberg
Further Listening: Rufus Wainwright – "The Art Teacher"; Death Cab for Cutie – "I Will Follow You Into the Dark"
---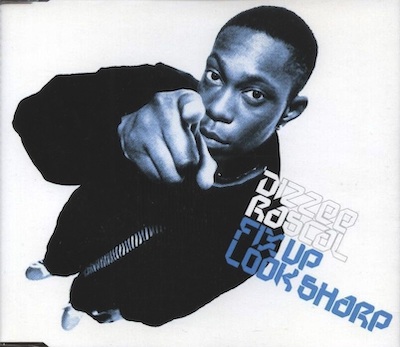 94. Dizzee Rascal – "Fix Up, Look Sharp"
Grime emcee Dizzee Rascal never quite broke through in the states, but the UK emcee made a bold entrance for British hip-hop. Incorporating elements of Billy Squier's "Big Beat," on "Fix Up, Look Sharp" Dizzee's charismatic chaos makes it his own. He raps circles around most of his American counterparts at the time in just one song, an anthem that broke bold new ground, even if that shot wasn't heard quite all the way around the world. – Wil Lewellyn
Further Listening: Kano – "P's and Q's"; The Streets – "Weak Become Heroes"
---
93. Max Richter – "On the Nature of Daylight"
"On the Nature of Daylight" has been used in so many movies and TV shows over the last 17 years that it's almost become the contemporary equivalent of Wagner's "Ride of the Valkyries" or Beethoven's "Ode to Joy." This overexposure might rob "On the Nature of Daylight" of its emotional impact if the music itself weren't so powerfully evocative. Much of that power comes from the piece's very composition: there's not an immediately-recognizable motif (you can't really hum it) but in slowly layering strings atop strings, Richter builds to a devastating climax that can bring you to the floor before you even realize you're weak in the knees. And while Richter has gone on to become a prolific film composer, scoring everything from historical dramas to interstellar voyages, "On the Nature of Daylight" is a reminder of his ability to render emotion through sound alone. – Jacob Nierenberg
Further Listening: Stars of the Lid – "Mulholland"; Sigur Rós – "untitled #2 (aka 'Fyrsta')"
---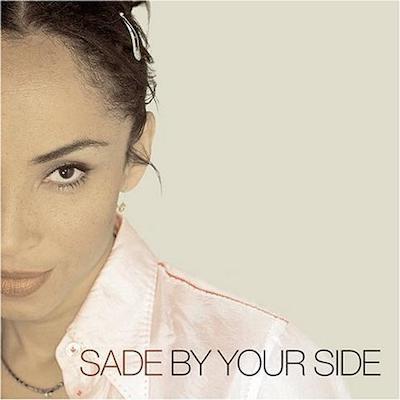 92. Sade – "By Your Side"
Helen Adu is allegedly in her sixties; Sade is timeless. The opening couplet alone probably could have made this list. She sings "You'd think I'd leave your side, baby?/You know me better than that." and it's one of the most G-rated motherfuckings ever put on wax. Sometimes Helen takes some me time; Sade is always here. Adu's voice has always been richer than the sweetest honey, and on Side the horns and gentle guitar lie in wait behind her, only waiting to accent the highest moments. It's like getting put to sleep by a punch thrown from a velvet glove.- Butch Rosser
Further Listening: Jill Scott – "A Long Walk"; Meshell Ndegeocello – "Earth"
---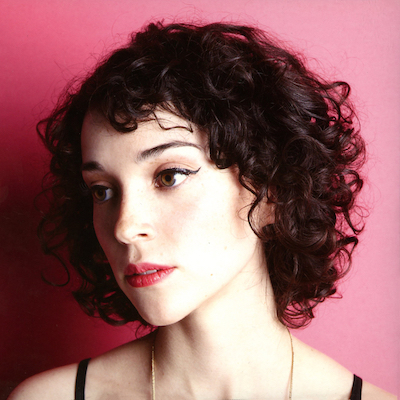 91. St. Vincent – "Actor Out of Work"
If you listen closely, you can hear Annie Clark swallow and then take a breath before "Actor Out of Work" starts proper. Because when it does start, the whole thing lurches forward like a zombie on speed: jerking towards you faster and faster. As she runs through a series of conflicted statements at a lover, claiming that they're "the laughter" and "the obscene," Clark maintains her cool, playing her guitar like it's silly putty, pulling it in so many directions that the whole song threatens to burst. Finally she declares, "I think I love you, I think I'm mad," and manages to squeeze just one more hook in before the thing collapses into a few seconds of glittering silence. She needed that breath. – Ben Cohn
Further Listening: Bat for Lashes – "What's a Girl to Do?"; My Brightest Diamond – "Something of an End"
---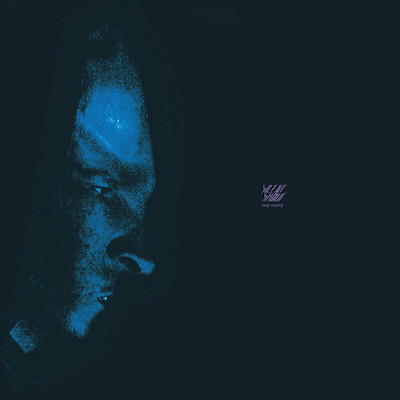 90. The Knife – "Silent Shout"
It's hard to describe The Knife as anything but genius. While there have been many alternative artists and groups that heard Björk's iconic fusion of arthouse underground electronic music with the progressive impulse of Kate Bush or Peter Gabriel and a wild heart, only The Knife seemed to truly be able to properly embody those motifs. "Silent Shout" is the center of their shockingly great discography, the nerve cluster from which all other thoughts extend like axons. It has their scalding darkness in lines about growing old and teeth falling out of your head, compelling dance rhythms, emotionally rich melodies and progressions, and enough wildness to unseat itself turn after turn. Music has struggled to sound futuristic in any real sense, especially as the future mutates ever into something darker and more climate-scarred and virulent than we anticipated; The Knife captures both promise and terrifying violence in their image of futurity. – Langdon Hickman
Further Listening: Chromatics – "I Want Your Love"; Annie – "Heartbeat"
---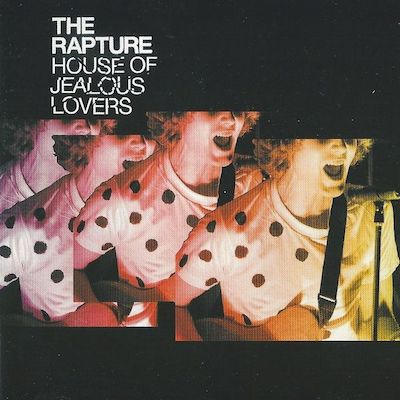 89. The Rapture – "House of Jealous Lovers"
Why are you reading about this song—a glammed-up club banger from a twitchy post-punk group co-produced by DFA's James Murphy and Tim Goldsworthy—instead of dancing to it? Nobody's looking, go nuts.
When notables as disparate as Felix da Housecat and Mark Ronson are singing your praises, you aren't just living at the intersection, you've invented your own. It's a striking testament that even two decades later something this good and this wildly popular wasn't Xeroxed to death by a copier factory's worth of imitators. But if the Rapture couldn't even hold onto themselves, what chance did anyone else have? – Butch Rosser
Further Listening: Yeah Yeah Yeahs – "Date With the Night"; The Rapture – "Whoo Alright Yeah Uh Huh"
---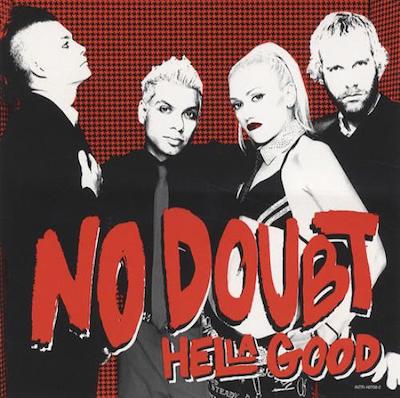 88. No Doubt – "Hella Good"
Few would've suspected, on an album where No Doubt rubbed elbows with Prince, Ric Ocasek, and William Orbit, that their collaboration with the Neptunes would be the best of the bunch. Both were at the peak of their powers in the early 2000s, though they came from different musical worlds: the Neptunes were celebrated producers whose budding N.E.R.D. project saw them fusing rap with rock, while No Doubt came from SoCal, home to vibrant ska revival and pop-punk scenes. The resulting "Hella Good" defies genre in all the best ways, spiking its dancehall groove with funky guitar riffs and electronic bleeps and bloops. Gwen Stefani would hit up Pharrell Williams again when she went solo, but they never again captured bottled lightning the way they did on "Hella Good." – Jacob Nierenberg
Further Listening: Nelly Furtado – "Promiscuous"; Britney Spears – "I'm a Slave 4 U"
---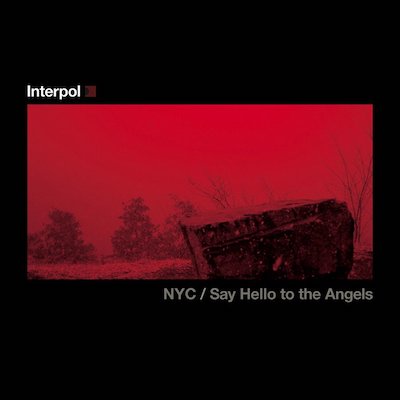 87. Interpol – "NYC"
While the post-punk revival was well and truly rolling by the time Interpol released Turn on the Bright Lights, the New York outfit's debut felt like it distilled the aesthetic's sound into its purest form. Driving beats and textured guitars and the ghost of Ian Curtis haunting Paul Banks' vocals, Bright Lights bristled with an energy that echoed their post-punk forebears. But "NYC" dialed down and settled for a bubbling intensity that elevated it to new levels. Somber guitars boiling over into rolling beats and the explosion of warring textured tremolos as Paul Banks drones of alienation in the greatest city on Earth. And while lines like "the subway, she is a porno," are a little on the nose, it remains a perfect snapshot of New York City at the turn of the millennium, static fear and loneliness in the promise of hope and freedom. – William Lewis
Further Listening: New Order – "Crystal"; M83 – "Don't Save Us From the Flames"
---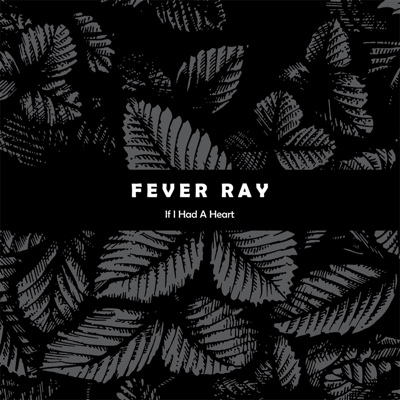 86. Fever Ray – "If I Had a Heart"
Fever Ray is Karin Dreijer of The Knife, solo, and as creepy as they want to be. Dreijer released "If I Had a Heart" while The Knife was on hiatus, after their two biggest albums and a couple high profile collaborations with Röyksopp that put them in a commercial spotlight. This song is a rebuke of that attention, a pulsing drone of a nightmare dirge. The gender-shredding voice modulation and wet ASMR-level vocal pickup build up layers of otherworldly complexity, all while fused onto the simplest of pared back Carpenter-esque horror beats, barely more than a muted kick drum. The Knife was weird, for sure, but it was while running wild as Fever Ray that Karin Dreijer earned their reputation. – Forrest James
Further Listening: Björk – "Where Is the Line"; Röyksopp – "Tricky Tricky"
---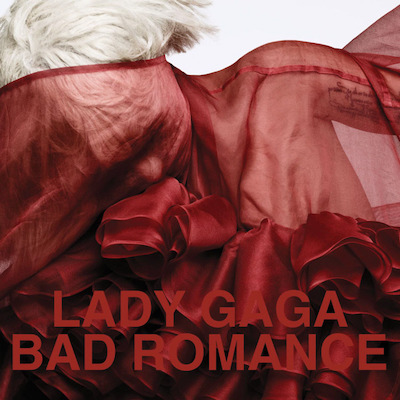 85. Lady Gaga – "Bad Romance"
I will never not be impressed by Lady Gaga's late 2009-mid-2011 peak as The Coolest Fucking Pop Star on the Planet. Others have had similar peaks, others have been more popular, but Stefani Germanotta in this era did everything with panache and aplomb, up to and including things that shouldn't have made sense, like 10-minute pastiche music videos and meat dresses. She did what she wanted musically and stylistically and—inasmuch as we could perceive her from a distance—truly did not give a fuck.
If the songs were subpar, none of it would've mattered. The Fame Monster is a crowning achievement of modern dance-pop, and "Bad Romance" is its brightest VVS diamond. Owing as much to the darkest side of Depeche Mode as that Max Martin neo-disco shit, "Romance" tears through dancefloors like a meteor, and as Gaga cycles through accents and characters and Hitchcock references and incoherent chants, sometimes you wonder "How did this ever work?" But it did. Still does. She's a free bitch, baby. – Liam Green
Further Listening: Rihanna – "Umbrella" [feat. Jay-Z]; Fischerspooner – "Emerge"
---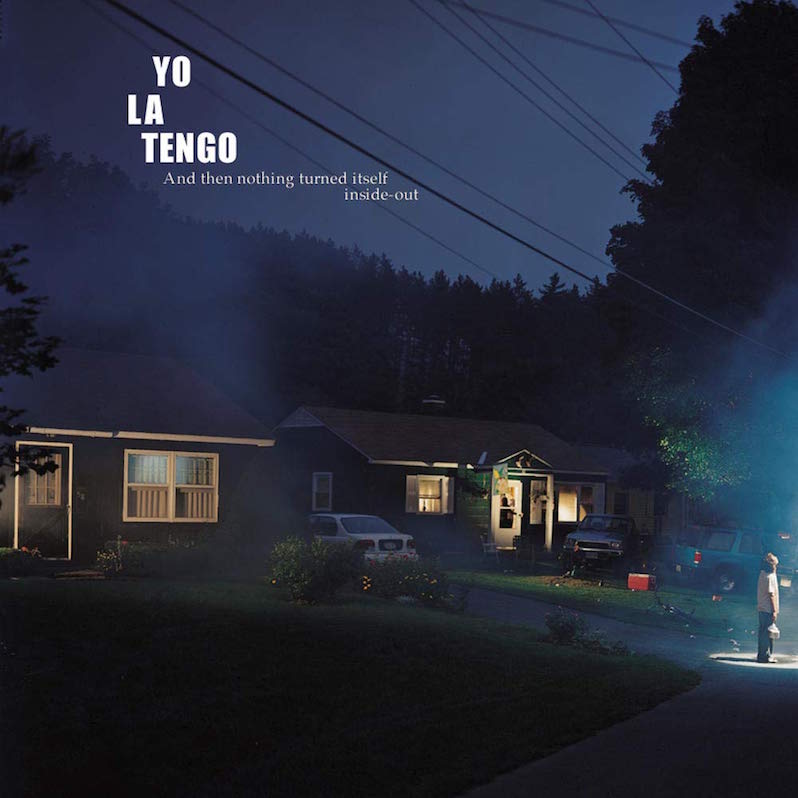 84. Yo La Tengo – "Tears Are In Your Eyes"
Most Yo La Tengo albums are overflowing with mood, but not always so heavy on emotion. With 2000's And Then Nothing Turned Itself Inside-Out, they balanced out the ratio, mostly with the volume dialed back and the lights turned low. The intimacy of the group's gracefully understated arrangements sets a flickering candlewick beneath some of their most romantic material, and on "Tears Are In Your Eyes," lends a fragile beauty to a simple conversation about depression. Though it'd be no less sweetly heartbreaking were Ira Kaplan to have handled the vocals, there's a warmth and gentleness to Georgia Hubley's voice that makes a line like "Although you don't believe it, you are strong" land softly and with an added sense of comfort. There's no judgment, no unasked-for advice, no pep talk, just a sweet melody and the reassurance of knowing someone's there when you need them. – Jeff Terich
Further Listening: Songs: Ohia – "Didn't It Rain"; Low – "Sunflower"
---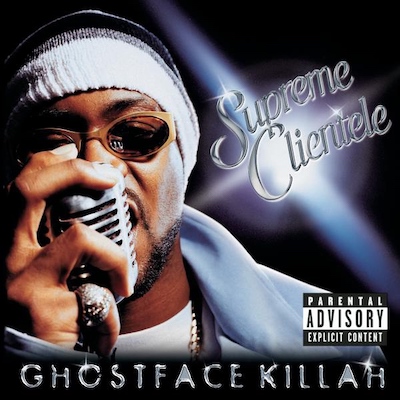 83. Ghostface Killah – "Nutmeg" (feat. RZA)
When interviewed by Mass Appeal, Dennis Coles describes what he was trying to do with "Nutmeg": "I was rhyming with words that people probably … said, 'It don't even make no sense.' I wanted to do what I wanted to do. No one could stop me because I did it how I wanted. 'Cause if I wanted to write something down that you wouldn't understand, I'ma do it." Coles, known for 25 years now as Ghostface Killah, definitely fulfilled that promise with the opening track to Supreme Clientele. The line that prompted that answer was "Porch for the biggest beer, seasoned giraffe ribs." It means nothing. Not worth bending over backwards to interpret. Ghostface said as much. But what we do know, what we intrinsically understand is that it sounds great. Every line in "Nutmeg" is densely linked with rhymes both in and ex-ternal. And then the whole thing is locked deep into this beat, a flip of Eddie Holman's "It's Over" that has a guitar line that just shimmers, man. The whole thing sounds like a thousand bucks, which is probably how much that Pen and Pixel cover cost. – Ben Cohn
Further Listening: Wu-Tang Clan – "I Can't Go to Sleep [feat. Isaac Hayes]"; Raekwon – "House of Flying Daggers [feat. Inspectah Deck]"
---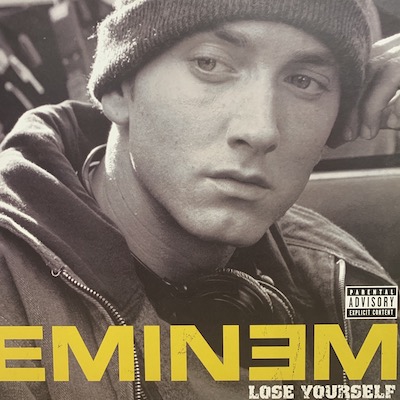 82. Eminem – "Lose Yourself"
The Oscar-winning track from the Eminem biopic 8 Mile is mainly a restatement of the plot with a little meta thrown in ("It's no movie, there's no Mekhi Phifer"). But it's his most affecting song. Eminem's skills rest on his constant search for distinctive rapping rhythms (see also: "The Way I Am"). It's echoed in the single-minded pursuit of fame he talks about in "Lose Yourself," growing more intense as he gets more internal. Eminem spent a lot of the oughts creating a psychotic image in Slim Shady and redoubling the dare whenever a do-gooder got outraged. Somehow that makes "Lose Yourself," where he's paradoxically being himself and trying to inspire, more genuine than it would have been coming from a neckless paragon of morality. – Paul Pearson
Further Listening: Royce da 5'9″ – "Hip Hop"; Eminem – "Stan"
---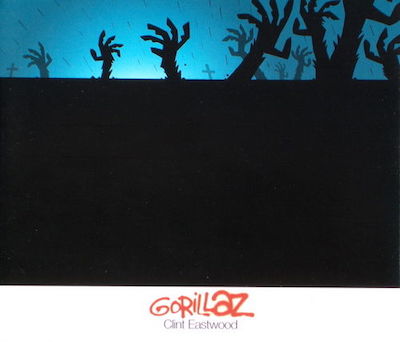 81. Gorillaz – "Clint Eastwood"
Given the eventual ubiquity of Gorillaz and the sound they helped inspire, it's easy to forget that "Clint Eastwood" sounded like nothing before it when it first dropped. Elements of hip-hop, rock, dub and electronic music had been blended before, but Gorillaz executed it with such finesse and gave it a sense of such natural amalgam so as to be truly groundbreaking. Danceable but mellowed out, that catchy-as-hell chorus and of course Del the Funky Homosapien and his killer verses, it foreshadowed much of what would come in the decade that followed. They've become something beyond a band, their fictional universe often drawing more attention than the music itself, but Gorillaz know they owe much to what they did with that first single. Everyone else should too. – William Lewis
Further Listening: The Streets – "Dry Your Eyes"; LCD Soundsystem – "Daft Punk is Playing at My House"
---
80. Kanye West – "Touch the Sky"
The long-form personal narrative running through Kanye West's first five albums (through My Beautiful Dark Twisted Fantasy) is really glorious. It's not a stretch to call it Shakespearean, and besides, Ye had better jokes. "Touch the Sky," from the second act Late Registration, is a vaunt that set a new standard for ego tripping. We forget Kanye could use self-deprecation as a weapon ("I felt like Bad Boy's street team—I couldn't work the locks") and mitigated his vanity through confession ("I'm tryin' to right my wrongs/But it's funny them same wrongs helped me write this song"). Driven by the horn line from Curtis Mayfield's "Move On Up" (West didn't mind making obvious choices), "Touch the Sky" is still a brilliant, brazen statement from a time before… well, everything. – Paul Pearson
Further Listening: Lupe Fiasco – "Kick, Push"; Common – "The Light"
---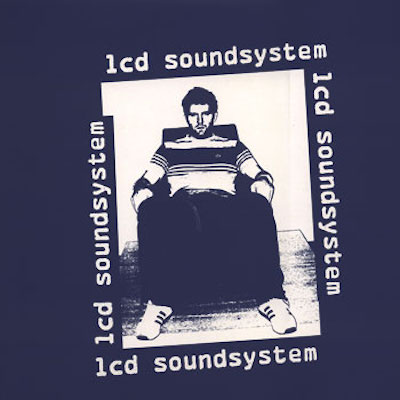 79. LCD Soundsystem – "Losing My Edge"
Pharrell had the same effect on James Murphy's career that Rakim debuting did to Chuck D: it scared the fuck out of them enough to make a masterpiece as a result to prove they still had it. For Chuck it was Millions and "Fight the Power," for James it would turn into LCD Soundsystem and this eight-minute mic drop of a debut.
It's not like James isn't taking aim at himself with the lyrics – it's just that in the act of doing so he also strafed anybody else listening. It's rare to have the sense of being laughed with while you're being laughed at, but "Edge" threads that needle like a grandma with PBS blaring in the background. He wasn't there, but then he made this song and he was. – Butch Rosser
Further Listening: Art Brut – "Formed a Band"; !!! – "Me and Giuliani Down by the Schoolyard (A True Story)"
---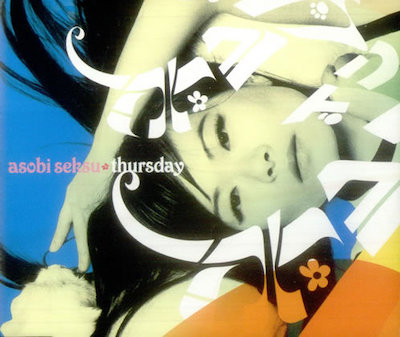 78. Asobi Seksu – "Thursday"
Shoegaze and dream pop, amorphous genres that they are, draw much of their power from an effective balance of ethereal and grounded elements. My Bloody Valentine is thrilling not merely because Kevin Shields creates muddy palettes of fuzz, but because of the way clarity can be found amid the squalls of sound. Asobi Seksu's "Thursday," from the group's second album Citrus, has ethereality to spare in Yuki Chikudate's voice, dancing high over the waves, cutting clean through storm. On "Thursday" and elsewhere, Asobi Seksu perfected the balance between storm and clarity as well as the balance between shoegaze and dream pop. We see this delicate balance of genre and tone (indebted to Slowdive, no doubt, among others) in later groups ranging from A Sunny Day in Glasgow to DIIV. – Tyler Dunston
Further Listening: A Place to Bury Strangers – "I Know I'll See You"; A Sunny Day in Glasgow – "Nitetime Rainbows"
---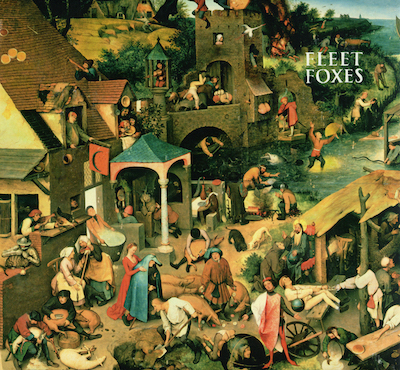 77. Fleet Foxes – "Blue Ridge Mountains"
Fleet Foxes sound like they're stuck-in-time. It's why the mention of an airplane throws me so off guard every time I listen to "Blue Ridge Mountains." Maybe it's the retro-folk stylings or the Bruegel album art, but in my mind, technology simply does not exist in the Fleet Foxes universe. But this that line about missing a flight kicks off one of the most affecting songs the band ever produced. It begins with complex harmonies so full of harmony they must've been sung out in a valley. Then a guitar picks up at a strong pace, pushing us forward until we get to the biggest moment in the song, when thundering bass drums cue "In the quivering forest, where the shivering dog rests, our good godfather built a wooden nest." Robin Pecknold sings these lines out as cymbals crash around him, conjuring an image of nostalgia that both he and a bother, seemingly estranged, share. His offer that Sean is "welcome with me anytime you like, let's drive to the countryside, leave behind some green-eyed look-alikes" sounds empty in the minor chords that underpin this section of the song. The connection they share is rooted in a moment they will never get back, as lost in time as Fleet Foxes sound. – Ben Cohn
Further Listening: Band of Horses – "The Funeral"; Grizzly Bear – "Knife"
---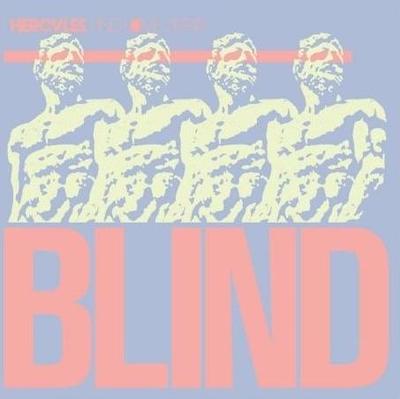 76. Hercules & Love Affair – "Blind"
Andy Butler used club music to find the comfort in living as a gay man that he could not find through his family, and when he moved across the United States for college he started making original songs to expand his friendly confines. ANOHNI, still singing in the moment through her deadname, contributed vocals to Butler's first major demo, a meditation on identity and discovery that eventually bloomed into this lilting, trumpet-driven vehicle for long overdue disco revivalism. Sometimes, the most serious issues can be wrapped up in the prettiest packaging. – Adam Blyweiss
Further Listening: Hot Chip – "Over and Over"; Groove Armada – "Superstylin'"
---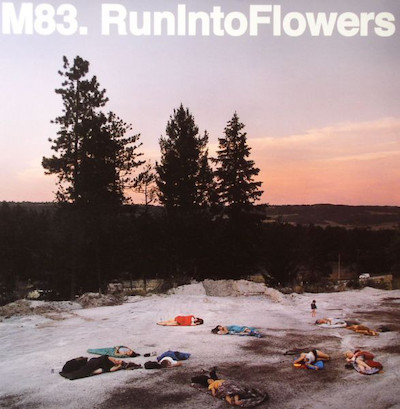 75. M83 – "Run Into Flowers"
It's important to remember that, before the '80s pastiche synth-pop anthems that made them a household name, M83 were a bona-fide shoegaze band. It's important because that early sound of theirs informed so much of what would come, little footprints breaking trails yet trodden. Eight years before "Midnight City," that iconic synth sound was being textured and drenched in reverb as "Run Into Flowers," melding new habitats for shoegaze and pop to coexist in. Built around its central persistent synth melody, it layers over itself heightened levels of urgency, growing and descending again into new iterations of its central theme. It's a thrilling journey, and one that paved the way for the worlds M83 would conquer. – William Lewis
Further Listening: M83 – "Kim and Jessie"; Caribou – "Hendrix w/ KO"
---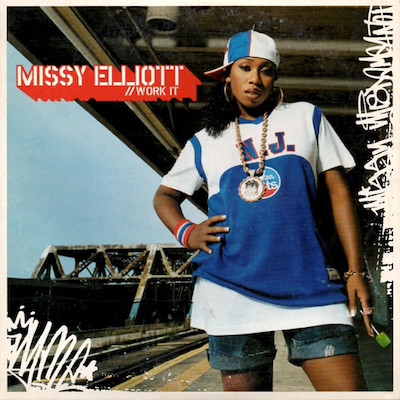 74. Missy Elliott – "Work It"
When Missy Elliott dropped "Work It" in 2002, hip-hop had already crossed over well into being mainstream pop music. So Missy made the most of it with producer Timbaland, whose production on "Work It" is as crucial as Elliott's performance, which reaches its climax with the line, "Put My thang down, flip it and reverse it," a line that'll almost certainly get you rapping along with her nearly 20 years later. – Wil Lewellyn
Further Listening: M.I.A. – "Sunshower"; Justin Timberlake – "My Love"
---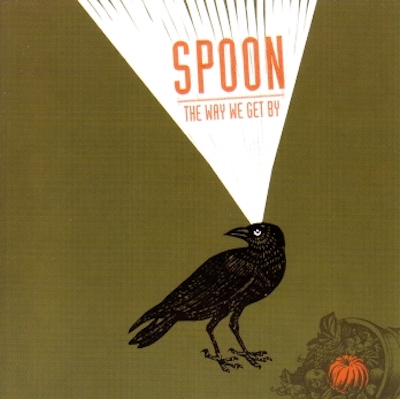 73. Spoon – "The Way We Get By"
From Britt Daniel's first three lines of "The Way We Get By," the ethos of the track becomes clear—throw your responsibilities out the broken car window, make your home wherever you lay your head, and live for yourself: "We get high in back seats of cars / We break into mobile homes / We go to sleep to 'Shake Appeal'." It's more than fitting that Daniel calls back to The Stooges' Raw Power, an album that wasn't created to please anyone in particular, and seemed to live by its own rules. "The Way We Get By" combines Spoon's upbeat piano-heavy brand of rock with set of lyrics that paint a portrait of a carefree, vagabond lifestyle. It's a moment for Spoon to play the parts that many of us wish we could at times, taking a break from reality for just a little under three minutes. – Virginia Croft
Further Listening: Wolf Parade – "Dear Sons and Daughters of Hungry Ghosts"; Modest Mouse – "Dashboard"
---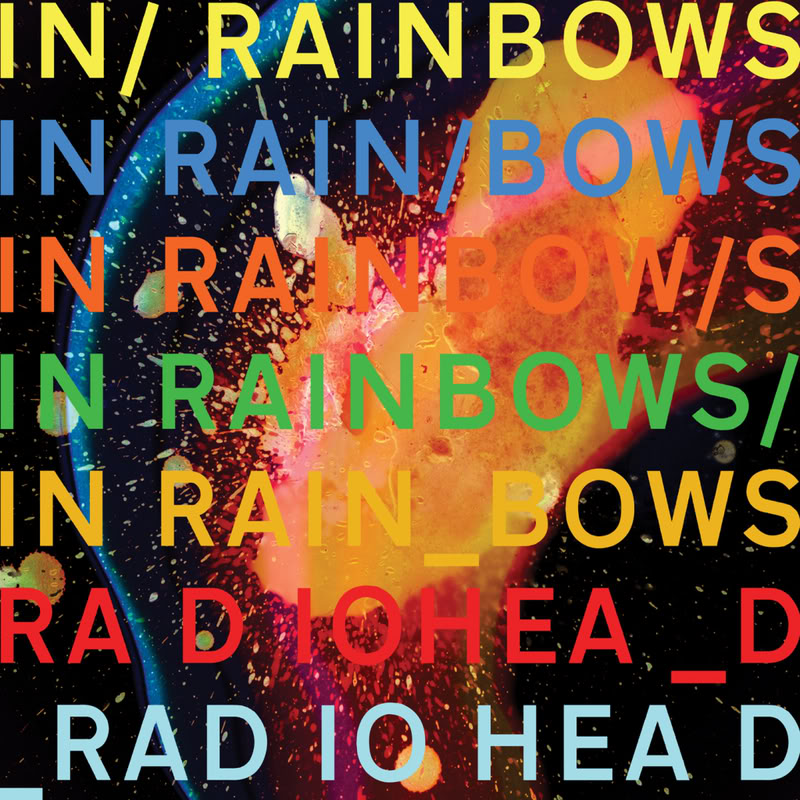 72. Radiohead – "Weird Fishes/Arpeggi"
Once the dust had settled from the whole "pay what you want" release and everyone could see In Rainbows for what it was, it was clear Radiohead had done something special even for them. In Rainbows felt like a resolution of the journey the band had taken to that point, the songwriting subtler and more refined even as it built on the myriad influences they had explored previously. "Weird Fishes/Arpeggi" remains its glorious centerpiece; incredibly tight, meticulously layered, never rushed in the careful build as its pirouetting arpeggios are propelled by Phil Selway's hypnotic drumming and Thom Yorke's saccharine voice lilting out snippets of abstract lyricism. Then, just as it peaks, it drops and is recreated into something else entirely. In the middle of the mid-naughtie new wave of indie-rock, as post-punk revival slowly gave over to more pastoral influences, this was the sound of absolute masters of their craft calmly stepping into the ring and saying "have a seat everyone, we'll take it from here". – William Lewis
Further Listening: Spiritualized – "The Straight and the Narrow"; Wilco – "Impossible Germany"
---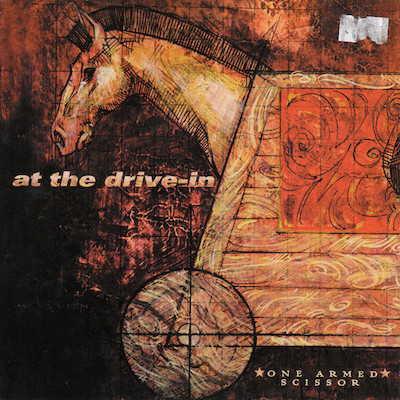 71. At the Drive-In – "One Armed Scissor"
One of the most distinctive records in post-hardcore, At the Drive-In's landmark full length Relationship of Command bore a hi-fi sheen courtesy of high profile engineer Andy Wallace and nu-metal auteur Ross Robinson. While the El Paso group regretted the stylistic choice, critics and listeners were convinced of the album's obvious potency, and "One Armed Scissor" was the record's fiery lead single. Instantly gripping and wildly cathartic, the track addresses the band's pairing of heavy-handed drinking bouts and non-stop touring. "One Armed Scissor" is a reference to Canada's version of a redbull vodka and lyrically foreshadows the band's imminent split. Despite its unluckily prophetic content, it's a thrilling melodic peak on an album bent on high octane punk. – Patrick Pilch
Further Listening: Fugazi – "Cashout"; …And You Will Know Us by the Trail of Dead – "Another Morning Stoner"
---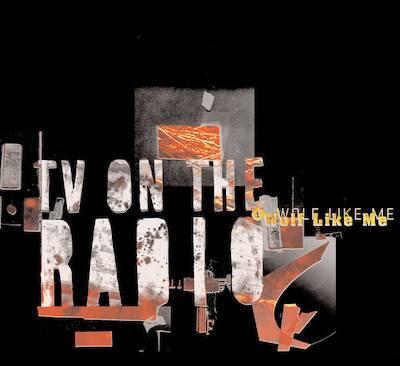 70. TV on the Radio – "Wolf Like Me"
Comparing the process of intertwining yourself with someone else to lycanthropy isn't the most obvious analogy in the world, but that's what made TOTR stand out – they were clearly smarter than your average band; a very early six-song release from a couple of the band members when they first got together was dubbed OK Calculator. It didn't stop them from catching you over the head with machine gun guitar riffs, spacey solos, bizarrely sensical lyrics, or in the case of Wolf all of them usually simultaneously. Band members have called their unit "a thing that doesn't work but does", so of course "Wolf" is a song that fits that assessment. – Butch Rosser
Further Listening: TV on the Radio – "Staring at the Sun"; Bloc Party – "Helicopter"
---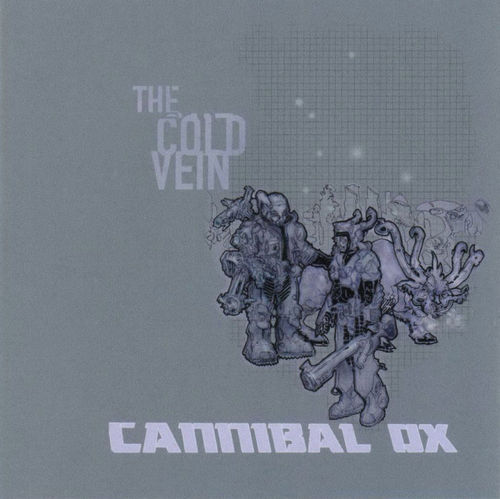 69. Cannibal Ox – "Iron Galaxy"
It's become cliche to describe El-P's production aesthetic as "dystopian," but on the leadoff track from Cannibal Ox's ominous debut The Cold Vein, there's no better way to capture the sense of chilling, futuristic dread that permeates it. Blade Runner synths, an eerie haze and even elements of Wall of Voodoo's "Mexican Radio" orchestrate a backdrop for Vordul Mega and Vast Aire's tour through a toxic and grimy New York, one you've never seen if you haven't stepped outside of the Giuliani-fied Times Square that became a dystopian symbol in itself. "Life's ill, sometimes life might kill" Vordul Mega says at the beginning of the first verse, and it doesn't get any rosier from there. Rats, roaches, chalk outlines, corrupt politicians and trigger-happy police—if this isn't dystopia, than what is? – Jeff Terich
Further Listening: El-P – "Stepfather Factory"; Deltron 3030 – "3030"
---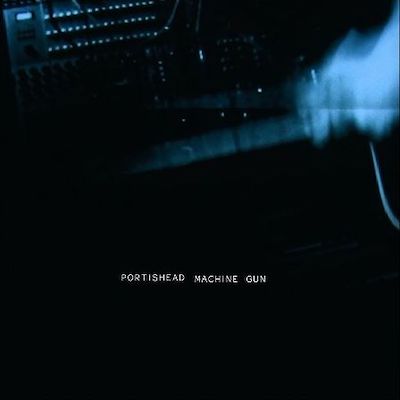 68. Portishead – "Machine Gun"
There is no dark side of the moon, really—matter of fact, it's all dark. And so Portishead revealed their frightening secret after an 11-year hiatus: the passion and longing in their sample-based spy music had mutated into introspection flecked with dread and horror. Listeners, once in hot pursuit of love, found themselves suddenly transformed from the chasers to the chased, Beth Gibbons' vocals seeping under their doors as Adrian Utley and Geoff Barrow's Krautrock electronics tried to kick them in. – Adam Blyweiss
Further Listening: The Knife – "Marble House"; Björk – "Earth Intruders"
---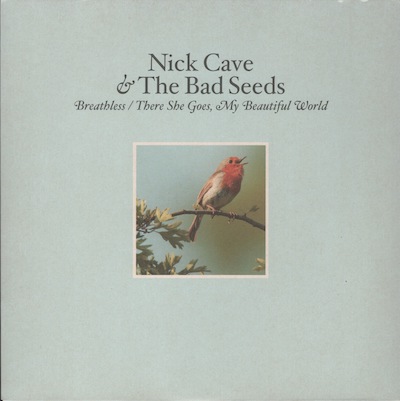 67. Nick Cave & The Bad Seeds – "There She Goes, My Beautiful World"
There's no hard and fast rule that says you have to suffer for your art, but at the very least, there's little creative growth that can come from sitting still. At the turn of the millennium, Nick Cave seemed to be running like hell from any threat of stagnation, following an album of delicate balladry with some of his most chaotic material, then returning a year later with a double album that prominently featured the backing of a gospel choir—and this was all before he grew a mustache and banged out noise-rock songs about unresolved boners. To hear Abbatoir Blues/The Lyre of Orpheus, you'd think Cave had no shortage of ideas, but its most inspired moment finds Cave fighting off writer's block. Cave takes a cue from Leonard Cohen's "Tower of Song" on "There She Goes, My Beautiful World," but instead of renting a room beneath Hank Williams, he's studying the misfortune and misadventures of the greats while they crafted their own masterpieces: "Karl Marx squeezed his carbuncles while he was writing Das Kapital/And Gaugin, he buggered off, man, and went all tropical." Cave surveys a textbook's worth of writing-desk anecdotes in preacher-at-the-pulpit mode, making the idea of aimlessly chasing a muse sound like soul salvation. When he chants, "I just want to move the world," brother, you believe every word of it. – Jeff Terich
Further Listening: Grinderman – "No Pussy Blues"; Tom Waits – "Everything Goes to Hell"
---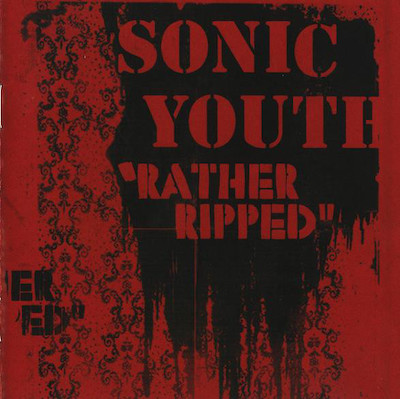 66. Sonic Youth – "Incinerate"
Rather Ripped was Sonic Youth's 2006 major-label coda, and it felt like a partial acquiescence to the melodicism they'd bent to their experimental will for a quarter century. "Incinerate" is as close to a pop sonnet as they ever got—which is to say its main riff is upbeat, the instrumental breakdown is contained, and Thurston Moore describes love as mutually assured arson. After a career crafting lyrics opaque to the point of enigma, Moore becomes the exaggerator: "You dosed my soul with gasoline/You flicked a match into my brain." It's endearing, like a nod from Moore to a teenage kid trying to write like Sonic Youth. "Incinerate" was their first, and for all intents and purposes last, valentine. – Paul Pearson
Further Listening: Sonic Youth – "The Empty Page"; Dinosaur Jr. – "Almost Ready"
---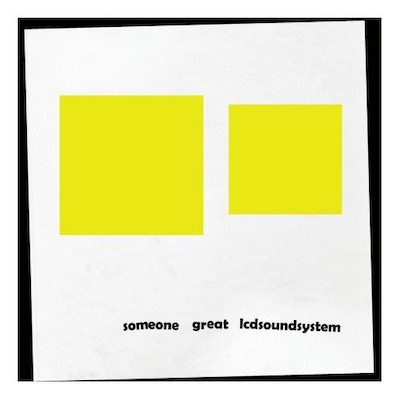 65. LCD Soundsystem – "Someone Great"
Now that you mention it, yes, it is a little strange that the first glimpse of "Someone Great"—the mournful, beating digital heart of LCD Soundsystem's Sound of Silver—came on a 45-minute continuous jogging mix commissioned by Nike. Where it started feels like a complete 180 from where it ended. The yin to "All My Friends"' yang, "Someone Great" is James Murphy at his most disarmed, stripped of irony and left to his own meditations on the frailty of life itself. To call it LCD Soundsystem's saddest song might overstate the fact, but it's the most photorealistic, despite its silvery Kraftwerkian tones and pristine pulses, depicting grief in both relatable and anguished relief. "The coffee isn't even bitter, because what's the difference?" sings Murphy against a mirror-image glockenspiel, capturing in specific detail his thought process while trying to register genuine loss. It's engineered for both dancing and even jogging, but most of all it's therapy through movement. – Jeff Terich
Further Listening: Hot Chip – "Boy From School"; The Juan Maclean – "Happy House"
---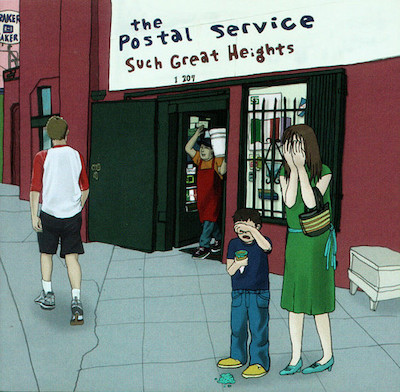 64. The Postal Service – "Such Great Heights"
An ode to otherwise perfect romance that one partner hopes will transcend long distance, this song is the summit of arguably one of the great long-distance collaborations in music history. Mailing recorded stems in the halcyon days when a cloud was still just in the sky, Jimmy Tamborello (Dntel) and Ben Gibbard (Death Cab for Cutie) eventually fit together their sounds and singing here—and across all of singular wonder Give Up—like tumblers and keys. It's a percolating, pristine slice of electronic twee, a harbinger of everything from sublime Lorde to ridiculous Owl City. – Adam Blyweiss
Further Listening: Phoenix – "Lisztomania"; Plushgun – "Dancing in a Minefield"
---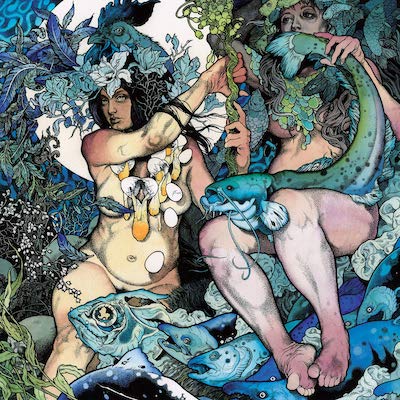 63. Baroness – "A Horse Called Golgotha"
Much as Georgia became a focal point for hip-hop during the first half of the '00s, so too did the Peach State a few years later draw attention for its heavier offerings: Mastodon, Black Tusk, Kylesa, Harvey Milk. Among that crop, Baroness showcased songs that ultimately felt like they could pass for '70s hard rock canon once you stripped away the sludge and John Baizley's deep roar. "A Horse Called Golgotha" is the most explicit such example, an anthem driven by dual guitar leads and climaxing in a triumphant, if cryptic, sing-along chorus. Too kickass to be dad rock, but just close enough to Boston's "Peace of Mind" to be self-aware about the suggestion, "A Horse Called Golgotha" is the sound of modern metal breaking apart a custom van 8-track deck from the inside. – Jeff Terich
Further Listening: Harvey Milk – "Old Glory"; Torche – "Healer"
---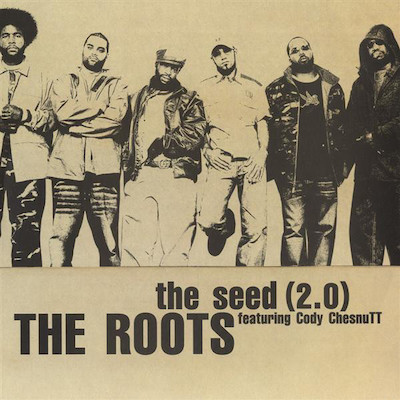 62. The Roots – "The Seed 2.0" [feat. Cody ChesnuTT]
Questlove tells the tale of "The Seed 2.0" in his autobiography, of how he caught a glimpse of Cody ChestnuTT's "The Seed", managed to track him down and convince him to record a hip-hop version of his track. Essentially a reflection on Muddy Waters' observation that "the blues had a baby and named it rock and roll," the sordid-seeming lyrics aren't to be taken literally, but rather a cheeky take on the birth of new genres. But the bounce and vibe they inhabit make for one of the most infectious feel good hip-hop tracks of the decade. Pivoting seamlessly between influences, it perfectly reflects the nature of its themes, expertly blending blues-rock instrumentation and melody with hip-hop beats and verses. But mostly it's just catchy as all hell. – William Lewis
Further Listening: Mos Def – "Auditorium"; RJD2 – "Ghostwriter"
---
61. Sunn O))) – "Alice"
Sunn O))) have a mantra: "Maximum volume yields maximum results." But "Alice" is the first time their music has ever sounded truly meditative. The wizard robes, muscular fuzz tone and Stonehenge of Marshall stacks that surround Greg Anderson and Stephen O'Malley should be more than enough to convince the layperson that Sunn O))) is, ostensibly, a metal band, even if their music moves at about one-twenty-fifth the pace of, say, "Aces High." But "Alice" is something else; named for Alice Coltrane (who died shortly before they wrote and recorded the piece) and embodying the late jazz legend's sense of mesmerizing otherworldliness, "Alice" carries a grace that isn't just beautiful for Sunn O))), it's beautiful period. A bright fanfare of horns and a psychedelic array of strings arranged by Eyvind Kang are the silver streaks that run through this awe-inspiring display of sunlit majesty, as much a touching tribute as a statement of healing and affirmation. – Jeff Terich
Further Listening: Earth – "Raiford (The Felon Wind)"; Jesu – "Your Path to Divinity"
---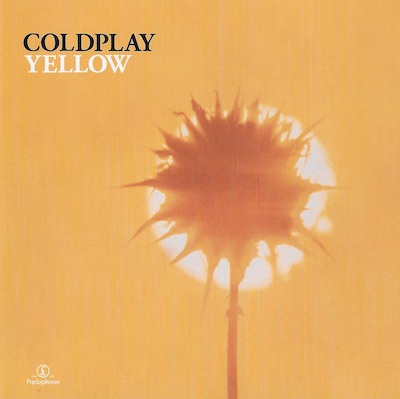 60. Coldplay – "Yellow"
I am six years old, on a road trip with my family in British Columbia. My mother likes to listen to Phil Collins in the car, but lately we've been playing Now That's What I Call Music! 6, a CD that includes a lot of songs that I seem to hear wherever I go—Jennifer Lopez's "Love Don't Cost a Thing," N*SYNC's "Bye Bye Bye," Shaggy's "It Wasn't Me"—songs that sound shiny and modern. Not that I have the words to describe what goes through my mind when I hear these songs—I'm a six-year-old kid, not a music critic. But there's one song that feels sadder, but also warmer and more welcoming, than the rest, and that's "Yellow," by that band with the weird name, Coldplay. It might be my favorite song.
I am 26 years old, thinking about all of the music I've heard and loved in my life up until now and wondering what songs I can't imagine living without 20 years from now. Even after writing about music for the last few years, sometimes I struggle to put into words why, exactly, a song resonates with me, why I can return to it time after time. "Yellow" came into my life at the right time, yes, but the song itself is timeless: The guitar still evokes a sunset slipping beneath ocean waves, and Chris Martin's vocals are still vulnerable and heartfelt. I've heard grander, more complex, maybe even better-written songs since then, but few feel as warm and welcoming as "Yellow" does. It might be my favorite song. – Jacob Nierenberg
Further Listening: U2 – "Stuck in a Moment You Can't Get Out Of"; Doves – "Catch the Sun"
---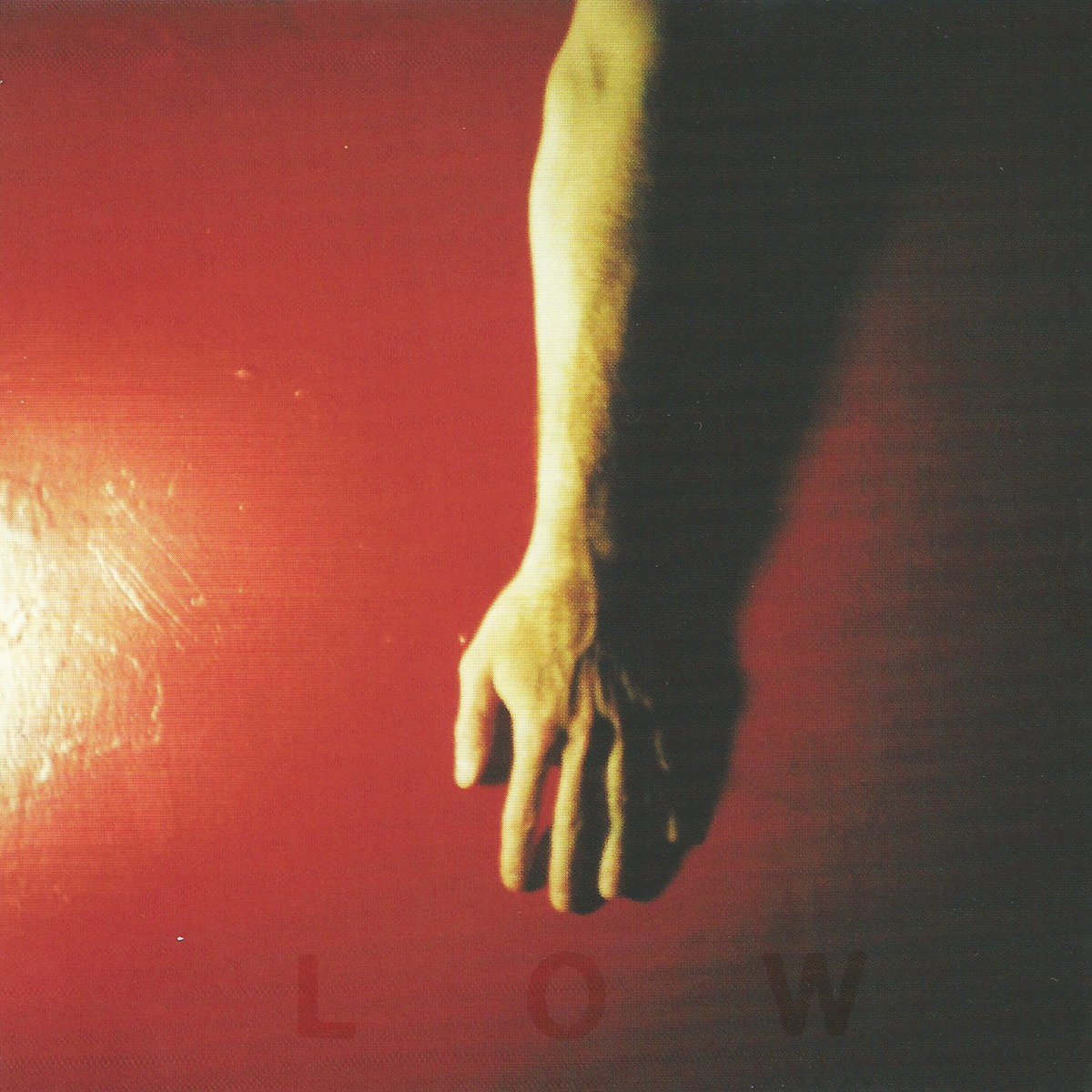 59. Low – "(That's How You Sing) Amazing Grace"
Low have made a career out of taking the path of most resistance, shaping songs that linger in dark places or simply ripple into the ether. But the common misconception is that the backbone of their sound is its slow pace. That's not the case—it's tension. "(That's How You Sing) Amazing Grace" moves like a waltzing ghost, but it's wound tight—for what sounds on the surface like a lullaby, "Amazing Grace" can feel crushingly heavy and harbors a simmering sense of dread. Well before the band embraced the aggressive psychedelia of 2005's The Great Destroyer or the piercing production noise of their two most recent albums, Low concocted devastation through the sparsest means, opening up their 2002 album Trust with a skeletal dirge about death that never raises its decibel level but ends up feeling like the bleakest doom metal: "Sometimes there's nothing left to save/That's how you sing Amazing Grace." Carnage has rarely been delivered so gently. – Jeff Terich
Further Listening: Mogwai – "Take Me Somewhere Nice"; Tindersticks – "People Keep Comin' Around"
---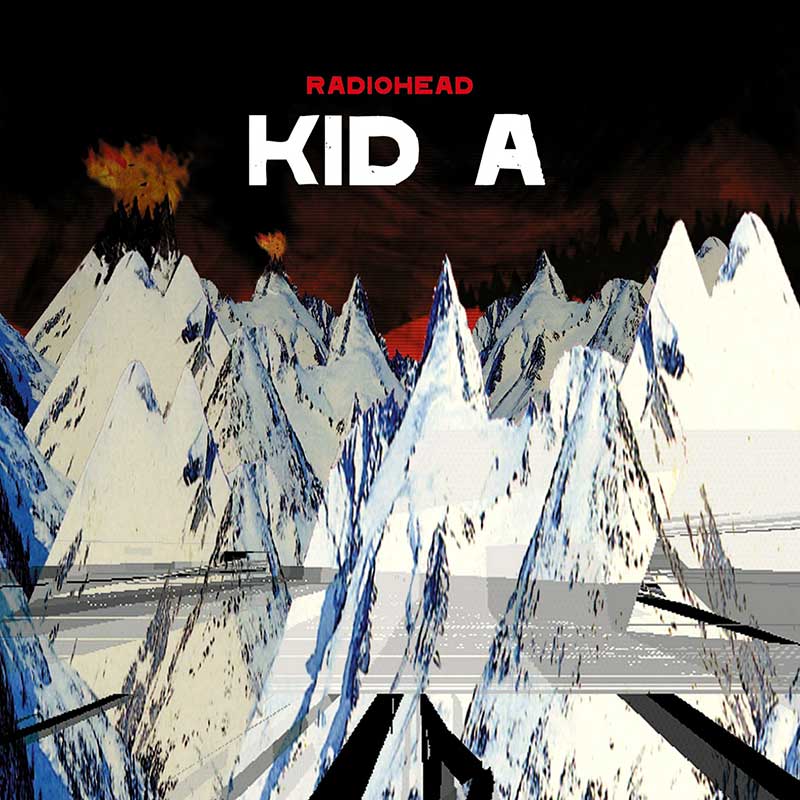 58. Radiohead – "Idioteque"
Kid A was an atmospherically bleak middle finger to anyone who expected Radiohead deliver OK Computer for a second time. Playing hard to get while having a bit of fun with their experimentation, the band did not release any singles, but this song still ended up getting its share of airplay regardless. "Idioteque" is danceable without being dumbed down, and where much of the album is cast in a darker, less immediate drone, here the band proved themselves capable of delivering something more urgent, a song for dancing due to anxiety rather than joy. – Wil Lewellyn
Further Listening: Aphex Twin – "Vordhosbn"; Primal Scream – "Swastika Eyes"
---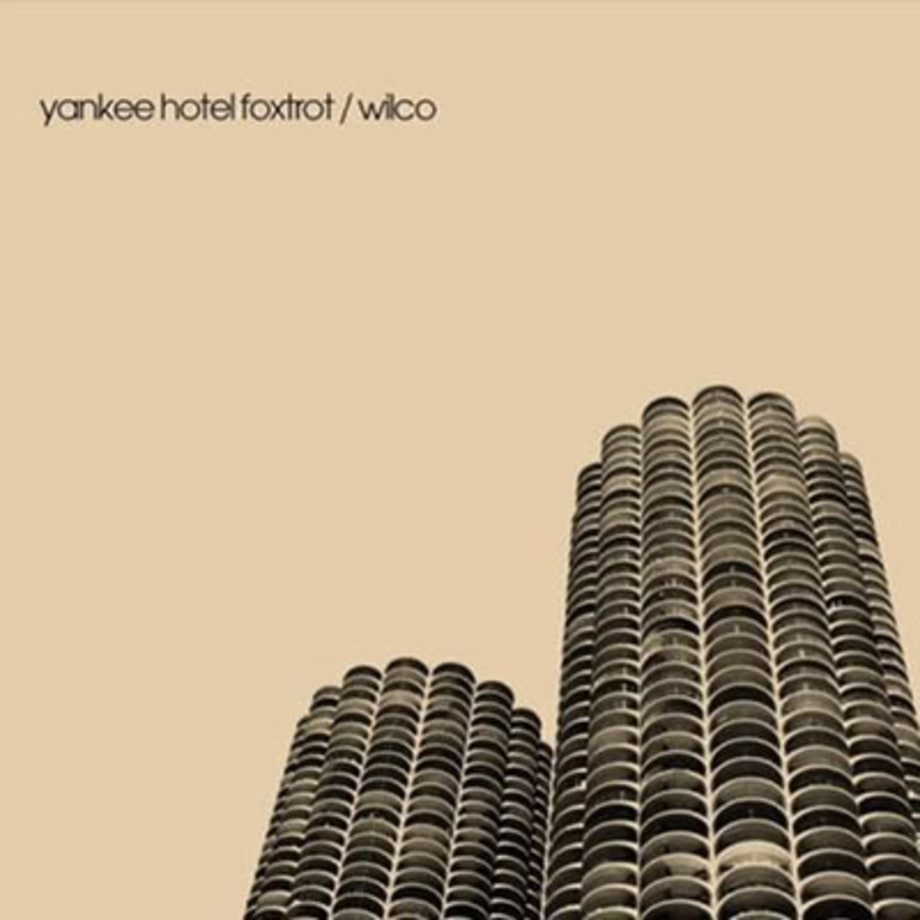 57. Wilco – "I Am Trying to Break Your Heart"
The story of Yankee Hotel Foxtrot isn't really that uncommon for a band that signed to a major label in the '90s, losing their advocate after a bust cycle downsizing and having to find a new path forward with a label that didn't know what to do with them. It's easy to imagine someone in an office building in Burbank furrowing his brow to "I Am Trying to Break Your Heart"; it's also, ironically, the song that sold the rest of the band on Jeff Tweedy's new conceptual approach, mixed by Jim O'Rourke to both highlight the Pet Sounds Americana sound they were cultivating as well as a more chaotic sense of disorienting psychedelia. The first track on what's now largely considered the band's masterpiece, "I Am Trying to Break Your Heart" is, contrary to its title, not aiming for the heartstrings but the doors of perception, wrapping the song's intricate melody with bizarre sonic ephemera and unexpected interruptions. There's probably a version of this song somewhere played straight in the Americana style the band had perfected in the prior decade without all the extra stuff in it, but it's likely nowhere near as dazzling. – Jeff Terich
Further Listening: My Morning Jacket – "One Big Holiday"; Calexico – "Crystal Frontier"
---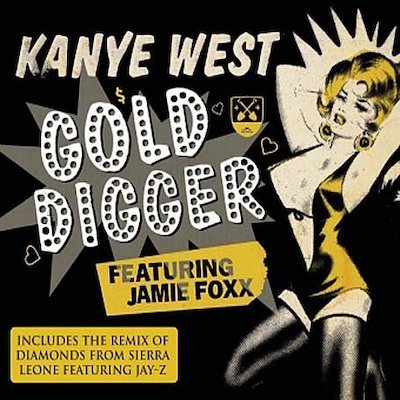 56. Kanye West – "Gold Digger"
Roll the clock back. It's the mid-2000s and everyone who likes rap music loves The Blueprint, Jay-Z's masterpiece, all spearheaded by a producer named Kanye West. West's debut lit the rap world up and, with tracks like "Jesus Walks" and "Through the Wire," proved he could hang in a serious way. But then "Gold Digger" drops, with its Jamie Foxx-as-Ray Charles hook off of the back of a dominant biopic, ridiculously opulent beats and genuinely joyful and acrobatic verses and suddenly everyone got it. We can have arguments on whether College Dropout or Late Registration is better, but there's no argument that for better and for worse, "Gold Digger" is the Big Bang of Kanye the phenomenon. There would be no Graduation, 808s or Dark Twisted Fantasy without this song, just as there'd be no ill-inspired Confederacy aping, Donald Trump supporting or, um, uneven attempts at avant-garde Christian music. We all have feelings about him, but he's undoubtedly one of the most influential artists of a generation, and this song is a big reason why. – Langdon Hickman
Further Listening: Twista – "Slow Jamz"; Cam'Ron – "More Gangsta Music"
---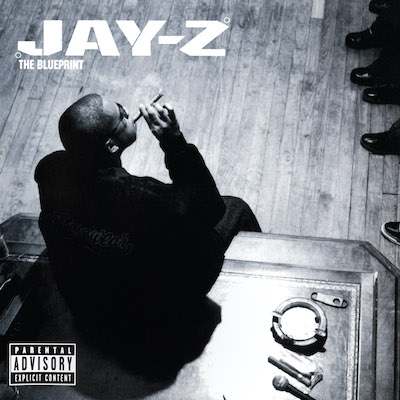 55. Jay-Z – "Heart of the City (Ain't No Love)"
History, as it relates to a figure like Jay-Z, has gone both ways: It validated him as one of the genre's greatest rappers, while also revealing his knack for creating profundity or pathos out of thin air. Not much of consequence is said on "Heart of the City" beyond his insistence that he's the greatest ever and how people should shut the fuck up about him enjoying the spotlight….and that's OK, really. Kanye West's beat for "City," based on Bobby Blue Bland's soul masterpiece, is one of the greatest pieces of music ever created in any genre, and it would grant grandeur to a grocery list. Hov himself was, of course, at the absolute height of his verbal power on The Blueprint, effortlessly spitting alliterative, syllable-dense lines in his bemusedly charismatic voice. He is one of hip-hop's dad-rock guys now, but you have to be as good as this to make enough money to sell out. – Liam Green
Further Listening: Freeway – "What We Do" [feat. Jay-Z, Beanie Siegel]; Masta Ace – "Block Episode"
---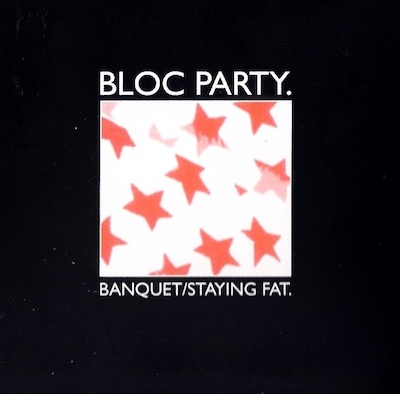 54. Bloc Party – "Banquet"
Capturing the frenetic thrill of post-punk with the oversized hooks of Britpop, Bloc Party's "Banquet" is Bloc Party's most incredibly addictive moment. Kele Okereke's vocals enhance the chaotic, raucous landscape the band creates, with a sense of urgency and anxiety. The single employs a fast paced, dance club-friendly but still decidedly rock sound to paint the unknown, as Okereke sings, "Heaven's never enough / we will never be fooled." Nodding to post-punk's past while delivering a product that sounded thoroughly modern, Bloc Party arrived equipped with a carefully crafted kit of punchy sounds. – Virginia Croft
Further Listening: Futureheads – "Meantime"; Maximo Park – "Apply Some Pressure"
---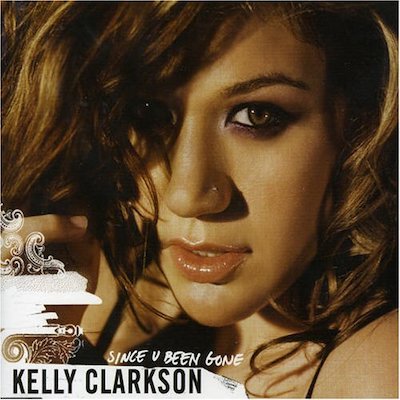 53. Kelly Clarkson – "Since U Been Gone"
I would have been perfectly happy finding creative ways to discredit American Idol throughout the decade, but first-season winner Kelly Clarkson killed that buzz by making a great record. "Since U Been Gone" came from the resource-efficient pop production team of Max Martin and Dr. Luke, but it would have been a far tamer exercise if Clarkson hadn't decided to layer aggressive guitars on top of the chorus. With one blow Clarkson foiled the cabal that was churning out opiates like "A Moment Like This" and started keeping pop arbitrators at arm's length. "I can breathe for the first time" said more than we knew. – Paul Pearson
Further Listening: Gwen Stefani – "Hollaback Girl"; Girls Aloud – "Biology"
---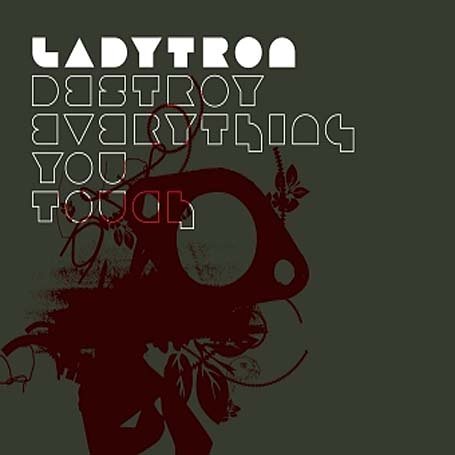 52. Ladytron – "Destroy Everything You Touch"
Is Nine Inch Nails even on this list? (Ed: Yes. Yes they are.) Because for all of Trent Reznor's activity, this Liverpool band had a moment that cut through metallic pop's static this decade while NIN may only have contributed to it. Part goth crossover, part runway sashay, this track from Ladytron's third studio album Witching Hour is a study in relationships undermined by either our narrator or their partner, set against an endless cascade of triggered guitars and percussion. – Adam Blyweiss
Further Listening: Curve – "Hell Above Water"; Depeche Mode – "Precious"
---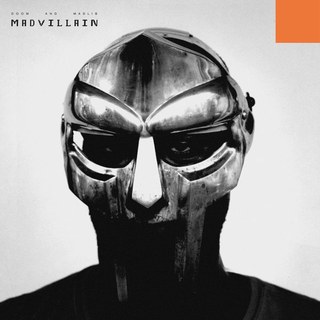 51. Madvillain – "All Caps"
Madlib brought out the most accessible side of DOOM, smoothing out some of the experimental quirks (see MM..FOOD from the same year) while retaining the broad strokes of his flow. More than that, the duo were true partners, exemplified on "All Caps"—dramatic pauses in the beat for DOOM's punchline deliveries ("Don't talk about my moms, yo"), and straightforward swinging rhymes to compliment Madlib's composition ("And you know it like a poet…"). At the time, a boisterous claim, now proven ten times over. "All Caps" stands up as an iconic crown jewel of DOOM's discography, a token to honor the legend: "Just remember, all caps when you spell the man name…" – Forrest James
Further Listening: King Geedorah – "Fazers"; MF DOOM – "One Beer"
---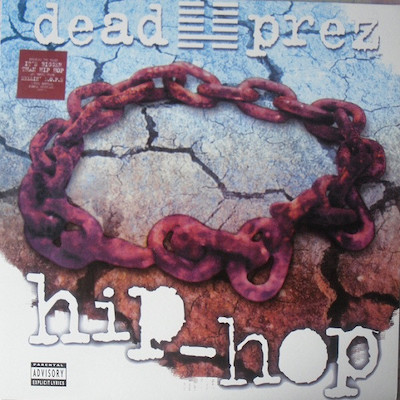 50. Dead Prez – "Hip Hop"
After a decade that reaffirmed New York City as hip-hop's capital, thanks to a streak of hall-of-fame albums and a sampling renaissance, Dead Prez showed up in time just to upset the paradigm. "Hip Hop" is a little less boom bap, a little more bounce to the ounce, a trunk-rattler of an anthem that upon first listen feels like a transmission from the Dirty South. A beat this hot helps make stic.man's bitter medicine ("Don't think these record deals gon' feed your seeds and pay your bills…you can be next in line and and signed and still be writing rhymes and broke") go down easier. Dead Prez sing rap's praises while condemning its benefactors, a show of solidarity to their fellow emcees and an act of hostility against the factory turning out new ones on the assembly line every day. But even the most impassioned sermon on the mount rarely makes asses move like this. – Jeff Terich
Further Listening: The Coup – "Ride the Fence"; Saul Williams – "List of Demands (Reparations)"
---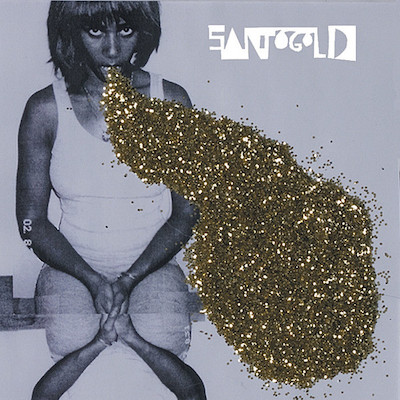 49. Santigold – "L.E.S. Artistes"
The bar-raising, career-sparking lead track off her self-titled debut, "L.E.S. Artistes" announced Santigold as a talent to watch. But Santi White didn't come out of nowhere; she got her start in the Philly punk scene, evident in the pop-punk instrumentation underlying her solo work, and later doing label A&R and co-writing Res' underrated and underheard debut, How I Do. Stark rim-shot and tight guitar open the song with a sharp hook, complementing and previewing the harder-hitting range of Santigold's varied vocal delivery. As the prickly arrangement gives way to a lush wave of bells, soft snare, and synths, her vocals shapeshift into the flowing, emotive chorus: "I can say I hope it will be worth what I give up." – Forrest James
Further Listening: Metric – "Combat Baby"; Res – "They Say Vision"
---
48. Songs: Ohia – "Farewell Transmission"
A great song a dynamite riff does not make, but it'll get you 90 percent of the way there. As Jason Molina made the transition from his more insular folk project Songs: Ohia to the rootsy rock 'n' roll band Magnolia Electric Co., he introduced his new band with a guitar riff that might well be the best thing anyone played on an electric guitar throughout the entire decade. It's ultimately a vehicle for Molina's narration of an apocalyptic event in the kind of midwestern towns that gave his haunting, bluesy songwriting a sense of place and character. Against that weeping slide, the tale of death and rebirth, of darkness and light becomes more epic than fable, more folktale than doomsday warning. Lines like "the big star is falling" and "Mama, here comes midnight with the big moon in its jaws" are chilling on their own, but Molina's despair isn't total, and the magic he channels through his amplifier provides just enough fuel to keep that hope alive. – Jeff Terich
Further Listening: Bonnie "Prince" Billy – "Cursed Sleep"; Califone – "Vampiring Again"
---
47. Bob Dylan – "Mississippi"
The ravages of time and disappointed romance were still on Dylan's 2001 album Love and Theft, but he found some strips of optimism squeezed between the cracked siding. That's what "Mississippi" summarizes. Dylan pierces his divinity ("All my powers of expression and thoughts so sublime," the last word sung with obvious sarcasm) and weighs himself down with the consequences of his decisions, on both himself and his intended. It's the ascending third part of each verse that infers hope. Even though he's beaten down, he's not crushed: "Stick with me baby, stick with me anyhow/Things should start to get interesting right about now." Faith borne from hazard is something late-period Dylan channels well, and "Mississippi" is one of his best-constructed songs, things I hear he's pretty good at. – Paul Pearson
Further Listening: Bruce Springsteen – "The Rising"; David Bowie – "Bring Me the Disco King"
---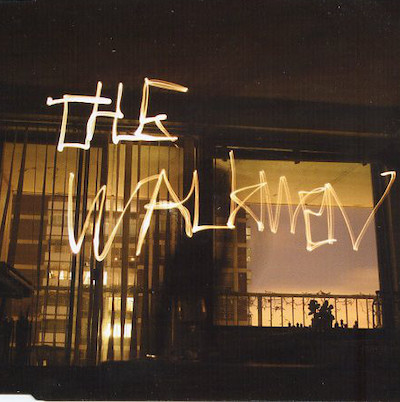 46. The Walkmen – "The Rat"
In the mid-'00s, bands like The National emerged as a contradiction to the raucous, elegantly-wasted antics of the Strokes and Yeah Yeah Yeahs with songs narrating un-magnificent realities. The beauty of the Walkmen's "The Rat" is in how it depicts both scenarios at once. It's also in the pummeling drums and blistering guitar riff, which grab the listener by the throat and never let go, and in Hamilton Leithauser's vocals, which lurch from indignation ("You've got a nerve to be calling my number") to desperation ("Can't you see me? I'm pounding on your door") at a moment's notice. Perhaps you've had nights like his before—your relationship is at its breaking point, your friends are all having fun without you, and you feel like a shell of the person you once were. Those nights suck, and The Walkmen don't pretend otherwise. But in "The Rat," they have given us an anthem for them. – Jacob Nierenberg
Further Listening: The Strokes – "The Modern Age"; Les Savy Fav – "The Sweat Descends"
---
45. Animal Collective – "My Girls"
"My Girls" is really very simple. Panda Bear's mantra, sung over and over, "I just want four walls and adobe slats for my girls," states as much. But it's something about the way the song hypnotizes, about the sparkling, Frankie Knuckles-ian synth line, and the booming drums that finish every chorus, or maybe it's the sample of the Cassini-Huygens probe, literally blasting the song off into space. Animal Collective's minimalist ode to minimalism is improbably anthemic: wrap your arms around your friends and shout "I don't mean to seem like I care about material things like a social status." – Ben Cohn
Further Listening: Gang Gang Dance – "House Jam"; Fuck Buttons – "Surf Solar"
---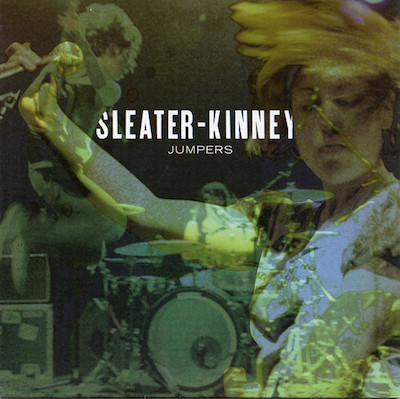 44. Sleater-Kinney – "Jumpers"
It's difficult to acknowledge music's canon of songs—especially good ones—about suicide. But on The Woods we have a tense, careening rocker synthesizing many facets of the topic: real-world stories from San Francisco documented in The New Yorker, data from cases, observations from survivors, psychological motivations, and the depression experienced by S-K's own Carrie Brownstein. It's her jagged choruses and yelping outro that put the desperate finishing touches on a signature moment from the riot grrrl movement's grand dames. – Adam Blyweiss
Further Listening: Ted Leo & the Pharmacists – "Where Have All the Rude Boys Gone"; Clap Your Hands Say Yeah – "Satan Said Dance"
---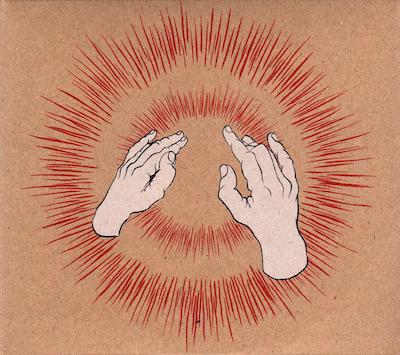 43. Godspeed You! Black Emperor – "Storm"
The first act of Godspeed You! Black Emperor's sophisticated sophomore effort, Lift Your Skinny Fists Like Antennas To Heaven, "Storm" centers on the mundane—violent and bizarre and even beautiful. "Welcome to Arco AM/PM mini-market! We would like to advise our customers…" fading into an unintelligible and agitated monologue as a solemn piano rises. The decision to divide the song into four distinct movements, rather than list each segment as a track, alone sets GY!BE apart from their contemporaries. It was not uncommon for similar music to be intended as one long composition, and just as often albums would be a hodgepodge of nearly unrelated experimentations. Splitting the difference, the innovative compositional style of GY!BE elevates their work beyond "post-rock" into its own epic, cinematic sphere. – Forrest James
Further Listening: Explosions in the Sky – "Your Hand in Mine"; Silver Mt. Zion – "Broken Chords Can Sing a Little"
---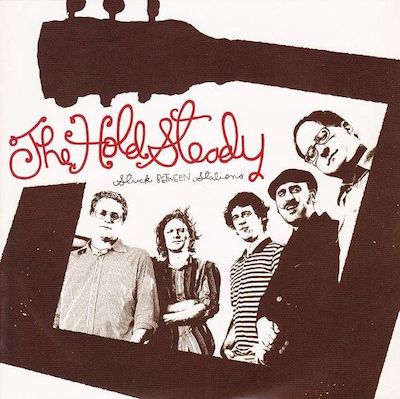 42. The Hold Steady – "Stuck Between Stations"
Sometime between the age of early rock 'n' roll and 2006, when the Hold Steady released Boys and Girls in America, the music's emotional delivery system contorted. Or maybe teenagers started using it wrong. The Minneapolis band's Craig Finn captures the lethargy in "Stuck Between Stations," Track 1 on the album. The halting rave-up decries the pretty vacant motives of a Young America drinking itself into terrible leisure decisions or "crushing one another with colossal expectations." What makes "Stuck Between Stations" especially poignant is the invocation of John Berryman, an acclaimed Twin Cities poet whose battles with alcohol and love drove him to a suicide leap off the Washington Avenue Bridge: "There was that night that we thought John Berryman could fly/But he didn't, so he died." Again: This is Track 1. – Paul Pearson
Further Listening: Titus Andronicus – "Upon Viewing Bruegel's 'Landscape with the Fall of Icarus'" ; Guided by Voices – "Chasing Heather Crazy"
---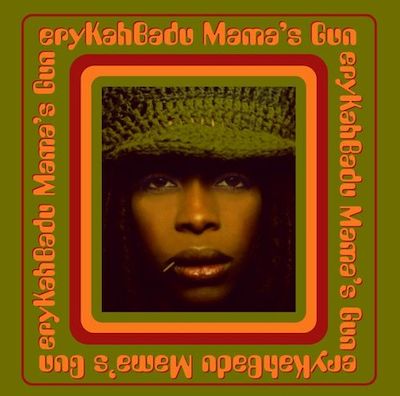 41. Erykah Badu – "Penitentiary Philosophy"
In retrospect, it's hard to believe that Erykah Badu's second album, Mama's Gun, wasat least commercially something of a sophomore slump upon release. At the time, Erykah Badu said, "No, it didn't sell as much [as Baduizm]… although creatively I feel like this is a better piece of work." Given the praise from many critics at the time, its placement on just about any albums-you-must-hear-before-you-die list, and the now legendary collaborations with D'Angelo, who was working on Voodoo in the same studio at the same time, history would seem to agree with Badu's assessment. From the start, Mama's Gun wastes no time in making an impression, as the opening track "Penitentiary Philosophy" brings the funk and builds over the course of six minutes into an eruption in step with Badu's ad-libbed vocals. There are plenty of highlights here, from the tough-minded grit of Badu's lyrics to Pino Palladino's bass, but it's Badu's riffing as a vocalist that steals the show. – Tyler Dunston
Further Listening: Erykah Badu, "Bag Lady"; Jill Scott, "Golden"
---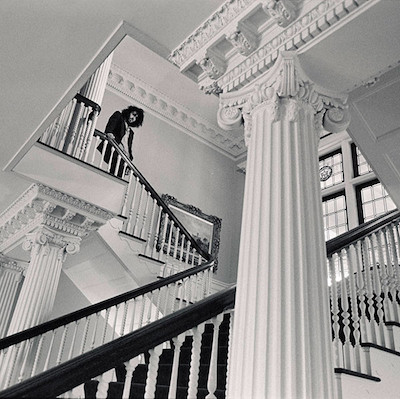 40. Destroyer – "Bay of Pigs"
It can be difficult to map Destroyer's artistic trajectory, but if there's a clear inflection point to Dan Bejar's career, it's "Bay of Pigs." He's always been one of indie rock's greatest lyricists, reeling off vivid and hilarious lines about "dear young revolutionary capitalists" and "getting it on with the hangman's daughter," but in the last decade, Bejar has largely moved away from the scruffy guitars of Destroyer's youth in favor of the slicker sounds of sophisti-pop and synth-pop. These never came together more brilliantly than on 2011's elegant Kaputt—the foundation of which was "Bay of Pigs," an extended foray into "ambient disco."
But "Bay of Pigs" isn't just the song that rebooted Destroyer. It also happens to be the single greatest song that Bejar has ever written, right from its opening stanza: "Listen, I've been drinking/As our house lies in ruin/I don't know what I'm doing/Alone/In the dark/At the park or at the pier/Watching ships disappear/In the rain."
From there, we follow our inebriated protagonist through a series of misadventures: singing Duke Ellington at the discotheque, fantasizing about ex-lovers in spurs and antlers, throwing up in an English garden. All the while, the twinkling ambiance of the song's beginning morphs into a four-on-the-floor beat, transforming this shaggy dog story into the first Destroyer song you could legitimately call a banger. There should be a word for art as idiosyncratic and inspired as this—let's call it Bejarian.
Further Listening: Deerhunter – "Octet"; The New Pornographers – "Sing Me Spanish Techno"
---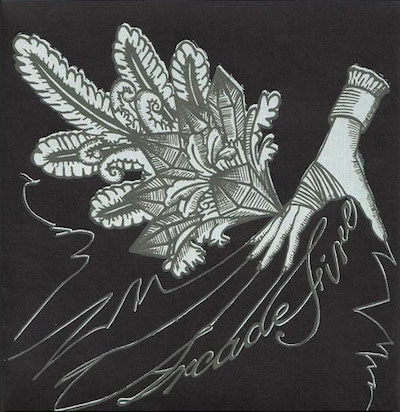 39. Arcade Fire – "Neighborhood #1 (Tunnels)"
Those glittering keys and gently overdriven guitar riff, the first time hearing those opening moments of "Neighborhood #1 (Tunnels)" is etched into many memories as an iconic moment. Raising the curtain on Funeral, it exemplified everything Arcade Fire's debut album achieved: the energy, the sincerity, the creativity and the sheer love of what they were doing. It leans into its own melodrama, sure, but as the urgency grows around its dreamlike post-apocalyptic premise, you get so swept up in the gravity of Arcade Fire's imaginings you find that's swiftly forgotten. Arcade Fire have since become a little buried under the deluge of followers their success brought them, including in their own music. But the joy of Funeral can never be tainted by what has followed, especially not its remarkable opener. – William Lewis
Further Listening: Grizzly Bear – "Two Weeks"; Augie March – "One Crowded Hour"
---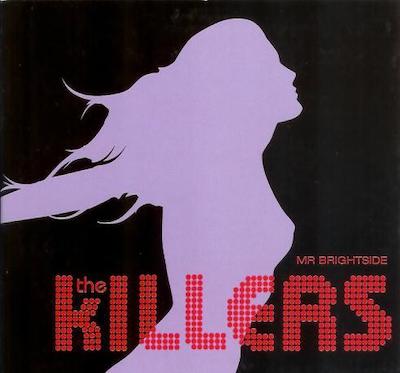 38. The Killers – "Mr. Brightside"
That opening guitar line gets people going. Heard echoing through thousands of ballrooms at every wedding and bar mitzvah and sweet sixteen for at least ten years now, "Mr. Brightside" is every hometown DJ's go-to end of the night scream-along. And how could it not be? The Killers spliced together New Order and Bruce Springsteen, making something both danceable and anthemic, a potent mix. The closest thing Millennials and Gen Z have to a "Bohemian Rhapsody," "Mr. Brightside" has transcended Hot Fuss and The Killers and the 2000s. It's a meme and a cultural touchstone (just say "I've been coming out of my cage" in a crowd of people and at least three will finish the line) even more than a song. But it's also a killer fucking song. Even the coolest and most aloof of us can't deny that chorus, a set of abstract couplets that don't make much sense at all but sound great. "Jealousy, turning saints into the sea" is nonsense, but it's nonsense set to one of the best melodies of the 2000s. – Ben Cohn
Further Listening: Interpol – "Evil"; Coldplay – "God Put a Smile Upon Your Face"
---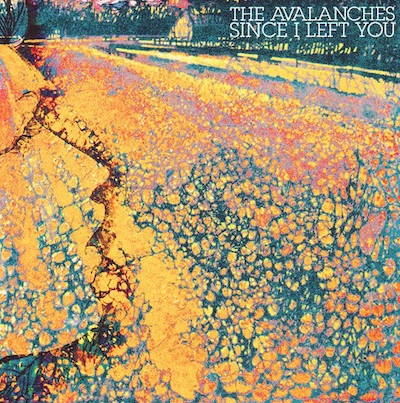 37. The Avalanches – "Since I Left You"
Ransacking the Island of Lost Samples was nothing new when the Avalanches broke out of Australia in 2000. John Oswald did it with menace; People Like Us did it with curiosity; Fatboy Slim did it with (and on) ecstasy. But "Since I Left You" was the first breakout song and album that used thrift-shop records to build a paradise. Darren Seltmann and Robbie Chater used Yamaha Promix 01 and Akai S2000 samplers to bring dozens of ultra-obscure cut-out finds to a higher purpose. By all rights, the clashing samples should produce something skittish and disorienting, but in the Avalanches' knobs they turned tranquil and transporting. – Paul Pearson
Further Listening: Jason Forrest – "10 Amazing Years"; The Go! Team – "Junior Kickstart"
---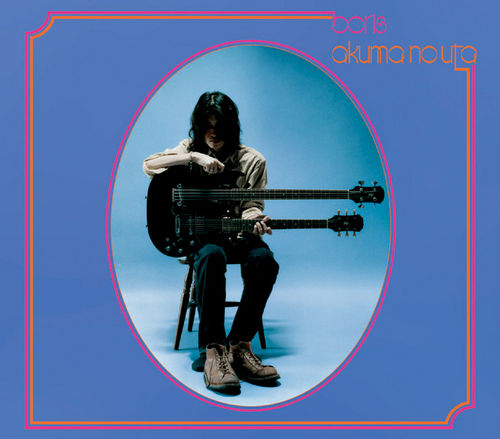 36. Boris – "Naki Kyoku"
On an album that finds endless new thrills in hard-rock-cliché evocation, "Nanki Kyoku" is the slow down moment. It's 12 minutes long, but for Boris, that's honestly pretty brief. This is a band who had already released Flood, a five part 45 minute drone piece, and was about to record Feedbacker, a similarly structured climaxing symphony of guitars. The dream pop guitar lines that open "Nanki Kyoku" are a feint, because slow doesn't mean not heavy for Boris. The band finds a spectacular guitar melody that they return to over and over again, making something unexpectedly new of cock rock's most overcompensating solos. Which is why it's even better that Wata is the one playing this solo, flipping gendered expectations of who can rip a nasty riff. More than that, those last three minutes are noisy and crushing and sound like a guitar crashing down on your cranium. Because that's what Boris does best, and they sure as hell are doing it here. – Ben Cohn
Further Listening: Boris – "Farewell"; Isis – "The Other"
---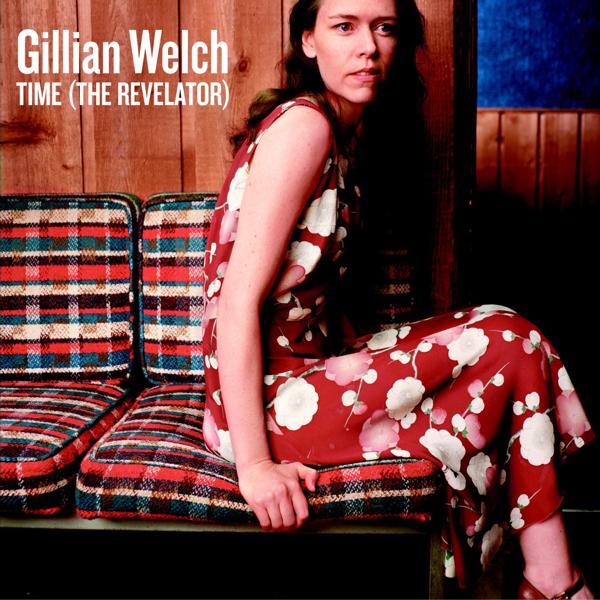 35. Gillian Welch – "Revelator"
Authenticity isn't something you can measure beyond a gut feeling, but that hasn't stopped a vocal contingent from using it as a line in the sand for country music (and rock, and hip-hop, etc.). Gillian Welch's entire career pokes a gaping hole in that kind of conservatism; Welch was born in New York and raised in Los Angeles, either of which would be enough to cock the eyebrow of a Nashville gatekeeper. To hear "The Revelator," though, it'd be only natural to assume American folk and bluegrass tradition is simply in her blood, despite the "alt-country" tag that initially seemed to follow. It's both a weary exploration of time's unmatched ability to reveal all truths and a six-minute journey through influences both expected (Blind Willie Johnson, Jimmie Rodgers, Taj Mahal) and not (Biggie, LL Cool J), stretching a sparse and haunting dirge into six transcendent minutes. Fucking out of sight. – Jeff Terich
Further Listening: Steve Earle – "Transcendental Blues" ; Lucinda Williams – "Out of Touch"
---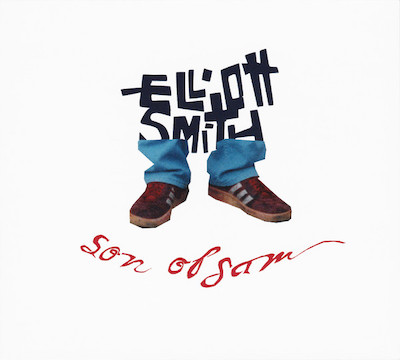 34. Elliott Smith – "Son of Sam"
Despite being saddled with the stereotype of the lone folk troubadour, Elliott Smith's career saw the singer/songwriter only building upward and outward from the lo-fi recordings of early albums like either/or—solo albums by necessity that often suggested so much more. With his move to Dreamworks on 1998's XO, however, he pulled out all the stops and delivered an orchestral-pop work that's as close to Pet Sounds as anything in the '90s ever got. But with "Son of Sam," the barnburning first single from Figure 8, Smith fully completed his transformation into singer/songwriter as rock band, stepping on the distortion pedal and delivering impressionistic lyrics of bridge-burning destruction ("Told the boss off and made my move/Got nowhere to go"). Smith never sounded bigger or more pissed off, the endpoint of a musical metamorphosis from intimacy to intensity. -Jeff Terich
Further Listening: Elliott Smith – "Happiness"; Aimee Mann – "Red Vines"
---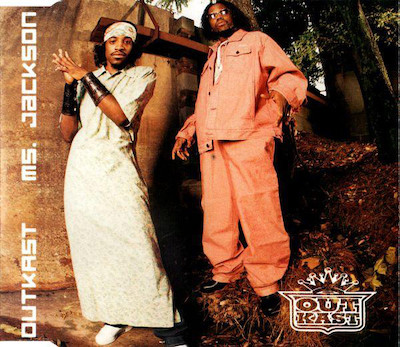 33. Outkast – "Ms. Jackson"
I always think of this as one of the sweetest rap songs ever, and that's driven by a few things. The backstory of Andre 3000's relationship with his baby mama Erykah Badu and her mom is paramount, of course, Then there's the pet-filled video, the classic "I am for reeeeeaaal" chorus, and a warm and inviting backing track. (I also possess a mashup of these vocals with the instrumental from "Rosa Parks," and the latter's woodblocks and harmonica make the song even warmer and inviting-er.) But we can't sleep on Big Boi's verses here, imbued with caustic Dirty South wit to call out mom and grandma for taking advantage of a child and misjudging a father's [lack of] responsibility. "Ms. Jackson" carries water like an Aquarius, but also has two sides like a Gemini. – Adam Blyweiss
Further Listening: Atmosphere "Sunshine"; Ghostface Killah – "Whip You With a Strap"
---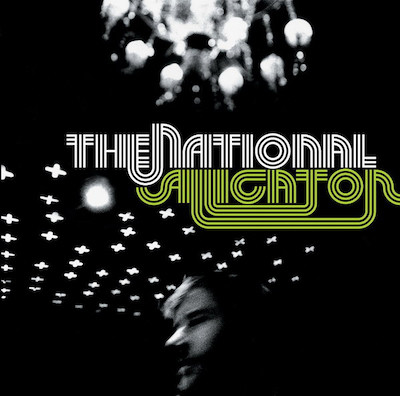 32. The National – "Mr. November"
The violence in songs by The National is only ever really implied and mostly internalized, the characters in Matt Berninger's narrations dealing with adult problems in quiet ways that slowly seem to be tearing them apart. Except for "Mr. November," which is one of the few moments in which Berninger finally allows himself to express that violence as literally as possible. The titanic closer to the band's 2005 album Alligator, "Mr. November" doesn't subtly stew, it seethes, Berninger wailing during the chorus, "I won't fuck us over! I won't fuck us over!" all that unseen pressure finally coming to a boil and panic finally setting in. It's kind of comforting, really—even the most elegant among us eventually lose their shit. – Jeff Terich
Further Listening: The Walkmen – "Wake Up"; The Twilight Sad – "And She Would Darken the Memory"
---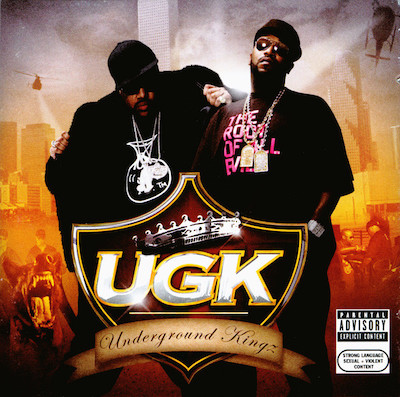 31. UGK – "Int'l Players Anthem (I Choose You)" [feat. Outkast]
Some of us are unfortunate enough to be the main character on Twitter for one day of our lives, but rest assured that the guy who said he skips Andre 3000's verse on "Int'l Players Anthem" more than earned the ratio he got. In a time before a "feat. Andre 3000" meant potentially less than advertised, Three Stacks' opening to this Port Arthur-Atlanta crossover anthem sets a warm and vulnerable tone to a cut that elevates the shit-talk-about-females track to a stellar level. This isn't to downplay Pimp C's beat-drop verse about how being committed doesn't make you less of a pimp or Big Boi's cautious avoidance of being Heather Mills-ed, but it's Andre's anxious wordplay that remains the most quotable minute of the song ("Then I CC'd every girl that I'd see-see around town," "Wetness all around me, but I'm no island—peninsula maybe") turning a posse cut party anthem into the most unlikely Southern rap wedding anthem that the decade turned out. – Jeff Terich
Further Listening: Three 6 Mafia – "Stay Fly"; Big Boi – "Shine Blockas" [feat. Gucci Mane]
---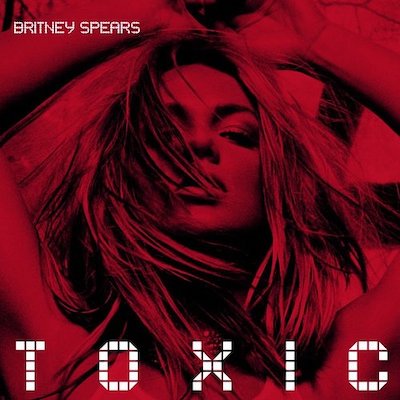 30. Britney Spears – "Toxic"
Timelessness is key in listicle retrospectives. If "Toxic" came out today, it would be just as popular and groundbreaking as it was in 2003. Written and produced by Bloodshy & Avant, "Toxic" combines western dance pop and Bhangra, a style of music originating from traditional Punjabi folk music. The track is a Britney Spears classic, and would become the pop sensation's favorite song of her career. "Toxic" is a blueprint for 21st century pop music that remains mostly incomparable to this day. That being said, we should have left Britney alone. She is the archetypal pop princess of the new millennium and "Toxic" is her magnum opus. – Patrick Pilch
Further Listening: Britney Spears – "Everytime"; Veronicas – "Untouched"
---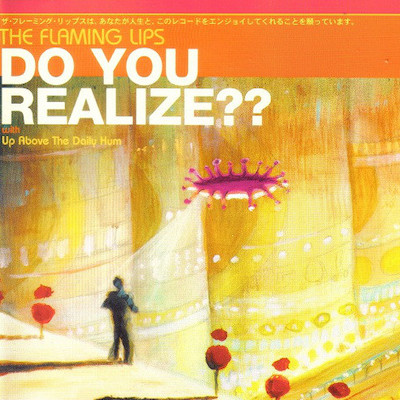 29. The Flaming Lips – "Do You Realize??"
By 2002, The Flaming Lips were already two decades into their journey as a band. With the release of that year's Yoshimi Battles the Pink Robots, the band's status elevated to unprecedented proportions. And rightly so. It's an album that leaves an immediate impression, guided by lead single "Do You Realize??", a gentle, introspective ode to cosmic insignificance. Frontman Wayne Coyne and company perfect their maximalist tendencies, creating a massive pop anthem anchored by a zen center. In so many ways, "Do You Realize??" is the sound of optimism—hopeful, dreamy, crisp, fuzzy and opulent. The Flaming Lips at their apex. Yet, at its core is a chilling and dark statement about the unfortunate bargain of caring about someone; Coyne in his scratchy drawl singing, "Do you realize/That everyone you know someday will die?" Simple, powerful, and undeniably true, "Do You Realize??" finds genuine beauty in the acknowledgement of harsh truths. – Brian Roesler
Further Listening: The Shins – "New Slang"; Spoon – "I Summon You"
---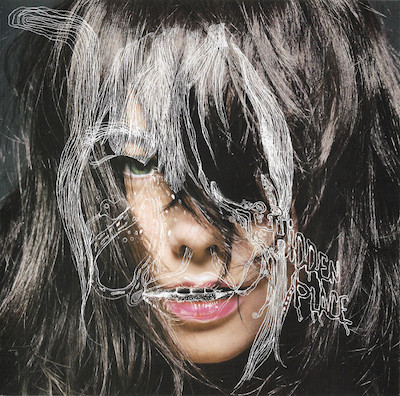 28. Björk – "Hidden Place"
Inspired by intense, long, but ultimately misplaced feelings for artist Matthew Barney, Vespertine is Bjork's sex album. Really, it's a lot of people's sex album, full of hushed instrumental intimacy that replaced the big beats of her first three solo studio LPs. "Hidden Place" is a clear invitation to and description of a lover coming to join a new world—population: two. Microsampled atmospheres, female chorales that mutter and soar, and subtly thumping drums give this song a pulse best heard with closed eyes and clasped hands. – Adam Blyweiss
Further Listening: Blonde Redhead – "Misery is a Butterfly"; Kate Bush – "King of the Mountain"
---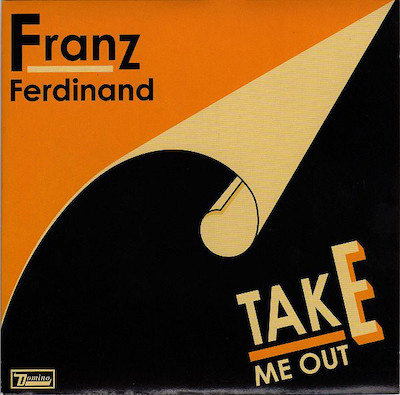 27. Franz Ferdinand – "Take Me Out"
It takes something special to find a guaranteed place on the dance playlist of pretty much every event ever. Even more so when the banger you've written falls neatly into a cross-section of the bulging post-punk revival. Franz Ferdinand captured lightning in a bottle with "Take Me Out," drawing on indie rock cleverness and jerky post-punk rhythms and marrying them to the dancefloor. Whether it's the bubbling expectation of the verses, the mid-track tempo change, that riff or a combination of it all, there's something about "Take Me Out" that is absolutely irresistible whenever it comes on. Singer Alex Kapranos explains, "I had this idea that we're going to take all of the verses, put them at the beginning of the song, and then we're going to slow it down and play all the choruses, which is kind of the wrong way to do it." It might be wrong Alex, but by God did it work. – William Lewis
Further Listening: Libertines – "Can't Stand Me Now"; Pulp – "Sunrise"
---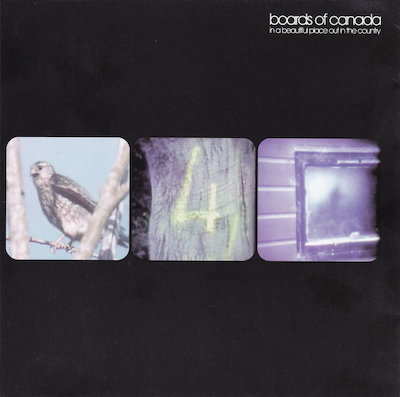 26. Boards of Canada – "In a Beautiful Place Out in the Country"
The catalog of languid braindance from these Scottish brothers is most often used as broad scene-setting, painting pastel washes of naive childhoods and primitive technological narratives. Their most recent release, 2013's Tomorrow's Harvest, was a sharp left turn that dropped listeners into a much more focused atmosphere of apocalyptic dread. Thirteen years earlier, though, Boards of Canada suggested they could divert from their particular norm on a four-track EP inspired by the Branch Davidians of Waco, Texas, a painfully specific source of merged belief and horror. The sweetly stretched organ triggers and hip-hop drums, the babble of giggling children, and the ghostly invitations to a religious community come together to form musical bliss, even if we know the much more malignant history behind it. – Adam Blyweiss
Further Listening: Prefuse 73 – "Afternoon Love In"; Trentemøller – "Moan"
---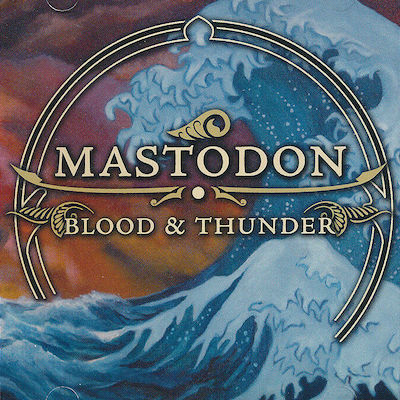 25. Mastodon – "Blood and Thunder"
When you see the name Mastodon, everything you think of, everything you remember about this band over the past umpteen records and years: know this is ground zero. Sure, they had a record as a five-piece and hell, they even had a moderate hit in the metal world with "March of the Fire Ants." But "Blood and Thunder" represented that moment, the precise time every single person's head turned, looked at them, and went they're the ones. There's everything here, from prog to thrash to the arthouse post-metal/doom inflections of Neurosis, feeling like a post-modern Metallica bursting out with a modern Ride the Lightning. Regardless of how you feel the group may have changed over time, this is the Mastodon that made everyone fall in love and, arguably, saved heavy metal in the process, seemingly single-handedly shifting the public/critical perception of the genre while likewise brushing off the nu-metal and metalcore groups that had clogged the pores for more of the real shit. – Langdon Hickman
Further Listening: Kylesa – "Scapegoat"; Dream Theater – "Stream of Consciousness"
---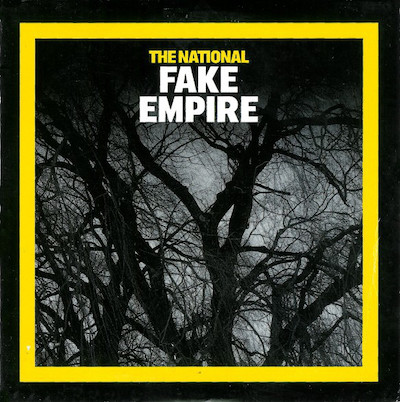 24. The National – "Fake Empire"
The polyrhythmic piano which introduces The National's fourth album, Boxer, perfectly sets the tone for what's to come—light but not cheerful, simple yet musically fresh. "It's something that I, personally, have never heard in rock music," Bryce Dessner, who wrote the part, said of the rhythm. When the horns, composed by Padma Newsome, come in, we're met with something faux-triumphant and tinged with a stirring sadness, much like the melancholy beauty of Berninger's descriptions of a perfect, illusory world. Lyrically, the song explores escape, fear, empire and illusion while remaining urgent, present, and real. It at once captures the yearning for escape and dream as well as the danger that apathy and escapism poses. Like the overlapping rhythms of Dessner's composition, Berninger's lyrics are at home in this juxtaposition. – Tyler Dunston
Further listening: The National, "Mistaken for Strangers"; Frightened Rabbit – "The Modern Leper"
---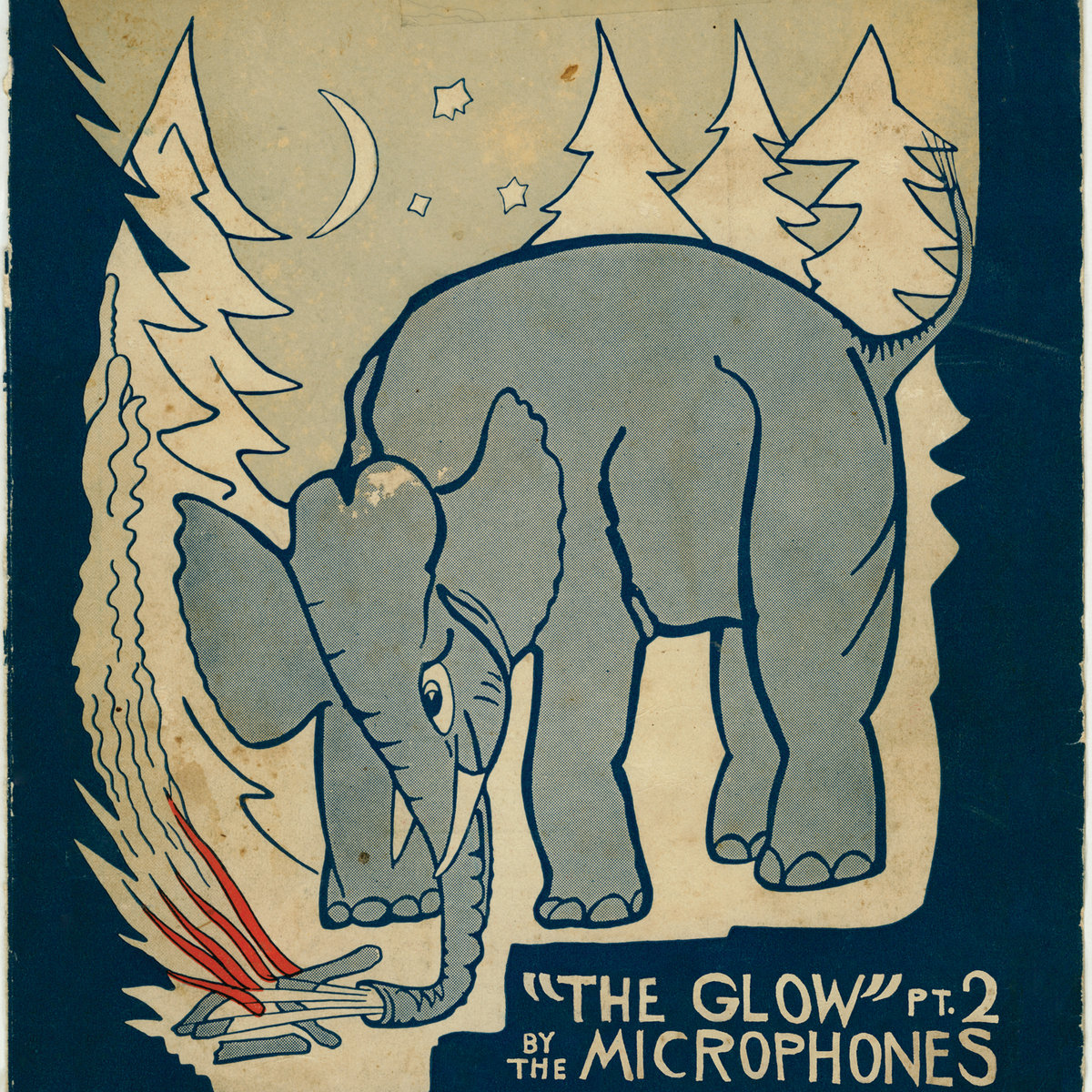 23. The Microphones – "The Moon"
"Lo-fi" never quite captured the sheer imagination of Phil Elverum's musical universe. The Microphones could be a stark and humble folk project or it could be a maximalist art-rock production, and either could feel like it contained endless possibilities. The Glow Pt. 2 standout "The Moon" is clearly the latter, a fuzz-drenched rush of buzzing synthesizer and mournful horns that crowd the field of view, a hypnotic soundtrack to an intense, almost cinematic personal journey that finds Elverum trying to make sense of something he's lost: "I went back to feel alone there." "The Moon" is carried by the kind of aching, fatal romanticism that can only come with youth—nothing less than its outsized arrangement is suitable for the swirl of loneliness and regret that drives his search for meaning. But there's no moment of self-realization or closure; everything simply comes to a sudden, unceremonious after all he can see between himself and the glow of the moon is his own two feet on the ground. – Jeff Terich
Further Listening: The Microphones – "The Glow"; Mirah – "Cold, Cold Water"
---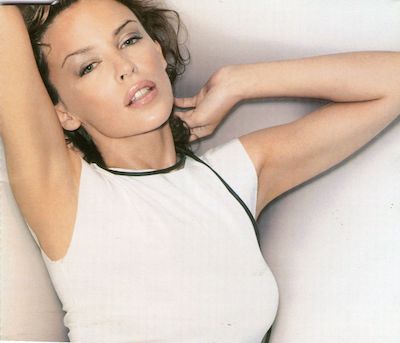 22. Kylie Minogue – "Can't Get You Out of My Head"
In 2001, pop music was changing. The millennium was still new, and lingering hints of the sounds of the '90s could still be heard in new music. That's true of Kylie Minogue's "Can't Get You Out of My Head," wherein remnants of Björk and Depeche Mode are felt in its streamlined synth-pop sound against Minogue's enticing, velvety lyrics. But it also felt a little bit like the future. "Can't Get You Out of My Head" maintains a balance between seductive and danceable, with a mid-tempo pulse that makes it that much more complicated to nail down. But that's what makes the track so interesting—Minogue creating a mood all her own, her "la la la" backing vocal tracks never growing weary, enveloping the listener for the duration. – Virginia Croft
Further Listening: Madonna – "Music"; Gwen Stefani – "The Sweet Escape"
---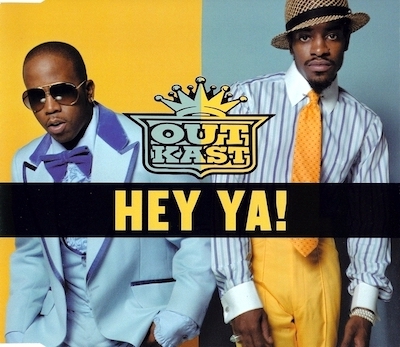 21. Outkast – "Hey Ya!"
Eighteen years on and I still don't know how to describe this damn thing. The official story is that André 3000 absorbed songs by the Ramones, the Buzzcocks, and the Smiths, then made a "bad" (his word) version of their sound. I can only detect the Buzzcocks' influence. The rest just doesn't add up: acoustic guitars, sneaky time shifts, gospel background singers, Polaroid pictures, a melancholy lyric about overspent love that André knew nobody was going to listen to. This is lazy music journalism, friends. But maybe it's just that "Hey Ya!" was such a massive cultural touchstone, the kind that defines an entire season and can't be replicated, that trying to intellectualize it is pointless. At least that's what I'm telling my editors when we go on our company retreat. – Paul Pearson
Further Listening: Gorillaz – "Feel Good Inc." [feat. De La Soul]; Franki Valli – "Beggin' [Pilooski Re-edit]"
---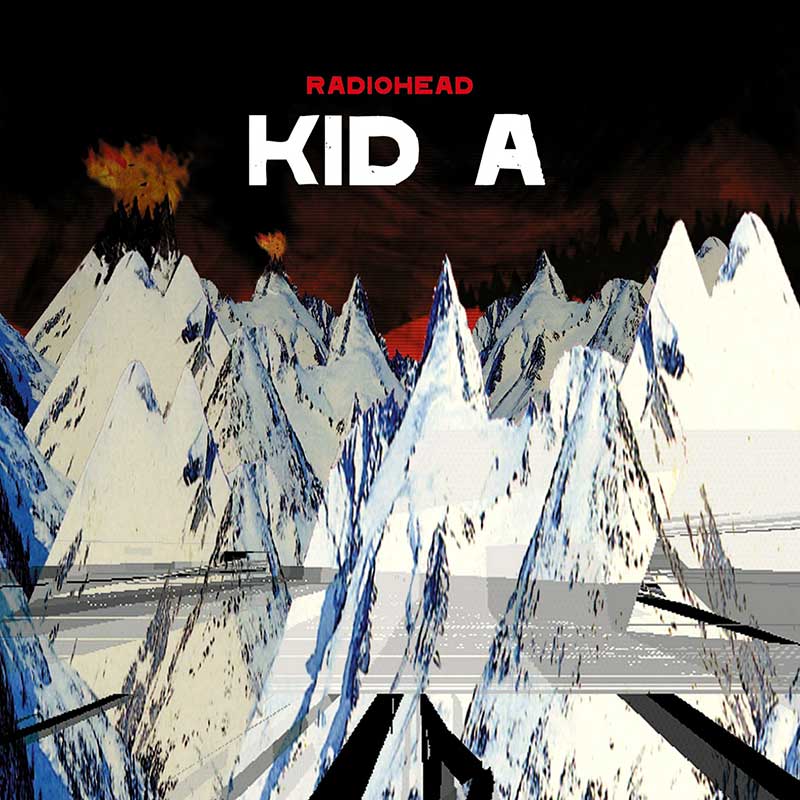 20. Radiohead – "Everything In Its Right Place"
Kid A gets a lot of credit for its impact, so much so that it's easy to forget it is also pretty thrilling to listen to. In the case of "Everything in Its Right Place," there is a sense of restraint and craft that many have come to associate with the band. But Thom Yorke sounds breathless, as if he must get the words out before he forgets them, as if it's important that we hear what he is about to say as soon as possible, which is ironic since so many have commented on the cryptic nature of Yorke's lyrics. "Yesterday I woke up sucking a lemon," "There are two colors in my head"—as each line comes right on the heels of its predecessor, they pile up to create a monument of listless melancholy over luminous, lugubrious synths. Though their literal meaning is elusive, together Yorke's lines paint a vivid psychological landscape. – Tyler Dunston
Further Listening: Radiohead – "Pyramid Song"; Blur – "Ambulance"
---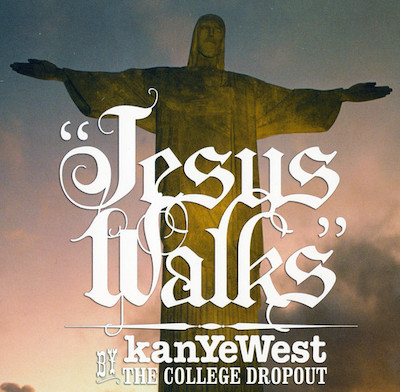 19. Kanye West – "Jesus Walks"
One of the most dispiriting things about Kanye West's embrace of Christianity in recent years is how shallow it all feels. Even at its best, like his performances with the Sunday Service Choir, West's gospel-hued hip-hop seems to treat his renewed faith as aesthetic, as merely the latest artistic pivot in a career filled with them. More often, he strikes the same tone as an evangelical preacher, warning of premarital sex and abortion as though they were fire and brimstone. In this mode, Kanye doesn't sound divinely inspired as much as he does dogmatic.
The thing is, we know Kanye West can make honest-to-God gospel rap, because 15 years before Jesus Is King, he gave us "Jesus Walks." At the time, much was made of how unusual it was for a hip-hop song to embrace faith rather than the temptations of sex and violence ("That means guns, sex, lies, video tapes / But if I talk about God my record won't get played, huh?"): listening to "Jesus Walks" now, what's most striking is to hear Kanye, for once, as the penitent man, praying for deliverance from evil over choral chants and marching drums. Even the song's corniest bar—"The way Kathie Lee needed Regis, that's the way I need Jesus"—feels far more sincere, and even charming in its daffiness, than "Closed on Sunday, you're my Chick-fil-A." He would later declare himself a God, but here, he's just a pilgrim, as human and conflicted as the countless listeners he would go on to inspire. – Jacob Nierenberg
Further Listening: Common – "The Corner"; Kid Cudi – "Sky Might Fall"
---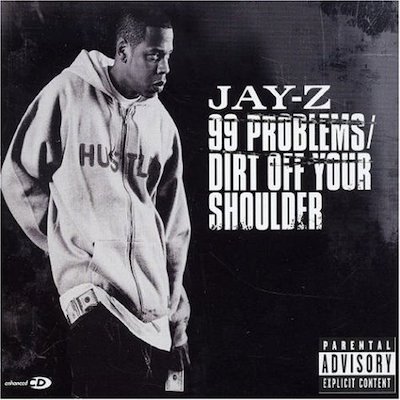 18. Jay-Z – "99 Problems"
Rick Rubin did not make the first or last track of the decade to bring rock sensibilities and instrumentation to rap, but between his production and Jay-Z's lyrical prowess, "99 Problems" pretty much ethers all competition in this time and space. It nods to the cock-rock-sampling simplicity of Rubin's early days with Beastie Boys, while Hova runs with a lyric lifted from Ice-T and builds it into a critique of people who need to be taken down a peg or three. It's a bludgeoning stomp of a song and—despite being legally murky during its police-story second stanza—endlessly quotable, the mark of a true rap classic. – Adam Blyweiss
Further Listening: Eminem – "White America"; N.E.R.D. – "Lapdance"
---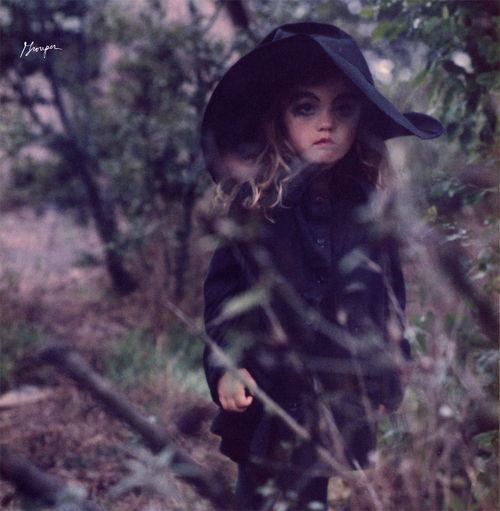 17. Grouper – "Heavy Water/I'd Rather Be Sleeping"
Liz Harris knows how to tap into melodic sedation with stirring movements and glorious reverb. "Heavy Water/I'd Rather Be Sleeping" is Grouper's hit and an easy entryway into the Portland musician's ambient expanse of viscous acoustic songwriting. The song addresses love and trust, as well as Harris' subaqueous wish to sleep forever rather than fall in love. The singer croons: "On dreams I'm moving through heavy water/The love is enormous, it's lifting me up/I'd rather be sleeping." "Heavy Water" is a harbor of comfort, swathed in Grouper's masterfully layered strokes of atmospheric refuge. – Patrick Pilch
Further Listening: Julianna Barwick – "Choose"; Natural Snow Buildings – "Felt Presence, Ghostly Humming"
---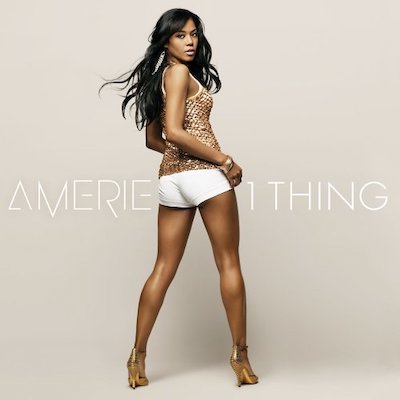 16. Amerie – "1 Thing"
Producer Rich Harrison has the notable distinction of having a hand in the Song of the Summer in both 2003 and 2005, for two singles that ostensibly have a lot in common on the surface—vintage funk/soul sample, a magnetic diva at the center of it—that it's almost natural to assume "1 Thing" is just Proving the Formula Works. Except for the fact that there's no formula for a track like this—sampled Meters drum breaks and guitar scratches starting as soon as they stop, hooks that never feel as if they resolve themselves, tension that just hangs. Amerie's biggest pop-chart moment pairs "I Can't Go For That (No Can Do)" ambiguity in reverse with production that feels like Dilla meets Dischord, an no shortage of onomatopoeic detail: car keys jingling, bells ringing, high heels clicking. A great single doesn't have to feel like it's going anywhere—as long as it stops you in your tracks. – Jeff Terich
Further Listening: Kelis – "Milkshake"; Aaliyah – "Try Again"
---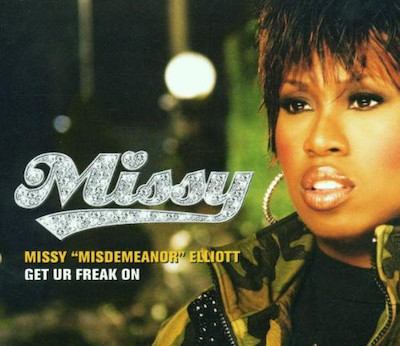 15. Missy Elliott – "Get Ur Freak On"
Let's be honest, who else could've brought bhangra to the mainstream but Missy? "We got the radio shook like we got a gun," she says in the second verse, and no truer words have been said. Missy Elliott's sound would shape the next ten years of pop music as white stars like Britney Spears and Justin Timberlake began to experiment with R&B. But they never sounded like Missy. "Get Ur Freak On" is still striking for how fresh it sounds. The beat is squelchy and unpredictable, and somehow, Elliott doesn't get lost in it. Actually, she fucking throttles it. In two lines, she brings the whole song to a standstill, twice, yelling "Quiet!" and then spits a loogie on the mic, saying "in your face, open your mouth, give you a taste." It's weird and kinky and makes total sense on a song this weird and kinky. It's a banger of the highest order. – Ben Cohn
Further Listening: Cassie – "Me & U"; Jay-Z – "Dirt Off Your Shoulder"
---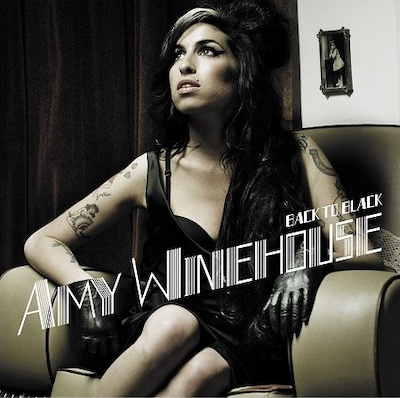 14. Amy Winehouse – "Back to Black"
The keys from Dap-Kings pianist Victor Axelrod that introduce the title track of Amy Winehouse's second album at first seem bright and enticing. Once you know "Back to Black" more intimately, you realize that they fall with the speed and impact of guillotines on open necks. Drummer Homer Steinweiss's light kick and high-hat feel vaguely funereal, and when Winehouse takes the mic to sing "He left no time to regret/Kept his dick wet, with his same old safe bet," you understand we are at a funeral. She coyly holds back her voice's power until the chorus, when the overwhelming pain bursts from her throat in exquisite beauty. There were other soul-revival vocalists who had some pop success before and after Winehouse's breakout (and, sadly, final) studio record, but none had its combination of raw vocal and songwriting talent, volcanic emotion and expert production. "Back to Black" embodies those qualities perfectly. – Liam Green
Further Listening: Lily Allen – "Smile"; Alicia Keys – "Fallin'"
---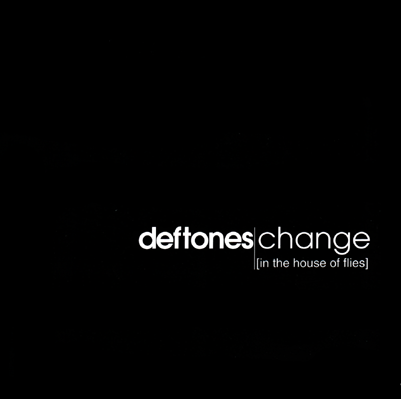 13. Deftones – "Change (In the House of Flies)"
As Nu-metal experiences a genre revival and reassessment the likes of which hadn't been previously thought possible, there's still nothing greater to come out of that pop-cultural moment than Deftones' White Pony. Released in 2000 to moderate acclaim (and re-evaluated significantly in recent years), the album represented a paradigm shift for Deftones as a band, shedding the skin of nu metal and embracing instead the hazy textures of shoegaze with an experimental tinge. Though standout single "Change (In the House of Flies)" technically doesn't close out the album, it feels like a monumental conclusion to the band's newly experimental foray. "Change" revels in equal parts menace and apathy. Frontman Chino Moreno's contrasting vocals start whisper quiet and aspire to soaring heights during the chorus, yet always feel subdued, particularly when compared to the unhinged freakouts of past tracks like "7 Words." Moreno's vocal performance is perfectly paired with Abe Cunningham's dynamic drum rhythms, starting with a jazzy flair and transitioning into each chorus with a rib-crunching demonstration on how to make a kick drum sound proper. Deftones pull no punches on this, their pinnacle as a band, everything tied together under a creepy, ethereal wire of feedback. This was, and still is Deftones, but more importantly it's a moment of transcendence, a masterclass in obliterating preconceptions and merging the accessible with the unexpected. – Brian Roesler
Further Listening: Glassjaw – "Ape Dos Mil"; The Mars Volta – "Inertiac ESP"
---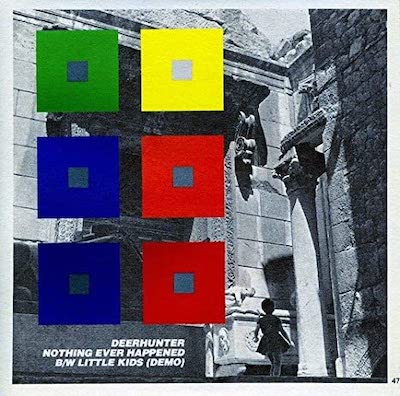 12. Deerhunter – "Nothing Ever Happened"
My ears are clogged. I went to write about Deerhunter and a blockage materialized, and now I am admittedly not listening to "Nothing Ever Happened." But I love Deerhunter and I honestly know every part of this song. The distant feedback opening, the focused bass and drum introduction and the track's wailing outro exemplify the group's accurately self-described "ambient-punk" tag. Microcastle's crowning moment is Deerhunter's most anthemic track to date and easily one of their best. Bradford Cox's lyrical deviance from reality distorts time and memory and, as I sit here in silence reading the singer's words, make me even question my own recall. "Nothing Ever Happened" has been rattling in my brain for more than a decade. I've got a minute clinic appointment tomorrow and this bassline stuck in my head—hopefully they can pry out everything. – Patrick Pilch
Further Listening: Deerhunter – "Fluorescent Grey"; Atlas Sound – "Walkabout"
---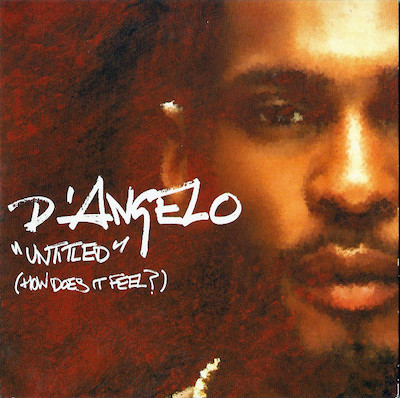 11. D'Angelo – "Untitled (How Does It Feel)"
A funny thing happened when D'Angelo took his clothes off. When "Untitled (How Does It Feel)" was released as a single from his 2000 neo-soul opus Voodoo, it made the Virginia artist into an unlikely sex symbol, his live shows turning into chaotic crowd chants for him to take his clothes off, and years after the fact, his former manager said that people mostly remember him as "the naked dude." There are worse things to happen to an artist, but when you can't even get through a show, that becomes a problem. Especially when those shows feature a groove as smooth and soulful as "Untitled (How Does It Feel)", an anthem sexier than the human physique itself. "Untitled" is pure ecstasy, but beyond the question the title presents, it's about more than pure feeling—it's as purely entertaining as a slow jam gets, the moment where D'Angelo confirmed his rightful place as a descendent from the lineage of Marvin Gaye and Prince. – Jeff Terich
Further Listening: Maxwell – "Cold"; Raphael Saadiq – "100 Yard Dash"
---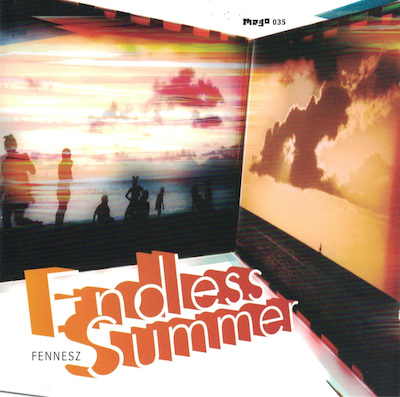 10. Fennesz – "Endless Summer"
Long before Endless Summer was the title of an acclaimed Beach Boys compilation, it was the title of Bruce Brown's surfing documentary. The film's soundtrack was composed by the Sandals, one of many Beach Boys-aping groups at the time, and if you listen closely to its theme song, you can hear it interpolated in Christian Fennesz' own "Endless Summer." How Fennesz—an avant-rock guitarist turned glitchy electronic producer—came across The Endless Summer is anyone's guess, but what's remarkable about Fennesz's song is how true it feels to the Sandals' original work. It's not a cover of the older song, nor is it a sample—it's a distorted memory of another memory, and it becomes its own captivating thing.
Of course, the Beach Boys comparison is also apt. Brian Wilson was hailed as a genius in his time, transforming popular music into something that was as forward-looking yet essentially timeless, utilizing cutting-edge technology while never losing his songwriting's human heart. On "Endless Summer" (both the song and the album), Fennesz combined "guitar music" and "laptop music" into something that transcended both, sculpting the impenetrable noise of his previous work into something you could almost call pop. "Endless Summer" sounds as visionary today as it did 20 years ago, and it still will in 200. It is the sound of the past; it is the sound of the future. – Jacob Nierenberg
Further Listening: Keith Fullerton Whitman – "Feedback Zwei"; Tim Hecker – "Dungeoneering"
---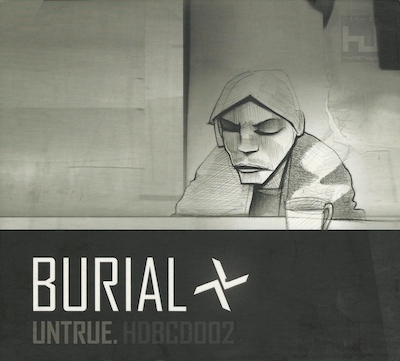 9. Burial – "Archangel"
Burial's development to pitch-shifted R&B vocal samples and skittering, almost trap beats on sophomore Untrue gave it an upbeat feel in comparison to his debut. It's not pop by a long shot, but there's a catchiness to a song like "Archangel" that burrows into your being and resonates through you. Dubstep is woven in with downtempo ambient influences even as the sunny central melody offsets the mist of melancholy that surrounds it. It's a sign of Burial's genius, the way he manipulates the sounds he's working with to create unique and unexpected movements, moments of emotion that summon tears to eyes even as your foot gently taps to the rhythm. Created mostly in darkness, a process for the artist to unfurl and "hypnotise" himself, it's a song that encompasses cognitive dissonance, both beautiful and desperate even in the loving lines it delivers. Burial's work on "Archangel" reimagined what dubstep and electronica could do and helped make Untrue a landmark album in electronic production. – William Lewis
Further Listening: Jon Hopkins – "Light Through the Veins"; Kode9 + the Spaceape – "Backward"
---
8. The Knife – "Heartbeats"
"Heartbeats" delivered on the promise of pop in the 21st century. Elevating everyday romantic notions through subtle metaphor and intriguing mystique: "One night of magic rush / The start, a simple touch / One night to push and scream / And then relief." Bright live percussion blends perfectly with playful synths, while contrasting with Karin Dreijer's uncanny vocals. Their unique voice alone could carry any performance, at times taking a saccharine twinge, at others bending around the syllables in sinister contortions. It's the lead track of 2003's Deep Cuts, which was nominated for Best Pop Album at the Grammis (Sweden's Grammy awards), a triviality spurned by the Swedish sibling duo with a prank protest. That same year fellow Swede José González launched his solo career with a simplistically accessible cover, reaching even further success than The Knife probably ever intended for the piece. "Heartbeats" was one of only three songs performed at The Knife's first ever show, five years into the band's existence, representative of the duo's reticence for the spotlight. – Forrest James
Further Listening: Ladytron – "Seventeen"; Jose Gonzalez – "Heartbeats"
---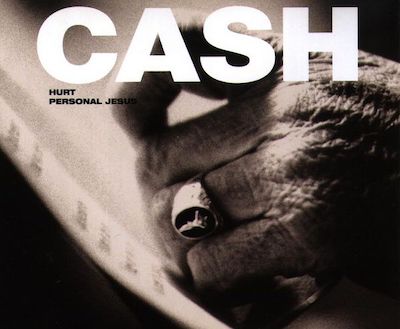 7. Johnny Cash – "Hurt"
I don't know what else people in general—let alone our humble website—can say about this song, a smartly picked cover for a dying legend that even the original songwriter says he couldn't top. This started off as Nine Inch Nails' suicidal missive on The Downward Spiral in 1994. Years later, with the help of a Mark Romanek-directed video, it would comprise the capstone in Rick Rubin's experiment of reintroducing country music godhead Johnny Cash to the wild of modern younger audiences. Physically frail but still creatively sharp, Cash would invert the song's intent. "Everyone I know goes away in the end," yes, but instead of Trent Reznor eulogizing himself to society, Cash surveyed how life around him was decaying and dying until he was the last lonely man standing. It was steeped in a wholly different form of gravitas than Reznor's processed extremes of loud and quiet: a devastating folk formula of spare guitar, increasingly menacing piano, and Cash's knowing grumble. It may be true that youth is wasted on the young, but his performance here betrays a final, fatal suggestion of age being a curse upon the old. – Adam Blyweiss
Further Listening: Warren Zevon – "Keep Me In Your Heart"; Hank III – "3 Shades of Black"
---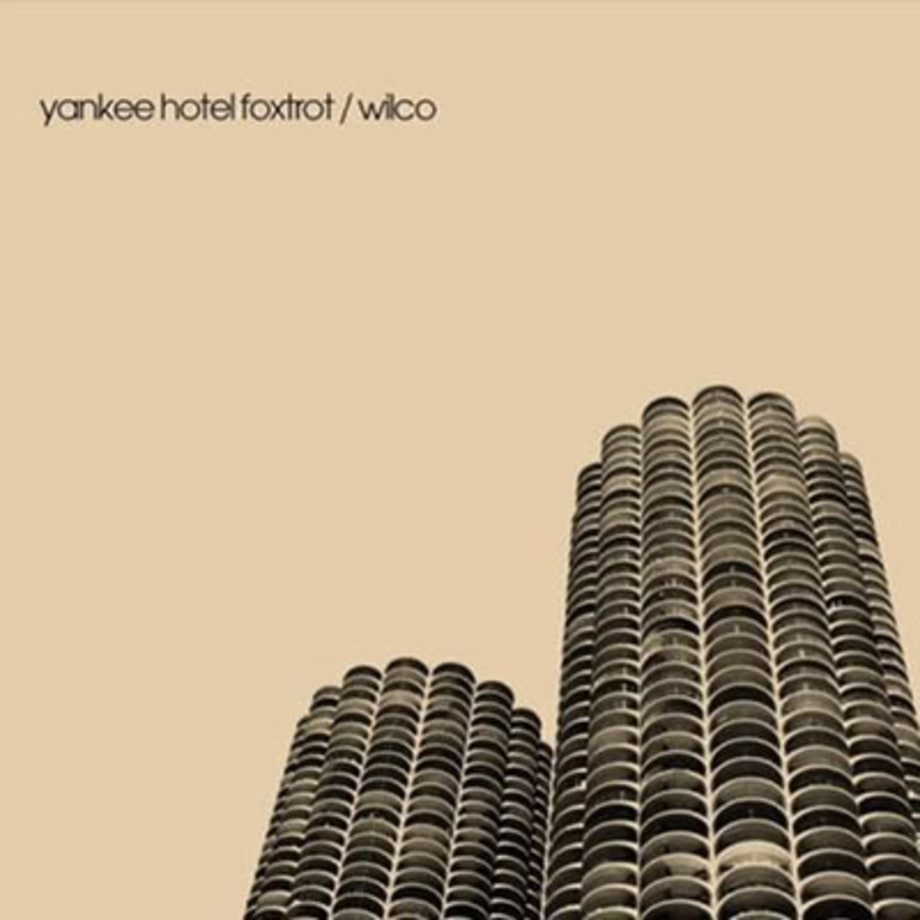 6. Wilco – "Jesus, Etc."
There are plenty of good reasons "Jesus Etc." was thought to be about 9/11, even though it was completed well before the attacks. Wilco's Yankee Hotel Foxtrot, released seven months after 9/11 (which was its originally scheduled release date before Reprise rejected it), was a dazed examination of internal America: fragmented, afraid, demoralized, in retrospect in early-Weimar mode. Jeff Tweedy might not have had a defined goal when he started writing, but the overall effect of YHF was that of a wearied love among disassembled parts.
"Jesus Etc." is YHF's core precept, along with "Ashes of American Flags." Everything we perceive as titanic or indestructible is still vulnerable, and when we start to doubt its resilience, it's a tragedy ("Tall buildings shake/Voices escape singing sad sad songs"). Tweedy's resolution is that rebirth is the only answer to the wreckage forced upon us, as well as the kind we impose upon ourselves ("Our love is all of God's money/Everyone is a burning sun"). Tweedy couldn't have foreseen what was coming, nor control how some post-9/11 Americans would have interpreted "Jesus Etc." But he was right, and they aren't wrong. – Paul Pearson
Further Listening: Neko Case – "Hold On, Hold On"; Shearwater – "Red Sea, Black Sea"
---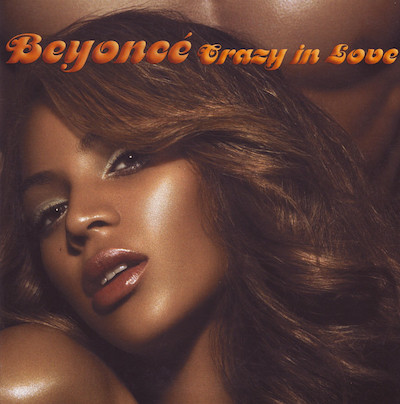 5. Beyonce – "Crazy in Love" [feat. Jay-Z]
Within 10 seconds of hearing the opening horns, you knew Destiny's Child was dead so Beyonce Knowles could live. Her entire life had been engineered so that she would become what she is now, but this was the first single that didn't ask but demand fealty. It is quite the tricky thing to be the Song of the Summer, because folded into that honorific is the fact that the song can easily induce nausea from repetitive airplay. So the fact that this song not only was that year's SotS but has a major argument to make for being the Song of the Summer means a single has to reach the rarefied air that leaves corpses and oxygen canisters behind.
"Crazy" does.
It still sounds like barbecues at the park, kids running through an opened fire hydrant laughing gleefully, and blaming the legions of inferior imitators that were to follow is like blaming Rakim for DaBaby. Instantly addictive, a legendary duet, and a Nick Van Exel shout out to boot – it might not be the sound of perfection, but it's damn sure the sound of triumph and the future that was to come. – Butch Rosser
Further Listening:Estelle – "American Boy" [feat. Kanye West]; Beyonce and Jay-Z – "03 Bonnie and Clyde"
---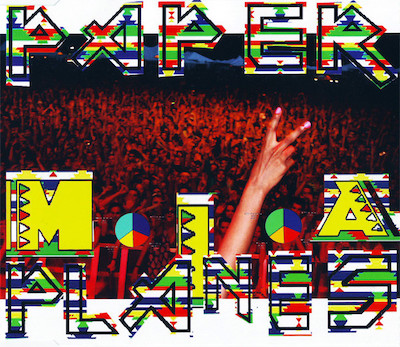 4. M.I.A. – "Paper Planes"
How "Paper Planes" became a hit is beyond me. A Clash-sampling, gunshot laden electro-hip-hop song by the daughter of Sri Lankan expats about holding up gas stations isn't typically Billboard Hot 100 fare. But of course it was a hit, because it's irresistible and instantly memorable and sounds like nothing else made before or since. Maya Arulpragasam has been making a mess ever since, but there is no doubt she was on for those first two records. Who else would've thought to combine Baltimore Club, Digital Dancehall, Funk Carioca, and Grime? M.I.A.'s pan-nationalism was echoed in her lyrics, on their surface simply brash political sloganeering but upon further listens, always revealed a serious depth. "While Paper Planes" seems to take on gangsta rap cliches, its subtle satirization of the American view of "developing" nations still feels urgent. The fact that it sold four million copies is a testament to Maya's ability to sneak her imperialist critique in pop packages. White kids across America might do finger guns every time they hear "Paper Planes," but they're also singing "M.I.A., third world democracy, yeah I got more records than the KGB, so uh no funny business." Bless Maya for that. – Ben Cohn
Further Listening:M.I.A. – "Galang"; Peaches – "Set It Off"
---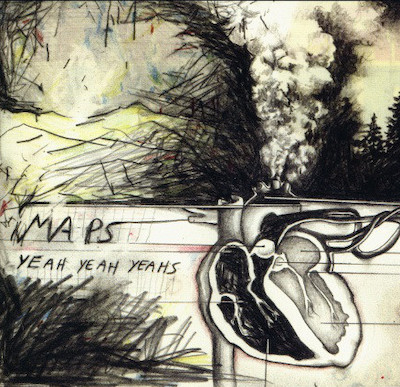 3. Yeah Yeah Yeahs – "Maps"
Some argue that the song's title is an acronym. But regardless, most of us didn't hear it that way the first time. When I hear the word "maps," I think of vastness, distance, separation, history. We hear a sequence—"Maps / Wait, they don't love you like I love you"—one which might not make perfect narrative sense, but which does make a kind of poetic sense. It's the kind of thing achieved by only the best singer-songwriters: To write and sing something that feels true even before the listener has a chance to consider, narrativize, rationalize it. The word "Maps," though some may decode it as "My Angus Please Stay," is more than that—something like an emblem or icon, charged with symbolic rather than allegorical resonance. More than any other song from the 2000s New York City indie rock scene, "Maps" has become iconic, evocative not only of a particular kind of love but of a particularly vital kind of song. – Tyler Dunston
Further Listening: Yeah Yeah Yeahs – "Y Control"; Liars – "The Other Side of Mt Heart Attack"
---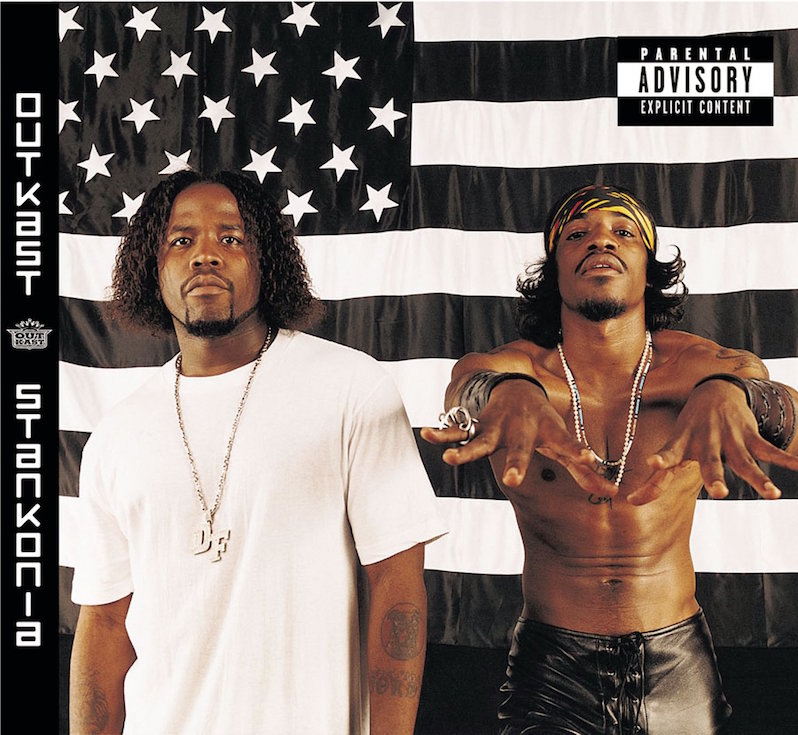 2. Outkast – "B.O.B."
What more can even be said about this song? What adjectives haven't been attached to it? What sociopolitical allusions haven't been made? What tortured metaphors aren't out there?
At the end of all that bloviation, there is simply a song—a multifaceted masterpiece that by conventional wisdom shouldn't work at all but is objectively perfect. All of American music as we understand it today is present within the song, from electric blues and gospel to Southern trap, jungle, Detroit house, P-Funk, punk….you get the point.
Hearing this as an eighth-grade kid, I just plain didn't know music could do this. I'm not sure I know how it does it now. Andre 3000 and Big Boi revealing their full triple-time flow for the first time? The triple, arguably quadruple entendre of the chorus? The guitar solo? The devolution from a conventional verse-chorus structure to the most psychedelic gospel chant of all time? It's even more tragic that this song and Stankonia marked the beginning of the end for OutKast. What more could they have concocted if they'd remained a truly united front? – Liam Green
Further Listening: Outkast – "Ghettomusick"; Erykah Badu – "Amerykahn Promise"
---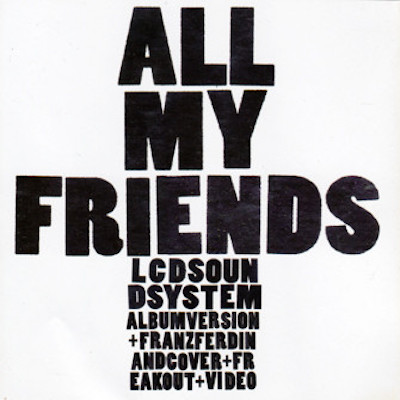 1. LCD Soundsystem – "All My Friends"
For a song so inseparable from the life and time of its creator—as most of the best LCD Soundsystem songs are—"All My Friends" hasn't lost a watt of its power in 14 years. If anything, it's even more painful and beautiful now, with one prolonged absence of social contact recently ended, only with the prospect of another one cackling ahead.
James Murphy tied his personal narrative to pop music as much as anyone since Pete Townshend. "All My Friends" rests along the border of late youth and early exhaustion, a moment when many stop disparaging nostalgia and start experiencing it. For Murphy, that meant acknowledging the onset of his limitations vis-à-vis his occupation ("Yeah I know it gets tired, but it's better when we pretend"). Sooner than later the process begins to take over ("So here we go, like a sales force into the night"), and the more it does, the further one gets away from the friends this whole expedition was started for in the first place.
"All My Friends" moves like an assembly line: a complex one-bar piano riff that never lets up for 7½ minutes, progressively joined by bass and drums, and finally Murphy coming tentatively in. After that point, the only change is in Murphy. He gets agitated whenever he starts counting time ("You spent the first five years trying to get with the plan/And the next five years trying to be with your friends again"). Its passage parallels his increasing exhaustion and his realization that the whole circus is breaking down. But at the same time, "I wouldn't trade one stupid decision/For another five years of life."
How did "All My Friends" become so transmutable? There's a lot of space in it, for one thing—space enough for the listener to project their own meaning onto it. Its depiction of playing music (d)evolving into business is translatable to just about every job. Most of all, awareness of emotional disconnection has never been greater than it is now; nor has the remembrance of human connection. That's how it starts. – Paul Pearson
Further Listening: Phoenix – "If I Ever Feel Better"; M83 – "Graveyard Girl"
---
Support our Site—Subscribe to Our Patreon: Become one of our monthly patrons and help support an independent media resource while gaining access to exclusive content, shirts, playlists, mixtapes and more.