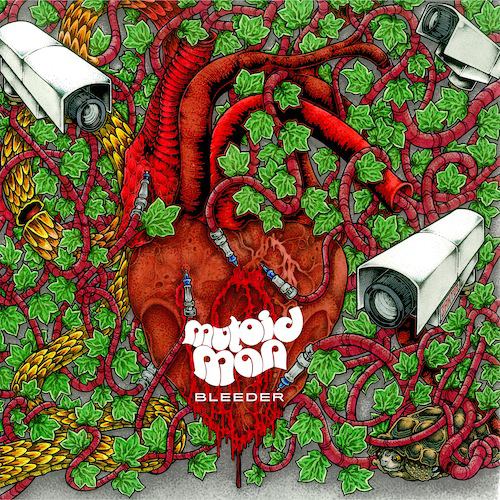 From the opening chords of "Bridgeburner" to the feedback outro at the end of the title track, Mutoid Man's Bleeder is not an album that'll put you at ease. As described by guitarist and vocalist Stephen Brodsky in 2013, Mutoid Man is "mutant thrash punk with a love for twisted numbers and time signature warps." Their proper debut album, Bleeder, takes you on a frantic chase through a warped forest. In places it feels sludgy and voluminous, in others reckless. Other than the nearly six minute title track at the end, the longest song on the album clocks in at 3:11. These are short bursts of a musical idea, too hectic and chaotic to sustain for much longer than that.
Comprising Brodsky (also of Cave In), drummer Ben Koller of Converge, and bassist Nick Cageao, Mutoid Man has demonstrated the remarkable versatility of the power trio. When Mutoid Man released the Helium Head EP in 2013, they had no intentions of doing anything more than a one-off release, a way for Brodsky and Koller to try things that may not necessarily fit with their primary bands. Somewhere along the way plans must have changed, and their first full-length release demonstrates that Helium Head wasn't a fluke. What Bleeder lacks in speed and energy, it makes up for in the power that only order can bring.
Anyone can play fast and loud. What separates Mutoid Man from the metalcore crowd is their judicious use of the tempo and, if I may, ferocity. Nowhere is this more apparent than on the penultimate track "Deadlock." It immediately charges through the gates with a mad gallop forward. Right when Brodsky begins to sing, the tempo nearly halts. The verse pours out like sludge through a drain pipe. The slow pace doesn't last long, though, and again the song heedlessly races forward.
On top of all the chaos and noise, Brodsky's vocals tie it all together. Showing off his incredible vocal versatility, he propels the album through unexpected twists and turns. By default, his voice lies somewhere between a howl and a wail—not quite plaintive, not quite demanding, but a little of both. His growl is full of energy and rage, much like Matt Heafy of Trivium. In "Dead Dreams" he pulls a Corey Taylor-esque bark, and at another point he surprises again with a squeal reminiscent of Rob Halford at the end of "Surveillance."
With Bleeder, Mutoid Man has captured all the rage of a summer thunderstorm. The organized cacophony and raging tempos make a perfect pairing for listening to the rain on the rooftops and crashing thunderclaps. The new release is a lot cleaner in its recording quality, and more careful in its composition than Helium Head was. Mutoid Man, however, has not lost any of their power and rage. If anything, the more structured nature of Bleeder has allowed each member to more fully experiment with their sounds, the end results of which are a resounding success.
Similar Albums:

Torche – Restarter


Lightning Bolt – Fantasy Empire


ASG – Blood Drive