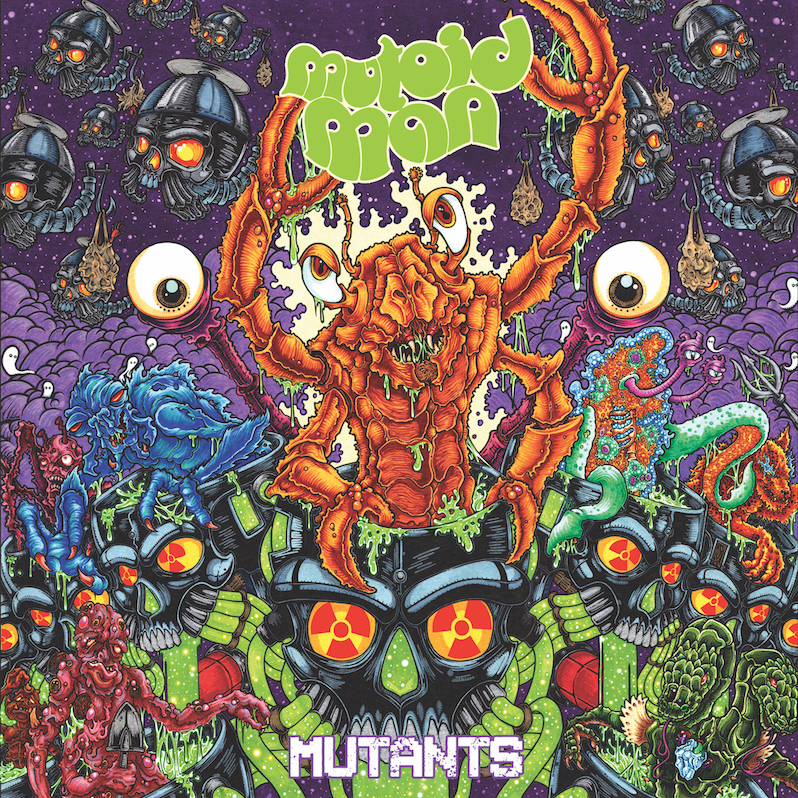 I was worried that Mutoid Man might never record again. After all, Mutoid Man felt in so many ways like Stephen Brodsky letting himself cut loose and make wild and uninhibited, super-shreddy heavy music after the close of Cave In for the umpteenth time. And what a mighty ruckus they made: I was one of the lucky few to get that initial EP Helium Head just as it dropped, living by a providential fluke in the same small Virginia town that was home to their initial record label Magic Bullet, and followed them devoutly ever since. Their magic was on delivering what Cave In had always promised, taking that wave of metalcore which always danced between the brutish swagger of hardcore, the keening and wicked metal riffs of groups like Slayer as well as the early wave of death metal and the dalliances with prog and alternative music as each of those bands began to age and mature.
But while Cave In broke up before finally delivering on that promise—as did Botch, leaving only Converge to really complete the project as it were—out came Mutoid Man, offering that long-sought fusion of three seemingly (at the time) disparate musical worlds in totally equal capacities. You couldn't refer to those magical first Mutoid Man records as any one of the constituent genres without feeling like you were missing a definably large chunk of what made them special. They became my car music in the midst of my darkest hours of my 20s, alternating between them and that likewise magical Beastmilk debut, providing the necessary emotional armor to struggle to the death against my demons and hurl myself long out of the void. They were necessary. I needed them. They made me live.
But then Cave In reformed. Suddenly, that primary engine was back and, what's more, the time apart among the various projects each of the band members had pursued since the last breakup had a profound additive effect on the work. It helped of course that entire waves of bands had come since their close such as Baroness, Mastodon and Kylesa, proving not just by experience but also by external validation the worth of their overall project in genre fusion space. The returned Cave In with their reunion material did what their earliest work had always threatened but hadn't quite been able to accomplish: an even and complete integration of all parts, heavy as fuck, anthemic, driving as much into the heart as into the pit, music to drive to but also fix your life to. What's more, they absolutely have been killing it live, which I can personally testify to, providing every ounce of the emotional and musical heft that we crave from music of their world. So where does that leave Mutoid Man? Have we, in our richness, been left paradoxically bereft?
So mark my surprise when not only does this new Mutoid Man bear all the same instrumental fireworks that I've come to crave from the group, but it is also their most emotionally heaving to date. The loss of Caleb Scofield is clearly on the mind, as are what feel like stories of sobriety and its struggles especially in maturity; life, as those of us lucky enough to live long enough to learn know, is a complex and not a simplex, one riven with vectors of revelation that cut in all directions. Being alive will humble the shit out of you and the lippy impetuousness of youth gives way to the seas of doubt and self-criticism, even if (and often when) the oceans of that youthful forceful energy don't diminish. Suddenly that emotional charge I felt in Mutoid Man's music, the way the take-no-shit punkish verve melded with the heavy metal anthemicism and prog chops is validated explicitly in the lyrics. I'm rarely a lyrics-forward listener, so for them to have swum to the surface here for me indicates a level of confident and complementary synthesis with the music beneath. How often does a heavy rock record bring you to tears?
This world of music is meant to break you open like a geode, to use speed and heaviness and wild acrobatics and time signatures to tap the cavities in your body, to let out what's trapped up inside, the things our calluses and scales lock in us. The reunion of Cave In, the collaboration with Converge and the record Brodsky cut with Marissa Nadler (featuring a spellbinding cover of Guns 'n Roses' very best song) has only sharpened his craft. The addition of Jeff Matz from High on Fire has finally let him wield uninhibited the prog chops that are part of the undeniable backbone of High on Fire's music, often attenuated by the needs of that band to place primacy on heft and drive over the incredible chops of all those plays. Ben Koller, as in every project he's in, beats the everloving fuck out of the kit, feeling like a hybrid of Bill Bruford and Keith Moon on warp sped. Mutoid Man is not a sledgehammer; they are a lightning bolt to the heart. While the question of whether any work they do will ever truly eclipse the impossible magic of that debut EP, this record is their best shot yet at that vaunted title, tear-stained and arms upraised in fists, group chants and mosh pits, as all great punk, metal and prog should be.
---
Label: Sargent House
Year: 2023
---
Similar Albums:
Langdon Hickman
Langdon Hickman is listening to progressive rock and death metal. He currently resides in Virginia with his partner and their two pets.