Full Disclosure: I refuse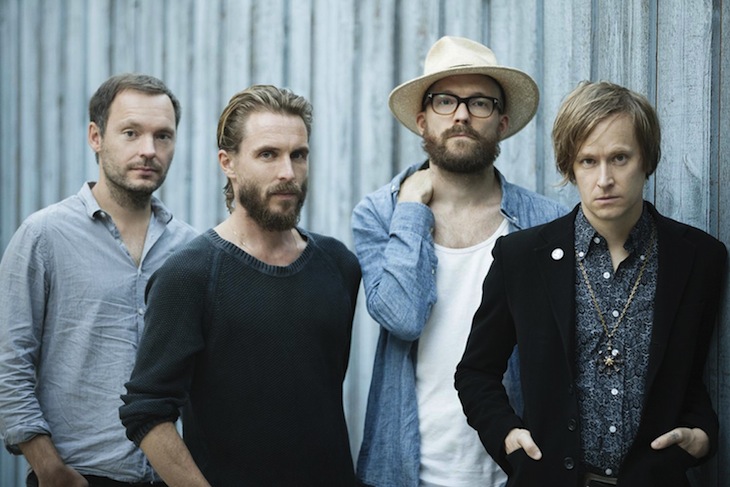 Well, the column's called Full Disclosure, so here we go: I fucked up, folks. I'm a music writer, I've been one for a while. I'm also an avid fan and reviewer of punk music, hence the column you're reading. So when a legendary punk band releases their first record in seventeen years, I'm supposed to review it. And I tried. I have the notes to prove it. But, I just couldn't…
Maybe I should back up. If the title didn't give it away, I'm talking of course about Swedish hardcore-ish experimenters Refused. I'll be the first to admit that, while I'm an avid fan and admirer of Refused, I'm not a dedicated super-fan or anything like that. I was eight when the band split up and most of the '90s punk acts I've really latched on to were Americans singing about American politics. But I've always had huge respect the band and their anti-capitalist, non-conformist leanings. I'm also especially fond of the wild jazz-punk experiments of 1998's The Shape of Punk to Come, the band's original swan song.
But one thing I've always wildly respected and adored about the band, and why it made it so difficult to embrace this year's Freedom, is the way the band broke up. If you haven't read the band's original break-up note– the massive, invigorating piece titled "REFUSED ARE FUCKING DEAD"– you really ought to. The short version is this: Refused decided they'd done all they can as a band and vowed to never look back, instead focusing their energies on new, forward-thinking projects, musical, artistic or otherwise. In their own words:
This is the last that we have to say about it, WE WILL NOT GIVE INTERVIEWS TO STUPID REPORTERS who still haven't got anything of what we are all about, we will never play together again and we will never try to glorify or celebrate what was. All that we have to say has been said here or in our music/manifestos/lyrics and if that is not enough you are not likely to get it anyway. WE THEREFORE DEMAND THAT EVERY NEWSPAPER BURN ALL THEIR PHOTOS OF REFUSED so that we will no longer be tortured with memories of a time gone by and the mythmaking that single-minded and incompetent journalism offers us. Instead we need to look forward. We got everything to win and nothing but our boredom to lose.
Now, imagine my confusion when I looked back on that artifact following the band's reunion and new record. I've already shared with you all my feelings about old punks cashing in on the festival circuit, which looked to be exactly what Refused were doing. But I gave them the benefit of the doubt. It had been almost 20 years after all, and I spent ten minutes this morning deciding which cereal to eat. So who am I to punish someone for changing their mind if they had good reason to do so?
But then I heard Freedom, and it was kind of shit. Not shit as in fake, per se. Just not very good. The elements are all there, I suppose. Some hardcore (almost metalcore) moments here, some jazzy endeavors there, but it's all fused together in a way that feels haphazard compared to the Refused records I know and love. I tried listening again and again, and the results weren't very different. And, to be honest, any direction I took for a traditional Refused Freedom review kind of ran into the ground. So I decided to take this more personal approach because, in-the-end, I'm not sure if it's Refused's fault that I don't like this record. If their original break-up letter is to be trusted, they didn't make Freedom for me, or for their die-hard fans. No, that Refused is still dead.
But if you're looking for progressive metal-core, I might know some guys. </rant> Now, on to the tunes.
Five Finger Discount
In-depth rundowns of the five best punk tracks of now.
Radioactivity – "Silent"
Jeff Burke isn't going for an element of surprise; the almost-title track off of this year's Silent Kill gives away its intentions from the first second its chugging riff kicks in. But the key here is restraint. "Silent" rides a line between the delicate pacing and control of post-punk and the passionate, driving delivery of hardcore. This was all true of Burke and Ryan's past project, the Marked Men as well. But there's a third element here—this is one of the catchiest tracks I've heard all year. The tone isn't light, as Burke yelps rip through from a place of obvious agony. But there's also a sense of purpose and direction that could easily fill a valley with its energy.

[from Silent Kill, out now via Dirtnap]
Mountain Language – "Other Ends and Oblivions"
I'm a sucker for a sludgy mess of a song, and that's exactly what Mountain Language deliver. The mostly instrumental fury here occupies a world fit snug between that of noise-punk and doom-metal. (I'm sure the kids have a name for it that I haven't caught on to yet; feel free to bring me up to speed.) But the beautiful thing about this performance is that, despite its aggressive nature, the players spend over a minute just building guitar noise before hopping into proper high gear. This added impatience means that, even though this track creeps at a glacial pace compared to most noise-rock, it feels like 120 MPH compared to the intro and you're ready for more. Thankfully, the climax here more than met my expectations.
[from Caustic Surge of Weary Oceans, out now via HeWhoCorrupts, Inc.]
The Sediment Club – "Psychosymplistic, Psychosymplastic Here!"
This Brooklyn-born trio craft beautifully messy post-hardcore that's not too interested in staying in the same place for too long. In fact, while the raw delivery of the song might fit better in the camp of Unwound or Fugazi, a lot of the structural influences come from more of a no wave inspiration. Like I said, it's a gorgeous, powerfully confusing mess; a perfect balancing point between intentional messaging and pure artistic release. Beyond that, I'd just recommend giving it a spin for yourself.
[from Psychosymplastic, out July 24; Wharf Cat]
All Dogs – "That Kind of Girl"
I really enjoyed Saintseneca's Dark Arc last year and, while that album isn't really a punk record, it did offer me a window into Columbus, Ohio's tight-knit scene, many members of which banded together (both on record and tour) to support frontman Zac Little as he expanded that project's sound. One of the best outcomes of that experience has been the chance to already have my eye on Maryn Jones as she and All Dogs prep for the release of Kicking Every Day. "That Kind of Girl" is the type of foot-stomping, head-bobbing pop punk I can get behind. It's lyrics are sing-along worthy but not cheesy and, frankly, get both personal and social in an enjoyable and powerful way. Prepared to have this one stuck in your head for at least a week. And, no, I'm not sorry.
[from Kicking Every Day, out July 28; Salinas]
Dope Body – "Old Grey"
"I ain't what I used to be/ but I ain't really trying," Andrew Laumann announces halfheartedly, as if he's on the edge of a yawn. As if he knows he should care more than he does. The tone of that statement doesn't match the intensity that the Baltimore-based trio brew up—a mix of angular guitar, jagged drum beats and colorful injections of noise, and that seems to partially be the point. "Old Grey" is, at its heart, a song evaluating the punk rock lifestyle and asking the question "is it worth it?" From the sound of it, the answer seems to be a hard "yes."
[from Kunk, out August 28; Drag City]
Recommended Spins
A quick and dirty rundown of the best punk albums of now, with links to full length reviews (when available).
G.L.O.S.S.' Demo: (I'm a little late on this one, but I've been busy. So, deal.) I usually hesitate to include demos on here, since the best material usually gets re-used (and often improved) on later releases. But I actually find the under-nine minutes of raw execution from G.L.O.S.S.' debut to be perfect just the way it is. Musically it's plain-and-simple d-beat hardcore, purposefully throwing out unnecessary flourishes or overcomplicated tricks. Lyrically, though, this demo is perfectly dense re-purposing the powerful energy of this forgotten sub-genre to support a very relevant revolution. (January 15; self-released)
Mutoid Man's Bleeder: Between its thrash/sludge influences and impressive fretwork, this one is just as much a metal album. But its fierce attitude and killer drum work by Converge's Ben Koller make it a kick ass punk release too, and just the antidote you need for a crummy (or boring) day. (June 30; Sargent House)
Snack Champion's Live, Laugh Love: Queer-friendly, body positive pop-punk, steeped in vocal harmony and forever indebted to the Get Up Kids. This record gets a little sloppy at times, a little sappy at others but, to be honest, that's part of its charm, too. (July 12; Get Better)
White Reaper's White Reaper Does It Again: Noisy, hooky jams that blur the line between good punk and ol' time rock'n'roll. If you followed these Louisville fellas, you already knew they were talented. Does It Again shows they know how to bring their A-game to the LP party. (July 17; Polyvinyl)
You might also like: