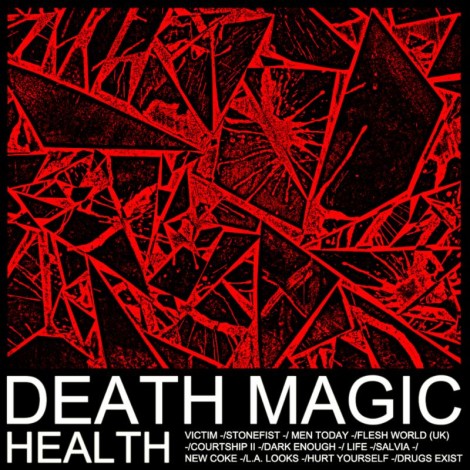 HEALTH were never a typical noise-rock band. While they've always excelled at conjuring abrasive, ear-shattering sonic treatments, their music has maintained an uncanny element of history's darkest pop moments. As early as their 2007 self-titled debut, the band showcased aspects usually left alone in the noise world, such as precise, danceable percussion and filtered-yet-audible vocals, some of the straightest and most melodic that one might expect to hear on a record that gets as blistering as HEALTH does at moments. A Crystal Castles re-working of "Crimewave" only further pushed the band's dance-rock potential, proving that there was something sleek and sexy going on beneath all those sharp extremes.
The group's third LP—their first in five years—shows HEALTH pushing their sound all the way to the dancefloor, but without buying too heavily into another artist's idea on what that should sound or feel like. It's a mysterious and uncompromising set of songs; tunes that stalk the listener in the shadows, never quite giving away when the pouncing moment of catharsis should be expected. That sort of on-the-edge lack of expectations has always been true of HEALTH's work, but the band's ambiance is heavily amplified here thanks to assistance by dark ambient producer Haxan Cloak and engineer Andrew Dawson who, along with other notable credits, provided work on Kanye West's Yeezus. Regardless of one's opinion of West's most recent outing, the spontaneous bursts of noise that helped to define that record's sound were captured beautifully, and that talent is put to good use capturing all the various elements that HEALTH push out.
So while HEALTH are definitely a noise band, historically speaking, Death Magic is not at all a noise-rock record. Instead, the quartet deconstruct their talents and reassemble them into an industrial-tinged synth-dance epic; much more New Order than Lightning Bolt. The songs here build in ways that challenge pop-song formatting but will still find a welcome home on the dancefloor. Think of this as the pop-rock answer to the similarly brutal hip-hop of 2014's CLPPNG.
Death Magic is just as moving in its lyrical prowess. Restraint is key to the record's dynamic as a whole, and that's no different when it comes to the words; a twisted collection of dance floor mantras celebrating life, death and living in the moment. For as haunting as these melodies are, they wiggle deep into your ears and give the Top 40 hit machine a run for its money. Mid-record standout "Life" is a particular gem; its major key escalation and mostly straightforward song structure serving as one of the most accessible and triumphant moments on the record. But most of the songs inhabit a more distinct grey area between noise experiment and pop masterpiece, giving the listener enough tangibles to hang onto without letting the ride become too predictable.
Death Magic is a bold step in a new direction for HEALTH, but not one that feels too forced or extremely surprising. Instead, they've tackled the age old question of how a talented artist should react when they've said all they can within a certain musical context. In approaching that predicament, these once upon a time noise-sters not only innovated their way into highly satisfying dance-pop; they did so with such a finesse that it sounds like just the art they should have been making all along.
Similar Albums:


The Knife – Silent Shout


Crystal Castles – (III)


New Order – Technique