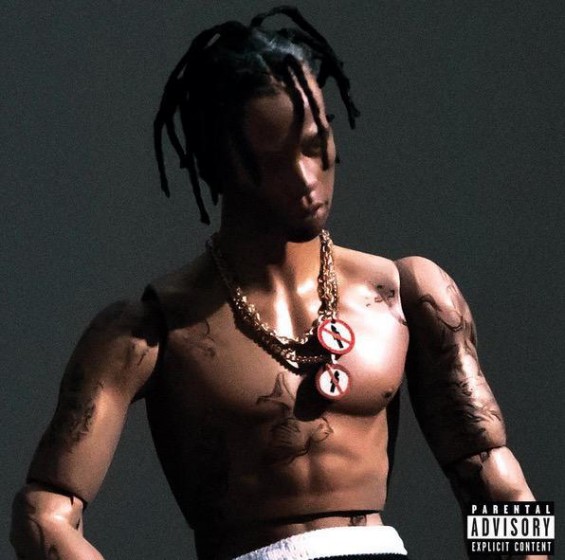 I wonder if the phrase "there's no there there" has ever applied to a hip-hop figure in recent years quite as perfectly as it applies to Travi$ Scott and his major-label debut album, Rodeo. Shit, even someone like Tyga has an identifiable personality, it's just that said personality is best described as "fame thirst and borderline pedophilia." Scott doesn't even have the luxury of being a C-list villain. He's a vocalist who can't sing well or use Auto-Tune in an artistically interesting way (like Future), a rapper who raps competently at best and a producer whose best-known work involves being one among dozens involved in the creation of Yeezus. Scott seems to have Kanye West's co-sign as a result, and while I maybe could've understood why two years ago, it's borderline inexplicable now.
To be fair, it's hard to really hold Scott responsible for being less than a so-so rapper when that never was what made him briefly interesting. The production on his first mixtape, Owl Pharaoh, is immensely abrasive and industrial-inflected, and a clear influence on the sound Kanye would perfect with Yeezus, soundtracking raps and vocals that make up in aggression and immediacy what they lack in technical proficiency.
After that, he became less and less involved with the sonic palette of his releases, and they became progressively less worthwhile. He has co-production credits on two out of Rodeo's 14 songs, the rest handled by committee. Even when some members of that committee are really, really good—Zaytoven, multiple members of the 808 Mafia, Mike Dean (aka Kanye West's secret weapon), Pharrell—they aren't well-suited to Scott's few strengths. Their attempts to make lemonade, and pretend that Scott is Future or Waka Flocka Flame or A$AP Rocky or literally any other rapper who could do interesting work with the beats they're supplying, fall flat.
Which brings us to the songs themselves. Opening track "Pornography" meanders and sputters and features an immensely ill-fitting T.I. spoken-word performance praising Scott for his "non-conformity," and given how much Rodeo is a slave to Scott's influences—808s-era Kanye, Kid Cudi, Three 6 Mafia, UGK—that's a pretty rich claim. "Meandering and sputtering" is a fitting description for the majority of this album's tracks.
Rodeo features an army of guests, and barely any of them make the material particularly interesting. Quavo from Migos, Young Thug, Juicy J and Chief Keef all phone in their verses and cash their checks. Toro y Moi adds nothing noticeable to his appearance on "Flying High," and I'm still at a loss to identify what Justin Bieber does on the track allegedly featuring him, "Maria I'm Drunk." The less said about The Weeknd slithering his way into the proceedings on "Pray 4 Love," the better, given the rage-spirals Abel Tesfaye has inspired in me of late.
That said, the few tracks of any note live and die on the efficacy of their features. "3500" is beyond overlong at seven-plus minutes, but the two Future verses (and outstanding Metro Boomin/Zaytoven production) make you briefly forget you're listening to an uninteresting album. And 2 Chainz is never not welcome—even his phoned-in raps are hilarious. Swae Lee of Rae Sremmurd makes the most of his time on "Nightcrawler," one of the only presumed party-rap cuts on Rodeo that actually feels like a party, albeit a drugged-out one.
"Piss on Your Grave" is the only song in which Scott stays in the lane that made people notice him two years ago. Unsurprisingly, it's the most effective track on the album. The Kanye/Mike Dean/Scott production is furious, as are the performances of West and Scott. But it's the exception that proves the rule. The predominant sonic aesthetic here is a Southern trap/EDM fusion that, despite having choruses, eschews actual hooks almost entirely, and that's a losing strategy given how charisma-free Scott is and his deficiencies as a rapper and singer.
Circling back to Scott's lack of a personality, Rodeo has to be one of the least fun albums in recent memory to be rife with references to excess. The refrain in "Nightcrawler" of "We want money, we want hoes, we want alcohol" is the predominant message here, but none of it sounds fun or like Scott is actually interested in it. He's cycling through all the signifiers of contemporary rap excess—Molly, pills, dirty Sprite, weed, booze, loose women, the occasional bit of gun talk—but I don't buy that he actually has any passion for any of it. It's not like I want Scott to talk about real issues, man; I'm totally fine with solid party-and-excess rap. (See the eminently enjoyable Rae Sremmurd debut album, Sremmlife, for an example of this shit done right.)
On Rodeo, little to nothing sounds anything less than empty. Only "Piss on Your Grave" and "Apple Pie," which more or less center around Scott showing up his haters, have any real feeling behind them. And that's fine—Travi$ Scott is here now, on a major label (for what that's worth these days), with the backing of major stars and some of hip-hop's best producers. He's proven he could make it to what more or less constitutes the mainstream. Now what? The answer to that query, best as I can tell so far, is practically nothing of any interest.
Similar Albums:


Migos – Yung Rich Nation


Kanye West – 808s and Heartbreak


Kid Cudi – Man on the Moon: The End of the Day