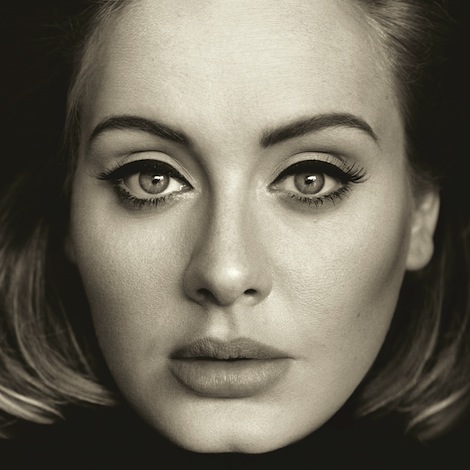 In addition to being your mom's favorite album of 2011, Adele's ultra-successful 21 is a hodgepodge of pop and R&B sounds held together by its vocalist's superlative talent. If you handed those instrumentals to Jessie J or Joss Stone or any number of the late Amy Winehouse's imitators, you'd have a well-produced but mediocre album. As it stands, aspects of 21 are pedestrian even when Adele's vocal performances are anything but. What makes its successor 25 a considerably stronger work is that the songwriting and instrumentation are, for the most part, equal to the potency of her voice.
This is one of the most minimal-leaning pop albums in recent memory. The music and production by Max Martin, Ariel Rechtshaid, Greg Kurstin, Danger Mouse and others is unafraid to drift and be ambient and not overpower, as opposed to the good-but-sometimes-uninspired productions of 21. Consider leadoff track "Hello," which is (perhaps unintentionally) meta, Adele greeting us—"Hello, it's me"—after a four-year hiatus. Even later in the song when gospel-esque backing vocals arrive in support, the drums remain muffled and the guitars sound like the ringing in your ears that sometimes intrudes in moments of emotional intensity like those described in the lyrics as opposed to anything resembling a riff. It's a common trend of the record.
Max Martin, well-known for bombast, follows suit in his production of the next track, "Send My Love (To Your New Lover)," its quietly-picked acoustic guitar and handclaps supporting Adele's bittersweet kiss-off.  Piano dominates most of the album, the arrangements simple in the best way. Those who enjoy Adele for her R&B influences won't find as much of that here, as 25 is more in line with Carole King and the earlier work of Sia. "Water Under The Bridge" and the wonderful lover's prayer that is "Sweetest Devotion" come closest to that soul-leaning sound.
The time between albums hasn't diminished Adele's voice. 25 features what are, by far, her best vocal performances yet, able to transition effortlessly from soft, introspective musings to the megaton-bomb hooks for which she is best known. The choruses are clarion calls to feel and let those feelings be known, as badly as they hurt. And you most certainly will find soul in the vocals, particularly her phrasing. Her ability to convey the most beautiful and terrible emotions remains all but unparalleled in her genre. (Adele could probably never handle the rawness of say, Sharon Van Etten, but they exist in different musical landscapes and can't be easily compared.)
For a woman who's been in a happy relationship for several years, the Adele of 25 remains largely fixated on romantic failings and other regrets. The first four tracks, "Water Under The Bridge," the folksy "Million Years Ago" and the devastating "All I Ask" reflect this, and it will be hard listening for the heartbroken or even those who aren't but can easily recall those pains like phantom limbs. The pleas to not be forgotten or marginalized in the minds of her exes (or whomever else) cut deep, especially on "Hello," "Water" and "All I Ask."
The relatable nature of Adele is key to her success, and also why she's overplayed on the radio and as a result viewed as common or milquetoast by more jaded members of the listening public. If there's any shortcoming to the album, it's the lyrics, which while almost always affecting are sometimes too obvious, defaulting to simple rhyme schemes or somewhat stock images of heartbreak and loss. That said, we've all felt these things, and most of us can't even describe them in words as basic as, "If I'm not the one for you, why have we been through what we have been through?" (from "Water"). Most of us can't talk right or breathe properly when these feelings overcome us, scraping at our skin like running through a wooded path with thorn-covered vines at all sides, so the occasionally simplistic nature of the words isn't quite as much the flaw it might be with different subject matter or a lesser singer.
Obviously, 25 will sell another zillion copies, and you may well get sick of the singles when they're played every goddamn hour on the hour in various coffee shops and chain stores. But listen without cynicism and you'll be rewarded with a genuine emotional journey, courtesy of one of the most accomplished pop singers in the past decade. Adele's music excellently expresses how love can seem like it'll kill you, but also, more importantly, how rewarding it can be.
Similar Albums:


Feist – Metals


Lykke Li – I Never Learn

Sam Smith – In the Lonely Hour