Jesu/Sun Kil Moon : Jesu/Sun Kil Moon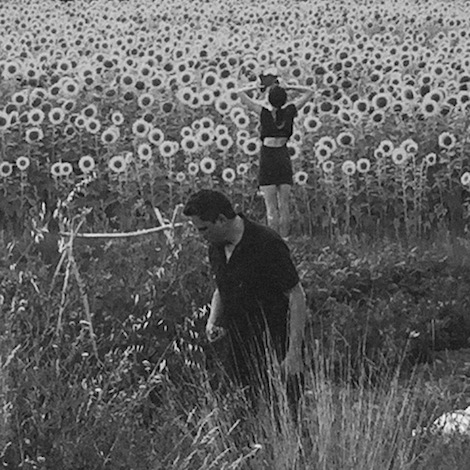 Sun Kil Moon's slowcore folk and the heavy post-rock crunch of Justin Broadrick's Jesu coagulate together nicely. Granted, I have a soft spot for odd musical pairings as I grew up as a kid listening to Kiss play disco and Alice Cooper delve into new wave. The collaborative effort between these two artists, however, is a much more organic transition for the artists involved, particularly for former Red House Painters frontman Mark Kozelek, even though the album might appeal more to Godflesh or Jesu fans. The bulk of the album finds Broadrick laying down the backdrop for Kozelek's narrative style, one that doesn't attempt to adapt to the change in sonic climate and still ranges from sometimes highly emotive rants to low key mumbled musings with the only deviation in delivery being the pace. Some of Kozelek's lyrics are spat out at a brisker pace than if he was being allowed to simply meander in his own wheelhouse.
Broadrick got his start in Napalm Death and became a pioneer in industrial music, later experimenting with electronics in his Pale Sketcher side project. He dabbles further with that aspect of his musical approach on "Last Night I Rocked the Room Like Elvis and Then Had Them Laughing Like Richard Pryor." In the final minutes of this song, Kozelek reads a letter from a fan from Singapore, which is not the only time Mark dips into the mail bag. He reads another letter from a fan on the more relaxed "America's Most Wanted Mark Kozelek," which seems to serve as an ego booster and takes the pressure off having to constantly come up with snappy lyrics. This is not to say Kozelek is just dialing it in lyrically, as there are several touching moments such as "Fragile," which is an ode Yes bass player Chris Squire, and the previously released "Exodus" which touches on the death of Nick Cave's son, featuring members of Low on backing vocals. (Modest Mouse's Isaac Brock and Will Oldham also contribute backing vocals on the album.)
Broadrick returns to his electronic side on "Father's Day," laying down a backing track that might remind you of Nine Inch Nails' more ambient moments, with delay drenched guitar trickling behind programmed drums. Kozelek and Broadrick end the album with the 14-minute "Beautiful You," a rather opaque ambient piece that finds Kozelek giving more of a spoken-word performance as he recalls in a matter-of-fact manner wading into the ocean and having his balls frozen.
The full-length collaboration between Jesu and Sun Kil Moon loses some of its novelty after the first half, though overall it allows both artists to stick their pinky toes in different sonic waters than they normally sail in. And for that matter, it captures more than its fair share of moments that are strangely stellar. For those who prefer the melancholy folk sound of Sun Kil Moon to Broadrick's heavier sonic treatments, this album is painted in enough gray swathes to be engaging enough. Just don't be afraid to venture into the distortion.
Similar Albums:


Jesu – Silver


Low – The Great Destroyer


Sun Kil Moon – Universal Themes