Mavis Staples : Livin' on a High Note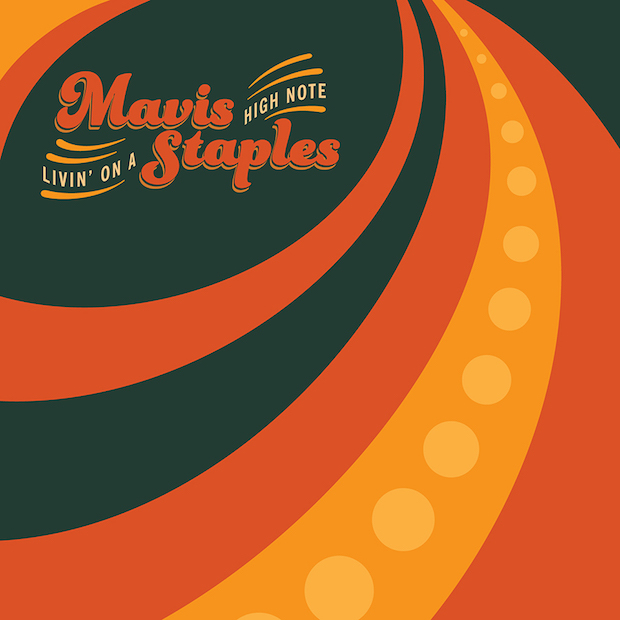 The music Mavis Staples has made with the Staple Singers and on her own is nothing short of exultant. At 76 years old, in the twilight of her career, that's still the case. Livin' On A High Note is an apt title for her 14th studio album, as it begins at a celebratory peak and does not come down from it.
Through the course of these 12 songs, Staples' voice is excellent—her age is barely apparent other than some grit to her phrasing that wasn't there before and avoidance of high notes she used to readily hit. The lower range she occupies now is well-served by the production, provided by M. Ward. It's driven largely by horn stabs, piano, acoustic guitars and the occasional sharp electric lead, as on "Tomorrow" "Action" and "Dedicated."
Songwriting is provided by a committee of indie luminaries and contemporary R&B stars, among them Ward, Neko Case, Aloe Blacc, Ben Harper, Nick Cave and Justin Vernon of Bon Iver. Sometimes the writer's sound is readily apparent, as on Neko Case's contribution "History Now," but even when that's the case, it never interferes with the album's overall vibe. These songs are gifts to the master, and she makes them decidedly her own.
Even with joy being a general template for this album, the range of how that joy is expressed on Livin' On A High Note is fairly wide. Some songs, like the wonderful opener "Take Us Back," "High Note" and "Tomorrow," are smile-inducing R&B rave-ups, while others are slow burns, such as the ballad "If It's A Light," "Dedicated" and "One Love." This prevents it from being samey despite the through-line of warmth and positivity.
Two things have defined much of Mavis Staples' career: the sound of gospel and a close attention to black activism. It's fitting, then, that the album wraps up with four songs that focus, in various ways, on those aspects: "History Now," "One Love," "Jesus Lay Down Beside Me" and "MLK Song." The first of those is probably the best of them, and features a wonderful guest vocal by Donny Gerard. And in "MLK Song," she spins one of the great doctor's speeches into a plaintive acoustic closer that doubles as a mission statement for what Staples has done her entire career: "If I can help somebody as they pass along, if I can cheer somebody with a word or a song, if I can show somebody that they're travelin' wrong, then my living will not be in vain."
Similar Albums:

M. Ward – A Wasteland Companion


Lee Fields and the Expressions – My World

Sharon Jones and the Dap-Kings – I Learned the Hard Way