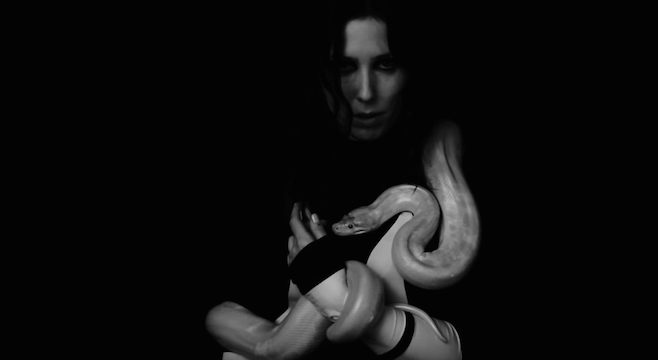 Last month, Chelsea Wolfe released new track "Hypnos," which is one side of a new seven-inch that she's issuing via Sargent House on April 1, featuring some outtakes from her recently released Abyss from last year. Now, that track has a companion video, as premiered via Stereogum today. The new clip is eerie and dark as usual, with some psychedelic and distorted shots of Wolfe, in certain parts bathed in television static, watching herself on that very television (meta!), or wrapped up in some pretty meaty looking snakes.
The digital version of the "Hypnos"/"Flame" single will be released with three demos of Abyss songs as bonus tracks (pre-order for the single is here). Watch the cool and creepy Chelsea Wolfe "Hypnos" video below.
Chelsea Wolfe's Abyss is on our list of the Top 50 Albums of 2015.