Pop Life: What to the protestor is the pop song?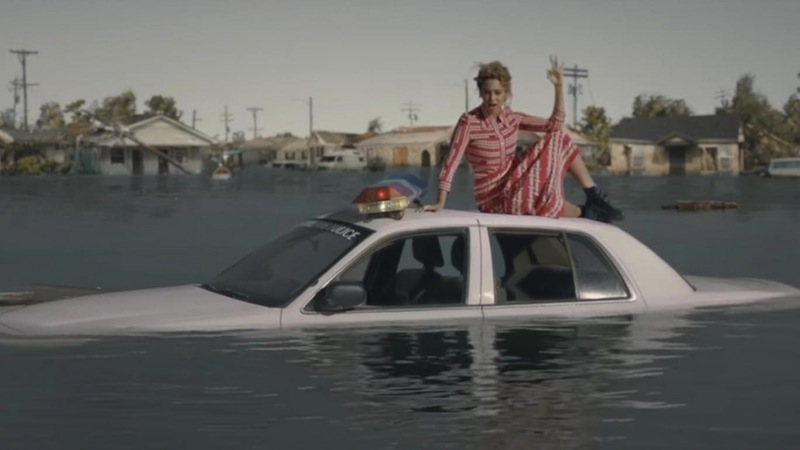 The tradition of global-scale catastrophes receiving star-studded song tributes began with the fairly unlistenable "We Are The World." Its most recent example is "Hands – A Song For Orlando," which features everyone from Britney Spears and the inexplicably-still-here Meghan Trainor to Imagine Dragons and Mary J. Blige. Well-intentioned, to be sure, and heartfelt! But good fucking lord, these songs are bad. And we'll probably forget about "Hands" in a month or so, if that many people are even aware of it right now.
Quality isn't even the issue, though. And it's in no way a bad thing that these tragedies—such as the AIDS epidemic or the horrific, homophobia-driven mass shooting in Orlando—are recognized in song. It's that certain catastrophes are designated for such tributes, powered by major label machinery, while others are not.
There aren't any such song tributes in the pop music realm to commemorate the officer-involved shootings of Alton Sterling and Philando Castile, for example. And there probably won't be. While Jay Z released "Spiritual" immediately after last week's events, A. rap is not pop music, B. not all the people who want or need to hear it can do so easily because it's a Tidal exclusive and I doubt it'll become a radio hit and C. he originally wrote it over a year ago. To be fair, Jay Z's point that the song's message is evergreen, made in a statement accompanying the song's release, bears the sad sting of truth.
(In a side note, I'm sure some mainstream Nashville country artist is currently recording a tribute to the five cops slain by Micah Johnson in Dallas. They deserve to be honored, but I expect such a gesture to be instantly weaponized by the right wing.)
When I say hip-hop isn't pop music it's not to denigrate any aspect of it, because anyone who's read me on this site or knows me at all is aware that it's my favorite genre. And rap has, for almost its entire lifespan, produced the most powerful protest music our society has. But I can't ignore the sad caveat that its reach is, even in 2016, still somewhat limited. There are still people who won't even consider listening to Jay Z's song, because they don't believe the genre has value or substance.
What to the protester on the streets of Minneapolis or Baton Rouge is the pop song, then? Where is the nationwide pop hit that puts its earworm catchiness to work in calling out police violence and racial profiling? Where was it when Mike Brown or Tamir Rice or Laquan McDonald or DeAngelo Lopez or any of the other Americans—black, Latino, white or otherwise—got shot to death by police while unarmed? Rap has always stepped up to speak on issues, and R&B has done its fair share as well (consider Beyonce, whom I'll get to in more detail below, or something like Anthony Hamilton's "The News"). Pop, rock, indie…even punk? Not so much. And even when those genres do produce music touching on vital social issues, how many of them are inescapable? How many of them can you think of off the top of your head that you know had enough reach to make someone consider changing their mind
* * *
Going back to the '60s and '70s, the most popular music ignored the upheaval at the door and in the streets almost entirely. (Before you say The Beatles, they weren't making "pop" by any easy definition of the term when they made music with interpretable social meaning, and when they made pure pop-rock it sure as shit wasn't sociopolitical. Apply a version of this statement to nearly every classic rock band you might consider citing.) It was up to folk, soul, punk and funk to call out the world's horrors, and artists including Bob Dylan, Marvin Gaye, Sly & The Family Stone, The Clash, Nina Simone and Joan Baez weren't exactly adored by their label overlords for doing so.
As mentioned above, hip-hop has included keen social observation and protest in its operating manual since Melle Mel on Grandmaster Flash's "The Message." That tradition persisted through Public Enemy and Boogie Down Productions, was upheld by the Native Tongues artists, Nas, Wu-Tang Clan and others, remained even in the most blinged-out periods of 1996 to the mid-2000s among OutKast, Mos Def, The Roots and early Kanye West, and lives on in Vince Staples, the Black Hippy crew, Chance the Rapper, Run The Jewels and more. (Not to mention the countless emcees and groups who don't make sociopolitical commentary their raison d'etre but make powerful statements about Black American life nonetheless.) Aside from those artists, the most visible politically oriented music act in the past 20 years or so was probably Rage Against the Machine, who (trust me, I'll die on this hill) were a hip-hop band.
Modern pop music, even at its best, has never really been a part of the protest-music tradition, and in terms of even minor activism or awareness-raising, "We Are The World," Live Aid and shit of that nature is about as involved as artists in that realm get. No one expected Justin Timberlake to have an anti-war anthem on Futuresex/Lovesounds, for example. But why shouldn't we expect the artists with the biggest worldwide appeal to be vocal about causes they believe in? (Shit, I wouldn't mind if some of them were conservative, as long as they could state such beliefs in an articulate manner.) Lady Gaga has been admirably outspoken about various issues facing the LBGTQ community and made the stark, haunting ballad "Til It Happens To You" for Kirby Dick's documentary about campus rape The Hunting Ground, but her stances aren't often expressed in her music. (If she continues on this jazz-standards-revivalist trend, they probably never will be.)
The exception to this, of course, is Beyonce.
* * *
Amid the spectacle of her Formation World Tour, Beyonce took time during her July 7 show in Glasgow to pay tribute to victims of police violence. As she sung "Freedom," LEMONADE's incendiary soul anthem, a cappella, a list of names projected behind her. An uncomfortably long list, one that acknowledged its own incompleteness with the words "AND COUNTLESS OTHERS" at its bottom. (Lest anyone come at her with some "But what about…"-type shit later on, the sort of shit vomited by the Breitbarts and Twitter eggs of the world, she posted an Instagram video in memoriam of the murdered police in Dallas the next day. Beyonce Knowles sees all threats coming.)
This is, I believe, a major aspect of why so many people appreciate Beyonce, and can live with the few less-than-optimal things about her—image-control issues, the assorted bullshit surrounding Tidal, questionable merchandise manufacturing practices, etc. She uses her stature for the greater good, whether it's this or donating money to Flint, Michigan, during that city's water crisis. Beyonce is not perfect, but she's become the glitch in the pop system due to her level of influence, carrying the legacy of the great R&B artists who came before her. She has become sui generis.
It also seems as if no one near her level of fame—not Katy Perry, Kanye, Timberlake, Gaga, Rihanna—is able to or willing to do as much with their platform. Pop music can bring people together in many ways, all of them important, but it doesn't feel important to me right now, even as escapism, because its loudest voices are, by and large, awfully quiet.