Transcendental experience: A conversation with Inter Arma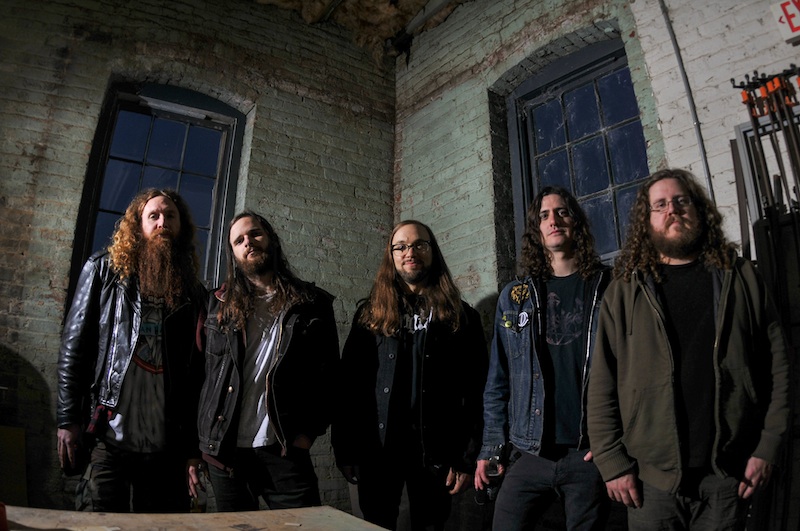 The sun is starting to get to Mike Paparo. The vocalist in Richmond metal quintet Inter Arma, along with his bandmates, has taken advantage of the short drive between last night's tour stop in Los Angeles and tonight's in San Diego by spending most of the day outside, overdosing on vitamin D in a city whose greatest natural feature is sunshine. Just the night before, he had slept in the band's trailer, which admittedly probably wasn't the most relaxing place to crash after a furious set at The Complex in Los Angeles.
So when he gets an opportunity to explain the juxtaposition of ideas at play in the title of the band's new album, The Paradise Gallows, he pauses with a distant look in his eyes before he deadpans: "It was dictated to me by alien intelligence."
The other five members of the band erupt in uproarious laughter. "You have been in a the sun all day," says guitarist Steven Russell, cracking open a Coors Light. Russell, Paparo, guitarist Trey Dalton, bassist Joe Kerkes and drummer T.J. Childers stand in a circle in the parking lot behind San Diego's Soda Bar. Their tour van and that of tourmates Withered are ramparts flanking the group, a small cooler full of silver bullets chilled and at the ready. After lamenting how a giant burning ball of gas in the sky has sapped his eloquence, Paparo finally says he just liked the juxtaposition of images in the title, written down on a sheet of paper before he had lyrics to go with it. "I literally have pages full of song titles that I can't make anything work to."
"Isn't that what James Hetfield does?" jokes Childers.
It's a balmy evening in San Diego, one of the farthest destinations from their home state of Virginia, which has been under the spotlight in recent years on the strength of its underground metal scene. Richmond, where four out of five members live (Russell owns a home in Henrico—site of the band's favorite watering hole along the James River, The Lily Pad), earned its metal cred decades ago by giving grotesque birth to costume-clad headbangers GWAR, and later on, Lamb of God. Yet those bands aren't necessarily Inter Arma's peers; Childers notes that he once won a guitar competition that was judged by a member of Lamb of God when he was younger, and that was the extent of their lifetime interaction. Yet Inter Arma's new album, The Paradise Gallows, is the third standout album by a Richmond act on iconic metal imprint Relapse, which also released Cough's Still They Pray earlier this year and last fall's Grief's Infernal Flower by doom merchants Windhand, with whom Inter Arma share a rehearsal space.
"There's a lot of what's in the water questions," Russell says. "We were doing things beforehand. We're not all from Richmond, we're from different parts of Virginia. I went to college for a year and dropped out because I knew I'd find more like-minded musicians from Richmond."
"Most of the bands that people on a national scale know about in Richmond, we have little to nothing in common," Childers adds. "Like GWAR, Lamb of God, we don't really know those guys. But other bands, like Windhand and Cough and Bastard Sapling, which a couple of these guys play in—dudes that we see and hang out with, play shows with them and record with them—there's more of a correlation there. Everyone's cool with one another."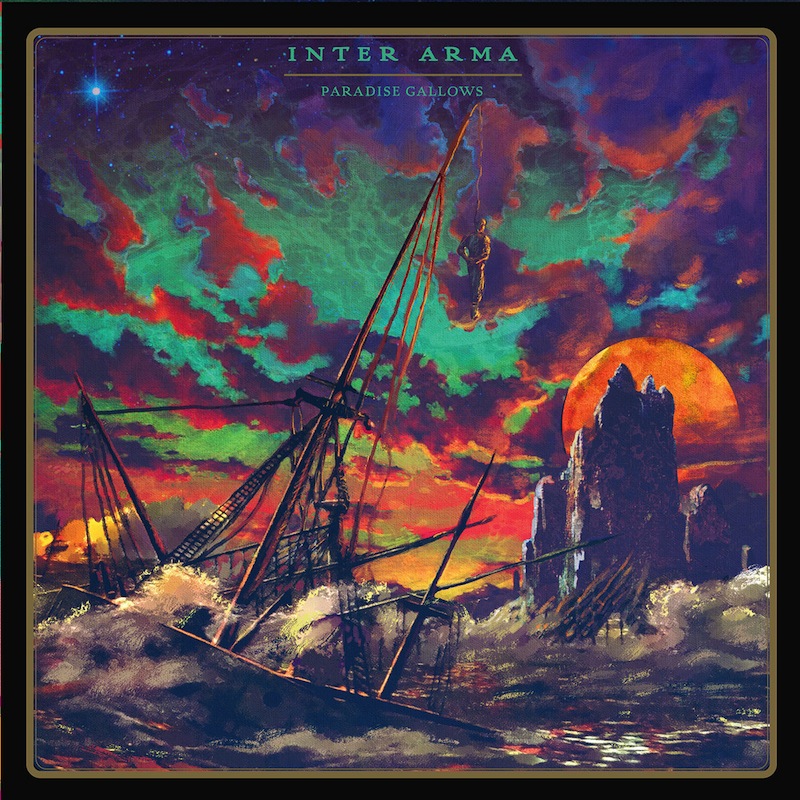 What separates Inter Arma from Windhand or Cough, two great bands in their own right, is a fierce aversion to easy genre labels. The Paradise Gallows, released last month, is Inter Arma's third album and, by all measures, their most massive piece of music to date. It's their longest album by about four minutes, but it's also a work that builds on the ambition and the expanse of 2013's Sky Burial, itself a stunningly huge work. One need only listen to the title track, a 12-minute dirge of mournful psychedelic riffs and crushing doom heaviness that infuses beauty and power in a way that few modern metal bands would attempt.
The Paradise Gallows confounds expectations with each flip of a vinyl side, erupting with a furious guitar chug on "Transfiguration," grooving into a hypnotic psych-metal pulse on "Summer Drones" and galloping with a tense and complex rhythmic structure on "Violent Constellations." It's an eclectic and varied 70 minutes of music, the result of five musicians with different backgrounds but similar tastes (all condemn the music of Eagles, with notable exception Joe Walsh) putting their "salt and pepper" on each track, as Russell puts it. But it's also just not in their nature to play anything straight and narrow.
"I think dynamics are really important and I think they get ignored a lot in heavy music," Dalton says. "For me, personally, bands without dynamics get kind of boring. I would rather there be peaks and valleys."
There are, however, downsides to being iconoclastic and non-traditional when you play metal, as Paparo notes.
"People who are really into certain genres of music can't stand us," he says. "Like people who love black metal fuckin' hate us. Or people who really love death metal fuckin' hate us. It's usually people who kind of go outside the box that like us, but if you're like 'I only like this or this' then you don't have to listen to us—trust me, you're going to be disappointed."
Much like the complex nature of the song arrangements themselves, Paparo's lyrics tend to be deftly and poetically written verses for the listener to unravel. Though the name "Paradise Gallows" itself might have been born of just fascinating imagery, those contrasting ideas of extinction and ephemeral utopia come through in many of the album's tracks. "Violent Constellations" quotes Rainer Maria Rilke in a bleak but stunning depiction of how "Our barbarism knows no bounds." And "Transfiguration" carries a message about humanity reversing the course of its own destruction, and guiding itself toward the "light of wisdom."
And then there's "Primordial Wound," a condemnation of some of the worst on our political stage today. It's a sardonic satire of the destructive demagoguery that's been eating up airtime on cable news and onstage at the Republican National Convention: "May we mock the notion of virtue! May we mock the notion of mercy!"
"I've had this fascination with death since I was a kid, so that comes through a lot. But there's also some very masked social commentary on the record," Paparo says. "For instance, with 'Primordial Wound,' I watched this clip of Trump talking and I got pissed. It's like this whole era of, this anti-intellectual thing that's happening right now, in the United States in particular, is just mind numbing. It drives me out of my fucking mind. Just to hear this nonsense."
Now in their tenth year as a band, Inter Arma have undoubtedly grown stronger both as songwriters and a live unit. But ten years can change a lot about a band—there are four ex-members of the band, just as one example. Every change they've experienced has led them to become the band they are today, however, from the simple hard-luck learning experience of knowing when to have a jack and a tire iron when your van breaks down on the road to simply being able to temper your expectations when you're about to play a show.
"Low or no expectations are pretty important. That sounds like kind of a ridiculous, silly answer. But it is really pretty important, because early on there's so much bad that if you think it's gonna be good, and it's not, it sucks," Dalton says. "But if you don't think that anything's gonna happen and then a handful of the dates on your tour are awesome, then it's a success. Which is better than the alternative."
A couple hours after our conversation comes to a close, Inter Arma will ascend the stage at Soda Bar and perform an hour-long, four-track live set of epic, frequently beautiful metal that leaves more than a few attendees awestruck by the sheer scope and ambition of their sound. Others will headbang. Some with throw horns. And others still will simply nurse their beers near the wall, implicitly approving without necessarily expending much energy. By a few measures, this night would be one of the good ones—that two or three dudes near the front vehemently request the band's 40-minute album-length track "The Cavern" is proof of the enthusiasm in the room, even though it likely causes all five members to internally eye-roll in unison. (They're not really interested in playing "The Cavern," no matter how often they hear about it.) For Inter Arma, the good nights are happening with greater frequency, and for that matter, make all the bad ones worth enduring.
"We played Portland the other night, and all around it was pretty good, but for a city that's cool and with it and savvy, artistically, we got a lot of arms crossed and blank stares and general confusion. It wasn't necessarily a bad reaction, it was just different. Whereas Fargo, North Dakota was like an old Pantera video.
"That's kind of how the reactions across the board for us have been," he adds. "Some people hate it. Some people are indifferent. And some are like what happened last night: A girl told us she had a transcendental experience and cried for an hour after one of our sets."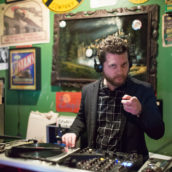 Jeff Terich
Jeff Terich is the founder and editor of Treble. He's been writing about music for 20 years and has been published at American Songwriter, Bandcamp Daily, Reverb, Spin, Stereogum, uDiscoverMusic, VinylMePlease and some others that he's forgetting right now. He's still not tired of it.