Beach Slang share "Punks In a Disco Bar" video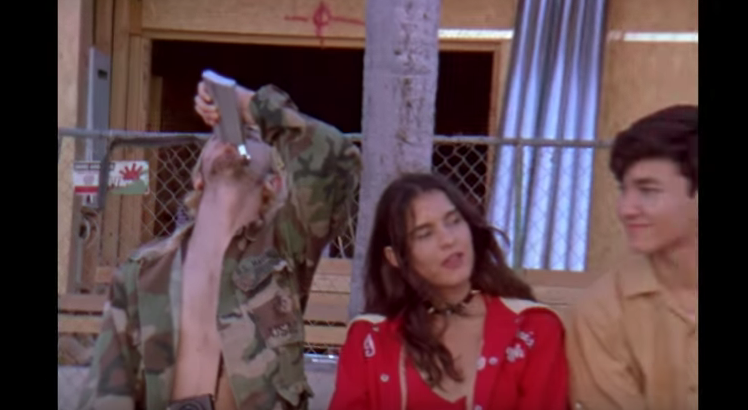 Beach Slang are working hard at maintaining people's faith in rock 'n' roll. The Philadelphia band just released a new video for "Punks in a Disco Bar," from upcoming album A Loud Bash of Teenage Feelings, out September 23 via Polyvinyl. The video itself is a loud bash of teenage feelings, with kids drinking and getting into mischief, set to the band's hard-rocking melodies. Watch the Jason Lester-directed clip below.
Beach Slang also have expanded their upcoming tour, which includes dates with Descendents and Bleached. Check those dates below.
A Loud Bash of Teenage Feelings follows 2015's The Things We Do To Find People Who Feel Like Us.
Beach Slang tour dates:
8/7 — Katowice, Poland — OFF Festival
8/8 — Bremen, Germany — Tower Musikclub
8/10 — Oslo, Norway — Øya Festival
8/11 — Gothenburg, Sweden — Way Out West Festival
8/12 — Cophenhagen, Denmark — KB18
8/13 — Eschwege, Germany — Open Flair Festival
8/14 — Rothenburg ob der Tauber, Germany — Taubertal Festival
8/15 — Trier, Germany — Mergener Hof
8/16 — Dortmund, Germany — Freizeitzentrum West (FZW)
8/17 — Osnabrück, Germany — Kleine Freiheit
8/18 — Hasselt, Belgium — Pukkelpop
8/19 — Marinen, Trondheim, Norway — Pstereo Festival
8/20 — Bodø, Norway — Parken Festival
8/22 — Milton Keynes, UK — The Craufurd Arms
8/23 — Birmingham, UK — The Sunflower Lounge
8/24 — Hull, UK — Adelphi
8/25 — Huddersfield, UK — The Parish
8/26 — Bramham Park, Wetherby, UK — Leeds Festival
8/27 — Paris, France — Rock En Seine
8/28 — Richfield Avenue, Reading, UK — Reading Festival
9/2 — Montauk, NY — The Surf Lodge's Summer Music Series
9/8 — Baltimore, MD — The Ottobar
9/9 — Raleigh, NC — Hopscotch Music Festival @ Cam
9/10 — Richmond, VA — The Camel
9/17 — Wilmington, DE — Dogfish Head Analog-a-GoGo @ Bellevue State Park
9/23 — Chicago, IL — Goose Island Beer Co.s Urban Block Party
10/6 — Boston, MA — Royale (D)
10/8 — Philadelphia, PA — Project Pabst Citywide Festival @ Electric Factory
10/11 — Washington, DC — Black Cat (B)
10/12 — Virginia Beach, VA — Shaka's (B)
10/13 — West Columbia, SC — New Brookland Tavern (B)
10/14 — Orlando, FL — Blackbooth (B)
10/15 — Jacksonville, FL — Jack Rabbits (B)
10/16 — Atlanta, GA — The Masquerade (Hell) (B)
10/18 — Nashville, TN — The Basement East (B)
10/19 — Louisville, KY — Zanzabar (B)
10/20 — Newport, KY — The Southgate House Revival (B)
10/21 — Cleveland, OH — Grog Shop (B)
10/22 — Pittsburgh, PA — Cattivo (B)
10/24 — Columbus, OH — Rumba Cafe (B)
10/25 — Bloomington, IN — The Bishop (B)
10/26 — St. Louis, MO — Old Rock House (B)
10/28 — Minneapolis, MN — Triple Rock Social Club (B)
10/29 — Maquoketa, IA — Codfish Hollow (B)
10/30 — Omaha, NE — Reverb Lounge (B)
10/31 — Kansas City, MO — The Tank Room (B)
11/01 — Fayetteville, AR — George's Majestic Lounge (B)
11/02 — Oklahoma City, OK — 89th Street Collective (B)
11/4-6 — Austin, TX — Sound on Sound Festival
(D) w/ Descendents
(B) w/ Bleached