John Cale announces reissue of live album, Fragments of a Rainy Season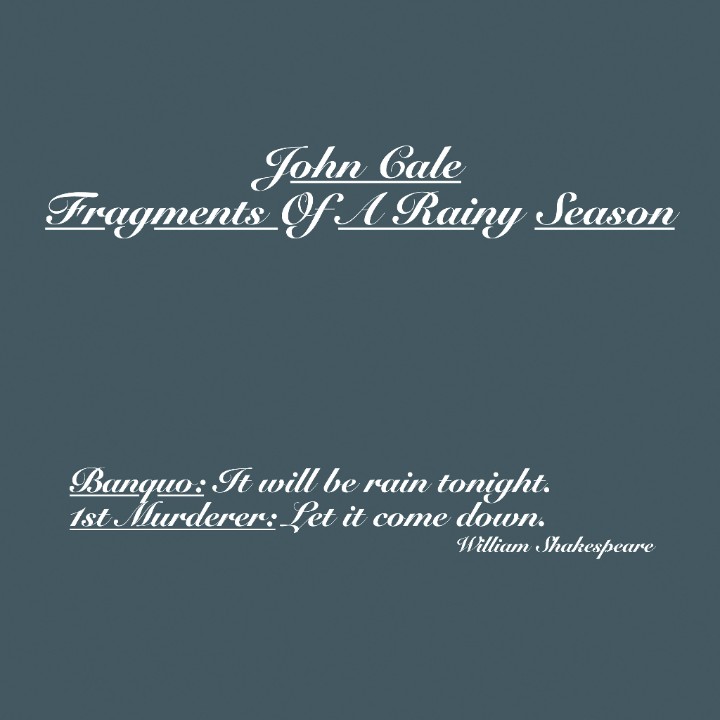 John Cale has announced an upcoming reissue of his 1992 live album Fragments of a Rainy Season, which is being released on December 9 via Double Six/Domino. It'll be available on CD, triple-LP and digital formats, with eight bonus tracks of previously unreleased outtakes. Cale has also shared a new video for his cover of Leonard Cohen's "Hallelujah," directed by Abby Portner, which you can watch below. Take a look at the full tracklist below.
Earlier this year, Cale reissued his 1982 album Music for a New Society, along with his updated version of the album, M:FANS.
John Cale Fragments of a Rainy Season reissue tracklist:
1. A Wedding Anniversary (Live)
2. Lie Still, Sleep Becalmed (Live)
3. Do Not Go Gentle Into That Good Night (Live)
4. Cordoba (Live)
5. Buffalo Ballet (Live)
6. Child's Christmas In Wales (Live)
7. Darling I Need You (Live)
8. Guts (Live)
9. Ship Of Fools (Live)
10. Leaving It Up To You (Live)
11. The Ballad Of Cable Hogue (Live)
12. Chinese Envoy (Live)
13. Dying On The Vine (Live)
14. Fear (Is A Man's Best Friend) (Live)
15. Heartbreak Hotel (Live)
16. Style It Takes (Live)
17. Paris 1919 (Live)
18. (I Keep A) Close Watch (Live)
19. Thoughtless Kind (Live)
20. Hallelujah (Live)
21. Fear (Outtake Melbourne)
22. Amsterdam
23. Broken Hearts
24. Waiting For The Man (Outtake France)
25. Heartbreak (Strings)
26. Fear (Strings)
27. Paris 1919 (Strings)
28. Antarctica (Strings)