Pop Life: (De)grading the charts—temporarily eclectic edition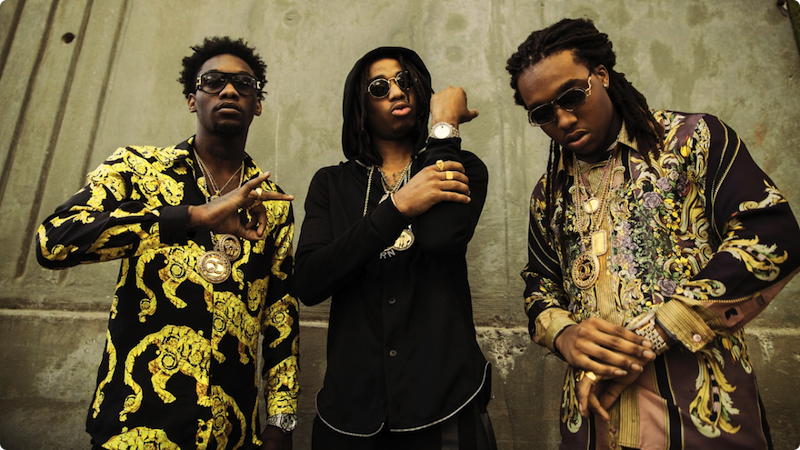 The beginning of the year is often a strange time for pop, as well as for music releases in general. You have to contend with all the carryover from albums that critics deemed the previous year's best just a month or two ago and raved about in all the publication/blog lists that music nerds pass around like trading cards and debate just as fiercely. Also, most of what's released anew at this time of year, much like what you get at the multiplex, is less than great, to say the least.
As such, trying to assess the overall temperature of pop music around now is difficult. Almost all of the artists who we could imagine dropping a surprise album—Beyonce, Drake, Rihanna, Bruno Mars, The Weeknd, Ariana Grande, shit, even Britney Spears—put out major releases last year, and aside from Drake, these are not exactly quick-turnaround artists; they're either too deliberately meticulous or too sleek-polished. (Though I suppose it would be fitting for either Taylor Swift or Katy Perry to finally try the surprise-release strategy three years behind the times.)
So in lieu of deep-diving into a predominant pop trend, I figured I would take a look at the top of the pop charts as they currently stand and guess at what, if anything, it might indicate. Last time I did the Billboard Hot 100; this time I'll look at the 10 most streamed tracks on Spotify in the United States as of Jan. 16, 2017. They aren't much different from the current Billboard top spots, and while the list seems almost intriguingly eclectic I think that the factors described above mean that the gumbo-esque blend you see below won't hold.
Migos – "Bad and Boujee" (feat. Lil Uzi Vert)
I enjoy Migos very much, even though a lot of their shit is variations on a theme. I very much don't enjoy the meme-ification of Migos—like when "Versace" was turned into a punchline and the whole "Migos are better than The Beatles" thing. It sets off certain alarm bells for me and makes me think the music is being devalued. (Which is not to say that people need to listen to fucking Ka or even Kendrick all the time. There's a line that can be walked.) Anyway, this is an ideal Migos jam, with a particularly off-kilter Metro Boomin beat driven by creepy high synths and the trio's now-signature triplet flow. My only comments on Lil Uzi Vert are A) he doesn't ruin the track and B) I'm still baffled by his C-grade Young Thug impersonation.
Drake – "Fake Love"
I can't say I would've predicted Drake's aptitude for making dancehall tribute records back in 2011, when the music blog/tastemaker economy bought everything our man Aubrey D. Graham was selling in bulk. But with this, "One Dance," "Controlla" and countless strands running through the If You've Been Reading This mixtape, it's clearly a skill and genuine interest of his. You can see why this song didn't make VIEWS and has been shunted onto the ever-expanding playlist/mixtape/thing on Apple Music he's calling More Life. But the hook digs in its heels like most Drake pop-oriented tracks do, and his singing voice is only getting better.
Ed Sheeran – "Shape of You"
Um. Excuse me? Ed Sheeran, or Pop Music's Most Visible Ginger as I prefer to call him, is not qualified to make dancehall tributes, unlike Drake. (Or Jamie xx, for that matter.) It appears that's what he's done here, and…it is bad. The two-steppy rhythm and sampled steel-drum notes sound so lab-manufactured it's ridiculous.
The Chainsmokers – "Paris"
I don't get The Chainsmokers. Not because I'm some idiot who can't comprehend how earworm hooks work—which this electronic pop duo employs somewhat frequently—but because their thirst is so obvious. The novelty-ass songs like "Selfie" and "Kanye" were catching on but not really working (the former of which constitutes a crime worthy of public flogging), so they decided to make these CHVRCHES-lite anthems with little arpeggiated guitar filigree sandwiched between the slapping drum machines and basic-dude vocals. If you're going to steal, just make it interesting! I have no interest in making self-righteous gasbag pronunciations about pop music being bad (because it often isn't), but this is just weak, sucky bullshit.
The Weeknd – "Starboy" (feat. Daft Punk)
I don't have anything much new to say about this, other than that it has grown on me. A bit. It's probably the best expression yet of Abel Tesfaye's relatively new popstar-at-all-costs direction.
ZAYN – "I Don't Want to Live Forever" (feat. Taylor Swift)
(Preface) I have heard approximately 30 seconds of two One Direction songs, enough to ascertain that I understood their appeal but it wasn't for me. So I have no opinions about 1D, or Zayn Malik considering himself cool enough to go solo. (End preface) "I Don't Want to Live Forever" begins with harsh, almost lite-industrial programmed drums and Malik's strong but forlorn voice, transitioning seamlessly into a chorus driven by a solid falsetto, high piano trills and lighter but busier drums. Good so far! The Taylor Swift part, though…not so great. Not terrible, but this song just doesn't play to her somewhat limited vocal strengths, aside from some moments of grand harmony with Malik and her evocative enunciation of the line, "What is happening to me?" But as far as the pure pop on this particular top 10 goes, this is probably the most interesting song.
Big Sean – "Bounce Back"
I'm forced to conclude that there's gotta be a charity system or grading curve for corny rappers. How else to explain the persistence of Big Sean? It's not even that he's an inept MC, because he does have his moments. Some of them are apparent on "Bounce Back," an estimable if unremarkable Metro Boomin production with some solid double-time flows in the verses. But…the dude simply has nothing to say, and not in a conscious-rapper way—in an anything way. If you're going to be this solipsistic you gotta make that self-centeredness super-catchy with a universal appeal (like Drake), or be forthcoming about your contradictions and massive flaws (like Kanye). Otherwise you sound like a struggle rapper who got famous and still hasn't stopped talking about said struggle…meaning, you sound like Big Sean.
Amine – "Caroline"
Never heard of this dude before. I suppose Portland had to have some rappers aside from Trail Blazers star Damian Lillard. "Caroline" is…it's fine, I guess? The beat has a nice Southern bounce to it thanks to fat synth riffs and low-key drums. Amine is serviceable enough when he's just plain rapping, but he lacks the vocal acumen to handle the singsongy flows, and the lyrics are pretty rote "chick, you fine – let's fuck" stuff with little creativity to distinguish them from their predecessors. But, shit, at least it's keeping some crappy dance track off the top 10, I guess.
Machine Gun Kelly – "Bad Things" (feat. Camila Cabello)
This fucking trend of white rappers making boring lovey-dovey tracks assisted by talented but anonymous hook singers really has to stop. The Eminem/Rihanna "Love The Way You Lie" duet is probably the best iteration of said minigenre, and it's not even that good. Like, at all. This is far, far worse, though, in no small part because Machine Gun Kelly's verses seem to paint him as a controlling asshole who's confident his woman will return because she's that addicted to his bullshit bad-boy steez. Congratulations, whiteboy, you've effectively legitimized an emotionally abusive relationship and listeners of both sexes appear to be fine with it. Whenever someone (usually white) crows about misogyny in hip-hop, all I can think is at least it's assholes being honest about their assholery (up to a point, of course; some of that stuff is truly inexcusable and should be called out). I honestly believe shit like "Bad Things" is about 9,000 times more insidious, though.
Rae Sremmurd – "Black Beatles" (feat. Gucci Mane)
As someone who evangelized this song when I first heard it on Sremmlife 2, I wasn't amused that it took a meme (the mannequin challenge thing) to make it really take off. "Black Beatles" is an outstanding mainstream hip-hop song by any standard, fortified by one of Mike Will's slinkier beats and Swae Lee's excellent melodic instincts. Gucci Mane's mid-song cameo is as entertaining as much of his recent victory-lap work has been. Also, here it functions as a passing of the torch from an ATL hip-hop architect to two of its hottest new stars.