Morrissey headlining emo-centric When We Were Young festival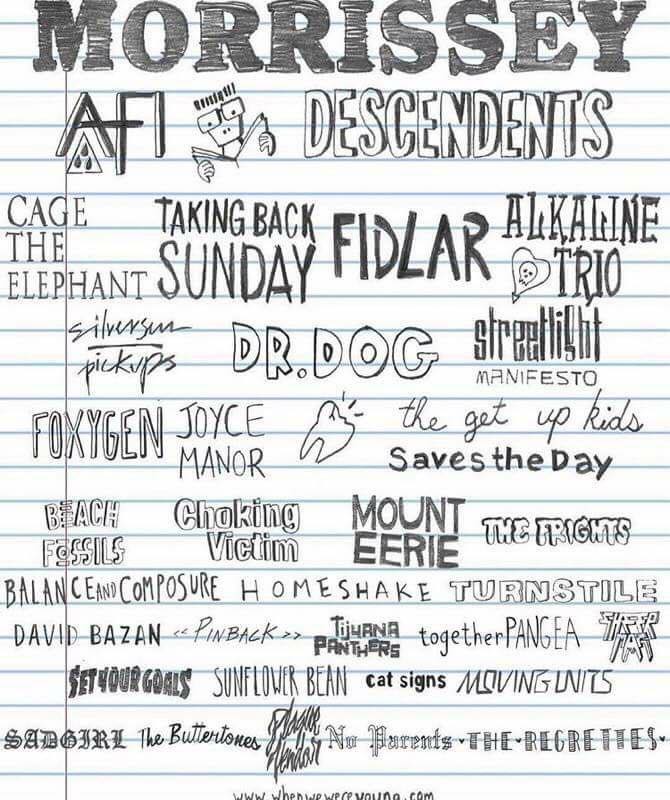 Morrissey is headlining an upcoming festival called When We Were Young, taking place on April 8-9 at the Observatory in Santa Ana, California. The festival leans heavy on emo and punk bands (composed mostly of dudes, naturally), including The Descendents, AFI, Cage the Elephant, Taking Back Sunday, FIDLAR, Alkaline Trio, Silversun Pickups, Dr. Dog, Streetlight Manifesto, Foxygen, Joyce Manor, The Get Up Kids, Saves the Day, Beach Fossils, Choking Victim, Mount Eerie, The Frights, Balance and Composure, Homeshake, Turnstile, David Bazan, Pinback, Tijuana Panthers, Sheer Mag, Sunflower Bean, Moving Units, Plague Vendor, No Parents, The Buttertones, The Regrettes and Sadgirl. Tickets go on sale on Friday, Feb. 10. More info about the festival and for purchasing tickets can be found here.
Read Wil Lewellyn's essay on Morrissey, Morrissey is not a guilty pleasure.