Power Trip share another new track, "Nightmare Logic"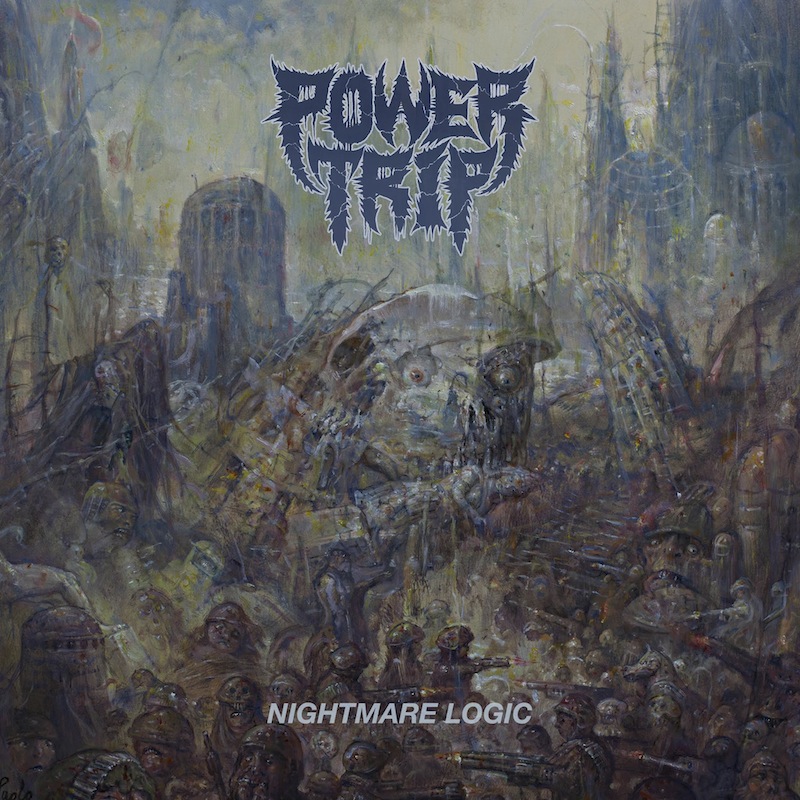 Power Trip have shared another new track from their upcoming album, Nightmare Logic, which is out on Feb. 24 via Southern Lord. Today they've released "Nightmare Logic," another epic and hook-laden thrash metal anthem that finds them delivering some of their strongest songwriting to date. Listen to the new track below, and take a look at the band's upcoming tour dates.
Nightmare Logic follows 2013′s Manifest Decimation.
Power Trip tour dates:
2/24 Walter's – Houston, TX (I)
2/25 Siberia – New Orleans, LA (I)
2/26 Saturn – Birmingham, AL (I)
2/27 Kings – Raleigh, NC (I)
2/28 Broadberry – Richmond, VA (I)
3/1 Soundstage – Baltimore, MD (I)
3/2 Marlin Room @ Webster Hall – New York, NY (I)
3/3 Spirit – Pittsburgh, PA (I)
3/4 Now That's Class – Cleveland, OH (I)
3/5 The Studio @ Waiting Room – Buffalo, NY
3/7 ONCE Ballroom – Somerville, MA (I)
3/8 Les Foufounes Électriques – Montreal, QC (I)
3/9 Brass Monkey – Ottawa, ON (I)
3/10 Velvet Underground – Toronto, ON (I)
3/11 Marble Bar – Detroit, MI (I)
3/12 Reggies – Chicago, IL (I)(C)
3/13 Triple Rock – Minneapolis, MN (I)(C)
3/14 Vaudeville Mews – Des Moines, IA (I)(C)
3/16 Riot Room – Kansas City, MO (I)
3/17 89th Street Collective – Oklahoma City, OK (I)
3/25 The Mohawk – Austin, TX (I)
3/26 South by So What? – Dallas, TX
3/27 Sister – Albuquerque, NM (D)(P)
3/28 Marquis Theater – Denver, CO (D)(P)(C)
3/29 Beehive Social Club – Salt Lake City, UT (D)(P)
3/30 WavePOP House – Boise, ID (D)(P)
3/31 Real Art Tacoma-The Deal – Tacoma, WA (D)(P)
4/1 Astoria – Vancouver, BC (D)(P)
4/2 Analog Theater – Portland, OR (D)
4/4 Arlene Francis Center – Santa Rosa, CA (D)(M)
4/6 The New Parish – Oakland, CA (D)(M)(P)
4/7 The Ritz – San Jose, CA (D)(M)
4/8 Teragram Ballroom – Los Angeles, CA (D)(M)
4/10 The Casbah – San Diego, CA (D)(M)
4/11 Rebel Lounge – Phoenix, AS (D)(M)(G)
4/12 Club Congress – Tucson, AZ (D)(M)(G)
(I) = with Iron Reagan
(C) = with Call of the Void
(D) = with Destruction Unit
(M) = with Mizery
(G) = with Gatecreeper
(P) = with Primal Rite