Looking back at when Soundgarden was Louder Than Love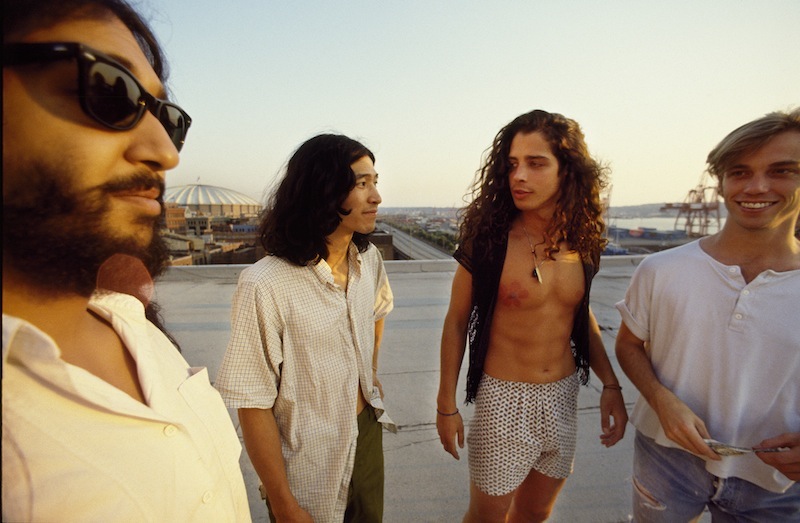 Charles Peterson/Courtesy of Sub Pop
In the winter of 9th grade I went to see Voivod when they came through town on the Nothingface tour. The first band Big F kept me at the t-shirt booth, but the band that followed blew me away. They combined the dark heaviness of Black Sabbath with the power and majesty of Led Zeppelin and put combat boots on it. The singer had a rock-god set of pipes on him. Shirtless with a flannel shirt wrapped around his waist, he commanded the crowd without the type of macho posturing most heavy metal bands at this time employed. They were in your face, yet introspective.
I had never heard of Soundgarden before, but I ended up stage diving and moshing like they had always been one of my favorite bands. I went to the record store directly after school the next day and bought a copy of Louder Than Love. The songs continued to bring me in closer with each listen. Up until this point Jane's Addiction's Nothing's Shocking album was the only exposure to this new wave of alternative rock I allowed myself to check out. Soundgarden was more committed to their brand of sonic density. By the time I caught them opening up for Danzig the summer that followed, I owned all of their other albums and EPs that preceded Louder Than Love. I didn't bother sticking around for Danzig after Soundgarden left the stage that night. I didn't see what the point would be, as there was no way he would be able to touch what they did that night. This was also the last time I saw Chris Cornell live.
In 1991, when they released Badmotorfinger the metallic heaviness was dialed back for something than fell more comfortably into the bounds of what we now know as grunge. They played heavy and intensely on "Jesus Christ Pose," but the band streamlined into a more rock sound. Their songwriting continued to mature, and Cornell explore different places vocally. The 1991 Temple of the Dog album, which paired him with the surviving members of Mother Love Bone, was a yet another testament to his ability as a singer. This time he injected an even deeper level of soul into his singing.
Soundgarden grew even slicker with more radio-friendly melodies from Cornell and bigger arena-rock production value to their hit, Grammy-winning songs on Superunknown. There was still a darkness simmering under songs like "Mailman," "Limo Wreck" and even the more radio friendly "Fell on Black Days." And while the constant rotation of "Black Hole Sun" on MTV found me feeling not as connected to the band, my tastes had moved on to heavier bands such as Deicide and Acid Bath. By the time Down On the Upside was released I still respected what they did, but never gave the album the chance it deserved.
After learning of Chris Cornell's sudden and unexpected death, I delved back into the earlier Soundgarden work and found that it was difficult to ignore the flashes of darkness in his songwriting. But while there's an undeniable sense of anguish when revisiting the material, I can put on Louder Than Love and it still sounds just as good to me as it did the day I bought it. So thanks, Chris. You left left us with your soul that you poured into your music. I hope you've found peace.