Iron & Wine announces new album Beast Epic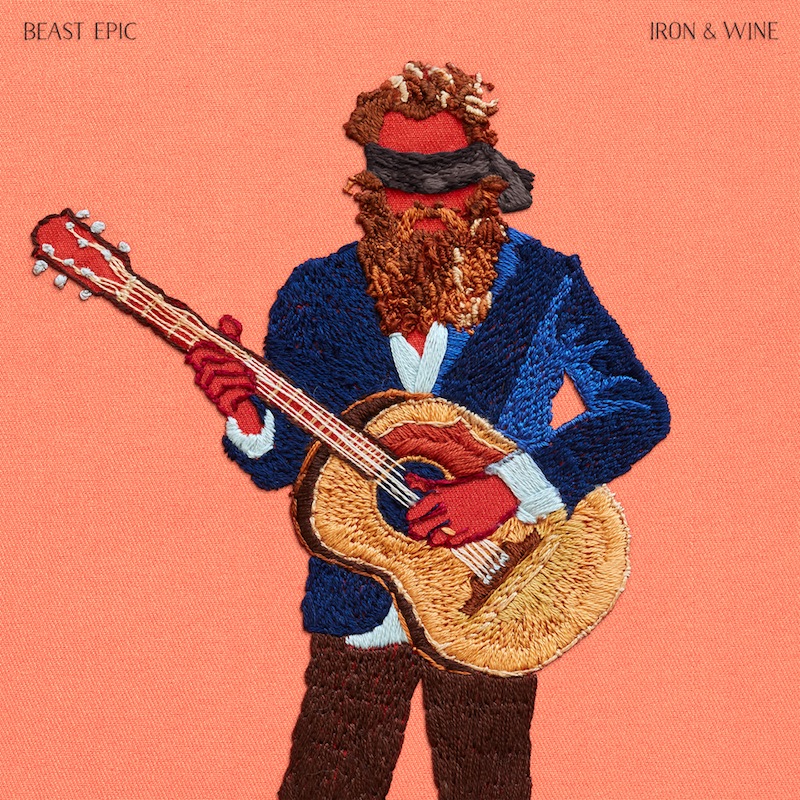 Iron & Wine has just announced a new album. On August 25, Sam Beam will release Beast Epic, his first new album for Sub Pop in a decade, after releasing several albums via Nonesuch. And in returning to Sub Pop, Beam is also returning to some of his past methods of making records.
"The sound of Beast Epic harks back to previous work, in a way," says Beam in a press release. "By employing the old discipline of recording everything live and doing minimal overdubbing, I feel like it wears both its achievements and its imperfections on its sleeve. Over the years, I've enjoyed experimenting with different genres, sonics and songwriting styles and all that traveled distance is evident in the feel and the arrangements here, but the muscles seemed to have relaxed and been allowed to effortlessly do what they do best."
The first single from the album is "Call It Dreaming." Watch the video below, and take a look at the album's tracklist and Iron & Wine's upcoming tour dates.
Beast Epic follows 2013's Ghost on Ghost.
Iron & Wine Beast Epic tracklist:
1. Claim Your Ghost
2. Thomas County Law
3. Bitter Truth
4. Song in Stone
5. Summer Clouds
6. Call It Dreaming
7. About A Bruise
8. Last Night
9. Right for Sky
10. The Truest Stars We Know
11. Our Light Miles
Iron & Wine tour dates:
6/28 – Portsmouth, NH – Prescott Park Arts Festival (Solo)
6/29 – Canadiagua, NY – CMAC (Solo) (I)
7/22 – Austin, TX – Paramount Theater (J)
8/26 – Fayetteville, AR – Roots Festival
8/27 – Columbia, MO – The Blue Note (L)
8/28 – Chattanooga, TN – Tivoli Theatre (L)
8/29 – Birmingham, AL – Saturn (L)
8/30 – Louisville, KY – WFPK on the Waterfront
10/12 – Chicago, IL – Thalia Hall
10/13 – Chicago, IL – Thalia Hall
10/14 – St Paul,MN – Palace Theatre
10/15 – Lincoln, NE – Rococo Theatre (M)
10/17 – Missoula, MT – Wilma Theater (M)
10/18 – Seattle, WA – Moore Theater
10/19 – Eugene, OR – McDonald Theater (M)
10/20 – Portland, OR – Aladdin Theater
10/21 – San Francisco, CA – Warfield Theatre
10/26 – Los Angeles, CA – The Cathedral Sanctuary at Immanuel Presbyterian
10/27 – Pioneertown, CA – Pappy & Harriet's
10/28 – San Diego, CA – – Balboa (M)
10/29 – Phoenix, AZ – Van Buren (M)
10/30 – Albuquerque, NM – El Rey (M)
11/1 – Dallas, TX – The Kessler (M)
11/2 – San Antonio, TX – The Aztec Theater (M)
11/3 – Houston, TX – The Heights (M)
11/4 – New Orleans, LA – Joy Theater (M)
11/6 – Ft Lauderdale, FL – Culture Room (M)
11/7 – Orlando, FL – The Beacham (M)
11/9 – Washington DC – Lincoln Theatre (M)
11/10 – New Haven, CT – College Street Music Hall (M)
11/11 – Boston, MA – Berklee Performance Center (M)
11/12 – Northampton, MA – Calvin Theatre (M)
11/13 – New York, NY – Town Hall (M)
11/14 – Brooklyn, NY – Brooklyn Steel
(I) = with Jason Isbell
(J) = with Joan Shelley
(L) = with Lydia Loveless
(M) = with John Moreland