Björk shares hallucinatory new video for "The Gate"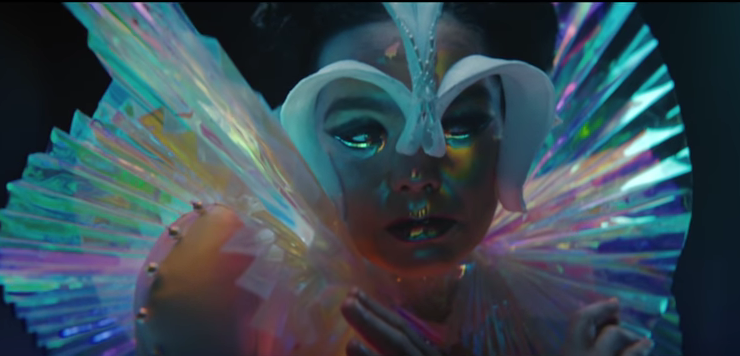 In November, Björk will release her new album, Utopia. Today, she's released the first video from the album, for first single "The Gate." Made with Björk's longtime collaborator Andrew Thomas Huang and Gucci designer Alessandro Michele, the video is a hallucinatory blend of film and animation, in typical fashion. It begins with a shot of Björk, with some kind of butterfly-like face-covering, playing a flute. It then takes a turn into some weird, futuristic-looking animations that reveal something new while feeling like a natural part of her overall visual aesthetic.
Huang described the visual concept in a statement: "The doorway lies within the wound from Vulnicura, which now appears transformed into a prismatic portal channeled between the chests of two lovers. Not lovers in the quotidian romantic sense, but in a broader cosmological way. As a throughway into Bjork's new album, 'The Gate' is a declaration of hope sung by a woman refracted and re-formed into a luminous whole."
Utopia follows 2015's Vulnicura.
Björk's Homogenic and Post are featured on our list of the Top 50 Electronic Albums of the '90s.