Reigning Sound : Shattered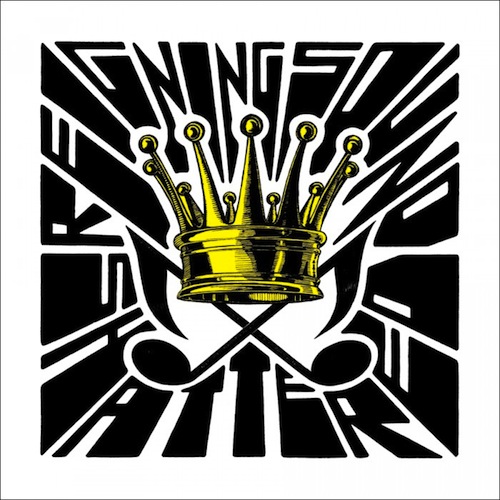 Buy at iTunes | Buy at Insound (vinyl)
Let's get something out of the way here: There's a long, often ignored history of white men ripping off good, old Delta blues music to critical and financial success. From The Beatles to The Rolling Stones, Led Zeppelin, The White Stripes, The Black Keys and beyond, a careful critic's ear always has to consider what makes an artist stand out beyond the resilient grit of a good blues lick because — let's face it — there's very little chance that it's a wholly original sound. Whether it's pop sensibility, compositional ingenuity, significantly original storytelling, or straight-up charisma, something has to distinguish modern blues-rock songs for them to be remarkable in their own right.
Reigning Sound frontman Greg Cartwright's songwriting has an earnest feel that comes across with much more genuine intent than, for instance, Mayer Hawthorne. And that's for good reason; fans of blues-punk might recognize Cartwright as a member of Memphis' Oblivians, who offered their own noisy, rusty take on traditional blues sounds long before the likes of Jack and Meg White. On Shattered, as well as earlier releases, the noise has been filtered, but Cartwright is still deep into his love affair with the blues. Whether he's cranking out more upbeat riffs ("North Cackalacky Girl," "Baby It's Too Late" ) or lonesome ballads ("Never Coming Home," "Starting New") you get the feeling that he's playing the songs he carries in his heart; he doesn't try to play the blues, it just happens to be the most natural vehicle for his faults.
What sets Shattered apart from other Cartwright releases, Reigning Sound or otherwise, is the recently solidified back up band that makes its full-length debut on this record. Whereas previous releases utilized a rotating cast of musicians, the band on Shattered came together for Cartwright's last EP and stuck together, both on stage in the studio. Their sound is tighter than on previous Reigning Sound releases, and there's a more soulful bent present throughout the record that compliments these blues tracks wonderfully.
Much like Dan Auerbach's earlier writing with Black Keys, what's most impressive about Shattered is Cartwright & Co's obvious reverence for the craft of blues songwriting. There is no camp or irony; these are straightforward blues tunes of love and loss.
Similar Albums:


Black Keys – Rubber Factory


Kasabian – Kasabian


Mountain Goats – The Life of the World to Come