10 Essential Punk Blues Albums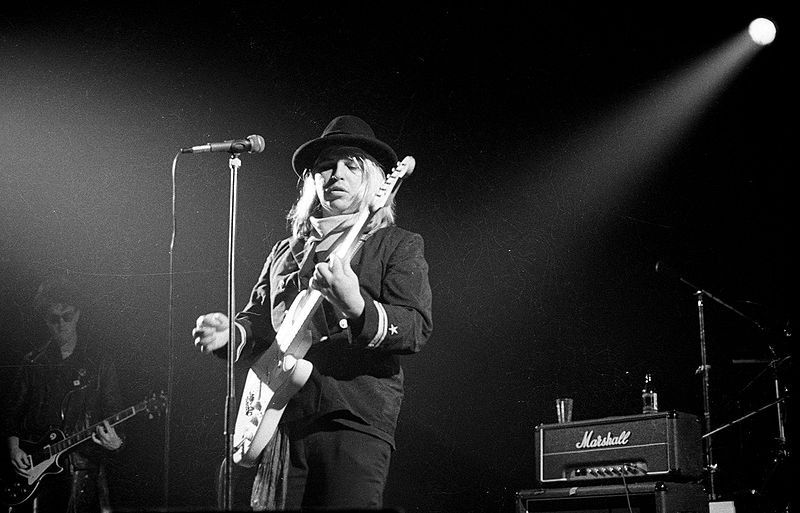 Yves Lorson/Creative Commons
Punk and blues have a lot in common. Both are raw expressions from deep in one's gut, and blues' origin story—at least the fictional one about Robert Johnson having his guitar tuned by the devil himself—is punk as fuck. But given the course of rock 'n' roll's history—borrowing liberally, crudely, even racistly—from the blues, it would inevitably spill over into punk rock. But punk blues is a unique hybrid entirely, a mangled if soulful take on American roots music with razor sharp edges and a fire spirit that burns bright and burns fast. Punk blues' hot zones spread far outside of the Delta, however, with some of the most prevalent epicenters spanning oceans apart in Melbourne, London and Los Angeles. But it's that spirit that ties all these bands together. With a documentary about The Gun Club's late singer Jeffrey Lee Pierce on the way, we decided to take the opportunity to highlight some of the greatest moments in the genre.
---
Gun Club – Fire of Love
(1981; Slash)
Los Angeles' homegrown punk rock in the late '70s and early '80s was different than that of New York or the UK. And by the time The Gun Club came around, it was something else entirely. Fire of Love, the band's debut album, is Sunset Strip punk by technicality only—its soul is in the Mississippi Delta, conjuring ghosts of Robert Johnson, Howlin' Wolf and Leadbelly through blazing slide-guitar freakouts like "Preaching the Blues." Frontman Jeffrey Lee Pierce hoots and howls rather than barking like contemporaries such as Henry Rollins or Keith Morris. Where their hybrid could have been a mere novelty, it's in that possessed wail in which their voodoo comes to life. Pierce preached the blues, because he lived it. – JT
---
The Birthday Party – Junkyard
(1982; 4AD)
When Nick Cave, Rowland S. Howard and the rest of the members of The Birthday Party relocated to London from Australia, they found themselves disappointed and uninspired by the post-punk scene of their adopted home. Instead, they sought inspiration from the lowbrow culture of Americana, slapping an Ed "Big Daddy" Roth hot rod illustration on the cover and invoking the names of Jesus and Elvis in some of the most mangled interpretations of blues, rockabilly and, well, whatever else the hell is going on here. Junkyard is rusted barbed wire and blood swirled with crankcase oil. It's brutal and menacing, the darkest possible take on American culture yet one that's also quite breathtaking in how unforgiving and abrasive it is. And though its inspirations might have been the likes of Gene Vincent, its influence can be heard in some of the harshest and most brutal albums of the past 30 years. – JT
---
Gallon Drunk – You, The Night…and The Music
(1992; Rykodisc)
Gallon Drunk isn't the sort of band that makes their London roots obvious. To hear You, The Night…and The Music, one would think they've crawled out of one of David Lynch's hippest nightmares, a Tiki bar patronized by gangsters or, perhaps, the Moon. Their spin on a classic American sound is fucked up and weird, noisy and intoxicated. It took little time for the band to be scooped up by major label Sire in 1993, but a year prior to that odd marriage, they delivered a debut album full of switchblade stripteases and red-eyed rhumbas. "Some Fool's Mess" brightened up The Birthday Party's junkyard jive whereas "Just One More" is The Cramps gone exotica. And for all of its kitsch-culture nods, "Two-Wings Mambo" simply kicks ass. Perhaps Gallon Drunk didn't sell their souls at the crossroads, but it's safe to assume that they've got a reliable guitar tech in Satan. – JT
---
Nick Cave & the Bad Seeds – Henry's Dream
(1992; Mute)
Nick Cave reportedly isn't a fan of the production sound on The Bad Seeds' 1992 album Henry's Dream, recorded with longtime Neil Young producer David Briggs. That doesn't mean there's anything wrong with it. In fact, there's a rawness to it that most Bad Seeds albums afterward haven't captured in quite the same way. Henry's Dream is, perhaps, the last proper album of Cave's to draw an easy line back to his days in The Birthday Party. On songs such as "Papa Won't Leave You Henry" and "Jack the Ripper," the band chugs, howls, rocks and rolls their way through haunted vamps and gritty grooves. The performances aren't all perfect, but the soul is palpable. This is The Bad Seeds come alive. – JT
---
Jon Spencer Blues Explosion – Orange
(1994; Matador)
While not a founding father of punk blues, Jon Spencer has arguably become its best-known and loudest promoter. He helped form Pussy Galore and Boss Hog, two bands that primed the pump for the genre in the growing context of alternative rock in the 1990s. His namesake power trio followed the former act and overlapped with the latter, and their fourth album was a mainstream breakthrough buoyed by Beck guest spots, Beastie Boys remixes, and great timing. Spencer narrates and caterwauls with a preacher's abandon ("Sweat"), while Judah Bauer joins in with downright angry guitar and harmonica ("Dang") and Russell Simins' drums crush tracks like cult classic "Bellbottoms." The kind of band you want to ring in the new year with—that's how I did it one year, you should try it—they constantly shift sleaze, volume, and rhythm as the spirit moves them, elevating their work to post-hardcore blues. – AB
---
Laughing Hyenas – Hard Times
(1995; Touch and Go)
Ann Arbor, Michigan's Laughing Hyenas had a background in punk much more than blues—vocalist John Brannon got his start in hardcore outfit Negative Approach. But once the band took off, they pioneered a sound that was raw and relentless, some of the hardest heaviest blues-rock ever recorded. Think Exile on Main Street blended with The Jesus Lizard and you've got a pretty good idea—and the debauchery they participated in offstage also seems to support that. But before the band came to an end in the mid-'90s, they delivered their most polished effort, which also happens to be a down and dirty set of hard-luck rippers. Hard Times is blues that swings like a sledgehammer, and punk swirled with real blood, sweat and tears. – JT
---
Oblivians – Popular Favorites
(1996; Crypt)
Punk blues doesn't begin and end with Memphis' Oblivians, but they comprise a significant span of its meaty middle section. The fuzzed-out and fucked-up garage rockers—sans bass—take blues to its noisiest conclusion. But the blues is still there, in the endless groove of "Do the Milkshake," in the messy riff-rocking of "Christina," the noise-squeal of "The Leather" and the swampy rock 'n' roll of "Part of Your Plan." The punk half of the equation and the blues half are just about in equal balance, but be assured that if this album comes on, just be aware there's likely to be some property damage involved. – JT
---
Oxbow – Serenade In Red
(1997; SST)
In a lot of ways, Serenade in Red resembles a film noir. More than just the jazz and blues influence that carries throughout the record, it's the brooding darkness that makes Serenade so supremely cinematic. Singer Eugene Robinson scats and spits his way over instrumentals that sound more like swaying beasts than anything resembling music. The guitars sit somewhere between Sonic Youth and Slint, full of dynamics and overwhelmingly morose. There's no plot to speak of, because that would be straightforward, and Oxbow is anything but a straightforward band. Instead, Serenade in Red carries itself through mood only; it's a vibe so cigarette-smoke-saturated and cynical that you want to escape, but you just can't bring yourself to do it. – BC
---
Reigning Sound – Too Much Guitar
(2004; In the Red)
The title of Reigning Sound's third album couldn't be farther from the truth. While there is, indeed, a hell of a lot of guitar on this album, one couldn't possibly ever have too much of it. It's a highly addictive substance—once the fuzz starts flying, who'd ever want this raucous, rowdy mess to stop? Fronted by Oblivians' Greg Cartwright, Reigning Sound are a similarly bluesy and boozy bunch, taking a soulful Southern tradition and making it buzzsaw sharp. Too Much Guitar is heavy on guitar, indeed, but it's also dripping with sweat and emotion, as heard in the, uh, ballad (?) "If You Can't Give Me Everything" and the fiery exorcism "I'll Cry." Frankly, I'm not sure it's even possible to overdose on music this raw and fun. – JT
---
Iceage – Beyondless
(2018; Matador)
Once a band of punks so incendiary they could barely make a song last longer than the two-minute mark, Iceage's maturity and progression into a much more sophisticated post-punk band has seen them embrace more playful influences ranging from gothic rock to cowpunk. But Beyondless is where the Copenhagen band really got their fingers sticky. Their grooves are sexier, their rave-ups bluesier and their blues boozier. It's Muscle Shoals fed through a Manchester filter, and on songs such as the swaggering "Catch It" or the anthemic "The Day The Music Dies," Iceage take the basic framework of early progenitors like The Gun Club and blow it wide open into one of the best rock 'n' roll albums of the 21st century. – JT
Support our Site—Subscribe to Our Patreon: Become one of our monthly patrons and help support an independent media resource while gaining access to exclusive content, shirts, playlists, mixtapes and more.