5 Great New Metal Albums to Start the Year Off Loud

Tim Hubbard
It feels like just yesterday I was writing about my favorite metal albums of 2022. But considering my default position is writing about my favorite metal albums of anytime, nothing's changed much. One month into 2023, it's still hard to get a full picture of any particular trends emerging, other than that many of the best records being released in heavy music right now are debuts. That's exciting to me as someone who understands and appreciates how much of metal is built on ideas of legacy, but heavy music always is in need of fresh blood, and not just because of its penchant for horror. That being said, this month's best also includes veterans in both the underground and the wider universe of death metal. I don't know what 2023 has in store just yet, but I do know these five albums are getting it off to a great, noisy start.
---
Scalp – Black Tar
There's something incredibly satisfying about hearing a song called "Jesus Is God" and for that song to be the most pissed-off sounding song you've heard in a long time. All 12 minutes of Scalp's Black Tar are dripping with bile and well…yeah, black tar is a pretty good description, come to think of it. This is particularly guttural and murky grindcore and metalcore, often erupting into a frantic blast of violent sound but just as often creeping with a low-simmering menace and a palpable sense of danger throughout. When the California band does let those hyperactive grindcore explosions detonate, they provide something of a payoff, but there's always another threat just around the corner. Black Tar is the most relentless 12 minutes of music you'll hear in 2023 so far. (Closed Casket Activities)
---
Esoctrilihum – Funeral
I don't know how Esoctrilihum does it. For four straight years, the mysterious French artist known as Asthâghul has cranked out at least one new album per year, and followed up 2021's Dy'th Requiem for the Serpent Telepath with two full-length records last year. And these aren't exactly 10-minute grindcore records, either; his latest, Funeral (arriving less than six months after the last one), is a staggering 77 minutes of mournful, gothic black metal in the vein of classic Emperor. It's by no means his most varied or elaborate release, though, these six searing (and long) tracks upholding more of a traditional black metal sound than Esoctrilihum most often embraces, which for some bands would probably feel like a regression. But here, it's a surprisingly refreshing diversion: heroic, epic, and raw. (Self-released)
---
Tribunal – The Weight of Remembrance
I can't help but notice that this month's picks, minus a death metal album here or a metalcore album there, tend to draw most heavily from the darker and more haunted end of heavy music. Maybe it's because the winter's been milder (in my city) than expected, or that everything-goth-all-the-time is my natural state of being, but I can't seem to tear myself away from the new album by Vancouver doom metal duo Tribunal. Funereal and elegant, Tribunal trace the lines of their riff harmonies in cello and offer a male/female, growled/clean vocal contrast that speaks to both the beauty and beast within their sound. Though they don't particularly sound like, say, Type O Negative, they share something in common with that group in that they're the sort of doom metal band that your darkwave-listening friends would also probably love. (20 Buck Spin)
---
Dryad – The Abyssal Plain
Any "best of year" statements made before winter's over can more or less be dismissed with prejudice. If nothing can dislodge one of the first albums you heard in a year, then that's probably a pretty disappointing year. That being said, my favorite metal album released this year so far is Dryad's The Abyssal Plain. (And while I'm on the subject, there's an album out next month that's by all accounts AOTY-worthy from my perspective, but I won't get into that now.) The Iowa City group's extra-crusty black metal debut is the bilious, visceral surge of aggression that I didn't know I needed. But now that I have it, I can't get enough. The band specialize in searing, straightforward rippers, but do so with an occasional gothic flourish, a "symphonic" spooky synth tone here and there, and unrelenting menace for days. At this stage black metal can be a blank canvas for an artist to create something as unexpected and innovative as they see fit, but even in keeping it relatively simple and potent, Dryad deliver one of the year's first black metal essentials. (Prosthetic)
---
Obituary – Dying of Everything
As much as I'm enjoying living during a continuous period of (so far uninterrupted) great death metal from newer, younger bands, those of us with a yen for raw, guttural growls and monstrous riff churn are doubly blessed. For while a new class of bands is certainly delivering the goods, the pioneers of the genre are still at it, and still making vital, top-tier death metal records of their own. Though Dying of Everything isn't necessarily groundbreaking or a reinvention of Obituary's sound, the Florida old-schoolers offer a reminder of what placed them into the hesher hall of fame in the first place. Don't let the Mariusz Lewandowski cover art fool you; there are no mystical, soul-baring epics here, just a cavalcade of riffs, an onslaught of threatening sneers, and some ass kicking all around. (Relapse)
---
Treble is supported by its patrons. Become a member of our Patreon, get access to subscriber benefits, and help an independent media outlet continue delivering articles like these.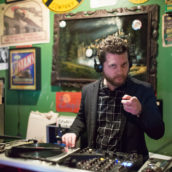 Jeff Terich
Jeff Terich is the founder and editor of Treble. He's been writing about music for 20 years and has been published at American Songwriter, Bandcamp Daily, Reverb, Spin, Stereogum, uDiscoverMusic, VinylMePlease and some others that he's forgetting right now. He's still not tired of it.