Obituary : Dying of Everything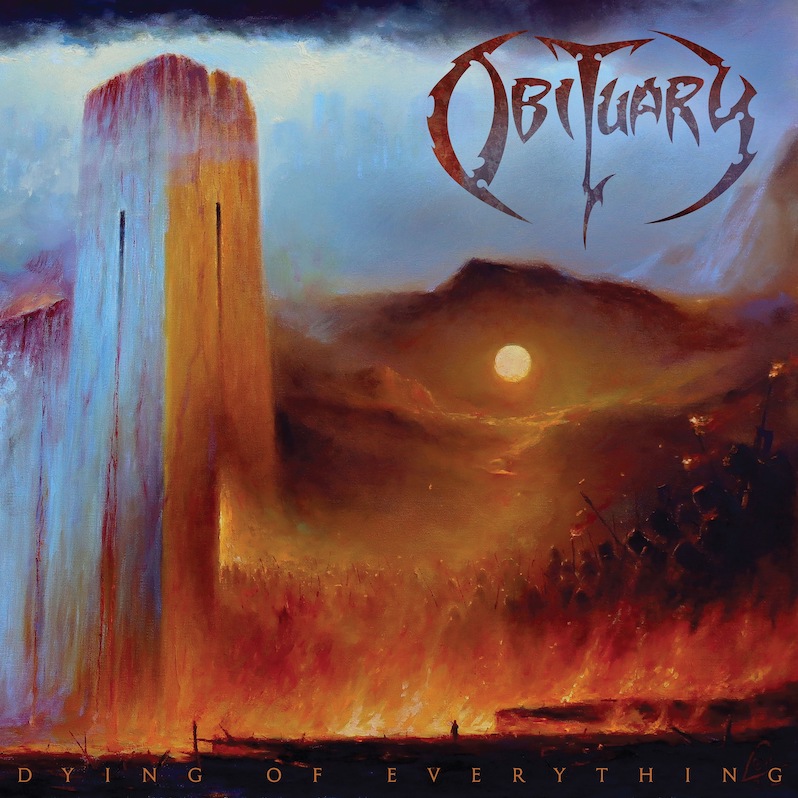 Tampa death metal has a distinct sound. The scene's earlier bands' outputs carried a like-minded aesthetic form, born from the monolithic presence of Morrisound Recording, and its lead producer, Scott Burns. More importantly, the distinct high gain sound was born from an abundance of vintage Mesa/Boogie amps that did just as much to define the identity of the scene. It goes beyond production and equipment: There's a despair, a hopelessness baked in from the unyielding Florida sun. It's an easy mistake to make, assuming the world's most punishing metal could only come from icy tundras, but the sprawl and span of Tampa's blacktops, cooking its denizens' brains and hearts in unison is a special ingredient in the sound. It's what made Cannibal Corpse and Obituary so special—that and their punishing, face peeling riffs.
The atmosphere of Obituary's tenth LP, Dying of Everything, is unmistakable: grimy and analogue in tone, a familiar vintage, all of its tracks equally compelling in plumbing the richness of the subconscious of death metal as a genre. There's of course, a technical detachment—"Barely Alive" possesses surprising warmth in its tones, with blast beats to remind you of where you are and chugging chords that sound like being kicked in the stomach in a dark alley. It's thrash at the intersection of technical death output, an ale cart of tried, tested sounds.
Tried and true though the approach might be, Obituary continue to explore new avenues within it. There's a greater harmonic nuance on tracks like "The Wrong Time," in which frontman John Tardy's unclean register comes in like a meat hook, churning with enough melody to get stuck in your skull. It's a modest restraint that pays off. That same restraint, however, is nowhere to be found on the title track, which is for the better, as it instantly enters Obituary's catalog as a favorite. Its composition is strong, guitars ripping like chainsaws, classic halftime snare rhythms pushing the track into the arms of a deadened, top heavy bass groove.
Obituary has always been a band that's taken a tactile approach to death metal, often shirking the intangible or ambient in favor of direct approaches. "By The Dawn" grasps at something more though, its heavier soundscape soars over its own enormity, a cosmic march into oblivion. The pairing, or focus rather, between guitarists Trevor Perees and Ken Andrews and drummer Donald Tardy is a theme that is often visited throughout their body of work, but is solidified here. There's no significant electronics of any kind, just walls of fuzz or growls, with some occasional loops. But everything provides a framework for these dialogues to occur, and they never stop being interesting.
The chaos of the album finished with "Be Warned" which leans heavily into their murky past, eking out every bit of grit and grime possible. It's a heavy and surprisingly quiet ending to an album that feels lighter and tighter than its predecessors. Ferocity, friction, and dagger power chords make up the spine of this album. It also appropriately makes up the manual of the parent genre. Obituary's haze however, their own swamp tethered menace, still shines through here, with equal parts aplomb and defiance.
---
Label: Relapse
Year: 2023
---
Similar Albums: