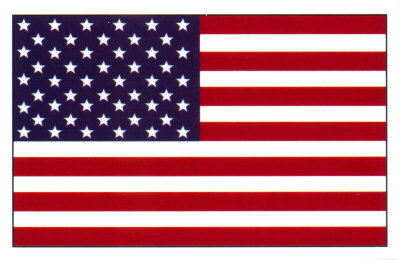 The 50 Song, 50 State challenge has existed in mixtape circles for a little while, and quite a few other blogs and magazines have attempted their own take on the list (Paste's alternate state song list is a good one). But with Independence Day just around the corner, we decided to give it a go once and for all. These aren't all songs that glorify the state or sell it to tourists, but they're all fantastic songs, nonetheless.
Contributors: Andrew Good [AG] Chester Whelks [CW] Elizabeth Malloy [EM] Jamie Ludwig [JL] Jeff Terich [JT] Justin Stephani [JS] Terrance Terich [TT]
Alabama: Phosphorescent – "It's Hard to be Humble (When You're From Alabama)"
Phosphorescent do Alabama right in this track, in both offering a cheekily boastful claim and backing it up with the kind of '70s-style country-soul arrangement that mixes lap steel with an infectious horn section. It's probably also hard to be humble when you can pen songs this good. [JT]
Alaska: Dr. Dog – "Alaska"
Nobody has been better at employing American '50s and '60s pop techniques to their own ends than Philly-natives Dr. Dog. And extra kudos to calling on those tried and true methods of the past to provide a simultaneously nostalgic and refreshing expression of their apparent longing to be free from what the contiguous states have become for them: boring. [JS]
Arizona: Constantines – "Arizona"
The story behind The Constantines' "Arizona" is a tragic and sordid one. In April 1983, Danny Rapp, founder and frontman of Danny and the Juniors, committed suicide in an Arizona hotel room. Frontman Bry Webb pays tribute with his husky bellow, singing "As long as we are lonely/ we will dance/ as long as we are dying/ we want the death of rock 'n' roll." As it turns out, a good many of the songs that appear on this list aren't so much celebrations of a place's beauty or charm but of actual scars and blemishes. This one's that much grittier because it's true. [JT]
Arkansas: Nancy Sinatra and Lee Hazlewood – "Arkansas Coal (Suite)"
All of Lee Hazlewood's arrangements are part country/western, part classic pop and part something from outer space, and "Arkansas Coal" is no exception. At its heart, it's a song about the life and family of a coal miner in Arkansas. But it goes through several movements, at times folky, at others big and cinematic. It's essentially a theatrical production packed into a little over five minutes. [JT]
California: Billy Bragg and Wilco – "California Stars"
There are probably more songs written about California and New York than any other state, and as a result each one has its share of less-than-flattering odes as well. But this highlight from Mermaid Avenue Vol. 1 is as sweet a tribute as they come, hopeful, dreamy and rustic. This is, very likely, the greatest unheard song ever covered. [JT]
Colorado: Grizzly Bear – "Colorado"
I'll admit that whatever connection this has to the actual state of Colorado is likely a very personal thing, intangible to the listener, but damn is this song gorgeous. Ed Droste's repeated refrain of "what now, what now" sounds both affectingly desperate and oddly disconnected. He may never hint as to what, exactly, happened in Colorado to inspire a song of this magnitude, but some mysteries are better left unsolved. [JT]
Connecticut: Superchunk – "Connecticut"
Fun fact: Superchunk guitarist James Wilbur was born in Connecticut. As for what the song has to do with the state, that part's a little unclear, but hey, it's called "Connecticut" and it's raw, classic indie rock. What more do you want? [JT]
Delaware: George Thorogood & the Destroyers – "Delaware Slide"
Delaware's finest musical son is George Thorogood (unless you throw in the fact that Tom Verlaine attended school in Hockessin). It might have been a gimme to pick "Bad to the Bone," his biggest, most recognizable hit, but who can pass up the last track from his debut album, the one that actually has the state in the title and various references to landmarks, such as I-95? [TT]
Florida: The Mountain Goats – "Tallahassee"
Bittersweet and slow, "Tallahassee" lazes along like a warm afternoon in the swampy South. The lyrics betray the tension of making a major change in your life – a change like moving all the way to Florida – for the person you love. Is the narrator happy with his decision? There's doubt to be sure, but the details he picks out, including the "moon stuttering in the sky like film stuck in the projector," are beautiful enough to suggest sometimes following your heart is the only thing you can do. [AG]
Georgia: Iron & Wine – "Sodom, South Georgia"
Sodom is a cemetery in Georgia, this song is about death and finding the emotional solace and comforts that allow you to overcome it. And as Sam Beam describes a father's death and burial under "a blanket of weeds" with pastoral flair, a certain perseverance and steadfastness enlightens this gloomy song. A feeling most people in this nation, some more than others, would have strongly related to almost a decade ago. [JS]
Hawaii: The Ventures – "Hawaii Five-O"
The "Hawaii Five-O" theme song represents the archipelago state just as authentically as the show itself did – by which I mean, hardly. Still, it's an infectiously bombastic example of late '60s cool, combining surf rock with horns in a way that's unforgettable for anyone who ever watched old-school Nick at Nite. [AG]
Idaho: The B-52s – "Private Idaho"
What does Idaho have to offer besides plate-eclipsing tubers? It inspired one of the best-known B-52s songs of all time, so that's got to count for something. You don't have to live underground (like a wild potato) to figure out the message of "Private Idaho," a call from the ultimate party band to shake loose your inhibitions and "get out of the state you're in." The Idaho board of tourism might not care for it, but it's still a classic track. [AG]
Illinois: Tom Waits – "Johnsburg, Illinois"
"Johnsburg, Illinois" isn't explicitly about the entire state, but is the second on Swordfishtrombones to mention it, and in this particular song, Johnsburg is revealed as the specific area where the sweetheart of Side one's sailor grew up. It's an achingly beautiful song – it's narrator almost pleadingly proving his love for this girl whose picture he keeps in his wallet, that he just can't live without. Most poignant of all is the fact Waits' partner and collaborator Kathleen Brennan is this song's Johnsburg girl.
"She grew up on a farm there
there's a place on my arm
where I've written her name
next to mine" [CW]
Indiana: Cymbals Eat Guitars – "Indiana"
OK, so this track is not that connected with Indiana aside from riding a bus there and referring to I-90, but Cymbals Eat Guitars' underrated debut was all about soundscapes. And though the lyrics are a bit desolate and melancholy, the song's sprightly piano melody purveys Indiana as an uplifting part of their sonic journey through the heartland. [JS]
Iowa: Plastic Constellations – "Oh No, Iowa"
One of the weirdest bands to ever have existed, The Plastic Constellations combined rap-like delivery with Modest Mouse-style indie rock. This is a perfect example of that combination, a highlight from their 2004 album Mazatlan, which is most likely an exclamation, and not the name of a town called 'Oh No, Iowa,' though that'd be a place to hit up on the next cross-country road trip. [JT]
Kansas: Neko Case – "Train from Kansas City"
Originally a Brill Building pop standard, "Train from Kansas City" made its way on to Neko Case's 2004 live album The Tigers Have Spoken complete with backing from The Sadies. The percussion in the song mimics the sound of a train rolling along the railroad, as Case faces the inevitable heartbreak she'll have to deliver: "The train from Kansas is a-coming/ and there's nothing I can do to make it turn around." [JT]
Kentucky: Louvin Brothers – "Kentucky"
Kentucky is the home of bluegrass, so it only seems appropriate to hand this one over to the classic country and western duo the Louvin Brothers. Simple, pretty and soulful, the song finds the Brothers offering lines like "I want to rest upon your graceful mountainside" and allowing that final syllable of the state's name to ring out in gorgeous harmony. [JT]
Louisiana: Silver Jews – "New Orleans"
A haunted house filled with Spanish gold, being trapped inside of songs and selves with nights and knives too tall to comprehend; Stephen Malkmus' conversational prose reels out like a haunting, flashlight-under-the-chin campfire story. And, you know, that's American. [JS]
Maine: Okkervil River – "Maine Island Lovers"
There aren't that many songs about Maine floating around, but this one is certainly a doozy, a slow and soft ballad rife with imagery and Will Sheff's compelling narrative. And yet, one YouTube commenter claims that the reference to an "unreal city" is actually New York City, not Portland. Small details aside, this sad and beautiful song puts Maine on our playlist map in the most stunning way possible. [JT]
Maryland: Gram Parsons – "Streets of Baltimore"
In Gram Parsons' "Streets of Baltimore," the title city actually kinda ends up being the villain, because it steals his woman away. But you can hardly blame her. After all, Charm City Cakes is there. [JT]
Massachusetts: The Modern Lovers – "Roadrunner"
Most people who say they're from Boston aren't. They're from one of the many tiny, wooded suburbs that surround the city, and in "Roadrunner," Jonathan Richman perfectly captures their glee of going "into town." But despite name dropping a few Bay State landmarks, the song's All American iconography of speeding toward bright lights with your stereo blasting can apply pretty much everywhere, making it an anthem even for those who aren't love with Massachusetts. [EM]
Michigan: John Lee Hooker/MC5 – "The Motor City Is Burning"
"The Motor City is Burning" paints a first-person perspective of the war zone that erupted during the 1967 Detroit Riots (a huge turning point in the city and state's history) and feelings of dismay and helplessness as families flee the city. The MC5's cover version on its debut album Kick Out the Jams helped to define the heavy blues / psych rock sounds that are still associated with the region today. [JL]
Minnesota: Prince – "Uptown"
This space was pretty much reserved for Prince from the beginning. "Uptown," one of numerous highlights from Dirty Mind, places the listener in Minneapolis' Uptown neighborhood and its nightlife, which, according to Mr. Rogers Nelson, is "where I wanna be." Don't we all! [JT]
Mississippi: Bob Dylan – "Mississippi"
Songs like "Mississippi" are evidence of how enduring a performer Dylan has been over the years. A standout from 1997's Love and Theft, "Mississippi" is a song only a seasoned musician with quite a few miles on his travelogue could pen, lamenting "I been in trouble ever since I set my suitcase down," and offering his only regret: "staying in Mississippi way too long." Mississippi, goddamn. [JT]
Missouri: Los Campesinos! – "A Heat Rash in the Shape of the Show-Me State"
I've often thought that Missouri's nickname of 'The Show-Me State' was a little bit like a simplified "Tennesseein' is Tennebelievin'," but it could just be that its founders were the skeptical type. Nonetheless, this band of UK agitators do the great state proud with this hyperactive indie pop track. Some people see the Virgin Mary on a slice of toast, but Gareth Campesino sees Missouri in a heat rash. They're not that far apart when you think about it. [JT]
Montana: Frank Zappa – "Moving to Montana"
True or False?: Tina Turner & The Ikettes sang backing vocals on a Frank Zappa song about a man planning on moving to Montana to grow Dental Floss, plucking his crop atop a Pygmy Pony with a pair of zircon-encrusted tweezers… Far too weird to be untrue. Ever the Gentleman, Ike wouldn't allow them to be credited, and insisted they all receive no more that the Ikette wage of $25 total. They appear on the liner notes as "Debbie," "Lynn" and "Susie Glover."
"Movin' to Montana soon,
Gonna be a Dental Floss tycoon" [CW]
Nebraska: Bruce Springsteen – "Nebraska"
In the interest of diversity and avoiding redundancy, this feature had a mandatory limit of one song per artist. So, with that in mind, it may seem surprising to see that we played our Bruce Springsteen card not with his home state of New Jersey, about which he's written many a (legendary) song, but with Nebraska. The title track from his classic album Nebraska is actually about serial killer Charles Starkweather, making it a dark, even macabre entry. Yet the song is classic, heartbreaking and evocative, a brilliant slice of Americana, no matter how bloody its origins. [JT]
Nevada: Pixies – "The Happening"
Somewhere between Doolittle and Bossanova, Black Francis' fascination with UFOs and extraterrestrial life forms began to intensify, and as a result the Pixies' last two albums feature a good number of songs that reference them (side note: "Motorway to Roswell" was also a New Mexico runner-up). This highlight from Bossanova finds Francis shouting about Area 51 ("They got a ranch they call! Number 51!"), its subsequent pop-culture glamorization and juxtaposition with nearby landmarks ("They're gonna put it down on the Vegas strip!"). Celebrating Nevada requires embracing its eccentricities, and this song does so in spades. [JT]
New Hampshire: Sonic Youth – "New Hampshire"
Sonic Youth's "New Hampshire" doesn't necessarily make a lot of sense as it's written, a sort of free association poem referencing Aerosmith, BB King and Johnny Winter, though Thurston Moore once explained that the song's origin stems from reading an oral history of Aerosmith that captured what life was like living in New England in the '70s. But, like the majority of Sonic Nurse, it's mostly notable for just plain rocking out. [JT]
New Jersey: Titus Andronicus – "A More Perfect Union"
The leadoff track from The Monitor, a sort of Civil War concept album told through a New Jerseyite in Boston, is an epic rock masterpiece that raises a glass in praise of the Garden State while kicking up some serious dust. The protagonist steadfastly cheers like hell for the Newark Bears under the lights of Fenway Park, and references Bruce Springsteen on several fronts, from the song's hearty punk style E Street Band grit and frontman Patrick Stickles' declaration, "Tramps like us, Baby we were born to die!" [JT]
New Mexico: Drive by Truckers – "Santa Fe"
The Drive-by Truckers have a little bit of Southwestern twang in their sound to begin with, so it's even more profound in Santa Fe, a stellar track from the band's The Big To-Do. It's a road song, like many great tunes named for a specific place, kicking off with Patterson Hood's unforgettable opening line, "You said you'd be waiting for me here in Santa Fe." [JT]
New York: Nas – "NY State of Mind"
The New York of Nas' "NY State of Mind" is a gritty and violent one, where "sleep is the cousin of death," and the landscape looks a lot more like a warzone. So, becoming the official state song is likely not in the cards, but the song is a hip-hop essential and a stone cold classic ode to the Empire State, no matter how sinister. [JT]
North Carolina: Ryan Adams – "Oh My Sweet Carolina"
Ryan Adams has lived in a lot of places, ping-ponging between Los Angeles and New York City for a few years in the past decade before settling with wife Mandy Moore. However, his home state is North Carolina, and on this duet with Emmylou Harris, he pays gorgeously bittersweet tribute to the first state he called home. He asks, "What compels me to go?", and though he may not have returned, he nonetheless offers nothing but tear-jerking affection. [JT]
North Dakota: Thrush Hermit – "North Dakota"
A sort of forgotten alternative rock single from the late '90s, Thrush Hermit's "North Dakota" is something like a post-grunge nursery rhyme, with singer Joel Plaskett offering lines like "The state of North Dakota must fill its quota/ and separate the girls from the boys/ keep the trouble out of Illinois." Though the band was dropped from their label shortly after the song's release, it's nonetheless a fun bit of geography from some of our musical neighbors to the North. [JT]
Ohio: Sun Kil Moon – "Carry Me Ohio"
Based on his songs alone, it would seem that Mark Kozelek has had himself a good many lovers in quite a few places, but this tale of a heartbreaker's departure from Ohio is one of his most beautiful, with its depiction of "Tuscarawas flow into the great lake," and plea to "heal her soul/ and carry her my angel, Ohio." [JT]
Oklahoma: Flaming Lips – "The Southern Oklahoma Cosmic Trigger Contest"
The Flaming Lips are the weirdest and best thing to come out of Oklahoma, yet despite this song's title, it's by no means the band's most tripped-out song. In fact, it's downright jaunty! And it should be, given its inclusion in the "Okie Noodling" documentary, about those dudes who catch catfish with their hands. It's an Oklahoma tradition, and so are the Flaming Lips. [JT]
Oregon: Sleater-Kinney – "Light Rail Coyote"
With a picture of a coyote riding Portland's light rail as a companion visual aid in the liner notes of their 2002 album One Beat, Sleater-Kinney pay a realistic but nonetheless affectionate tribute to Portland in "Light Rail Coyote," name checking Burnside street, bookstores, strip clubs and punk rock clubs. It's Portland in three minutes, and it rocks. [JT]
Pennsylvania: Elton John – "Philadelphia Freedom"
An extra off of Captain Fantastic and the Brown Dirt Cowboy, this lavishly composed pop song screams life, liberty and love from the mouth a knighted, gay Brit. Now that's what I call a melting pot of a patriotic message. [JS]
Rhode Island: Kinski – "Rhode Island Freakout"
Songs about Rhode Island comprise a reasonably short list (although the number of instrumental and/or spoken-word tracks titled "Providence" is surprisingly long). In any case, Kinski's art-rock throwdown about, well, freaking out in Rhode Island is as kick-ass as they get. [JT]
South Carolina: Girls – "Carolina"
The psychedelic atmosphere that San Francisco's Girls swirl up in "Carolina" doesn't necessarily directly evoke that of the warm coastal Southern state, but damn is it ever a good song. Yet the band certainly makes it sound romantic, particularly when Christopher Owens sings, "I'm gonna pick you up baby/ Throw you over my shoulder/ Take you away, I'm gonna carry you home to Carolina/ Away to southern Carolina/
And then I'll never let you go." But mostly, it's just an amazing head trip. [JT]
South Dakota: Doris Day and Howard Keel – "The Black Hills of South Dakota"
"The Black Hills of Dakota" is the kind of song South Dakota's citizens would probably prefer you associate with their territory. It's the signature number from the 1953 musical "Calamity Jane," and a far cry from the only other cultural artifact I can think of relating to South Dakota – the rabidly profane HBO series "Deadwood," where Jane is a foul-mouthed alcoholic who spends most of her time slumped over in a gutter. Personally, I think the residents of South Dakota – and especially the town of Deadwood – ought to be more proud of Deadwood's deliciously coarse interpretation of their history than Day's tame ode to the Black Hills. [AG]
Tennessee: Arrested Development – "Tennessee"
Seeking solace and freedom from a hurtful past, Arrested Development's prayers lead them "for some strange reason" to Tennessee. The cornerstone of an album that bolstered the early '90s 'conscious' rap movement, the song fittingly (and somewhat patriotically) preaches the concept of a fresh start. [JS]
Texas: Roxy Music – "Prairie Rose"
Funny coincidence that probably isn't: Pavement's "Texas Never Whispers" was a runner up to this pick for the Lone Star State, but in this slide-heavy glam rocker, Bryan Ferry does, indeed, whisper "Texas…" between his lines of verse. Coming from a flashy group of British art rockers, "Prairie Rose" might have a bit of camp or kitsch to it, but Ferry sells the romantic idea of getting away to Texas, enough that the state might consider it for tourism advertising. Just a thought. [JT]
Utah: Band of Horses – "The Great Salt Lake"
A song about Utah by a band from Seattle, whose singer is a South Carolina transplant, "The Great Salt Lake" is chock full of Americana, and graceful sadness. Ben Bridwell paints a portrait of country music, beer and a suggestion from someone named Michael that Salt Lake City could become "the next Omaha." But its most affecting moment is the chorus: "If you find yourself falling apart/ then I'm sure I could steer/ On/ The Great Salt Lake." [JT]
Vermont: Captain Beefheart and His Magic Band – "Moonlight on Vermont"
If there's a private meaning to this song, under the shattered, abstract lyrics, stomping drums and barbed guitar – its likely no more penetrable than in its delivery, which seems to speak of some sort of moon-induced lunacy in the state. It's said to be some skewed reference to "Moonlight In Vermont," a jazz standard performed by such luminaries as Chet Baker, Frank Sinatra, Ella Fitzgerald, Willie Nelson among many, many others, and whose lyrics, despite the veneer of normality are apparently rendered almost as weird as Beefheart's owing to some glaring errors over its depiction of the state's fauna and flora. Being such a fan of nature, perhaps Beefheart saw the songs shortcomings and was deliberately lampooning it?
"Hope lost his head 'n got off on alligators,
Somebodies leavin' peanuts on the curbins,
For uh white elephant escaped from the zoo with love.
Goes t' show you what uh moon can do
Moonlight on Vermont." [CW]
Virginia: Clipse – "Virginia"
According to Clipse, in Virginia, "there ain't shit to do but cook," and they're not talking about pancakes! This one definitely gets filed under the most sinister of state songs, but Clipse's eerie rawness makes it a winner. [JT]
Washington: Sir Mix-a-Lot – "My Posse's on Broadway" / Foo Fighters – "Aurora"
Not only are these two tracks odes to Seattle, Washington, they are both named after particular iconic streets. Sir Mix-a-Lot's crew are presumably ogling ladies' posteriors in the trendy Capitol Hill neighborhood, while Grohl is reminiscing about life living near SR-99, aka Aurora Ave, full of sketchy stores, motels and smack whores, making the balladesque aspect of this track a true testament to Grohl's
unconditional love of his adopted state. [TT]
West Virginia: Daniel Johnston – "Wild West Virginia"
People are often blinded by the legendary mental misfortunes, and epic attempts to wrest his soul from the clasp of Demons, overlooking the fact that Daniel Johnston's earliest output was blissfully energetic, oozing positivity thrust forward by a proficiency way beyond his years. "Wild West Virginia" from his debut album Songs of Pain is a rollicking ode to the 'Rolling Hills' of a State Daniel briefly lived, and is driven by his longing to leave the "big city slickers, skinny intellectuals & tall buildings of Texas," and make an 'exodus' back. Perhaps his story would have turned out very different if he had?
"God is an artist, and he painted a pretty picture, and he called it West Virginia…" [CW]
Wisconsin: Bon Iver – "Brackett, WI"
Bon Iver have pretty much become synonymous with Wisconsin, thanks in large part to the cabin-in-the-woods mythology, and Justin Vernon's song titled after an unincorporated portion of Eau Claire county is certainly one of the prettiest moments on 2009's Dark Was the Night compilation. And just to prove how synonymous the two have become, the song "Brackett, WI" takes up as much space as the main entry about the actual community on Wikipedia. [JT]
Wyoming: Neil Young – "Emperor of Wyoming"
An instrumental with a Western twang to it, Neil Young's "Emperor of Wyoming" evokes the state's wide open plains with country and western swing and a beautiful string arrangement. [JT]