The Orwells : Disgraceland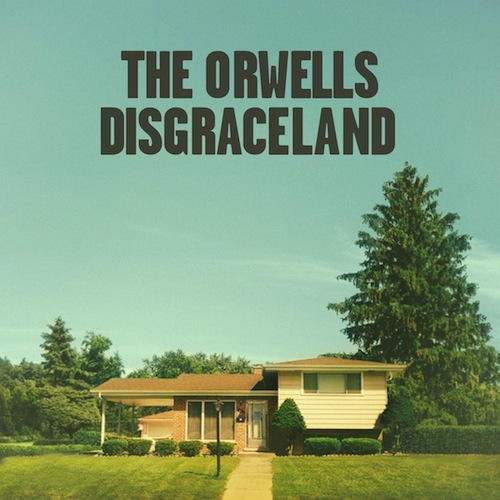 Buy at iTunes | Buy at Insound (vinyl)
Suburbia is a bitch, and no one knows that better than The Orwells — or so it seems. After all, the baby-faced troupe hails from Elmhurst, Illinois, a Chicago suburb with a modest population of 45,000, and the setting of the band's aptly titled sophomore record Disgraceland. The ennui of middle-class life looms large on the group's major-label debut, which finds crazed frontman Mario Cuomo & Co. sprucing up their sound with a trio of producers. The basic elements of Remember When, the Orwells' debut LP, are still there, but the guitars are louder, the sound is crisper, and it's ready-made for your car stereo.
Ultimately, however, the higher production values of Disgraceland prove deleterious to the band's garage rock aesthetic. The lo-fi grit of their debut is gone, and in its place is uniform rock 'n' roll, tailor-made for the radio. For a group that prides itself on its feral performances and raunchy attitude, this is problematic. "Who Needs You," which you may remember from the Orwells' frenetic and bizarre performance on David Letterman, has been virtually sucked dry of its live energy and raw power. There are some irresistible melodies here, sure, but the total package just lacks any spark.
Slightly more unsettling than Disgraceland's superfluous production are Cuomo's lyrics and the album's recurring motifs. Song titles like "Dirty Sheets" and "Bathroom Tile Blues" leave very little to the imagination, and Cuomo seems to have little on his mind besides girls and good times. "Give me a smile and then take off your pants," he says on the libido-charged "Southern Comfort," before adding, so gentlemanly, "Eyes on the prize, eyes on their thighs." Elsewhere on "The Righteous One," rollicking handclaps lead Cuomo through his inebriated malaise as he glibly mumbles, "Smoke in the air / I don't have a care." He truly doesn't have a care; he values debauchery over anything of substance, as young adults are often wont to do.
As the album progresses, things become surprisingly earnest, and we get a glimpse of what could-be on future releases from the Orwells. "Norman," a suburban American Psycho if you will, tells the story of a killer running rampant on an unsuspecting house party. Cuomo's fiendish storytelling is compelling, but it fails to cooperate with the song's sun soaked melodies. Cuomo and friends eventually find a winning formula on "Blood Bubbles," combining the acerbic mood of their angst-fueled cuts with some macabre lyricism ("She screamed out for help but nobody came / So picked up my gun and put it to her brain"). Cuomo has a long way to go before he reaches Black Francis-level maniacal, but hey, it's a start.
And that's ultimately what Disgraceland is on the whole — a start. It's a start toward radio-rock prominence, and a start toward a tamer, albeit somewhat shrewd era for the Orwells. Cuomo says it best on "North Ave." when he explains, "There comes a time when all the children will want something else to do." The Orwells want to do something else, and unfortunately it's something somebody has already done.
Similar Albums:


FIDLAR – FIDLAR


The Black Lips – Underneath the Rainbow


Bass Drum of Death – Bass Drum of Death