The Rural Alberta Advantage : Mended With Gold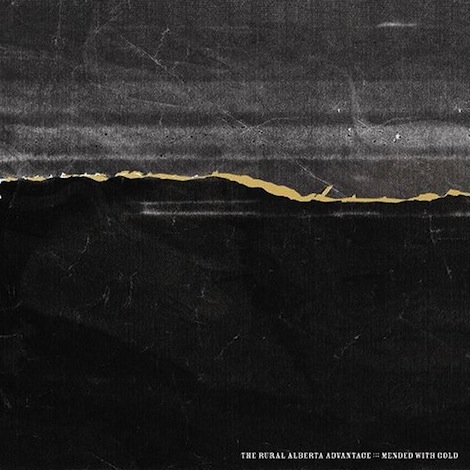 The Rural Alberta Advantage (The RAA for short) are a peculiar bunch. The Toronto indie-rockers craft a sound one would expect from a band on the emo-folk leaning Saddle Creek Records, yet nothing like any of that label's mainstays. We start with Nils Edenloff, a straightforward guitarist whose emotional yet rough voice projects a strong, rural ethos. Add in the backing harmonies and ringing keyboards of Amy Cole and you have a sound that would make a comfortable companion to Bright Eyes or The Good Life. Toss in Paul Banwatt's explosive, calculated drums — which would be more at home in a driving post-hardcore outfit — and the sound is elevated to something entirely different.
While this sound is distinct, it is nothing new. The RAA have been working with this formula ever since their 2008 debut, the excellent Hometowns. And, true to form, the songs on Mended With Gold are very well written — some of the band's most cohesive, straightforward work to date, in fact. But on a track like lead-single "Terrified," it's easy to get the feeling that we've been here before. Honestly, cleaning up the edges on these songs gives the band room to expand their sound, but they instead fill that same space with the same elements as before. But while this album may not be a huge leap forward for The RAA, it also avoids any extreme pitfalls. It's a safely-played record that any fan of the band's previous work will find highly enjoyable.
The RAA, like many a Saddle Creek band, are at their best when combining a middle-class ethos with alternative culture, and that's exactly what they deliver Mended With Gold. Stand out tracks like "The Build," "To Be Scared," and "45/33" dwell on romanticism won and lost, with growing up and being let down. Still fascinated with same journey that he started on Hometowns, Edenloff might have found his way home by now, but he's not particularly settled in.
The Rural Alberta Advantage are still a great band, and Mended With Gold has some small, surprising moments buried in its 12-track run. But, for the most part, it's missing the drive and creativity of a song like 2011's "Stamp" or the tangible emotionality of 2008's "Drain The Blood." Still, the band's most neatly-packaged work to date hits a high mark, even if it doesn't always sound terribly innovative.
Similar Albums:


Two Gallants – What The Toll Tells


Okkervil River – The Silver Gymnasium


The Helio Sequence – Negotiations
Find it at: iTunes