The Underachievers : Cellar Door: Terminus Ut Exordium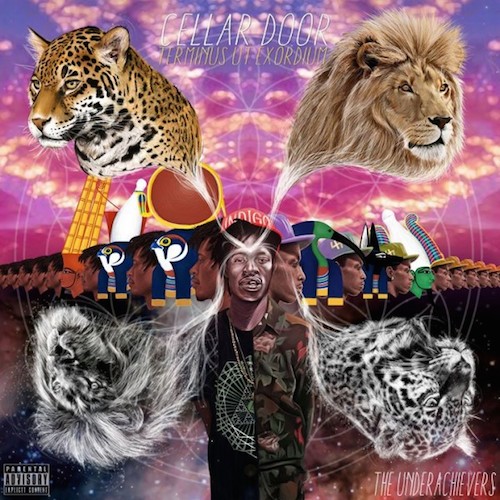 Buy at iTunes | Buy at Insound
The cover art for Cellar Door: Terminus Ut Exordium is flat-out ridiculous. There's a trippy purple sky floating above a starry floor. There are cascading profile views of emcees AK and Issa Gold, culminating in a Dragon Ball Z-style fusion of the two at stage centered. To top it all off, there are ghostly jungle cats — presumably the rappers' spirit animals — floating on the album as well. It's a bold, chaotic display.
Depending on who you ask, Cellar Door is either the Underachievers' third or first full-length, following two particularly well-crafted mixtapes. Based on the cover alone, this album is intended as the Brooklyn hip-hop duo's official introduction to the world at large, and the contents within only push that assumption closer to the truth. There's a flawless consistency throughout this record; Issa Gold and AK's rhymes both complement and enhance each other, two excellent emcees who make a rewardingly dynamic duo.
While the production on Cellar Door stays grounded in groove-based psychedelia, The Underachievers cut through with some of the tightest, most strongly executed conscious raps this side of a Kendrick Lamar album. Issa Gold sets up the album by exclaiming, "They say your dreams is like the lotto, no one get those," but both emcees spend the remaining 40 minutes defying that simple line. In the ethos of Cellar Door, dreams are definitely within reach; we may just need a new strategy to get there.
The Underachievers have a more contemporary taste for track composition and flow, but their lyrical prowess and calculated aggression bring a young Dead Prez to mind. When Issa Gold spits, "Everybody wanta revolution/ with no execution/ their attempt is fruitless,"  he's pointing his finger with an acute accuracy. When AK drops a line like, "We built the pyramids/ where your memory at?",  it's a philosophical call to action. As more and more rappers are bringing out their issues with the industry within the public sphere, The Underachievers are still comfortable framing their discourse within their raps. And, in the case of Cellar Door, it's a much more compelling argument.
Similar Albums:


Kendrick Lamar – good kid, m.A.A.d. city


Wugazi – 13 Chambers


Prefuse 73 – One Word Extinguisher