Andrew Jackson Jihad : Christmas Island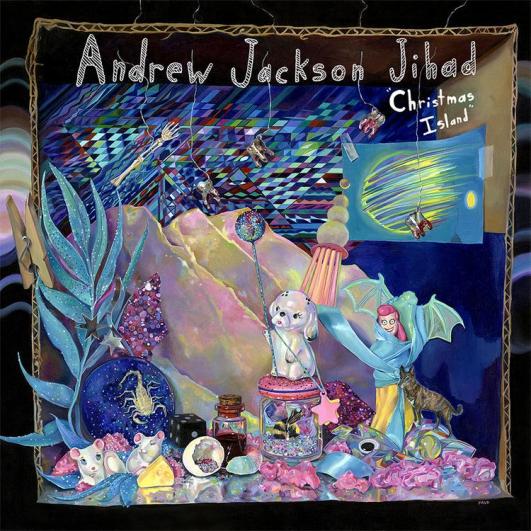 Buy at iTunes | Buy at Insound (vinyl)
I don't think there will ever be a more indicative image of Andrew Jackson Jihad than the cover to 2011's Knife Man. That wolf dressed in a white button-up and black tie with a face tattoo of a severed hand wasn't just about the band's mission statement, it practically was the band's mission statement. Sure, they'll play nice with society and dress up in… clothes, but they'll still show their teeth and tattoos any chance they can. And while frontman Sean Bonnette isn't afraid to call bullshit on various social mores, he's not exactly exalting himself. After all, this is the man whose crowd banter often includes telling the audience that the following song was written at a time where he was feeling particularly rad or bummed. They're certainly not the most original wells of inspiration, but his trying-oh-so-hard folk-punk anthems typically come from such a ridiculously human place that it's hard not to bob your head and tap along.
Christmas Island continues the band's damning allegations of everyone (including themselves), but this time finds Andrew Jackson Jihad wearing some new clothes. Has the band ever sounded as bubbly as they do on "Children of God"? The answer is probably not. The nonsensical quality of the song's lyrics set to the feverish bounces of piani (yes, piani) end up sounding like a party anthem for the deranged and delirious. That's not to say that the band has gone soft on us — though it'd be hard to say that about any song that includes such imagery as "eyes as red as a dog's asshole when you see him shitting" — but it's a fairly good indicator of how the rest of the album sounds.
There's plenty of acoustic guitars and stand-up bass to be found here as per usual, but this time the band leans on quite a few different sounds and feelings. More than a few songs sound like they've received the aid of some shitty Casio keyboard from the '80s. The songs do end up sounding a bit more accessible, but these cheap-sounding tones also lend themselves well to the band's underdog aesthetic. When Bonnette halfheartedly sings "I want to rock out in my dreams," you believe him. Lyrics have always been an integral part of the Andrew Jackson Jihad formula and that's really no different here. There's plenty of imaginative imagery such as gerbils in microwaves, shooting a body again because the soul can be seen dancing, or the Kool-Aid stains on Cody's mouth (which, as someone who went by Cody for a good portion of my life, I take offense to the line saying I don't have any friends. I do, I think…). This time around, however, Bonnette seems to be aiming inward and expressing his own fears and hopes and stories.
Simply put, fans of Andrew Jackson Jihad will find plenty to like here. Or maybe they won't. Christmas Island is bound to be divisive in the band's passionate fanbase. The music is more accessible and probably the least punk thing they've ever done. Vitriol is still spat left and right, but there is definitely a sense of having already visited many of these objections. And "Deathlessness" might just be the worst thing that the band has recorded. Still, there are far worse things in the world than not living up to the fairly stratospheric heights of the group's past. Christmas Island does its damnedest to ensure that acoustic guitars still sound anarchic in their own right and, more often than not, it succeeds.
Similar Albums:


Mountain Goats – The Sunset Tree

Bomb the Music Industry – Vacation


Jeffrey Lewis – 12 Crass Songs