Angel Olsen announces new box set, Songs of the Lark and Other Far Memories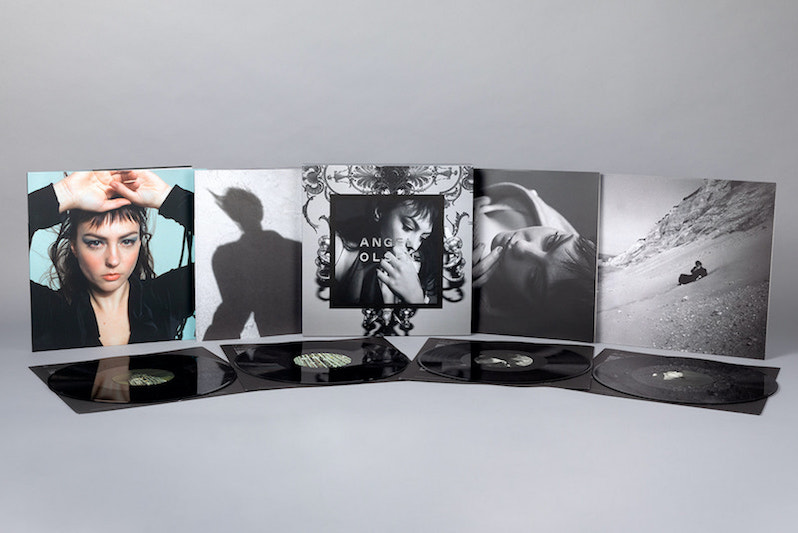 Angel Olsen has announced a limited edition box set. On May 7, she'll release Songs of the Lark and Other Far Memories, which collects her two recent companion albums, 2019's All Mirrors and 2020's Whole New Mess, along with Far Memory, a bonus LP featuring outtakes and remixes, as well as a cover of Roxy Music's "More Than This." The vinyl box set is being released in an edition of 3,000 copies, and Jagjaguwar has shared an unboxing video which you can watch below. Olsen has also shared a visualizer for the outtake "It's Every Season (Whole New Mess)" which you can also hear below.
Far Memory Bonus LP Tracklist:
1. All Mirrors (Johnny Jewel Remix)
2. New Love Cassette (Mark Ronson Remix)
3. More Than This
4. Smaller
5. It's Every Season (Whole New Mess)
6. Alive and Dying (Waving, Smiling)
 
All Mirrors Tracklist:
1. Lark
2. All Mirrors
3. Too Easy
4. New Love Cassette
5. Spring
6. What It Is
7. Impasse
8. Tonight
9. Summer
10. Endgame
11. Chance
 
Whole New Mess Tracklist
1. Whole New Mess
2. Too Easy (Bigger Than Us)
3. (New Love) Cassette
4. (We Are All Mirrors)
5. (Summer Song)
6. Waving, Smiling
7. Tonight (Without You)
8. Lark Song
9. Impasse (Workin' For The Name)
10. Chance (Forever Love)
11. What It Is (What It Is)
Angel Olsen's All Mirrors, along with 2014's Burn Your Fire For No Witness, is featured on our list of the Top 150 Albums of the 2010s.