Art Moot?: Exploring Contemporary Rock Poster Art.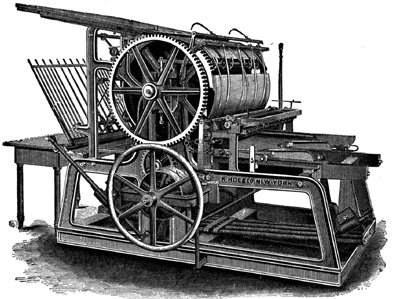 For decades now, people have been lamenting the loss of the full vinyl album cover. Okay, so maybe not a lot of people, but angry old coots like myself who have both a passion for music and a love of graphic art deeply feel that loss. The 12×12 album cover, made even larger when a double album with gatefold, has long since been replaced by the more-than-halved image of the compact disc. Roger Dean and Hipgnosis made some of the most recognizable and lauded album art of their time, and Storm Thorgerson, of the latter collective, is actually still creating cover art. Even famous late comedian Phil Hartman used to be in the game, creating album covers for Poco, America and the famous cover for Steely Dan's Aja! Yet, looking at the CD covers of Sgt. Pepper's and Houses of the Holy in that small format just doesn't hold the same visual power. And soon, the CD may also go the way of Crystal Pepsi and disappear forever. But, does that mean the end of a relationship between graphic art and music?
Daniel MacAdam, of Crosshair Design, doesn't think so. "I love LP sleeves. I have thousands of records and cherish them. Some of my main influences are known primarily for album covers, not posters. You can't do a damn thing with a CD sleeve, and when you can, it's the exception to the rule. However I think the rise of digital downloading and (hopefully) the resulting death of the record industry will prove to be the greatest thing in ages for rock art, because it is returning the emphasis to live performance, for bands and for fans. More emphasis on shows equals more emphasis on posters."
*art by Crosshair Design
The posters that Macadam refers to are known by many names: gig posters, rock posters, screenprints, etc. There is one aspect of the dynamic relationship of graphic art and music that seems to be going through a renaissance, that being the realm of the gig poster artists. They're spread out all over the country, but they do come together a few times a year for Flatstock, an exhibition of rock poster art created by screenprinters and designers with styles as varied as the music they're visually representing on paper. The American Poster Institute, a nonprofit entity created to support poster artists, puts on Flatstock a few times a year, and is run by a committee of the poster designers themselves. The first Flatstock was held in San Francisco, and has since been held at Seattle's Bumbershoot Festival and the South by Southwest Conference in Austin, Texas every year. API / Flatstock has recently set up shop at Chicago's Pitchfork Media Festival and visited Germany's Reeperbahn Festival two years running. If you want to see the some amazing artwork having to do with your favorite bands, I highly suggest you make it to one of these exhibitions. There is nowhere else you can get your hands on a handmade original screenprint to decorate your wall space. And, at $20-30 a poster, they're a steal.
But what exactly is a gig poster? Guy Burwell puts it best, I think, when he describes it thusly: "In the best light, a poster supports the band and the show that they are performing by being visible to the public in public forums in the days and weeks leading up to the performance. The poster provides a glimpse into the understanding of what the experience will be like." But we're not talking photocopied handbills or glossy one-sheets made by major labels, we're talking screenprinting, serigraphy, the old flood'n'pull, squeegee in the heezy. That's the common thread, but there's a lot that can be done with this art form and these designers are proving it with every print.
*art by Guy Burwell
Over the last year, I've attended a couple of Flatstock exhibitions with my brother, Matt, one of the poster artists who shows and sells his visual wares to the music loving masses. Through him, and these Flatstock exhibitions, I have come to understand the power and pleasure of the visual representation of music in the modern age. For the purpose of this look at the world of poster art, I have surveyed a group of designers (chosen somewhat at random, but mostly through my appreciation of their work) and have found that this mix truly depicts the varied backgrounds, styles and vision of the field as a whole. I asked them the same series of questions and received a wide variety of answers, which is pretty much what I expected from people with such differing artistic viewpoints!
Upon receiving the answers to my queries, I noticed that there is not one particular clear path to a life in designing poster art. Some of them have been drawing since they were but tykes with crayons, and some were merely attracted to the process of screenprinting as opposed to the idea of creating images. Some went to art school, others didn't. Yet somehow, all of these people ended up in the same situation, as members of the American Poster Institute, showing their stuff at Flatstock. But, where do they get their jobs? There are a few ways that designers end up with an assignment, and it seems to be different for everyone. While Diana Sudyka gets a few jobs from bands, but mostly works through venues, Dan Stiles finds his trend moving the other way. Matt Terich gets most of his projects through promoters, while Dan MacAdam prefers working with labels directly. This changing dynamic of `who is responsible for the graphic representation' can be a tricky one, but these artists are usually given free reign to produce whatever image they see fit.
*Art by Diana Sudyka
The bands whose music is depicted in art sometimes love and sometimes dislike the posters that are made for shows. Often times, they don't even see the finished poster and have no opinion whatsoever. But they are often not the worst critics of the artists' work. That usually falls to the artists, themselves. "Like most designers, I see flaws in everything I do. That's what drives us forward to make more," says Dan Stiles, the designer behind this year's Bumbershoot graphic imagery. When I asked my brother Matt what his favorite piece was, he replied, "I haven't made that piece yet." Still, thousands of music lovers flock to the booths at Flatstock, plunking down twenties for these incredible works of art that are somehow more personal to the buyer because of the images it conjures and the music it represents.
*Art by Dan Stiles
Yet, as much as this is a piece on Flatstock, it's also about the visual representation of music in the broader scheme of things. Just as the future of buying music in a physical format is uncertain, so too is the future of art with music. One side of the argument, the glass is half-empty side, would say that as music continues its trend toward the digital, images matter less. The other side, the side with the hopeful gleam in its eye, thinks that art will always have some kind of relation to music, as both are creative outlets. Interestingly, or perhaps predictably, the artists I interviewed all seemed to lean toward the hopeful side. The questions I asked in succession were "How important is art to music?" and "What does the future hold for the music-art relationship?" Mike Klay, of Powerslide Design in Seattle had a take on these questions that was well put, "Art is to music as corks are to wine. Even the format may be different and ever changing, it still keeps it fresh and interesting. As long as musicians keep making music, artists will be hired to create some kind of visual look to accommodate the sounds." Matt Terich and Diana Sudyka both think the future of art with music lies in the digital, with bands' websites providing the main visual representation of their own sounds. Sudyka believes we are in the midst of a gig poster renaissance, while MacAdam believes we are merely on the cusp. I suppose when Flatstock becomes a destination outside of concert events, and posters are sold on Amazon, that's when I'd agree we'd be in the midst, but we're not quite there yet.
*Art by Powerslide Design
While we are all in the same boat, waiting to see what the future actually does hold for the music and art relationship, we do now have a way to appreciate that connection in a fun, affordable and significant way, that being the screenprinted gig poster. You can check out each one of these artists' websites, go the Flatstock or API sites for more information, or actually visit one of the Flatstock events, you'll be glad you did. But be sure to bring spending cash, you'll kick yourself if you don't.
*Art by Design Medicine
Links:
Guy Burwell- www.guyburwell.com
Mike Klay- www.powerslidedesign.com
Daniel MacAdam- www.crosshairchicago.com
Matt Terich- www.designmedicine.com
Dan Stiles- www.danstiles.com
Diana Sudyka- www.dianasudyka.com
API- www.americanposterinstitute.com
Flatstock- www.flatstock.com